How big is the chasm between the top seeds and the rest of their pools?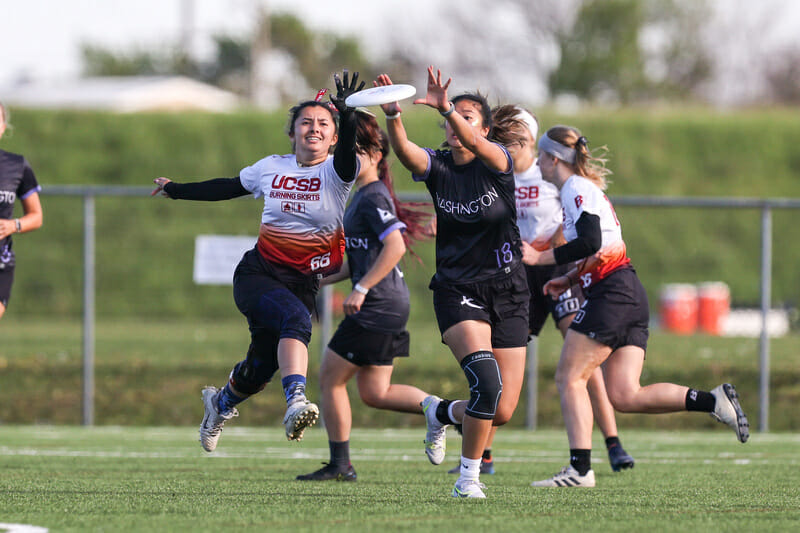 Our coverage of the 2022 College Series is presented by Spin Ultimate. Please support the brands that make Ultiworld possible and shop at Spin Ultimate!
There's a reason so many people playing ultimate are simply chasing the high of their college career: there's nothing like the College Championships. No other event in the sport carries quite the same level of excitement, and one of the reasons for that is the unpredictability, the potential that anything conceivably can happen. Nothing is off the table. Upsets abound. Chaos is a constant. Anarchy is expected.
Coming into Nationals 2022, that unpredictability hung heavy in the air for the women's division. With such a deep stable of talented teams headed to Milwaukee, it seemed as if nothing was a given for the top seeds. There were too many talented teams and not enough top seeds to go around. Upsets felt inevitable. The schedule promised us this would happen early, too. All the pool top seeds in the tournament were playing the teams directly below them in their pools on Day 1, a near assured sign that we were going to have our taste for chaos satiated.
All that seemed possible, and yet, here we are. With Day 1 over, every top seed has gone 2-0, beating their closest competition. Looking at the pools from a birds-eye view, all games have gone according to seed aside from a single upset in Pool A where the no.13 seed beat the no.12 seed. If we're only going by that perspective, this tournament has been pretty chalky. But how true is that, really? From what we saw on Day 1, just how much better are the top seeds than everyone else?
D-I College Championships 2022: Tight Margins at the Top (Women's) is only available to Ultiworld Subscribers
Already have a subscription? Log in
Whether you visit Ultiworld for our reporting, our podcasts, or our video coverage, you can help us continue to provide high quality content with a subscription. By becoming a subscriber, not only do you receive benefits like exclusive articles and full article RSS feeds, you also help fund all of Ultiworld's coverage in general. We appreciate your support!