Highlighting players who took a leap toward stardom in the division this spring.
Ultiworld's 2022 College Awards are presented by the National Ultimate Training Camp; all opinions are those of the author(s). NUTC helps young players become better athletes and community members.
Each year, Ultiworld presents our annual College Awards. Our staff evaluates the individual performances of players from throughout the season, talking to folks around college ultimate, watching film, and look at statistics, voting upon the awards to decide those to be honored. The regular season and the college Series are both considered, with extra emphasis for performances in the competitive and high-stakes environment at Nationals.
The Breakout Player of the Year recognizes rising juniors and seniors who made themselves known in a new light this season. While our nebulous definition of "breakout" reflects an evolving set of criteria, rather than celebrating the improvement of those from whom big things were already expected, we aim to use this award to celebrate the emergence of those who previously have not been on the national radar. Whether it be through growth in ability, role, or both, the Breakout Player of the Year and runners-up honor those who rose to the occasion with improved and high-impact performance on a new level this season — putting them squarely in the spotlight moving forward.
---
D-III Women's Breakout Player of the Year
Winner: Sandy Wu (Rice)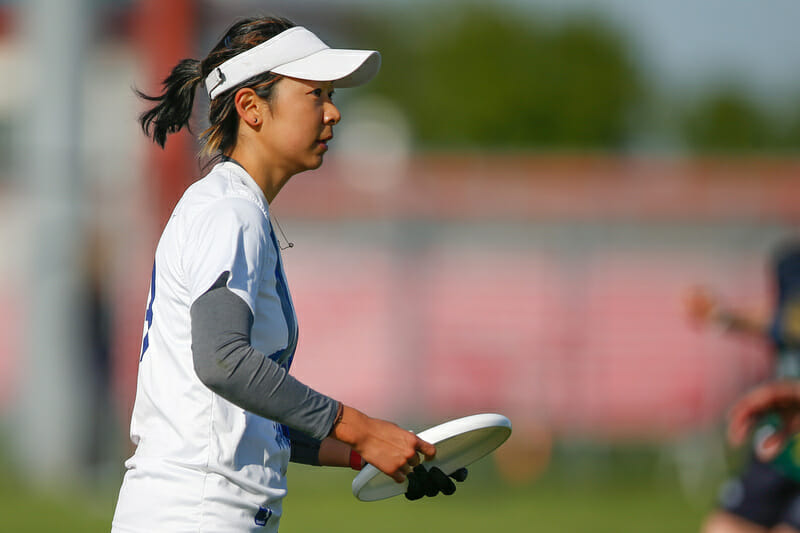 Breakout is not nearly a strong enough word to describe Sandy Wu's performance in Milwaukee. On a team full of graduated players in the Fall, Wu played a small role in Rice's run to prequarters but when Rice found themselves back in prequarters for a second consecutive season, it was on the back (and arm) of their talented sophomore. Wu's stat line from the weekend is almost comical, as she tallied 23 assists and a division-leading 27 blocks to go along with nine goals. Wu's blocks number might be a bit inflated due to her team's staggering number of turnovers, but Wu was the most aggressive defender on her team, attacking anything in the air and coming away with a number of highlight-reel layout blocks as well, including one in Rice's pool play game against Mount Holyoke that might have been the block of the tournament.
The key piece in the Sandy Wu Experience was her propensity for throwing beautiful high-release flicks, upwind and downwind, even when her mark was specifically prepared for it. It was an impossible throw to block all tournament long, and she punished defenses over and over with it and the rest of her throwing arsenal. Wu's teammate Heather Szczesniak, who broke out in her own right with 21 assists, played a major role in helping take some of the pressure off of Wu, and allowed Wu to break marks and open up the field while she ripped deep shots. Torque has a heck of a 1-2 punch, and Sandy Wu is set to dominate for at least two more years. The sky is the limit for one of the most exciting players to watch in the division.
First Runner-Up
Charlotte Zinda (Carleton)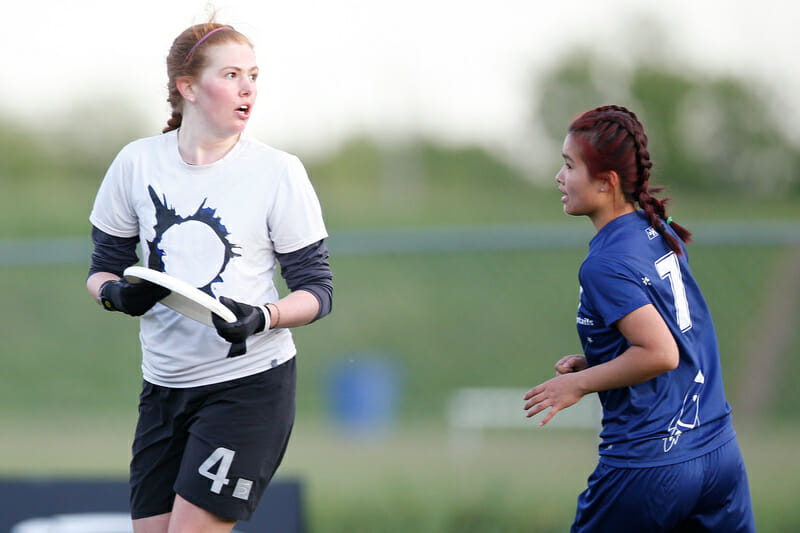 One word that describes Carleton's Charlotte Zinda's playing style is decisive. Zinda knew what she wanted to do on the field and how to achieve it. As one of Eclipse's center handlers, she was able to see viable cuts to throw to, which usually ended up as throws to space for the cutter to line up their cuts. As one of the main handers, Zinda's turn percentage was higher than most of her teammates. Yet, her official count was 18, and combine that with a goal count of five points and 12 assists, it's all fairly impressive compared to other high-volume handlers around the division.
Zinda's handler cuts were also something worth noting. Her upline cuts and tricky footwork guaranteed that she'd find a way open for resets. And of course, no good handler would make this list without having the throws; especially some solid deep shots. Zinda's plays truly looked active and determined to make plays left and right.
Second Runner-Up
Hannah Tritschler (Berry)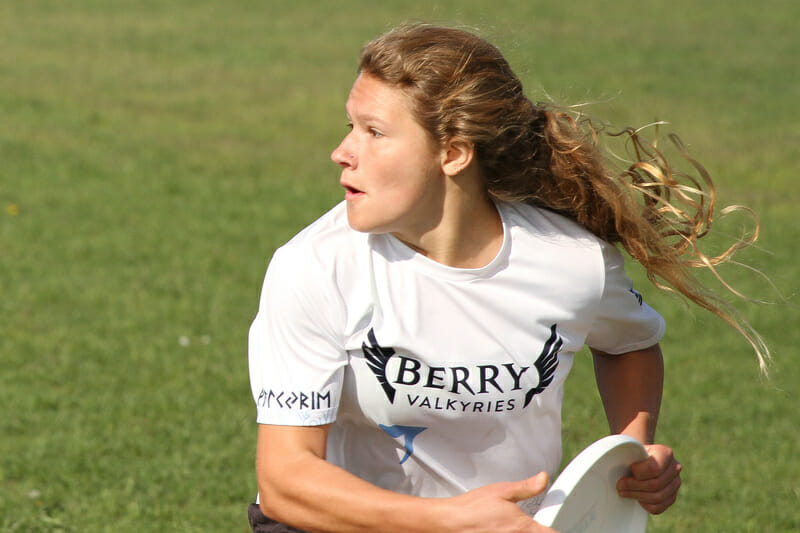 Ask anybody on Berry which player on their team deserves a shoutout and they'll all tell you it's Hannah Tritschler. When watching her play, it becomes very apparent why: she may have one of the fastest top speeds of any player at D-III Women's Nationals this year. Not only that, but it doesn't take her long to reach it. Though primarily a cutter, her handler flow with Berry's other star player, Malia Ellard, provided Tritschler with an opportunity to execute continuous strike cuts that looked like a hot knife through butter; smooth, fast, and hard to defend. Her small stature (5'0'' on USAU) helped her better fly under the radar. She found ways to get defenders off her back, whether through agile footwork to get under cuts, or by constantly beating them deep. Whenever Tritschler was on the field, she was hustling and set herself up for success and big plays.