Recognizing the top performer of the 2022 season.
Ultiworld's 2022 College Awards are presented by the National Ultimate Training Camp; all opinions are those of the author(s). NUTC helps young players become better athletes and community members.
Each year, Ultiworld presents our annual College Awards. Our staff evaluates the individual performances of players from throughout the season, talking to folks around college ultimate, watching film, and look at statistics, voting upon the awards to decide those to be honored. The regular season and the college Series are both considered, with extra emphasis for performances in the competitive and high-stakes environment at Nationals.
We begin our awards presentation with Player of the Year, our most prestigious award. Our Player of the Year winner is the best performer of the 2022 college season, and the highest vote-getter for All-American honors. The winner is not eligible for consideration in any of our other individual awards. The runner-ups up will be identified as the second and third vote-getters when the All-American Teams are revealed.
---
D-III Women's 2022 Player Of The Year
Claire Babbott-Bryan (Middlebury)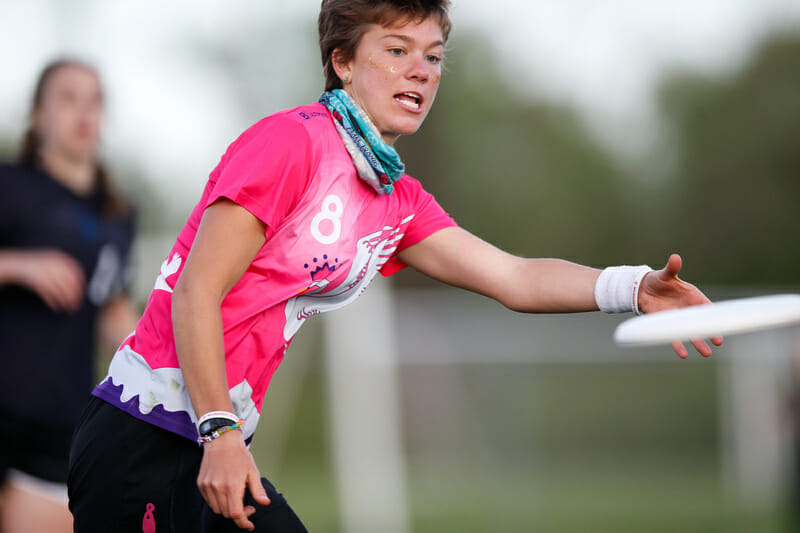 What is there left to say about Claire Babbott-Bryan at this point? The reigning Player of the Year from the fall season came into the spring as the number one problem opponents would need to solve if they wished to dethrone the Middlebury Pranksters from their perch atop the division. Yet under the scrutinizing microscope and against the strategic countermeasure of every coach and opposing defender in the country, Babbott-Bryan was perhaps even more dominant this year than during her rampage through the 2021 fall series. Now, the Middlebury talisman is the first two-time Player of the Year in the history of our college awards.
An all-around force every time she stepped on the field, Babbott-Bryan was at the center of everything Middlebury did, despite their enviable team depth. Nigh unguardable as a first cutter, surgical in dissecting defenses with her throws, imposing as a roving defender, and explosive with her layouts on either side of the disc, watching the Pranksters junior dominate this spring was like seeing a WNBA star drop in on a local YMCA game. It simply didn't seem fair.
It's hard to write anything about Babbott-Bryan's performance this spring without coming off as cliched or hyperbolic. So where words fail us, perhaps we start with numbers. Her 19 goal, 17 assist, 14 block stat line from Nationals in Milwaukee was one of just five triple double efforts in the division. Yet, with only 13 turnovers to her name, you could double that tally and she'd still have five fewer than the next closest competitor to have achieved that feat. That level of efficiency is unheard of in D-III ultimate, where teams frequently concentrate the playmaking responsibility in the hands of a top player or two and live with whatever gaudy turnover totals come with it.
Lest we forget, Babbott-Bryan couldn't just focus on her on-field performance. Without the benefit of a dedicated coach,1 the Middlebury captain also had to allocate mental resources to the strategic and line-calling responsibilities for her team as they navigated their season. After a season-opening double-game-point loss to #2 Carleton Eclipse, Middlebury rattled off 24 consecutive victories the rest of the way en route to a repeat national title. Along the way, it was clear that they were successfully developing both the skills of individual players and a team cohesion that made them close to untouchable by the time Nationals rolled around, incorporating nearly every player on their roster even late into bracket play. Babbott-Bryan deserves a fair share of the credit for that team success, even outside of her individual on-field contributions.
Through her first three years in the division, the Pranksters' junior has already captured Rookie of the Year honors, three 1st team All-American appearances, and now back-to-back Player of the Year distinctions, not to mention back-to-back national titles for her team. With at least one more year of eligibility in her college career and a Middlebury squad that doesn't look like it'll be shrinking from favorite status any time soon, it would be shocking if Babbott-Bryan failed to continue adding to her already unprecedented award collection and seems poised to leave the division as the most decorated athlete we've ever seen. But there will be plenty of time for that mythologizing whenever she closes the book on this stage of her career. For now, let us appreciate and marvel at just how good Claire Babbott-Bryan was in 2022.
---
With all due respect to team mascot Steven Swanifer. ↩