Rounding out the 14 best performances of the 2022 college season.
Ultiworld's 2022 College Awards are presented by the National Ultimate Training Camp; all opinions are those of the author(s). NUTC helps young players become better athletes and community members.
Each year, Ultiworld presents our annual College Awards. Our staff evaluates the individual performances of players from throughout the season, talking to folks around college ultimate, watching film, and look at statistics, voting upon the awards to decide those to be honored. The regular season and the college Series are both considered, with extra emphasis for performances in the competitive and high-stakes environment at Nationals.
Our All-American teams recognize the top performers across the division. While previously we have closed our Awards with our First Team and Second Team, displaying the top seven and next seven players who had the best seasons, they have been moved up in the schedule. As our voting process is ordered, the top vote-getters for All-American honors function as the ordered list in our Player of the Year voting — our highest individual award.
---
D-III Women's All-American Second Team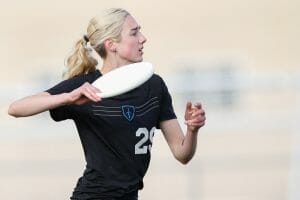 Anna Clements (St. Olaf)
A former Rookie of the Year runner-up back in 2019, it's not surprising to see Anna Clements play a key role in St. Olaf's offense this spring. They were seemingly always on the receiving end of the disc. They were a force to be reckoned with in the deep space and hit the deck whenever necessary. They were one of the main goal-scorers of the team, with 10 goals and 16 assists, frequently connecting with All-American First Team teammate Anna Mulhern on either side of a goal-throwing pass.
Clements also was comfortable with the disc in their hands and knew what to do with it, firing deep and throwing assists. It's clear that Clements had the positioning to get blocks, the throws to get work done, the saves to clean up a wild pass or two, and the sticky hands to make great catches. Clements played in a true hybrid role, playing some points as a handler and some as a cutter, some on O-line and some on D-line. It was enough to earn them the second All-American nod in their college career.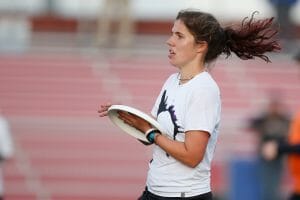 Harper Brooks-Kahn (Carleton)
On a team full of fantastic players and a deep roster of contributors, Carleton's Harper Brooks-Kahn was the biggest standout, making a name for herself to other teams and spectators alike. She was active all over the field on offense and defense for Eclipse. She was dependable with the disc and made solid cuts past her defenders. Brooks-Kahn also made one of the biggest highlight plays of Nationals with a five-foot high layout for a score. She never let up on the gas throughout the tournament and stayed true as one of Carleton's main handlers. Her strike cuts were also hard to defend, allowing her to get open for multiple scores. Her presence in the handler space gave her opportunities to always be available for a reset and throw the occasional huck for an assist.
Eclipse was one of the top two teams in the country almost the entire spring without having to rely on any one individual to carry too big a load. But when push came to shove, they could always rely on Brooks-Kahn to make a play.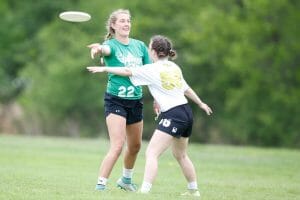 Mariah Newfont (Haverford)
In order to compete on the national scene in D-III, your team needs a thrower who is not afraid to make a big throw, even when going upwind. Mariah Newfont was that big thrower for Haverford. Newfont did absolutely everything the team asked of her, leading the Sneetches in goals (tied at 11 with Julia Smeltzer), assists (20), and blocks (15), en route to one of the few triple doubles posted in the division in Milwaukee.
Though they put up an ugly result against Carleton Eclipse in pool play, Haverford beat an upstart Rice team in prequarters on universe and played Middlebury the closest out of anyone at the tournament. In consolation, they played Portland to universe point, which is also an impressive result. It was in these tight games that Newfont seemed to thrive most; when other players appeared tentative, not wanting to make a mistake in a key spot, Newfont would command the disc, going every other until Haverford put it in the endzone. The Donovan finalist was not just a big thrower for the Sneetches; as the best downfield receiver for her team, Newfont truly embodied what it means to be a hybrid, doing everything for her team.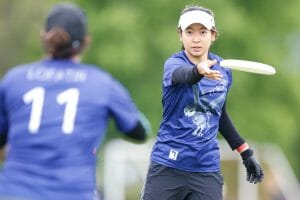 Sandy Wu (Rice)
Nationals 2022 was a breakout tournament for Sandy Wu. One of the leaders for a Rice team that lost a lot of production from graduated seniors that played in 2021, Wu often times put the offense on her back, collecting nine goals and 23 assists on the weekend. Especially when teams threw zone in the windy rounds, Wu showed off an impressive repertoire of break throws, particularly her patented high-release flick, and absolutely punished opposing marks.
As impressive as Wu's offensive numbers were, her defensive stats are even more so. Wu led the tournament with a jaw-dropping 27 defensive blocks, and that number may even be a little bit undercounted. Wu was a mainstay in the back of the Rice zone, eating up anything that floated even a little bit. Her prowess in the air allowed the rest of her team to play aggressively, which forced even more turnovers. Only a sophomore, Wu looks like a future superstar in the division, but with a second team All-American nod under her belt, she may already qualify as one.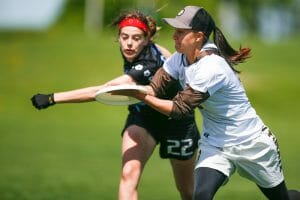 Anna Sivinski (Lehigh)
After a prequarter exit last fall in Norco, Lehigh used their Nationals experience to grow into this 2022 season, spending much of the spring ranked well inside the top 10. Leading the charge, unsurprisingly, was the star from their fall roster, Anna Sivinski.
Watching the senior captain direct the Lehigh offense, it is clear why she was responsible for scoring or assisting nearly half (8 goals, 12 assists) of Lehigh's total goal haul over the course of Nationals weekend in Milwaukee. The second runner-up for Breakout Player of the Year from 2021 returned this spring to once again shred opposing defenses with her tricky lefty throws and layout for low or contested throws to save possession. On the defensive side, Sivinski's quickness made her a pest to opposing offenses, whether locking up an opponent's top reset option or simply gumming up the works with smart help defense. Sivinski's versatility and pure athleticism is what has earned her second team All-American honor.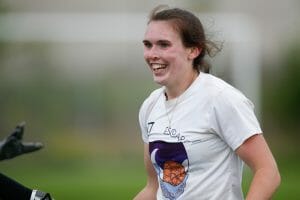 Kate Flynn (SUNY Geneseo)
Like many first-time Nationals qualifiers, SUNY Geneseo seemed to centralize a lot of the playmaking responsibility in a few veteran leaders. As the clear star cutter for the team, it was absolutely the Kate Flynn show for Escargot in Milwaukee. The team centered their offense around her as she carried them to success. Not only did she lead her team in scores, but also the rest of the players in the tournament as a whole with a staggering 26-goal haul. Her secret: get open deep, usually in the end zone, and look for a huck thrown by her teammates — more times than not it was Katey Church — and either score or flip a short assist for a goal. With sticky hands, Flynn was able to make catches past her defenders to succeed in completions.
Just as impressively, Flynn had a mere 7 turns on the weekend, a shockingly low total given her workload. It was a banner season for Escargot in earning their first-ever Nationals appearance, and Flynn was a huge reason why.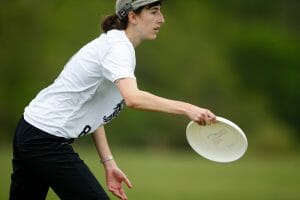 Sydney Zobel (Mount Holyoke)
While teammate Gigi Downey may grab the headlines with her feats of athleticism, Sydney Zobel may be the most important player on this Mount Holyoke team. Zobel's steady presence in the handler space is one of the main reasons Downey is able to push downfield. One of the premier throwers in the division, Zobel is able to get the disc at will in the backfield, and then hit her strong cutting corps wherever they are downfield.
On the weekend, Zobel showcased a wide array of break throws and hucks, and though she only tallied 14 assists, she very likely finished top-5 in the division in hockey assists. Defensively, Zobel used her length to bother throwers as a mark and her height to dissuade or block any deep throws. In Mount Holyoke's matchup with Portland in pool play, Zobel almost helped pull off the upset with a one goal, four assist, five block stat line against the 2021 runner-up.
With most of the team coming back next year, expect Zobel to make a big jump and once again be a steadying presence for Daisy Chain.