We tuned the definition to fit the circumstances, but these rookies were simply outstanding.
Ultiworld's 2022 College Awards are presented by the National Ultimate Training Camp; all opinions are those of the author(s). NUTC helps young players become better athletes and community members.
Each year, Ultiworld presents our annual College Awards. Our staff evaluates the individual performances of players from throughout the season, talking to folks around college ultimate, watching film, and look at statistics, voting upon the awards to decide those to be honored. The regular season and the college Series are both considered, with extra emphasis for performances in the competitive and high-stakes environment at Nationals.
The Rookie of the Year award recognizes players who impressed in their first college ultimate seasons. Typically reserved for freshmen (or the occasional first-year ultimate player who joined the sport later in their college career), we have temporarily expanded the eligibility for this award due to the lack of an intercollegiate competitive season during the 2020-2021 academic year. Consequently, this year's "rookie" class includes players who joined their teams before the fall 2021 semester, but haven't been seen in college competition before, as well as players in their first-ever year of college ultimate. This definition includes players whose teams were unable to complete in the 2021 fall Series. As in any year, whether they come to the college game from years of youth experience, a background in other sports, or none of the above, these players made debuts to remember in high-level college play.
---
D-III Women's Rookie of the Year
Winner: Bella Steedly (Wellesley)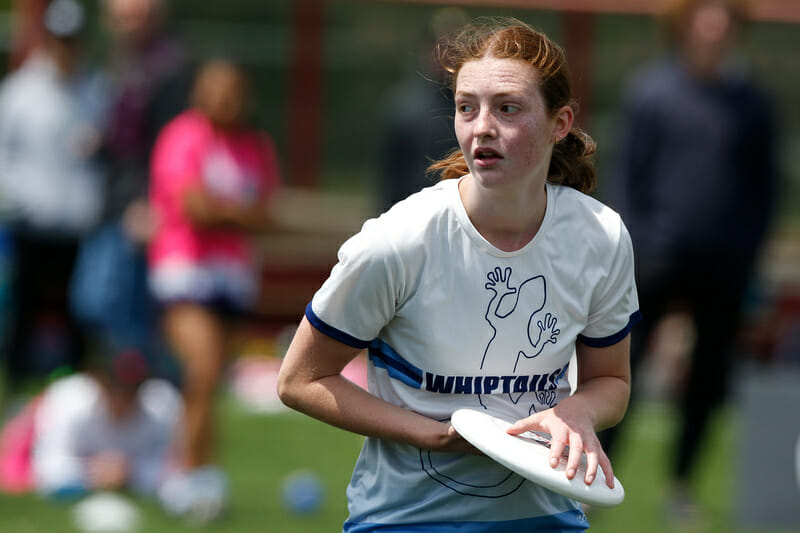 No team in contention was hit harder by injuries than the Wellesley Whiptails, with multiple veterans missing major points in bracket games. But key players missing time gives opportunities to younger players, and Bella Steedly certainly took advantage of the extra play time in big games. Not that Steedly was sitting on the bench before her teammates got hurt, but when she was given the reigns of the offense, she rose to the occasion and impressively paced her team in both assists and blocks, which is ridiculous for someone who hadn't yet competed in a college Series. This distinction is impressive for any rookie, let alone one on a team that made it to the national final. Despite being new to the sport, Steedly was a leader on and off the field for the Whiptails, clearly a centerpiece of both their offense and their defense.
Steedly was at her best in Wellesley's semifinal comeback against Carleton Eclipse, tallying a goal, four assists, and four blocks as she and teammate Leah Black willed the team to the final after Josie Ku went down. Wellesley had their backs to the wall, down 11-7 and 13-10 to Carleton Eclipse; rather than throwing in the towel, Steedly seemingly willed her team to a shocking comeback, bringing them all the way to the national final. It is safe to say that without the efforts of Bella Steedly, Wellesley would not have made it to the championship game. With Ku graduating this year for Wellesley, Steedly should be able to take on an even bigger workload next season, and keep Wellesley in the nationals conversation for years to come.
First Runner-Up
Jamie Eldridge (Mount Holyoke)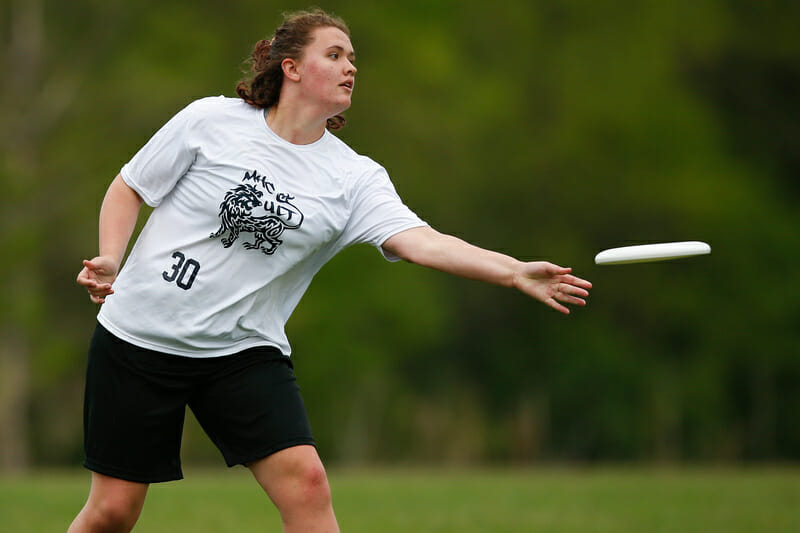 Usually when rookies make an impact on a nationals-level team, it is with their athleticism, having honed their athletic ability in another sport before coming over to ultimate. Rarely do you see a rookie make a major impact with their arm, but that is exactly what Jamie Eldridge did for Mount Holyoke Daisy Chain.
The lefty was one of the most fearless throwers in the division, not hesitating for a moment when she saw a streaking cutter downfield. Their propensity for ripping big hucks, both upwind and downwind, was a major boost for an already strong Daisy Chain offensive unit. A scary thought for the division is that their decision making and throwing ability should only improve from here, and they may well be one of the best throwers in the division next season, if they aren't already in the conversation.
Second Runner-Up
Zoe Marquis (Carleton)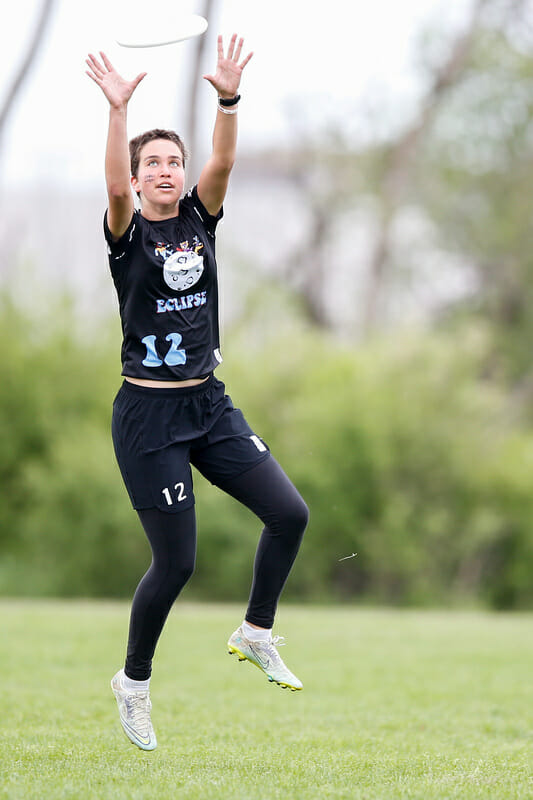 It's hard to believe that Zoe Marquis was only a freshman this year, as she played with the confidence of a seasoned veteran. With several years of play under their belt before heading to Carleton, it's no wonder she was put on the line when Carleton wanted to get stuff done. The fakes on their cuts were able to fool their defenders enough for them to get open a lot. She knew when and where to cut to get open, kept moving around the field to gain separation from her defenders, especially while making deep cuts. The most impressive thing about Marquis's performance is their sticky fingers. They somehow made catches that seemed destined to be out-of-reach turnovers. It's safe to say this is not the last time you will be hearing the name — give it three more years in the division and you'll likely see Zoe Marquis appearing elsewhere in these awards conversations in the seasons to come.