The most successful offensive players of the 2022 season.
Ultiworld's 2022 College Awards are presented by the National Ultimate Training Camp; all opinions are those of the author(s). NUTC helps young players become better athletes and community members.
Each year, Ultiworld presents our annual College Awards. Our staff evaluates the individual performances of players from throughout the season, talking to folks around college ultimate, watching film, and look at statistics, voting upon the awards to decide those to be honored. The regular season and the college Series are both considered, with extra emphasis for performances in the competitive and high-stakes environment at Nationals.
Our awards continue with the Offensive Player of the Year, recognizing the individual, and two runners-up, who we felt had the most impactful and productive seasons helping their teams score. They set up goals, finished off points, and produced yardage at consistently high levels against the top defenders.
---
D-III Women's Offensive Player of the Year
Winner: Jaclyn Wataoka (Portland)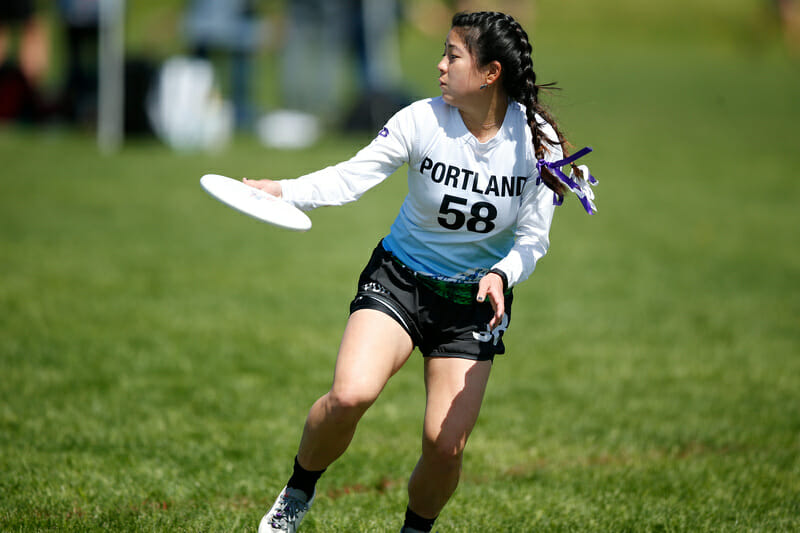 One of the best players from the Fall 2021 Nationals tournament was back at it again in the spring, putting together another jaw-dropping performance en route to back-to-back Offensive Player of the Year awards. Portland's Jaclyn Wataoka paced the women's division in Milwaukee with 29 assists, despite only playing five games.1 In pool play, she also had at least four or five hucks that put her teammate on the doorstep, and was directly responsible for putting her teammates in position to throw assists numerous times. It was clear from the outset of the tournament that Portland was going to ask their star player to put the offense on her back, and she delivered. Despite blustery conditions throughout the weekend, Wataoka had no trouble hitting any throw she wanted. Most impressive about Wataoka's performance is the fact that she was also putting in major time on the Portland D-line for much of the tournament, but the effort on the defensive end had no effect on her legs, as she was still able to get open at will and launch hucks that players a foot taller than her could only dream about throwing.
If the stat keepers at Nationals kept track of touches, there is little doubt that Jaclyn would be near or at the top of the list for the division. She seemingly went every other every time UPRoar had the disc, hitting difficult break throws and then using her speed and quickness to get open, leaving a trail of defenders' ankles in her wake. Wataoka finishes up an incredible college career having fully stocked her trophy cabinet this past academic year as a two-time OPOTY, POTY podium finisher, and First Team All-American. Despite her stature, she leaves huge shoes to fill in the middle of the Portland offense.
First Runner-Up
Anna Clements (St. Olaf)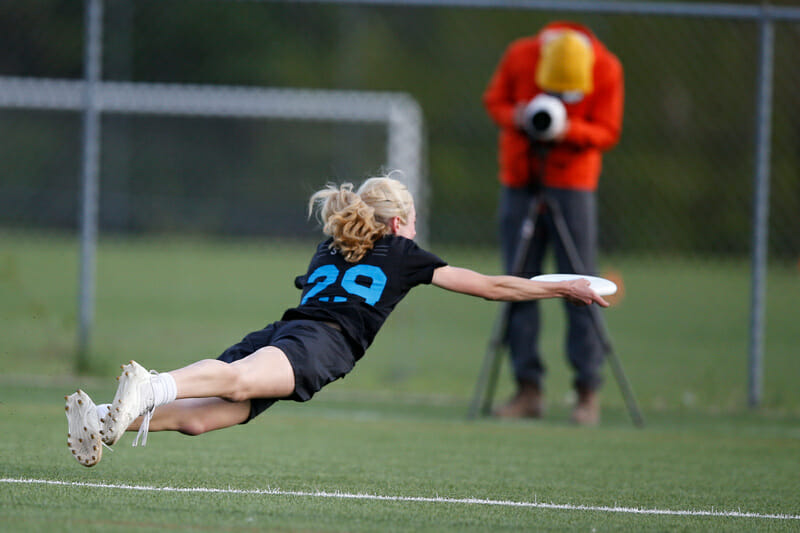 St. Olaf made their opponents operate their defense around senior Anna Clements. Truly a powerhouse on offense, they were able to get open on unders and make themselves a major threat in the deep space. In fact, Clements' deep cuts caused such separation from their defenders that they would often be rewarded with a throw that upped their goal and assist stats for the tournament, to the tune of of 10 goals and 16 assists on the weekend.
They seemed to always get the disc in their hands, with which they could be trusted. They are a player who leaves everything on the field, goes for every disc in the air, and tears to shreds any defender unfortunate enough to have earned the assignment to try to slow them down. They worked hard with every point they played and were not afraid to hit the deck for a layout save and go up for throws that inevitably popped up in the wind. St. Olaf Vortex likes to say "embrace the grind." It's clear that Clements was a true embodiment of this motto and was one of the reasons why Vortex placed third this year.
Second Runner-Up
Mariah Newfont (Haverford)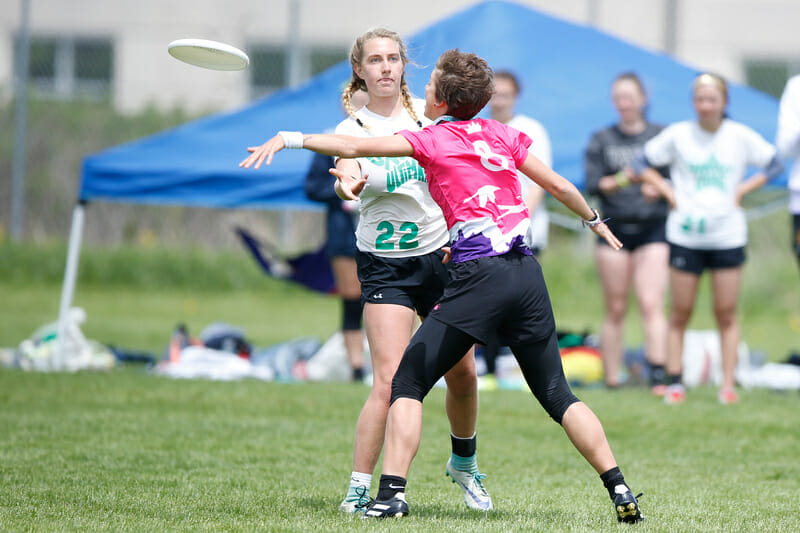 Haverford put together an impressive season that culminated in a 7th place finish in Milwaukee, and much of that success is due to the offensive output of Riah Newfont. While her stat line of 11 goals and 20 assists is eye-catching, these numbers actually understate her contributions to the Sneetches' offense. About as often as Newfont would get the disc on her cut, she would draw a second defender, which freed up one of her teammates to do damage. Opposing coaches had clearly game-planned their defense around the Donovan finalist, which caused their players to prioritize taking her away over giving up open throws to other players. And when Newfont did get the disc, she made defenses pay.
Out of all the players I saw over the course of the weekend, Newfont was the least tentative throwing upwind, ripping hucks regardless of what the weather looked like. This fearlessness with the disc allowed Newfont to quarterback the Sneetches offense to some great wins at Nationals.
---
Finalist Wellesley, for example, played seven games. ↩