The best signal-callers and program builders in the college game this season.
Ultiworld's 2022 College Awards are presented by the National Ultimate Training Camp; all opinions are those of the author(s). NUTC helps young players become better athletes and community members.
Each year, Ultiworld presents our annual College Awards. Our staff evaluates the individual performances of players from throughout the season, talking to folks around college ultimate, watching film, and look at statistics, voting upon the awards to decide those to be honored. The regular season and the college Series are both considered, with extra emphasis for performances in the competitive and high-stakes environment at Nationals.
Our final award podium is for the Coach of the Year. As so many teams have added more and more sideline-savvy consultants to their roster with less asked of a single head coach, this has essentially morphed into "Coaching Staff of the Year." Coaches can impact the game in so many ways — tactics, motivation, communication, personnel management, program development, skill-building, etc. — and it can be hard to divine what exactly each has contributed to their team. But good coaching is something that we feel that 'we know it when we see it.'
---
D-III Women's Coaches of the Year
Winner: Marshall Goff (Wellesley)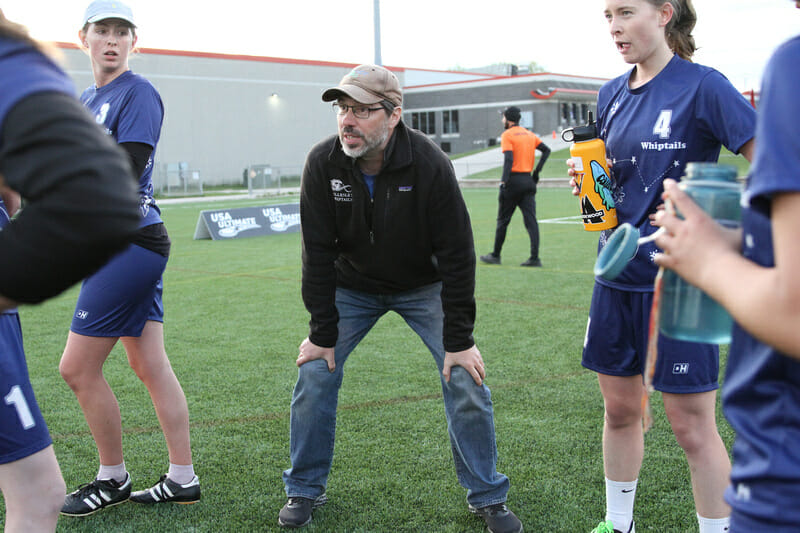 After dropping their first pool play game to no.9 seed St. Olaf, few expected the Wellesley Whiptails to make much of an impact on the rest of Nationals. But after losing their first game, Wellesley rattled off five straight wins, including back-to-back elimination upset victories over 2021 finalist and no.3 seed Portland and no.2 seed Carleton Eclipse. Much of this success can be attributed to head coach Marshall Goff, who has been at the helm of the program for more than a decade now. Goff is as experienced as they come, having coached Boston Slow to a national championship in 2016 (and winning Mixed Coach of the Year to boot), and that experience was crucial for a team with a grand total of zero players with previous nationals experience on the roster.
In windy conditions that resulted in long points across the division, Goff consistently reiterated his mantra of limiting the number of points per point, meaning that when Wellesley forced a turnover, they had to take advantage. And take advantage they did. On a turn, Wellesley would methodically and slowly move the disc, stressing possession rather than yards. This philosophy was particularly evident in the quarterfinal against Portland, where UPRoar preferred to huck and play D, hoping that Wellesley would commit a costly turnover, but excellent coaching and player buy-in meant that the Whiptails would do their best to retain possession and slow the game down, leading to an upset win over the Pool C winners.
The most crucial aspect of this Wellesley team is the culture that they have built. Said Goff about his team's mentality, "I've worked with teams a long time, and there's no team that works harder for each other than this team. They love each other, they work hard, and that keeps their head up." A large part of that mentality is the result of Goff's laissez faire philosophy, choosing to encourage and provide small tactical points as opposed to bombarding them with information, letting the captains and leadership dictate the energy of the team. This award may only be for 2022, but it has been a long time coming for Goff, who has helped build not only a team that made a run to the national final, but a sustainable program that should be competing on the national stage for years to come.
First Runner-Up
Rebecca Enders & Biz Cook (St. Olaf)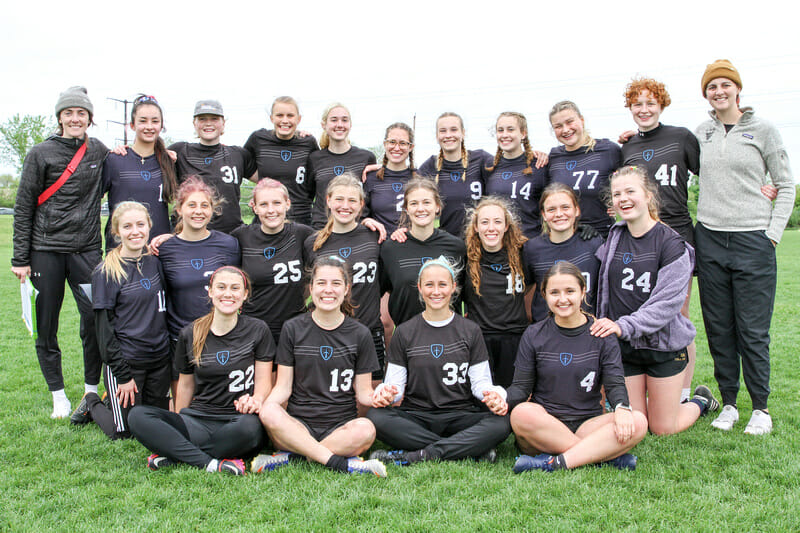 Coming into the tournament, St. Olaf Vortex was seeded ninth and placed in a tough pool of opponents. The team then went on to beat the no.4, no.5, and no.6 seeds in pool play and the quarterfinal. While the team created this success through their playing, coaches Biz Cook and Reebs Enders deserve some recognition by contributing to this feat. They chose not to pay attention to their rankings or those of the other teams and instead focused on their own game and systems, remained undaunted by the strength of their competitors, and left it up to themselves.
Cook and Enders both have plenty of experience playing on Minneapolis Pop and Enders played on Minnesota Strike for their inaugural season. They brought this experience to the team and taught their players a variety of systems to run that the allowed the team to succeed when they stuck to them. As a pair, the two stayed active on the sidelines and chatted with their players to help them as players. They helped contribute to their team's culture by mixing competitive energy with having fun and being supportive, while encouraging their players "love the grind."
Second Runner-Up
Cameron Barton & Emma Nicosia (Carleton)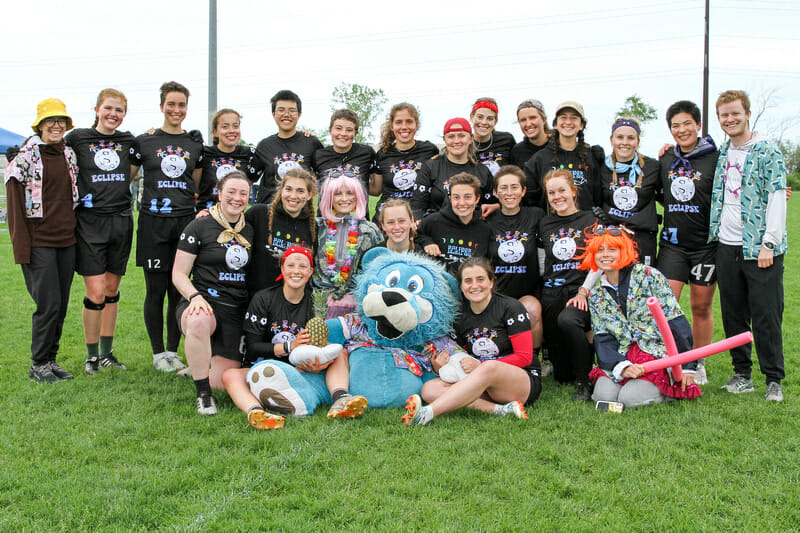 Carleton Eclipse aims to keep things light and fun whenever they compete. This team culture was set in-part by their coaches Cameron Barton and Emma Nicosia. They know that competing at Nationals can be a lot of pressure on their players so, for the last two seasons, to help the team release that stress, Eclipse have incorporated a theme in their nationals. Last Fall, Barton and Nicosia showed up wearing lifeguard attire. This year, they stuck to the theme "Beach Paradise," donning Hawaiian shirts/dresses and bucket hats. They also incorporated this theme by using pool noodles as a part of their warmups. They truly brought the energy and positivity to the team and got excited for their players whenever they succeeded.
When Eclipse fell to Wellesley in the semifinal, the coaches sat on the field with a few crying players and comforted them. Even despite the loss, Barton and Nicosia remained positive and raved about how proud they were of their team.