The best defenders of the 2022 spring season.
Ultiworld's 2022 College Awards are presented by the National Ultimate Training Camp; all opinions are those of the author(s). NUTC helps young players become better athletes and community members.
Each year, Ultiworld presents our annual College Awards. Our staff evaluates the individual performances of players from throughout the season, talking to folks around college ultimate, watching film, and look at statistics, voting upon the awards to decide those to be honored. The regular season and the college Series are both considered, with extra emphasis for performances in the competitive and high-stakes environment at Nationals.
Our awards continue with the Defensive Player of the Year, recognizing the individual, and two runners-up, who we felt were the top defensive performers this spring.1 Whether through generating blocks, shutting down options, helping out teammates, or all of the above, these defenders stood out doing the tough work that too often go unrecognized.
---
D-III Women's Defensive Player of the Year
Winner: Gigi Downey (Mount Holyoke)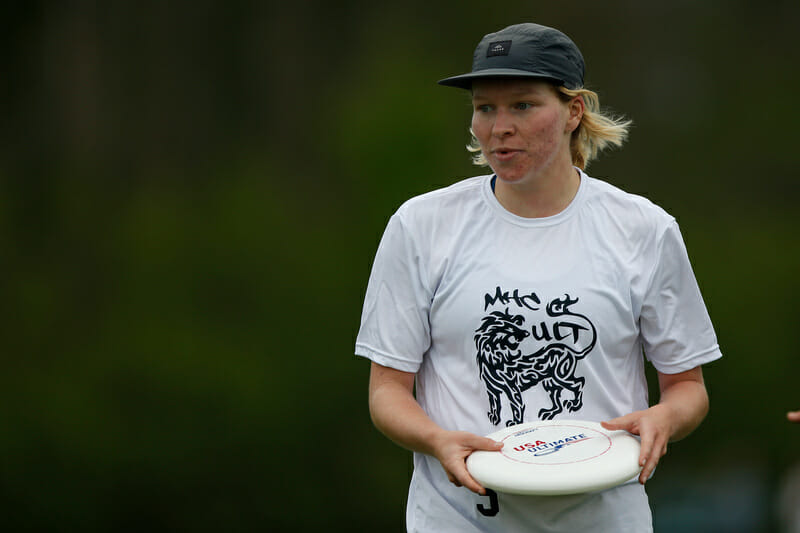 As the star player on her team, Gigi Downey played all over the field, making sure that every disc thrown in her general vicinity belonged to her. On offense, Downey is a speedy handler who is not afraid to make a big play or two. Her upline and strike cuts proved hard to defend and she proved to be a force near the end zone (12 goals, 14 assists). Even when she turns the disc, she knows how to find a way to get it back. As a defender, she is just as, if not more, versatile. When setting up a zone, she could cause damage in any position and got blocks as a mark, wing, deep-deep, and in the cup. Many players spend years specializing in one or two positions in a zone, so when a player can generate turns and get blocks in every spot, it deserves some recognition. When she was on a wing, if the cup got broken, she would bust deep to help cover and be sure there wasn't a complete jail-break. What possibly makes Downey stand out the most as a defender is her heads-up defense. With an eye always on the disc, she got her hands on discs that the players she was defending didn't see coming.
First Runner-Up
Madelyn Lander (Middlebury)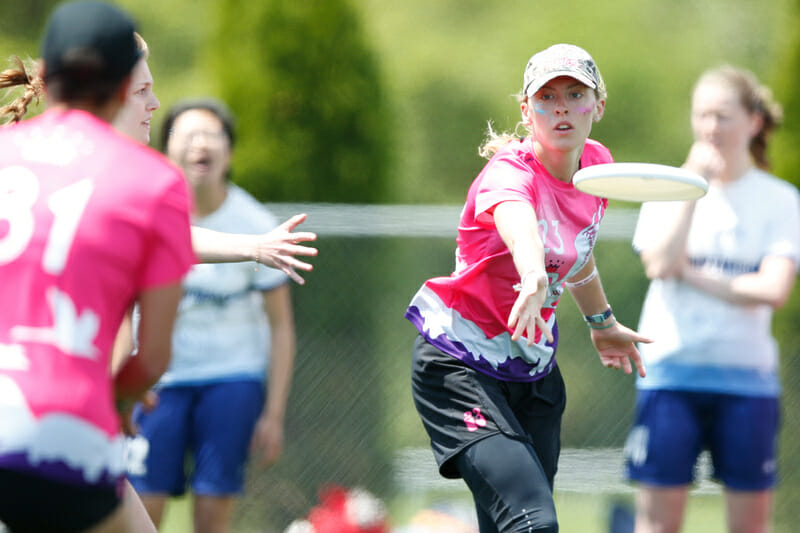 When discussing the division's top players, O-line players usually attract much of the spotlight. This has certainly been the case during Middlebury's back-to-back championships with Claire Babbott-Bryan and Keziah Wilde getting much of the coverage. But Middlebury's offensive stars will be the first to tell you that Madelyn Lander was a major piece in their dynasty. As one of the tallest players on the field, Lander used her height to dissuade deep shots, and ate them up when opposing offenses dared to test her. Her presence in the deep space effectively made every 50/50 shot a 70/30 ball in favor of the Pranksters. Lander didn't just stand in the deep space and wait for offenses to gift her blocks; she did an excellent job of locking down her matchup anytime Middlebury went in to a person D look, and played exceptional help defense any time one of her teammates got beat deep. Simply put, Middlebury would not be bback-to-back champs without Lander's defensive efforts.
Second Runner-Up
Molly Schwartz (Carleton)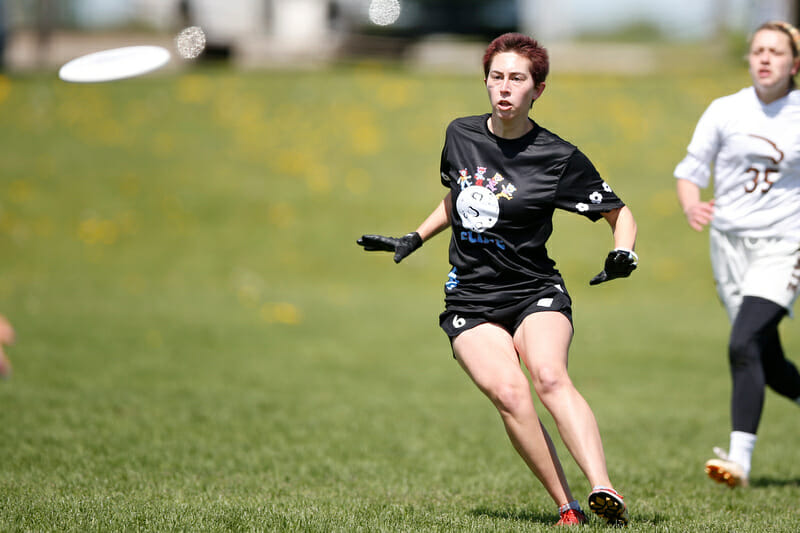 In her first year on Eclipse, Molly Schwartz made waves as a defender and shook things up, making the deep space her territory. Quietly, mainly in a zone, she would wait in downfield, almost like a cat stalking its prey, baiting the huck. Then, as the throw went off, she would strike and add another block to her tally. Even matched up on person defense, she played tight, denying the offense the deep cuts, matching speed every time. Especially during the semifinals, she had a field day chasing down deep shots put up by Wellesley to smack to the ground.
Of course, every good defender has range in their defense. Schwartz did not excel only in her deep game; but she also did well with some shut-down defense and her seals as a mark looked solid.  She always seemed to have a great position on the disc, combined with some stellar reads to make sure she was the one who made the play.
---
Excluding the Player of the Year, who is not eligible for this award. ↩