Recognizing the top seven performers of the 2022 season.
Ultiworld's 2022 College Awards are presented by the National Ultimate Training Camp; all opinions are those of the author(s). NUTC helps young players become better athletes and community members.
Each year, Ultiworld presents our annual College Awards. Our staff evaluates the individual performances of players from throughout the season, talking to folks around college ultimate, watching film, and look at statistics, voting upon the awards to decide those to be honored. The regular season and the college Series are both considered, with extra emphasis for performances in the competitive and high-stakes environment at Nationals.
Our All-American teams recognize the top performers across the division. While previously we have closed our Awards with our First Team and Second Team, displaying the top seven and next seven players who had the best seasons, they have been moved up in the schedule. As our voting process is ordered, the top vote-getters for All-American honors function as the ordered list in our Player of the Year voting — our highest individual award.
---
D-III Women's All-American First Team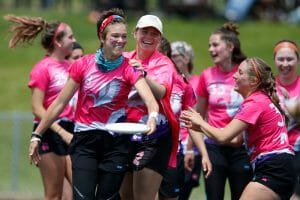 Claire Babbott-Bryan (Middlebury)
What else is there to say about Claire Babbott-Bryan that already hasn't been stated? She was the clear leader of Middlebury, both on and off the field. As an almost exclusively O-line player this spring with very little crossover — a result not of her limitations but of the Pranksters commitment to involving everyone in near equal measure — CBB tore up her opponents' defenses with easy efficiency every time she stepped on the field. When not taking care of business with her play, she assumed a coach-like position for the Pranksters, strategizing with her team from the sidelines and helping manage Middlebury's deep roster.
For more on Claire Babbott-Bryan, check out her Player of the Year writeup.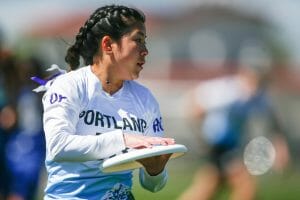 Jaclyn Wataoka (Portland) Player of the Year First Runner-up
For the second straight season, Portland's Jaclyn Wataoka finishes second in the Player of the Year voting behind Babbott-Bryan, a no-doubt cornerstone inclusion on the All-American first team. Like her Middlebury counterpart, Wataoka only seemed to improve on her POTY-podium-worthy performance from the fall, leading the division in assists as the offensive fulcrum for a team in the thick of a title hunt.
Having to shoulder even more of the playmaking load for UPRoar this spring than her already massive role in 2021, the reigning Offensive Player of the Year was spectacular in Milwaukee — the driving force in pushing Portland up the field, an automatic reset for her teammates, and a magician that continually conjured up ways to unlock defenses with her throws. While UPRoar came up short of their second-place finish in the fall, Wataoka gave her all in trying to keep her team alive, throwing seven assists in their quarterfinal loss to upstarts Wellesley, a single-game total unmatched by any other player from that point in the tournament forward. Portland will have huge shoes to fill with the graduation of their inimitable star.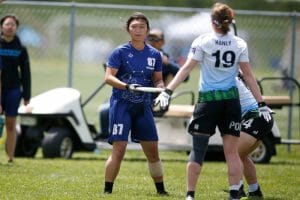 Josie "Butter" Ku (Wellesley) Player of the Year Second Runner-up
The best player on the season's biggest surprise team, Josie "Butter" Ku was rock solid for Wellesley not just throughout Nationals but all spring long. The Donovan award winner proved to be a dependable all-around playmaker for the Whiptails as they stormed from the back end of the Power Rankings at the start of the season all the way to a national final appearance.
Between her reliable hands and array of throws, Ku was a force in the Wellesley backfield, a steadying presence for a team that earned their way back to Nationals for the first time in a decade. Even after calling herself off for an injury during the team's semifinal against #2 Carleton Eclipse, Ku still gave her team every ounce she had and threw herself into her sideline presence to help her team to victory. Yet, this is not why Butter is on this list and won the Donovan award. She had an excellent field sense, knowing both where to be to get the disc and then where to deliver it, usually as some form of a huck, to get the disc cleanly to her teammates. Clearly still hampered in the final, Ku toughed out some points and picked up a goal in the season finale to cap a fantastic spring and career for the Wellesley senior.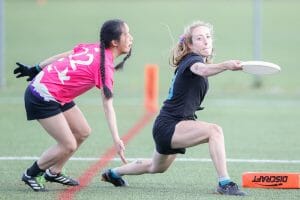 Anna Mulhern (St. Olaf)
Anna Mulhern came to Nationals showing she was there to play, quickly proving she was St. Olaf's indispensable core handler. With her unstoppable give-and-go's combined with brilliant hucks and excellent on-field communication with her teammates, Mulhern helped lead Vortex through an undefeated pool play run — including a double game point victory over eventual finalists Wellesley — and decisive 14-5 quarterfinal victory over Mount Holyoke. Even as her team trailed to heavy favorite Middlebury in the semifinal, Mulhern did not let up on the gas and made critical saves to keep possession and contributed to more than half of Vortex's scores — two goals, four assists — in her team's final game. Mulhern was the teams offensive stat leader in Milwaukee, amassing five goals and a whopping 22 assists throughout the course of the tournament.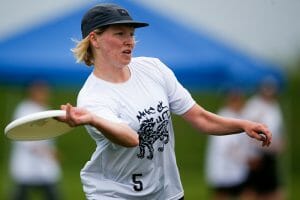 Gigi Downey (Mount Holyoke)
As the star player for Mount Holyoke, Gigi Downey was utilized all over the field by Daisy Chain and produced in whatever position she found herself, leading the team in both goals and assists. Throughout the course of the tournament, Downey consistently found different ways to impact games, whether streaking open on most of her cuts, turning to fire timely continuation passes or deep throws that hit her receivers in stride, or picking up blocks to get the disc back for her team. Long story short, when the disc found Downey's hands, good things happened for Daisy Chain.
Already an elite club level contributor with Boston Slow, Downey's solid footwork and explosive athleticism made her a defensive force for Mount Holyoke, perhaps best showcased in producing a number of highlight layout blocks in her team's late game comeback win against Rice. One of only five players at Nationals to post a triple double in goals, assists, and blocks, the junior closes out an awesome campaign and should be a force again next college season.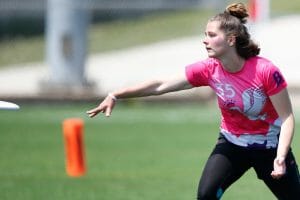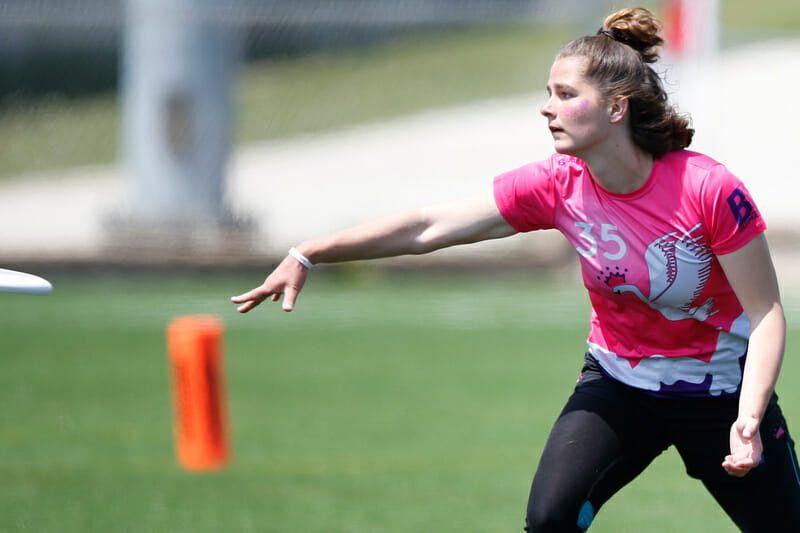 Keziah Wilde (Middlebury)
After a dominant season to defend their national championship, it's no surprise that Middlebury also has a second repeat 1st Team All-American selection. Keziah Wilde served as half of the team's dynamic offensive duo; paired with Player of the Year Babbott-Bryan, Wilde was once again the backfield general for the Pranksters O-line. The Wild Card alum was one of the key reasons why the Pranksters saw very turns from their O-line and only allowed a single break at Nationals prior to the final against Wellesley.
On a deep roster that takes pride in spreading out the workload, it can be hard to stand out. And yet, Wilde did just that. Her stealthy strike and upline cuts that turn into continuation hucks gave the Pranksters offense just what it needed in order to succeed.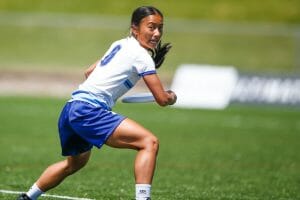 Tess "Roo" Dolan (Wellesley)
Tess "Roo" Dolan solidified herself as one of the biggest walking highlight reels of the weekend in Milwaukee. Despite her short stature, Dolan lived up to her nickname "Roo" (short for kangaroo) with hops galore — her vertical seemed to double her height — to pluck discs out of the air, whether hauling in a goal or picking off an opponent's pass. She proved time and time again that every disc was hers with every incredible dive, snag, block, and sky she made for a catch.
This all-around impact became especially important during Wellesley's semifinal game against Carleton Eclipse and then the final against regional rival Middlebury, as Roo was one of the players to step up to the plate after star Josie Ku went out on an injury. Dolan led her team in goals for the weekend, all whilst playing with a giant smile on her face.