The strategic game plan that landed Mixtape a world championship.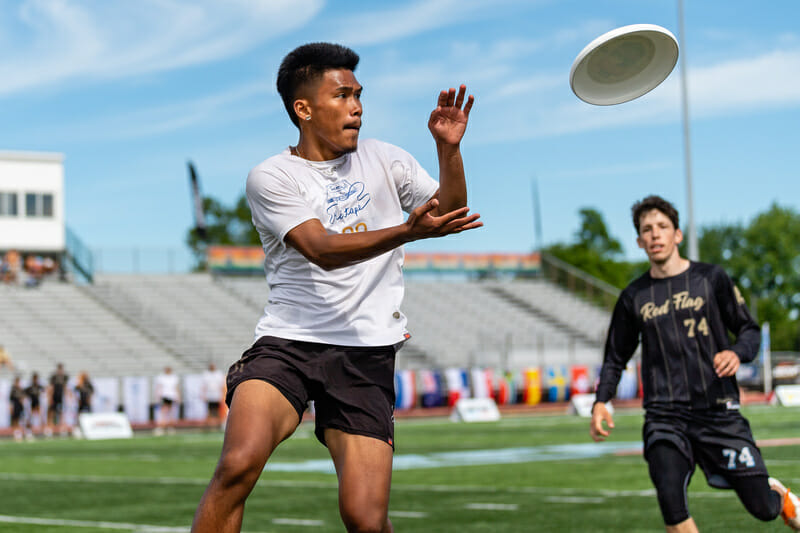 The Mixed final at WUCC 2022 was an education in preparation. Seattle Mixtape (USA) brought the considerable weight of their experience to bear against a Vancouver Red Flag (CAN) team that was defined by their youth and its incumbent, impertinent swagger that got them to a world championship final in just their second outing as a squad.
The Rocky Road to Mason
Scouting is essential when preparing for big games, and they don't get much bigger than contesting for a world title. Mixtape are well versed in facing young upstarts, something apparent in their quarterfinal against Amsterdam GRUT (NED) where their ability to recognize the defensive game plan early on allowed them to take advantage of the openings the Dutch side gave them and repeatedly send pinpoint hucks into the path of well separated receivers. While in their semifinal encounter, Mixtape's years spent battling elite clubs in the business end of crucial tournaments meant that for all of Brisbane Lunch Box's (AUS) early dominance, the fatal fourth quarter of the game decidedly belonged to the Seattleites.
Red Flag faced a different kind of adversity on their path, as they learned to temper the emotions that powered them into the elite eight, without being engulfed by them. Their performance against Madison NOISE (USA) in the quarterfinals was incredibly impressive, though nearly undone in the final exchanges as the Canadians struggled to finish the game off and were forced to rely on Zellema Mot's defensive brilliance and an offhand scoober from Peter Yu to Gagandeep Chatha on their third possession of universe point to book a semifinal berth.1 In their semifinal against Helsinki Pussin Tiristäjät (FIN), Red Flag were at their high-flying best with deep shots aplenty, the slight majority of which worked. When they didn't work, the Vancouverites were able to pressure PuTi's cutters to the point of irrelevancy and bid consistently on desperation dumps until the Finns looked more afraid of swinging than an acrophobic toddler. Raw aggression on both sides of the disc is a great way to fight rock-hard opponents like they faced in the quarter and semifinals but would serve the Canadians less effectively against the waterfall of talent, depth, and experience Seattle possesses.
---
Yu seemed more surprised than anyone else on the pitch when it worked. ↩
WUCC 2022: Do Your Homework (Mixed Division) is only available to Ultiworld Subscribers
Already have a subscription? Log in
Whether you visit Ultiworld for our reporting, our podcasts, or our video coverage, you can help us continue to provide high quality content with a subscription. By becoming a subscriber, not only do you receive benefits like exclusive articles and full article RSS feeds, you also help fund all of Ultiworld's coverage in general. We appreciate your support!