No capes required.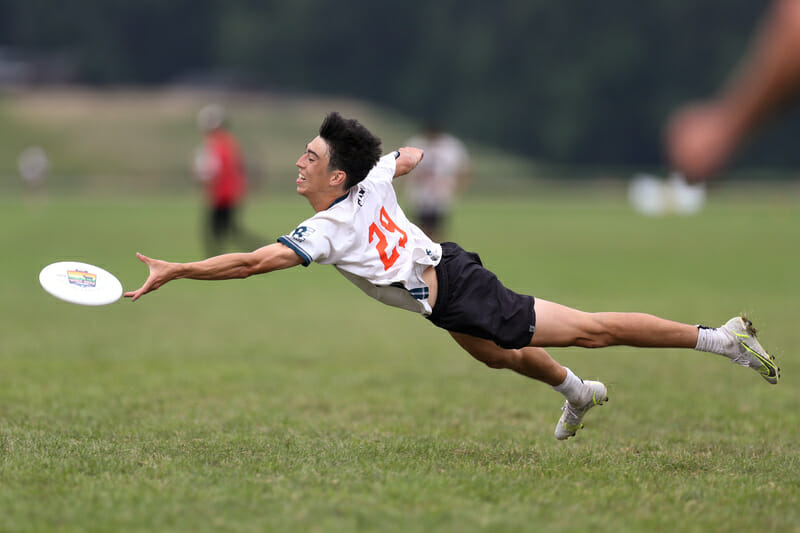 Ultiworld's coverage of the 2022 Club National Championships is presented by Spin Ultimate; all opinions are those of the author(s). Find out how Spin can get you, and your team, looking your best this season.
Oftentimes teams like to emphasize their depth and they might insist that nobody on the team has to be a hero. But, sometimes some players do some things that push themselves to ultimately earn that hero status. You might remember Mark Lloyd's legendary performance shutting down Beau Kittredge in the 2014 quarterfinal or Raphy Hayes and Leandro Marx nearly eliminating PoNY in 2019. Those were dominating performances that we'll remember for a while. You might also remember Danny Clark's catch for Ironside to end a 20+ minute universe point semifinal in 2014 or Machine's Von Alanguilan's out-of-nowhere block in the 2019 final. Those were incredible moments that are seared into our collective memory.
While it is exceedingly rare to find such a substantial moment like those examples in pool play, to the teams and the players involved, every game at Nationals has heightened importance and will be played back in their minds over and over again. So, knowing that there is still room for more legend to be written later this weekend when the games shift to the bracket stage, here are a few of the players who stood out in pool play either for their continued excellence in carrying a team over the grueling three-game slate or for just one moment of individual brilliance that made a significant difference to their team's success.
Gael Ancelin (Toronto GOAT)
Today was a masterclass from one of the leading lights of European ultimate. Ancelin might be a first-timer in the USAU club scene, but he is one of the most grizzled veterans of the 2022 Endless Summer of Ultimate. From carrying a heavy load for the French World Games team in mid-July, to picking up with the tournament darlings of WUCC, Brussels Mooncatchers, to shifting into intense GOAT practices, he has paid years of dues in a few short months. Today, those were repaid – with interest. Ancelin was the single most reliable, most dangerous player down the stretch for GOAT in both of their Day 1 victories. Playing both ways, he controlled the game for both offensive units. He combined quick, unpredictable releases when the offense was in motion with a nose for goals. Even when defenders almost wrapped him up, he found the right angle to keep them out of the play – every time.
David Sealand (Portland Rhino Slam!)
Some players on this list had great days – some had great instants. David Sealand is one of the latter. On the whole, he had an up-and-down day: some defensive plays he would probably like to have another chance at, as well as a drop on a pass thrown right to his chest. But there was no doubt that he would be on the field for a defensive universe point in a win-or-go-home situation for Rhino at the end of the day against Ring of Fire, and he justified his presence in short order. Ring took short passes up the sideline until they reached the red zone and then centered the disc. Sealand matched up on Jack Williams, not only the consensus #1 player in the division, but also essentially automatic in isolation in front of the goal. Williams juked as the downfield reset to get free, and the throw went up to him when – somehow – Sealand found enough strength to regain his footing and burst ahead of him to tip the disc. That timely, incredible block set up the score that saved Rhino's season.
Kevin Healey (Virginia Vault)
If there are two things no sports fan will ever get enough of, they are: 1) an underdog story, and 2) a huge play that signals certain victory. In the incomparable last round of the day, Kevin Healey and Vault gave us both. Healey, it must be said, was not Vault's most outstanding player in the game. Most of the candidates for that honor can be found on their ferocious D-line. But he is the guy who, on a single play with Vault leading 12-11, essentially shut the door on any hope Revolver had to come back. It came on a hanging huck above the end zone with plenty of time for a defender (in this case a smart, athletic Adam Rees) the camp out underneath it and take the position. And make no mistake: Rees had the better position. But Healey somehow contorted his frame and leaped so powerfully that he reached the rim first – and he kept enough focus to secure the catch. Clearly disheartened, Revolver ate the Vault hold and swallowed two breaks on the ensuing points to give up the game for good.
Rowan McDonnell (Washington DC Truck Stop)
It doesn't exactly *feel* right to highlight a 'hero' from a team who, as the tournament's top seed, simply won all their games in relative comfort. But that undersells the way McDonnell helped Truck's offense slip out of a jam time and again as Johnny Bravo tightened the screws in their last round of play. Fit and capable in a different way this season from the time when he was called on to make bigger cuts and throws, McDonnell's motor and hand-eye coordination are both top-of-the-division. And once he has the disc in hand, no one in San Diego has a bigger toolbox of go-to throws to keep the flow going and set up an easy score for his teammates. That may be more along the lines of yeoman's work – today, however, he was exactly the hero Truck needed to push through the end of pool play unscathed.
Abe Coffin (Chicago Machine)
Who's the one player who is among the top five in the division in both goals and assists at Nationals? You could probably guess from the heading that it's Abe Coffin. The first year Machine hybrid was a constantly positive presence on Machine no matter where he played. At times a pure handler, a downfield initiator, a red zone threat, a defensive stopper, and a high-level puller, Coffin was simply the best player on a Machine team that has the talent to win a title.
"Picking up Abe gave us a rock-solid handler," Machine captain Walden Nelson reflected. "And we love bringing him over for important D points. He plays great defense and his pulls are massive."
Mitchell Steiner (SoCal Condors)
The biggest upset of the division came courtesy of SoCal Condors, who took down Chicago Machine in the third round on Thursday. While the players on Condors' offense could all be considered heroes for the way they kept possession against arguably the best defense in the division, it was a defensive play that clinched them the game. As the game was getting tighter in the second half and it seemed inevitable that one of Machine's world-class defenders would get the block, it was Steiner who came up with the heroic play. Machine was on the brink of a game-tying score as they transitioned into their end zone set. In the chaos, Pawel Janas thought he had a sliver of space to squeeze the disc to Keegan North, but Steiner, who was trailing North, went fully horizontal to swat down the disc. Steiner was then the thrower to launch the pressure-relieving huck to Lukas Ambrose that led to an insurance goal which was ultimately the margin of victory in Condors 15-13 win. Though the result wouldn't ultimately keep Condors from getting eliminated, in this moment they felt unstoppable.
Zach Slayton (Austin Doublewide)
Since the departure of Kurt Gibson, Doublewide have made the most of their talents without a particularly dependable backfield presence. Enter 2022 Breakout Player of the Year candidate Zach Slayton. Much like he was for Texas TUFF in the D-I College scene this past season, Slayton has become one of the go-to players for Austin Doublewide because of his exceptional throws and ability to get open in the backfield. Without trying to do too much or to be a hero, Slayton has elevated the level of the Doublewide offense more than any other of their new arrivals.
Tony Venneri (Seattle Sockeye)
As the wind picked up in the second round of pool play, it wasn't Dylan Freechild or Matt Rehder or Mac Hecht or Simon Montague who connected on Sockeye's most ambitious shots. The player the team trusted the most to make some of the hardest throws was the young Tony Venneri. With an arsenal of pump fakes and dekes to move his mark and create the openings he wanted, not to mention a howitzer of an arm, Venneri seemed totally unbothered by the gusting wind nor by his suddenly increased throwing role. In a game that was close and chippy and could've ultimately ended in an upset (Doublewide took half 8-5!), Sockeye was able to weather the storm in part because of the dependable throws Venneri offered despite the conditions.