The college preseason pillar is back!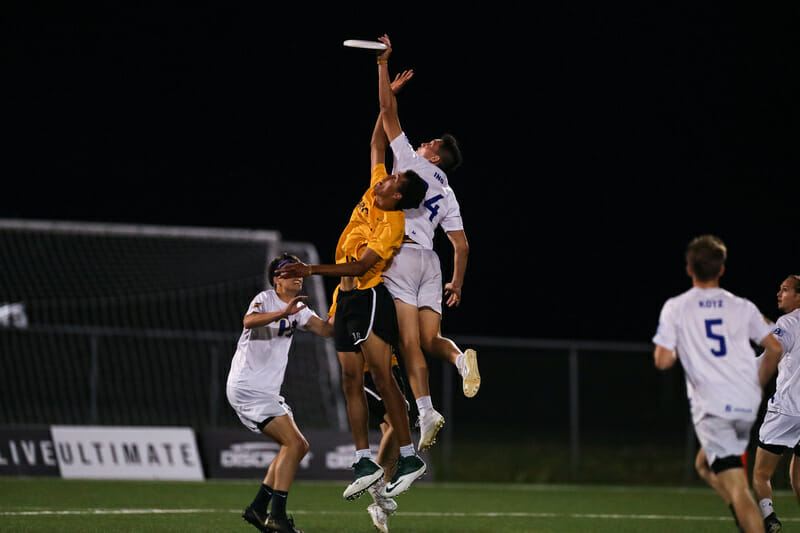 Our coverage of the 2022 college season is presented by Spin Ultimate. You can get 20% off site-wide right now at Spin Ultimate!
It is full-autumn again. The surest sign? Not leaves, not ballot boxes, not even "All I Want for Christmas" creeping back out from its 10-month hibernation. No, like swallows' return to Mission San Juan Capistrano heralds the arrival of spring, the flocking of collegiate ultimate players to Athens in November – on an away weekend for the Bulldogs, of course – is a quintessential hallmark of the season.
This year's crop of regulars on the men's side features both of the 2022 National finalists, as well as one of the remaining semifinalists and several other top-tier programs. The tournament promises to be a useful milestone for the 2023 season. The women's division, on the other hand, is almost entirely specific to the Southeast region – although the landscape there could be in the midst of a major change.
Tournament Profile
Date: November 12-13
Location: Athens, GA
Weather: On Saturday, lows in the mid-30s and highs in the low-70s, with 10 mph winds; on Sunday, lows in the 30s and highs in the upper-50s, with 10 mph winds.
Filming Schedule
These games will be available online next week for Ultiworld Full and Plus subscribers. They are being filmed, not livestreamed. Schedule subject to change; additional games may also be recorded.
NC State vs. South Carolina (M)
Ohio State vs. Georgia Tech (M)
Texas vs. UNC Wilmington (M)
Brown vs. Georgia (M)
Georgia vs. Florida State (W)
Quarterfinal (M)
Semifinal (M)
Final (W)
Final (M)
Men's Division
North Carolina, Brown Turn the Page
The 2022 season closed with a convincing 15-10 North Carolina Darkside victory over Brown Brownian Motion in the national championship game. That contest represented not only the end of a year, but the end of a major chapter in the saga of each of the two blue-chip programs: the careers of Liam Searles-Bohs and John Randolph. They now endeavor to build equally strong teams in the aftermath of those titanic departures.
Not that the cupboards are bare. North Carolina boast arguably the most talented roster in the country once again, at least on paper. Josh Singleton will be a prominent offensive talent in his second year on the team; in his first, all he did was help the team win two championships and make an appearance on both Rookie of the Year lists. He'll draw the opponent's top defender – unless senior goal-machine Ben Dameron or last season's Breakout Player of the Year, Rutledge Smith, does. The team's top defender (Eli Fried) and top two-way D-line guys (Andrew Li and Kevin Pignone) also return from the double-championship squad. And they've picked up former NC State star Dylan Hawkins for a grad school year. They are in great shape.
So are Brown, especially at the top. 2022 Offensive Player of the Year Jacques Nissen is back – after an excellent tour with Washington DC Truck Stop in the club division – to break defenses left, right, and center for his junior campaign1 He is joined by sparkplug senior Leo Gordon, who may have been the best player for Boston DiG over the summer. Elliott Rosenberg, Cam Curney, and Cal Nightingale will be looking to build on excellent 2022 campaigns. It will be interesting to see how many of last year's freshmen grow comfortably into starting roles, and whether any new rookies can help ease the loss of Randolph.
Pittsburgh Charge Ahead
Though their recent peaks are lower than that of the teams mentioned above, Pittsburgh En Sabah Nur are every inch a top-tier program – and they know it. The team-wide cascade of tears following their semifinal loss to Brown at Nationals in May was an expression of emotion rooted just as much in potential as grief. They knew they had the talent to win the game.
What, then, do they bring into this new season? Henry Ing is still there, to begin with. The All-American essentially had his way on the field whenever he chose to flip the switch, and he enters the season as (probably) the single most impactful player in the country. He will be joined by crafty, quick Peter Kotz. One of the questions that will become a bit more clear this weekend is who else returns from an upperclassmen-heavy 2022 side? The answer might make the difference between another semifinal appearance on Memorial Day weekend, or something more like quarters.
Up or Down?
The next tier of teams represents a real guessing game to see which way the wind is blowing after solid 2022 campaigns. It's likely a fair wind for Vermont Chill. They appear to have returned virtually the entire roster, including prime offensive cutter pairing Turner Allen and Eli Standard. Look out for the playmaking ability of Carl Crawford on either side of the disc.
Texas TUFF could likewise find themselves on an upswing. Zach Slayton, Aaron Barcio, and John Clyde have all received consideration as breakout players over the last twelve months, and it is well within the realm of possibility that they could key a strong 2023 run.
For the team that defeated TUFF in both Nationals brackets during the last schoolyear, however, a resurgence is less certain. Georgia Jojah graduated Jared Bennett, Coleman Tappero, Matt Cook, and 2021 Player of the Year Hayden Austin-Knab. Any of those players leaves a hole; all together, their absence is a crater. Jojah still have seniors Aidan Downey and Jake Powell ready to lead them, but two-way handler Adam Miller will be out until the middle of the spring with an injury.
Lastly, it will be fascinating to see how NC State Alpha will attempt weather the departures of program stalwarts Trevor Lynch and Dylan Hawkins. Suhas Madiraju and Sean Wiles both look like stars when they are at their best – which they will need to be this season if Alpha wish to return to Nationals. Hiatt Von Alten is also beginning to show serious promise as a receiver. They played well at Fall Easterns, falling to Darkside in a very close final. Another good weekend would bode very well for Alpha's chances in the spring.
Highlights from the Rest of the Field
After a year away, Sion Agami returns to help Ohio State Leadbelly rebound from a 2022 season not quite up to their recent high standard. He and Noah Krumme will be a problem for other teams.
UNC Wilmington Seamen showed glimpses of greatness last year, although consistency was an issue for them. Their ceiling this season will be determined by which of the 2022 upperclassmen return for another season and how well players like Jay Thomas continue to develop.
Southeast darkhorse alert? Georgia Tech Tribe put together a sneaky-good 2022, and they may be getting stronger for the 2023 campaign. A number of their players could step into the spotlight and potentially lead a charge back to Nationals. Adding U20 Team USA member and Philadelphia AMP starter Adam Grossberg will pay immediate dividends.
Florida and Tulane have top-end pieces to hang with most of the better teams at the tournament. Depth was an issue for both sides in 2022; will they be more competitive lower down the roster in 2023? If so, they could also threaten to spoil Georgia's recent run of Southeast dominance.
Women's Division
Is There a New Sheriff in the Southeast?
Georgia Athena won the region in 2019, 2021, and 2022. That will be harder to accomplish with the departures of Marie Périvier and Martha Wilber. But sophomore Paige Robinson and junior Fiona Cashin may be a sturdy enough foundation on top of which to continue the run, with the addition of tall rookie bomber Quincy Booth to the mix. The coaching staff has turned over, too, signaling a new chapter in Athens.
The team who kept them out of the bracket at Nationals in 2022 – even if they couldn't win at regionals – was the Florida State Seminole Ladies. Depending on how much talent returns from that squad, and how much they rely on a zone that has baffled their regional counterparts for several years now they could exit CCC as the Southeast favorites.
Or the favorite moniker could be worn by Georgia Tech Wreck or Florida Fuel. Both programs consistently buzz around the top of the region; before Georgia's recent run, the Southeast belonged to Florida. Georgia Tech will be hard-pressed to win the tournament given that they are sending split-squads, but they could flash enough potential to steal the shine from their more decorated rivals.
The only thing certain for now is that we don't actually know anything. That state of affairs will only last until games are finished on Sunday, at which point the picture of 2023 ought to be coming into focus.
---
Nissen was a freshman in 2020 but took a gap year during the height of the pandemic. ↩