Nine things to look forward to at this year's Warm Up!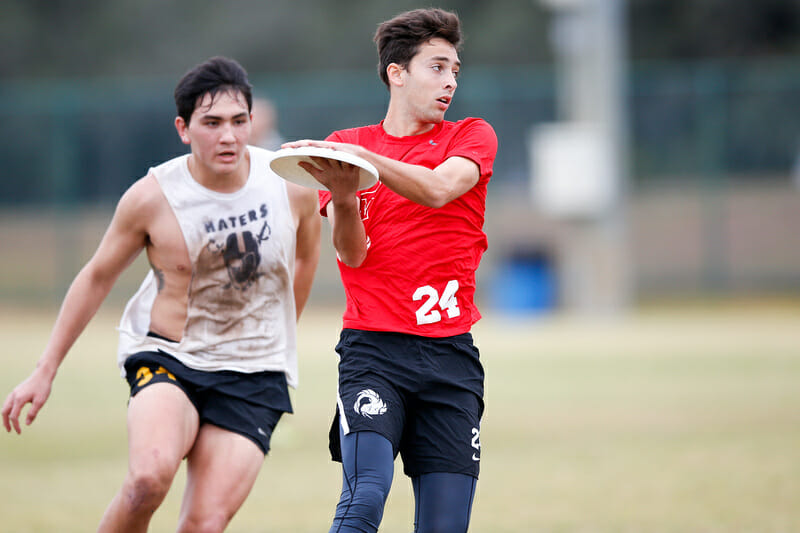 Ultiworld's coverage of the 2023 college ultimate season is presented by Spin Ultimate; all opinions are those of the author(s). Find out how Spin can get you, and your team, looking your best this season.
In what has become a rite of passage for most Eastern US teams hoping to make a splash on the men's college scene, 23 teams will congregate on the USF campus to get their first taste of spring. Sunshine, handmade "jerseys," important bid implications, and all the hype a group of college kids can muster – which, believe you me, is a whole lot of hype – are hallmarks of the event. If that isn't enough to excite you, read on below for nine more great reasons to get fired up about Warm Up.
Tournament Profile
Dates: February 3-5
Location: Tampa, FL
Weather: Highs in the mid-70s, chance of rain Friday, 10-15 mph winds
Top 25 teams: 12
Livestreaming Schedule
For the first time ever, Ultiworld Full and Plus subscribers can watch live action from the Florida Warm Up! All games can be found on our Warm Up event page and will be available both live and immediately following the games on-demand.
All times Eastern. Friday's schedule has changed due to inclement weather. These games feature natural sound only; no commentary.
Friday, February 3rd
2:00 PM: Texas A&M v. FSU
3:40 PM: Minnesota v. Vermont
5:20 PM: BYU v. Pittsburgh
7:00 PM: Auburn v. Michigan

Saturday, February 4th
9:00 AM: Georgia Tech v. Virginia Tech
11:00 AM: Florida v. UMass
1:00 PM: Georgia v. Brown
3:00 PM: Northeastern v. Carleton
5:30 PM: Quarterfinal
7:30 PM: Quarterfinal
Sunday, February 5th
11:00 AM: Semifinal
1:00 PM: Final
Nine Things to Look Forward To
The Best Regular Season Format in College Ultimate
We come back to this every year, and for good reason. There is no better regular season format than Florida Warm Up's. Here's how it works: each team has a set schedule of five (usually excellent) games spread over the first two days. Periodically, the tournament director will run the results through a simulation of USAU's rankings algorithm to update the 'standings' – the top eight teams, sorted first by record (i.e. 5-0 teams are always ahead of 4-1 teams) and then by the algorithm within each tier, advance to quarters on Saturday evening. The rest get sorted into places 9-22 for placement games. For scale of action, fun matchups, cross-country connectivity, and tournament intrigue , Warm Up is king.
Semifinalists in Action
Half of last year's Nationals semifinalists will be in attendance to make their 2023 debuts. #4 Brown Brownian Motion rode tremendous seasons from John Randolph, Jacques Nissen, and Leo Gordon to one of the most successful campaigns in recent memory – but then couldn't quite finish off the job in the final against UNC. Nissen and Gordon are back in the saddle for 2023, and they have top performers Elliott Rosenberg, Will Steinfield, and Cal Nightingale alongside them as the core of a Brown side that figures to challenge for a title again.
The team Brown dispatched in last year's semis, #3 Pittsburgh En Sabah Nur, could be in even better shape, though. The tandem of Henry Ing and Tristan Yarter showed in the fall that they may be the country's most formidable 1-2 punch – especially on D-line. They are surrounded with a bevy of experienced veterans like Harry McNamara and Kevin Tsui. After several seasons of playing near the top of the heap and a big win in the fall at Classic City Classic, this could be their year.
BYU on a Back-to-Back
For #12 BYU CHI, the season plays out a little off-kilter, schedule-wise, and that's going to be the case as long as USAU's and the team's scheduling imperatives remain at odds. So in a lot of ways, the Santa Barbara Invite/Florida Warm Up doubleheader is their Nationals: consecutive weekends far from home full of top-level competition. They took care of business in California last weekend, mopping up tournament champs Cal-Poly SLO and everyone else who took them on.
Now it's time for phase II: a brutal eight-games-in-two-days run up against some of the best teams from east of the Mississippi. That stretch includes games against the #3, #4, and #5 teams in our power rankings (Pittsburgh, Brown, and Vermont). CHI definitely have their work cut out for them. But with Jacob Miller looking like the kind of takeover guy to make up for the graduations of Jordan Kerr and Joe Merrill and two dynamite defenders in Chad Yorgason and Porter Oyler, they could come out of the weekend without a scratch.
Contenders or Pretenders?
Every season has its initial expectations – that's the whole idea behind our pre-season power rankings, for instance – but really it's all (educated) guesswork, a set of placeholders to tide everyone over until reality sets in. For a couple of the teams on the high side of our (educated) expectations spectrum, that reality is now near-at-hand. #5 Vermont Chill have been building up a head of steam with the current generation of players (mostly local to the state, but with a couple of key imports). They looked great in the fall at CCC: disc skills, depth, athleticism, and a winning mentality were all on full display. There isn't any doubt that they will be a regional force in New England. But where exactly is the ceiling for Johnny Sickles, Kuochuon Ponzio, Eli Standard, & company? A strong Warm Up cements their status as actual national title contenders. A middling effort, though, is a sign that they could still be a year or two away from an ascendance to the elite level.
A recalibration could also be on tap for #6 Georgia Jojah. On the one hand, their senior class (Jake Powell, Aidan Downey, Ryan Flick, Adam Miller, Isaac Huntington) is on par with the country's best, talent-wise. That group is more than a handful when they're clicking, and they all have big-time bracket experience at Nationals. Where Jojah have faltered has been in the consistency department. An unmitigated disaster on the first day of last year's Smoky Mountain Invite and a brutal 15-3 loss to Vermont at CCC in the fall speak volumes about how quickly things can go wrong for them. Which face will they show us in Tampa?
The Tricky Tier
And then there are the programs that are definitely indefinite – a little cuspy, even. Both #8 Minnesota Grey Duck and #11 Texas TUFF have been fixtures around the top 10 for years now, and they always seem to have bracket potential. But they've also both lost a lot of touches from last season. With that kind of turnover, can they remain fixed in the upper echelons of the division? Ian McCoskey and Paul Krenik will be shouldering a lot of the offensive load in the wake of Cole Jurek's departure, but Minnesota will need more than that. Kenji Her and Anthony Jirele could both be poised to step into more high-usage roles, and they might get important contributions right away from former Utah youth scene phenom Max Dehlin.
TUFF, meanwhile, are down 67% from last year's Jakes: Worthington is back, but offensive whizzes Radack and Sames have moved on from the college game. The defense, anchored by John Clyde, should have plenty of punch. You have to wonder who is going to take over on the O-line, though. The smart money for now is on a combination of Gavin Babbitt, Zach Slayton, and Saaketh Palchuru to run the show. How quickly the personnel can adjust to new roles will determine how far ahead they push at Warm Up.
Exiled Kings of the North
Well, well, well, we come to the blue-blooded snowbirds. #13 Carleton CUT and #24 Wisconsin Hodags have been taking advantage of the Florida sunshine to get high-level outdoor reps for years. But over time the division has changed around them: these multi-championship programs have slipped a bit from their lofty aeries of late. Is 2023 the year either of them regains the perch?
CUT looked for most of last season as though they were about to find something like their old form – and then they toppled out of the game-to-go at North Central Regionals. The 2023 side is an interesting case because they have lost major contributors like Eddie Driver and Ben Preiss from last season while keeping (or adding) a lot of promise. Mauricio Badillo Moorman and Leo Xiao turned up the intensity regularly for them last spring, and Cullen Baker was a revelation in the center handler spot as a freshman. To that mix they add perhaps the most high-profile rookie in the country in Declan Miller out of the Pacific Northwest. It will be very interesting to see how they all fit together.
On the other side of that fateful and blustery North Central game-to-go last spring stood the Hodags of Wisconsin: the win preserved a decades-in-the-making Nationals qualifying streak. But with a COVID-affected late start to the season, Wisco didn't quite manage to gel in time to perform up to their standards once they got there. With a more typical season outlook, Warm Up will be a much more accurate litmus test of where Saul Diaz, Joe Leibforth, Nico Ranabhat, and the rest of the Hodags are compared to the division.
New Deal for New England
Nothing about the way the 2022 bid allocation played out for New England was fair. Nothing! By rights, they should get all 10 strength bids this time around. But since I don't make the rules and the arc of the universe bends toward injustice, they are just going to have to make up for it on their own. That work starts this weekend with Brown, Vermont, #14 Massachusetts Zoodisc, and #17 Northeastern Huskies.
Since we've already spilled some ink on the first two of those schools above, let's look at the other half of the equation. Both Northeastern and Massachusetts made the semis of Warm Up last season…and neither played, the former because of a rash of positive COVID tests and the latter because they had scheduled early flights home. But last year the rankings didn't matter, so it was more of a no-harm-no-foul situation. If they can put together a similar run this trip, the teams of New England can dance in the streets.
Zoodisc return three of their top four players from last season in Luca Harwood, Noel Sierra, and Wyatt Kellmann. Throw in another year of growth from Caelan McSweeney and you have a team that definitely seem like they could end the year somewhere in the top 15, even without Orion Cable. The picture is a little muddier for the Huskies, who lose three of their four top contributors from 20221. They'll likely need Peter Boerth to fill more roles than he has in the past, and both Alex Storrer and Owen Cordes will probably need to show some growth. One potential ace in the hole is the relatively unsung athleticism of Steven Tanguilig on the defensive end.
The Star Effect
It isn't uncommon for star power to have an outsize effect at early season tournaments, and Warm Up has been no stranger to that phenomenon. Minnesota's Ben Jagt, Central Florida's Adam Vinson, Carleton's Joe White, and Brown's Leo Gordon have played the part in recent years. Who's going to go full wrecking ball in 2023?
The aforementioned Henry Ing, Jacques Nissen, Jacob Miller, and Aidan Downey are easy candidates, but let's dig a little deeper. Brothers Turner Allen and Declan Kervick of Vermont both have a lot of latent big play ability and might use Warm Up like a jungle gym. #20 Michigan Magnum have one hell of a duo in Theo Shapinsky and Aaron Bartlett. Bartlett was still getting his feet under him this time last year, but if he shows the kind of poise in college that he did in the club season playing for Truck Stop those two could play keep-away from opposing defenses all day and lift Michigan to a very strong weekend.
Temple's Nate Little has been one of the more impressive players in college for a couple of seasons – his play is dominant enough at times that it could buoy Temple to a big weekend. Little and Temple will get a fun match play test against fellow phenom Eli Artemakis and Illinois Rise, who also have the potential to soar into the bid picture if they can fully coalesce around him. Among other outside-the-top-25 teams, Michael Arbutine returns for another season of slinging for Florida. He can change the tenor of a game in an instant. Luke Thomas has big shoes to fill at Auburn after a bunch of graduations, but he also has the feet to fill them. Could he find himself at the center of another miracle Auburn run?
Southeast Pecking Order
Unsurprisingly for a tournament in Florida, the Southeast leads the field with seven representatives out of the 23 teams in attendance. That means that beneath the layer of national insight, we'll get quite a lot of information on the regional level about the relative strength of many of the Southeast's hopefuls. Tulane and Alabama are absent, but the rest of the Southeast's big names are around.
The conversation starts with Georgia, who, sitting in the catbird seat, look to add a fifth consecutive regional title. Behind them the picture gets cloudy. Auburn Aetos rode the excellent play of a few grad students into the bracket at Nationals in 2022, but only Luke Thomas and Scott Evans remain from the core of that team. It might be enough to carry them through once again.
Or it might not. The team they beat in the game-to-go last season, Georgia Tech, has added an immediate impact rookie in Adam Grossberg alongside veterans like Chris Zuo. Or the state of Florida could return to the spotlight. Florida returns both ends of its most reliable connection from 2022 in Arbutine and Logan Diehl. Meanwhile, Florida State DUF and Central Florida Dogs of War look to break back into the national picture for the first time since both teams put together excellent seasons in the 2010s.
---
Ben Field, Gus Norrbom, and Simon Carapella ↩