Your guide to the biggest players, teams, and stories of the 2023 D-I college season!

Ultiworld's coverage of the 2023 college ultimate season are presented by Spin Ultimate; all opinions are those of the author(s). Find out how Spin can get you, and your team, looking your best this season.
For the first time since 2019, we are poised to have a full college season with normal rankings, a normal bid process, and a normal Series. Well, as normal as college ultimate can be, anyway.
College season is back, and it brings with it all the things that make these next few months so fun. Whether it's title chases, regional rivalries, new stars, unbelievable rookies, or unexpected storylines, each year we find college ultimate delivers entertainment and plenty to talk about. We've gathered up the stories and names you need to know before the college season kicks off.
Major Storylines
North Carolina Pleiathrees
UNC Pleiades has not lost a sanctioned college game in 1,097 days. To put that in perspective, a baby born the last time the Pleiades lost would be potty training by now. There are upperclassmen on this team who have never gone into a post-game huddle after getting outscored. In college ultimate, a winning streak that long hasn't existed since the Stanford women did it in the '90s – and they went on to win back-to-back-to-back national titles.1 That's a scary history lesson for the rest of the division, especially when the Pleiades have shown absolutely no signs of slowing down this spring. After sailing through early season competition, they've now won 73 games in a row and seem hellbent on a third consecutive title run. This UNC program is a freight train. The question is: can anything or anyone get in their way?
A quick glance at the roster would put a tally in the "no" column. Despite graduating 2020 Callahan winner Anne Worth – who delivered a 2G/6A performance in the 2022 national final – and offensive-line rock Maya Powell, Chapel Hill somehow retains the vast majority of their on-field production. Who should we talk about first? There's the bona fide stars: reigning Player of the Year Dawn Culton, goal factory Ella Juengst, and crafty point guard Alex Barnett. There's the blue-chip youth names in Grace Conerly, Sydney Rehder, and Theresa Yu. Not to mention, they've developed some of the most exciting emerging talent in the country in newly minted U24 picks Kailyn Lowder and Erica Birdsong. Any one of those players could be the best player on other Nationals-caliber teams; the Pleiades have whole lines of them.
What's more, 2018 Coach of the Year Jessi Jones is still at the tiller, installing the program's signature system driven play style. Where other teams this flush with talent might be prone to shenanigans and hero ball, watch UNC play and you'll see the opposite. They're disciplined. They're fundamentally skilled. They throw a lot of resets. "Boring" is probably going too far, but they're a well-oiled machine, not a kitchen packed with too many cooks. This near-religious devotion to systems lends them a level of stability and consistency other teams can only hope to match. They've lost stars before—another always seems to sprout up in their place. They've played high-pressure games in front of hostile crowds—no competition has cowed them yet. To be clear, the rest of the division has no intentions of rolling over and letting UNC waltz to title number three. But against the Pleiades' combination of talent and tactics, even their best efforts may not be sufficient to thwart the relentless march of the UNC machine.
–Bridget Mizener
Or… A New First-Time Champion
In 2021, the UNC Pleiades broke through with the program's first-ever national championship, and have proceeded to maintain a vice grip on the D-I Women's division ever since. This year, there are three teams sitting in the top seven of the Power Rankings who have yet to win a title—Colorado Quandary, Vermont Ruckus, and Tufts EWO. Each team has the talent and depth to snag a title. Will 2023 be their year? Could one of these three teams make their breakthrough this season? Here's the case for each to finally take home their first ever title.
#2 Colorado
Quandary's universe loss in the final of 2022 Nationals was a heartbreaking end to a season. There is no doubt that the fire in Colorado's quest for a title is only growing, and so an end to the Pleiades' domination may be closer than we think. In coming so close to that win, Quandary were able to prove that their fast, explosive, and risky style of play can stymie the so-called unbeatable Pleiades offense. Coming back after such a tough loss in a title bout, this Colorado team will be seeking a bit of a sweet revenge, and with the return of the explosive Clil Philips, Stacy Gaskill, and breakout Megan Kenny, Quandary remain a stacked team that could very well take the title come Nationals 2023.
With so many talented players, it's fun to watch Quandary play any opponent—they are both effective and entertaining. Huge layouts, massive throws, and jaw-dropping hops come easily for Colorado. At last year's College Nationals, Emma Williamson and Saioa Lostra helped show off Colorado's ability to put it deep, hit the around throw, and push the limits of what their opposing team would allow them to do. With the return of such a skilled roster, including Abbie Gillach and Bailey Shigley among others, Quandary has a strong footing for another incredibly successful season.
#4 Vermont
There is no doubt that there are two teams that stand above the rest within the New England region in Vermont and Tufts, and two top 10 teams regularly competing against each other in regular season tournaments can create quite the rivalry. Currently the highest ranked team from the Northeast, Ruckus is a real threat to take down not only New England but any team that stands in their path. With a returner heavy roster, will 2023 be their year?
It's hard not to begin with the household name for Vermont: Kennedy McCarthy, a superstar who can sky anyone that tries to match her up. Not only was the returning McCarthy added to the U24 National team this year, but so was Sarah Van Doepp, another effective central player for Ruckus. Between just those two, Vermont has the dynamic offensive stars needed to scare opposing teams. Fellow Ruckus returners Allie Huresky and Marina Godley-Fisher also all exemplify the quick movements, effective plays, and passion that makes Ruckus so talented. In addition, breakout star Lylah Bannister, one of Vermont's primary goal scorers, is back and will likely be a huge receiver for throwers like McCarthy as well as talented sophomore Emily Pozzy, U20 National team rookie Caroline Stone, and transfer from Washington Mae Browning. With a hyper-talented roster and an underdog mentality, this may be the best opportunity Ruckus has ever had for a championship win.
#7 Tufts
Similar to Vermont, Tufts brings back a substantial number of players with stacked resumes, including Olivia Goss and Emily Kemp, both of whom were recently named to the U24 US National Team. Although Ewo did lose the talents of Maggie Pendleton and Julia Lober, they shouldn't struggle to fill in the gaps. In particular, the flowing movement from players like Hazel Ostrowski, Ellie Kowalski, and Dorothy Dimascio-Donohue will continue to break down opponents. Similarly, Kemp and Lia Schwartz return to the team this year, opening the door for Tufts to continue to build their systems around those two as they did last season. And the cherry on top? Strong and consistent handling powerhouse Leija Helling returns to lead the team to what might be their most successful season yet.
Tufts' tough loss at last season's Nationals to UCSB in quarters came mostly from small misses after Ewo took a 7-3 first half lead. However, with their strong returning core, Tufts should be able to smooth out those mistakes coming into this season. There is no doubt that Ewo has what it takes to punch in goals when they need to, and they will use tournaments like Queen City Tune Up this upcoming weekend to iron out any last issues. This season, then, with a powerhouse of a squad, Ewo may have their best chance at sneaking past quarters and snagging a title for the first time in program history.
-Kirsten Knisely
Beginning the Bidwatch
We have all of one major tournament under our belts at this point in the season—Santa Barbara Invite is approaching two weeks past but Queen City Tune Up, Prez Day, Stanford Invite, and Northwest Challenge are all still to come—and it's never too early for some College Championships bid speculation. The D-I women's division feels about as unpredictable as it has in a long while (with the notable exceptions of the two-time defending champions) and with that unpredictability comes a wealth of speculative potential. So join me on this ride of imagination as I attempt to peer three months into the future to suss out how the 10 collegiate regions will fare come May.
Let's go west to east, as the college season often does, starting with the Northwest and Southwest. Both regions are off to strong starts towards once again earning a bundle of bids, with a combined 11 teams in the current top 20 of the power rankings. Yes, SBI is the only major tournament of the season to have happened as of the first week of February, but the early returns are still looking solid. Could the Northwest return to its height of six bids to Nationals? It's not out of the question, though it likely requires BYU to at least attend Conferences to keep the bid in-region, making four or five bids the more likely outcome. As for the Southwest, they currently have five teams in the top 20, but just with UC Davis and Cal sitting at #16 and #17. Four bids for a second-straight year certainly is possible, but with what feels like a down year from the California schools, a return to a more typical three seems plenty reasonable.2
The Central regions have more than just a name in common this season—a clear front-runner to claim the region's automatic bid and a cohort of teams currently outside the top-25 looking to earn that critical second bid. In the North Central, it's Carleton, again, as it has been for five years running. The SBI champs are clearly in pole position, with the likes of Wisconsin, Minnesota, and last year's regional finalists Iowa needing to put together solid seasons to make their way up the rankings. For the South Central, it's Colorado, the 2022 silver medalists having pulled away from long-time rivals Texas in the region's pecking order. Still, Melee showed signs of a rebound in the fall after missing out on Nationals last year for the first time in seven seasons, and they'll be joined by surprise 2022 Nationals qualifiers Colorado State in the race for a second bid.
The next cluster of regions all share a similar story to each other, with the region's automatic bid seeming destined to be the only spot saved for them at Nationals. Michigan is currently the best positioned to make it out of the Great Lakes, while Pittsburgh look like the probable favorites out of the Ohio Valley. Binghamton have taken the Metro East's bid the past two seasons, putting them out in front in that race, while with Georgia and Florida State taking steps back it appears at the moment that only one of them will make the trip from the Southeast up to Ohio in May. Still, all four of these regions could send entirely different teams to Nationals and I wouldn't be entirely shocked.
The only regions that remain are the Atlantic Coast and the Northeast, both with some locks and some likelies when it comes to bids. UNC, of course, leads the pack in the AC, but Virginia has made Nationals in all but 2 of the last 11 seasons and seemed primed to make it once again. It'll then be on NC State or William & Mary to make a break-through to earn the region three bids for a second straight season. As for New England, there's perhaps more uncertainty here than in any other region east of the Rockies, with Vermont and Tufts looking like early season locks for bids, while Northeastern, Brown, and company battle it out for a potential third spot at Nationals. There's always the possibility for four bids, however, in the volatile NE, which would certainly help the region breathe easier than in seasons past.
-Jenna Weiner
The Evil Empire Strikes Back
From 2013-16, the Northwest region grabbed a quarter of all bids to Nationals, peaking in 2014 with six, including half of all the strength bids distributed across 10 regions. Looking at the latest Power Rankings, those days may have returned, with six Northwest teams sitting inside the top 18. At the pinnacle, the British Columbia Thunderbirds — AKA Team Canada U24 West with an astounding 13 players on Canada's 2023 U24 teams and even more that having played U20 for Canada — have put the division's elite on notice that they belong in discussions about who could win it all after ripping through the unsanctioned Bellingham Invite field in dominant fashion. UBC have a plethora of top players—Mika Kurahashi, Madison Ong, and Anna Goddu among their statistical leaders—and the Thunderbirds bring back almost all of their major contributors from last year. Not to mention they added even more skilled players from the Vancouver youth scene, including Jenalyn Ng (Team Canada U20), plus a new coaching team in Danie Proby and Robbie Brennan, making UBC one to watch this season.
The BYU CHI women just keep getting better, year after year, built like the men's program on the foundation of the Utah youth scene. After hovering in the lower half of the top 10 for most of last year, they cracked the top five in the Power Rankings for the first time after an undefeated run at Santa Barbara Invite. With a short roster, their top players get plenty of run, and given those top players—Kate Barry, Lauren Hall Dobson, Abbie Davis, Sylvia Brown, and more—that's an approach that is likely to continue to pay off throughout the season. It's hard to see BYU not ending up in bid-earning range for the Northwest; the only question could be whether they go to Conferences to secure it for their region.
After another strong season in 2022, Washington Element graduated an array of handlers whose loss would cripple any other team: Stephanie Phillips, Amy Nguyen, and Ikran Elmi, among others. With their heir-apparent Mae Browning transferring to UVM mid-year, Peixian Rong not returning to the team, and Emma Pua'a not suiting up at the Bellingham Invite, it's not surprising that Element struggled against UBC, losing 13-2 in semi-typhoon conditions.3 The good news is that no team was deeper in disc skills last year than Washington4, and fresh recruits Lucy Tanner and Tilly Myerhoff looked fully ready to take on the prime handling roles in 2023. Beyond do-everything past (and maybe future) Player of the Year Abby Hecko, Element also still has an imposing deep trio in Sophia Palmer, Savannah Tucker, and BFG's Anna Cauchy, meaning that 2023 may not be as much of a rebuilding year for Washington as a reloading one.
Regarding the rest of the Northwest's top contenders, freshman Trout Weybright was incredibly impressive for Oregon Fugue at the Bellingham Invite and looks to lead a young Fugue team back to Nationals while making a run for Rookie of the Year. Fugue made Washington work in Bellingham in a 9-5 loss as they looked for the long ball early and often. The Victoria Vikes surprised other west coast teams in Santa Barbara, putting a scare into Stanford Superfly and rolling through UCLA 13-1, Utah 11-3, and UC Davis 9-5. Western Washington Chaos rounds out the current Northwest top six and they already have a win over UVic despite missing their top recruit, 2022 U20 star Acacia Hahn, although the Vikes were also missing a couple of top players. Amaya Krutsinger is another strong recruit for Chaos, and along with Marin Cohan, Sam Dellapenta, and Hahn form an impressive young core that could take WWU back to elite status.
– Scott Dunham
State of the Southwest
In six of the last seven seasons, the Southwest region has had a representative in the national semifinals. Stanford has made three of those appearances, including their 2016 championship season, UC Santa Barbara two back-to-back in 2021 and 2022, and UC San Diego one in their title-winning season of 2019. This season, though, the region's semifinal aspirations may be tougher than they've been in years thanks to the rising tide of talent across the division. Still, the Southwest may well be the deepest and most hotly contested region in the country and that's likely to help whichever teams end up making it out of the brawl that will be Regionals to win those trips out to Nationals.
Let's start with those most recent semifinalists, the Burning Skirts out of Santa Barbara, as their recipe for success this year looks much the same as it did last year. Their goals and assists leaders from the 2022 College Nationals are both back in Devin Quinn and Julia Hasbrook, as are Vienna Lee, Laura Blume, and Terra Dressler, each of whom played key minutes in UCSB's semifinal run last season. With that quintet at the team's core, who's to say that the Burning Skirts can't make it three straight semifinal appearances? Well, a resurgent Stanford Superfly team, who beat UCSB in the Santa Barbara Invite semifinals, might have something to offer in response.
Superfly's trademark has long been their defensive prowess, and under the tutelage of the 2022 Coaches of the Year Robin Davis, Jamie Nuwer, and Shayla Harris that's only become more apparent. With a myriad of zone defense looks, Stanford stifled UCSB to earn a spot in the SBI final, before giving Carleton their best game of the weekend by a mile. U24 selection Hannah Huddleston might be the most high-profile name on this Superfly roster, but it was her co-captains Elena Kamas and Macy Vollbrecht, along with Esther Filipek, that drove the Stanford offense to success. With Superfly's defensive skill across the board and a group of veteran standouts to guide the offense, is this the year that Stanford adds to their division leading 17 semifinal appearances in program history? It certainly could be.
It may be a slight to UCSD Dragon Coalition to perhaps not consider them a semifinal threat again this season, but the loss of division-leading assist thrower Ava Hanna was always going to result in a step back for D-Co. Yes, they still have one-person wrecking crew Abbi Shilts who has the ability to put the team on her back, but the supporting cast isn't as strong around her as it once was. A similar story could be told about UC Davis Rogue, who no longer have the talents of Rani Shah, Jenna Rickey, Emily Goodwin, and Jules Madigan to rely on. April Lu, Allyn Suzuki, and U24 player Margo Donahue do have plenty of top-end capability, but like UCSD have seemed to fall back towards the chasing pack in the Southwest after both earning bids to Nationals in 2022.
That chasing pack includes the California Pie Queens, who have Betsy Siegal and Robin Anthony-Peterson back to lead their offense and have a coaching staff that, if it weren't for Stanford, might be up there as the best in the state. UCLA BLU, last out in the Southwest in 2022, similarly have a talismanic player in Tanya Bearson, whose absence was noticeably felt at SBI and who BLU will need to be able to hope to keep pace in the Southwest. Meanwhile, both UC Santa Cruz Sol and Cal Poly SLO SLO Motion appear to be improved from seasons past, meaning that the fight for the Southwest may still be as deep and contentious as it's ever been.
– Jenna Weiner
Players to Watch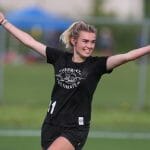 Kennedy McCarthy (Vermont)
Perhaps no player has been as central to their team's success the past few seasons as Kennedy McCarthy has for Vermont Ruckus. At Nationals last year, McCarthy put up an absurd 19G/16A/5B line while simultaneously being Ruckus' most reliable outlet and their most central thrower. This year, though, McCarthy's supporting class looks as good as it's ever been, and that could free up the Vermont superstar to be more efficient and do more even as she's relied upon less. She might not reach the same statistical heights this year as in seasons past, but if Ruckus is able to put the pieces in place around her, McCarthy might just play her way onto the Player of the Year podium for the first time in her career.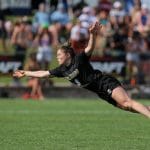 Clil Phillips (Colorado)
With a superstar act and an impressive, nearly championship-snatching Nationals performance, it's clear that Clil Phillips is just getting started. Coming into this year on Quandary with a 2018 U20 appearance, a Club Nationals title, and a collegiate silver medal under her belt as only a junior, Philips only has one thing left to grab: a college national championship. With her quick, sharp movements and audacious throws, Phillips is bold enough to make the plays that can break down any opposing team. With time on her side, Phillips will look to continue to build chemistry with her fellow talented teammates, snag Colorado's first Nationals win, and likely create a dazzling Callahan video while doing it.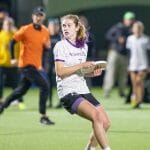 Abby Hecko (Washington)
It's nearly impossible to have avoided watching or hearing about the skill and talent that is Abby Hecko. Not only is Hecko's speed and pure athleticism impressive, but her exciting and ferocious style of play makes it hard to watch anyone but her on the field. There is no doubt that Hecko will make an impact on this season, as Element is aiming for success similar to their 2021 Nationals run and determined to move up within the top 10. Hecko may have to take on even more responsibility this season for Washington to excel: expect her to put some people on a poster.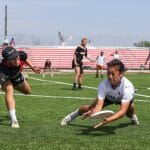 Grace Conerly (UNC)
Even amongst a field of stars on the UNC Pleiades roster, Grace Conerly stands out. One of the best pullers in the division, if she's on the field she's bound to have the disc in her hands to get the Pleiades defense off on the right foot. A prolific defensive stopper, Conerly's ability to read space and instantly snuff out an opponent's offensive possession is perhaps only second to her longtime teammate Dawn Culton. However, on a turn, there's no one UNC wants more at the center of their defensive line offense than Conerly, and her throwing prowess is often the key to the Pleiades notching yet another break. So while there might be a plethora of players to watch on this UNC roster, none may be as important to their quest to three-peat as Conerly.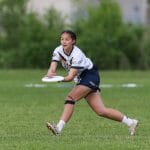 Mika Kurahashi (UBC)
Mika Kurahashi is Canadian ultimate's wunderkind. A Canada U24 starter at age 16. A World Games tryout invitee before she'd even started college. The 2022 Club Breakout Player of the Year. The eye test makes it clear why, as it often seems like UBC's systems, which prioritize explosiveness and field smarts, were tailor-made for a player like Kurahashi. A powerful athlete, she has a combination of size, speed, athleticism, and ability in the air that's bound to scare any cutter defender in the division. Let her go deep and she'll make you pay, but funneling her shallow won't neutralize her—she has a canny ability to advance the disc and find open hands at all levels of the offense. If Kurahashi can add to her already-crowded personal trophy case this season, that spells nothing but good things for UBC.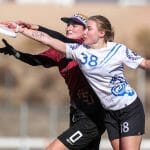 Abbi Shilts (UCSD)
We live in an era of highly polished college ultimate, but if we're really honest with ourselves, the heart and soul of the division is the Atlas player: the player who puts an entire team on their back. They shoulder an enormous burden—they can power their teams' offenses, take on massive defensive responsibilities, and do the near-impossible to keep their teams in the game. Now, it would be premature to say that's the mantle 2022 ROTY Abbi Shilts must carry this year, since there's plenty of time for D-Co to find a team identity without Ava Hanna and surround Shilts with a solid supporting cast. However, Shilts is one of the few players in the division that can carry that mantle. If that's how it shakes out this season, "player to watch" will be an understatement.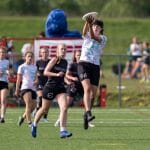 Mia Beeman-Weber (Carleton)
The next superstar in a long line of Carleton Syzygy talismanic players, Mia Beeman-Weber has quickly emerged as one of the most valuable players in the division despite only being a sophomore. When Syzygy needed someone to step up at the helm of their offense against the heavy defensive pressure of Stanford Superfly in the SBI final, it was Beeman-Weber who went every-other at points. When Carleton was in search of a key block, the lanky Bay Area product was there to deny the opposition offense, and when it came to filling the big shoes of Carly Campana, Kate Lanier, and Lauren Yamasaki-Liske, Syzygy wouldn't have anyone else. They're at the center of everything good for Carleton in the early going so far this season, and it wouldn't be a surprise if Beeman-Weber led Syzygy to a third straight semifinal appearance.
Rising Stars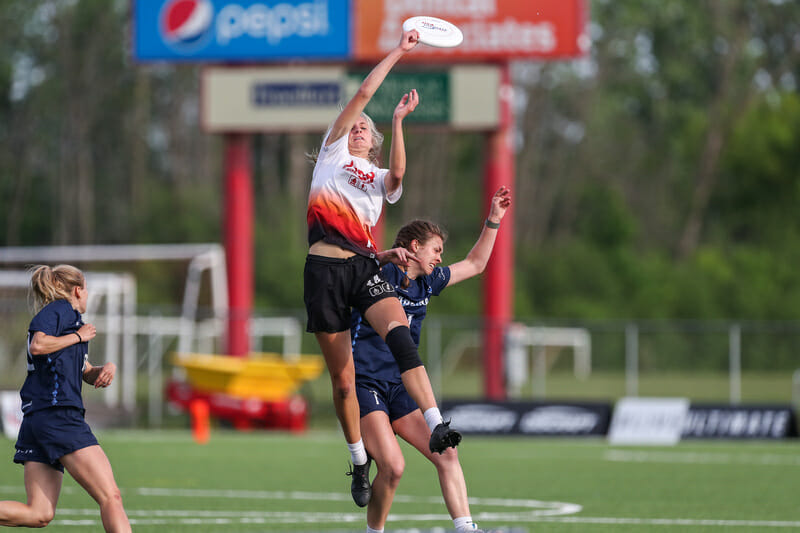 Aviva Kosto (Virginia)
After two successful Nationals performances in 2021 and 2022, Aviva Kosto returns to Virginia Hydra for her third year, where Kosto's speed, grit, and ups make her a huge threat on the field. Kosto scored or assisted nearly every point she played on at the early season Winta Binta tournament, proving her presence on the field impressive as both a thrower and receiver. Many of her goals were scored in the deep space as most of her opponents were unable to match her speed or height in jumps. With Kosto accompanied by 2023 U24 player Kira Flores, Hydra remains a powerful team aiming to move up the ranks this season.
Emily Kemp (Tufts)
There is no doubt that Tufts is destined for success this season, especially with Emily Kemp, a recent U24 team addition, as one of Ewo's key players. While Kemp is in her third year at Tufts, this is only her second year playing ultimate, and as such her talent is growing exponentially. Her athletic abilities are undeniable and her speed deems her nearly unguardable, especially in the deep space. For a Tufts team aiming to break through past the quarterfinals this season, Kemp will undeniably be a force to be reckoned with.
Trout Weybright (Oregon)
Fresh off a stellar performance with the 2022 U20 team, Trout Weybright is set to take the ultimate world by storm this spring, adding a spot on the WUL's Oregon Onyx to their responsibilities with Oregon Fugue. With Weybright's play already well on record, we can expect him to be amongst the Oregon assist leaders after putting up 25 assists at last year's YCCs. Fugue will also likely look to them as an outlet given their turn of pace, and it feels like a near guarantee that we'll see Weybright's name up amid the Rookie of the Year race come season's end.
Acacia Hahn (WWU)
Similar to their 2022 U20 teammate Weybright, Acacia Hahn is primed for a fantastic first season with Western Washington Chaos. Hahn's throwing prowess will put her immediately among the best throwers in the division, and Chaos are bound to build their offense around her. After all, Hahn did throw ten assists with the gold-medal winning U20 team, and while they're honing their skills with Chaos, they'll also be getting some crucial reps with the WUL's Oregon Onyx alongside Weybright. With Hahn's skill with the disc, Chaos' games will be mandatory viewing this season as Hahn and company try to lead WWU back to Nationals after a season away.
Devin Quinn (UCSB)
22. That's how many goals Devin Quinn put up at last year's Nationals. Watch out Kristen Reed (19), Kennedy McCarthy (19), and Ella Juengst (18) – there's a new kid in town. Oh, and lest we forget: 2022 was Quinn's rookie year. This season, Quinn will no doubt be on opposing teams' radars, but it might not matter. Her speed, size, disc-reading ability and overall nose for the end zone makes Quinn one of the most dangerous downfield weapons in the division, and a critical piece for UCSB as they look to return to semis and beyond.
It's debatable whether a player who led the division in goals at Nationals can still be considered a "rising" star.
Esther Filipek (Stanford)
The individuals that make the on-field plays for Stanford are sometimes undercredited behind their coaching and constantly evolving tactics. While U24 selection Hannah Huddleston is a playmaker who has earned praise, it will be Filipek who defines Superfly's season. With Xinzhi Zou gone, Filipek's throwing workload is bound to grow as she becomes the player most frequently picking up stopped discs and initiating play for them. You can't get on the field for this team as a one-way player, so expect to see her smartly interrupting opposing offenses, too. An All-American season is within reach for this player who wasn't even in the conversation in 2022.
Robin Anthony-Petersen (Cal)
It may seem a bit strange to see California graduate student Robin Anthony-Petersen on the list of rising stars, but this is, remarkably, only Anthony-Petersen's second full season with the Pie Queens. The all-around skill that Anthony-Petersen brings to the table for Cal shouldn't be a surprise either; after all this is a player who made the loaded U20 team back in 2018. With the Pie Queens, Anthony-Petersen has simply refined her outstanding craft and, alongside Betsy Siegal, will prove critical to Cal's success this season.
You're All Underrating…
Western Washington: Chaos is a fact of life, as was Western Washington making it to the College Championships for three straight seasons before the Northwest region was stiffed of bids last year. This year, though, WWU retained one of the best coaching staffs around and added one of the best young players in the division in Acacia Hahn. Why would you bet against a bounceback season from Chaos, then, to potentially make it four Nationals appearances in five seasons?
-Jenna Weiner
Georgia: I'm as much of a Marie Perivier stan as anybody, and plays like this make it clear why some might worry for Georgia without her this season. But just because she's a one-of-one player doesn't mean Georgia is a one-person team. The ascendant combo of Quincy Booth and Fiona Cashin could go a long way in filling Athena's Perivier-shaped hole; Booth brings the throwing firepower and Cashin brings the statement-making athleticism. If those two can produce when it counts, and the team's depth and consistency can continue to develop this spring, don't be surprised when Georgia dominates the Southeast en route to the big dance.
-Bridget Mizener
Tufts: I get that Tufts isn't the most exciting brand name team and hasn't exactly been in the title forefront, but this year's team and this program have been getting overlooked. The roster has the elite club talent in Hazel Ostrowski and Leija Helling, the young star in Lia Schwartz, and the undersung grinders in Emily Kemp and Olivia Goss. Dorothy Dimascio-Donahue and Ariel Felcan could both become bigger contributors this year and are potential breakouts.. Ewo's always well coached and has a strong and consistent program, and plenty of Nationals experience. They are every bit a semifinal hopeful with a ceiling of challenging for a title.
-Keith Raynor
Virginia: University of Virginia Hydra has a strong and continuous presence at Nationals as well as in the top 20 power rankings throughout the past years. With a consistent and established program, Hydra has what it takes to be the best. Yet, no one is ever betting on them to break the top 10. nonetheless make a run at a title. Last year at 2022 Nationals, Hydra nearly took Carleton to universe point in pool play. With a star rookie pickup in Sydney Mannion and huge returners such as Aviva Kosto, Kira Flores, and Annabel Tripodi, Hydra has proven they have the depth, talent, and ability to match well with elite competition and shake things up this season.
-Kirsten Knisely
SUNY Binghamton: Binghamton has made back to back trips to Nationals from Metro East at Nationals, but never seems to get too much attention. With not exactly the most competitive region, it still goes to show that Binghamton's growing talent secures and maintains their dominance over their regional teams. While they might not be on the big stage at Nationals each year, they are still shaking teams up with their depth, movement, and speed. Big Bear's Faith Summers, Anna Purtell, and Jolie Krebs have already led Big Bear into an undefeated fall season– will this continue through the spring?
-Kirsten Knisely
The Current Power Rankings
College D-I Women's Power Rankings:
---