More wins for UNC, but key results for other strong eastern clubs.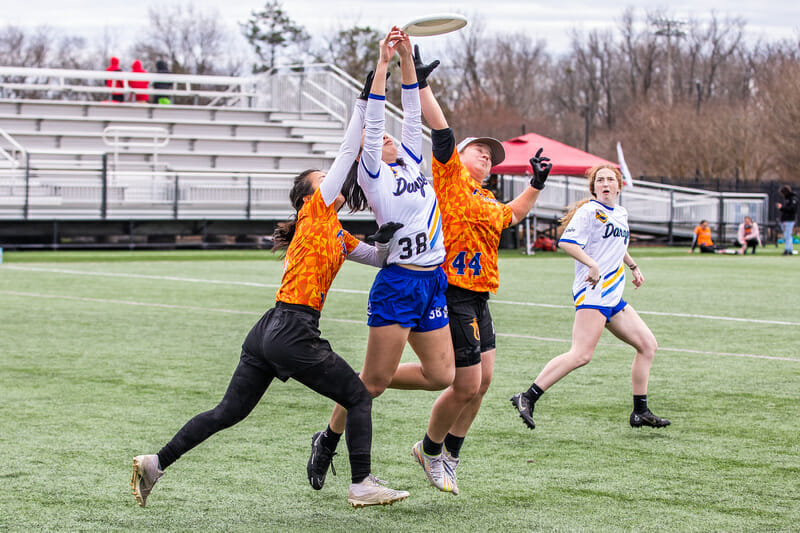 College Update, presented by Spin Ultimate, is back! Throughout the spring season, we will publish a bite-sized weekly recap of all the action across the college division. This will serve as a supplement to our standard tournament reporting and will offer a high-level look at the latest happenings and the biggest stories of the week. Please support the brands that make Ultiworld possible and shop at Spin Ultimate!
Want your tournament listed here? Submit a recap of what happened right here.
D-I Women's
Pleiades Overwhelm Deep QCTU Field; Vermont Finalists in Season Opener
#1 North Carolina Pleiades reaffirmed their place at the top of the D-I Women's division with a comprehensive run to the Queen City Tune Up title including an 11-7 win over #4 Vermont Ruckus in the final. While the game was finely balanced throughout, the two-time reigning national champions pulled away with a closing 3-0 sprint, 2022 Callahan winner Dawn Culton punctuating the Pleiades' win with a sideline snag over Ruckus' superstar Kennedy McCarthy. Unsurprisingly, the usual suspects powered UNC over the course of the weekend—Theresa Yu, Alex Barnett, and Culton in particular all played largely to their typical high standard. However, Ella Juengst did take a worrying knock in the closing stages of the final and the Pleiades will hope that it doesn't keep their prodigious goal-scorer out for too long.
In their season-opening tournament, Vermont demonstrated their title-challenger credentials, edging past #6 Carleton Syzygy 9-8 in their semifinal bout on the back of a suffocating zone defense. Offensively, McCarthy was her usual highlight-machine self, while Marina Godley-Fisher played a crucial role as the connective tissue between Ruckus' handlers and its cutters. We've seen before that a combination of oppressive defense and big-time offensive players can be a recipe for success, and through one weekend it's so far so good for Vermont.
To their credit, semifinalists Tufts Ewo and Carleton both had impressive performances at QCTU despite not making the final matchup. Neither were particularly challenged in pool play; the closest game either played on Saturday a 13-7 Carleton win over Virginia. Lia Schwartz was central to Tufts' success, while Alyssa Erhardt guided Carleton's offense with aplomb, and both Ewo and Syzygy displayed credentials in Rock Hill that could well carry them into semifinal appearances at the College Championships in May.
For more on QCTU, check out our tournament preview and tournament recap, or video of the games available for subscribers.
Elsewhere in the Division
Tennessee Big Orange Screw took down the title at their hometown TOTS in Knoxville, notching an impressive 10-3 semifinal win over Georgia Tech Wreck before rolling over Tennessee-Chattanooga Moxie 13-3 in the final.
At the Cutlass Classic, East Carolina Black Pearl secured the win with a 9-5 final victory over the Georgetown Huckin' Foyas despite losing to Georgetown in pool play 7-5.
D-I Men's
Darkside Leads Strong Atlantic Coast Cast at QCTU
#1 North Carolina Darkside maintained their undefeated start to the season with a win at Queen City Tune Up, holding off a resilient Ohio State Leadbelly team 10-8 in semis before demolishing Tufts Emen 15-6 in the final. Slow starts to both days aside, UNC's closest pool play game coming in their opening game against UNC Charlotte, Darkside continued to look the part of two-time defending champions. As the heavy favorites coming into the weekend, the Atlantic Coast headliners were able to rotate their lineup over the course of the weekend and give their precocious young players some key minutes, Eli Fried coming into his own for the UNC offense and Daniel Zhu standing out from a potent Darkside rookie class.
It would have been an all-AC final at QCTU had Tufts not come back to win on double-game point against NC State Alpha, but Emen came through to deny the UNC-NC State rematch from Carolina Kickoff. Toshihiro Nagase was the hero for Tufts, getting a poach block before throwing the game-winning assist. However Emen's success this season may well hinge on emerging star Oscar Graff, who was one of the best defenders at the entire tournament.
Behind Darkside and Alpha, UNC Wilmington Seamen and William & Mary Merry Men finished at the 5-6 slots, which could portend yet another frantic battle out of the Atlantic Coast for bid(s) to Nationals.
For more on QCTU, check out our tournament preview and tournament recap, or video of the games available for subscribers.
Elsewhere in the Division
At the UMass Invite, Vermont Chill's B team took top honors as they beat Connecticut College Deimos 13-11, while UMass B and Wesleyan both battled through the bracket to make it to the semifinals before falling well short of the eventual finalists.
D-III Men's
The only action this week in D-III Men's took place at Ugly Dome in Minneapolis, MN. #1 St. Olaf Berzerkers and #13 Carleton CHOP both went 4-1 at the round robin. CHOP's only loss came against St. Olaf, as expected, but the Berzerkers suffered a surprise 13-7 defeat at the hands of Minnesota-B. Multiple reports from the tournament confirmed that St. Olaf was taking a more developmental approach to the tournament, resting many key players due to injury and AUDL tryouts, but it's still an alarming result for one of the division's top teams, while the win over St. Olaf and a 4-1 weekend record of their own is a nice feather in the cap for Minnesota-B.
Things are slowly ramping up in D-III, with a handful more teams ready to make their season debuts this weekend at Commonwealth Cup.
Looking Ahead
Presidents' Day Invite once again hosts highly competitive fields in both the D-I men's and D-I women's divisions, Colorado Mamabird and Colorado Quandary taking their respective top seeds as they make their season debuts. The supporting casts in both divisions are most of the best of the West, so make sure to catch the Ultiworld livestreams during the weekend and read the tournament previews coming later this week.
Commonwealth Cup Weekend One and Snow Melt will both have mixed fields on the men's and women's side, with Commonwealth Cup notably seeding YCC standouts Triangle Tourists at the top of their field.