The best of the AC and beyond descend on the Carolinas.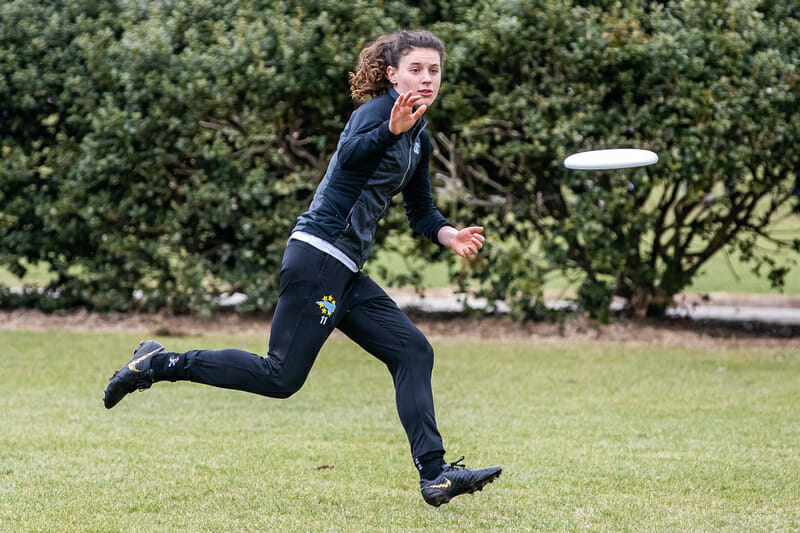 Ultiworld's coverage of the 2023 college ultimate season are presented by Spin Ultimate; all opinions are those of the author(s). Find out how Spin can get you, and your team, looking your best this season.
The Queen City Tune Up no longer actually takes place in the Queen City proper, but it's still a royally important early season tournament for Nationals hopefuls across the east and midwest. 13 teams ranked in the top 25 of the Ultiworld Power Rankings — concentrated heavily in the women's division — are headed to Rock Hill, South Carolina, just a few minutes south of Charlotte, for the 2023 event.
With livestreaming on deck, hopefully the rain holds off to make for a great weekend to learn about which teams are in the Nationals hunt — and if anyone can challenge UNC.
Tournament Profile
Date: February 11-12
Location: Rock Hill, SC
Weather: Highs in the 50s, 10-15 mph wind, rain
Women's Top 25 teams: #1 UNC, #4 Vermont, #6 Carleton, #7 Tufts, #15 Virginia, #19 Georgia, #20 Pittsburgh, #21 NC State, #23 Michigan
Men's Top 25 Teams: #1 UNC, #11 NC State, #25 Maryland
Competition Schedule
Streaming Schedule
All times Eastern. Schedule subject to change. These games feature natural sound only, no commentary. Available for Full & Plus subscribers and those with 2023 College Team Packs.
For the first time ever, Ultiworld Full and Plus subscribers can watch live action from the Queen City Tune Up! All games can be found on our QCTU event page and will be available both live and immediately following the games on-demand.
Sunday, February 12
*Sunday's streamed games were altered due to the rainout scheduling changes.
Women's
Can Anyone Stop the Hometown Heroes?
This tournament will be our first real look at #1 North Carolina Pleiades as they ramp up for their title defense, and it will help reveal exactly what's changed — or not — for this edition of the team. They played most of the 2022 regular season sans Anne Worth, but she isn't waiting in the wings this spring — how will the rest of the squad pick up her slack? With so many key contributors returning (including 2022 Callahan winner Dawn Culton, Ella Juengst, and Alex Barnett), is this year's team anything more than a reprise of their 2022 tune or do they have a remix up their sleeve?
Pleiades have run roughshod through early season competition, so we may have to wait until the bracket to get any answers. The second seed in their pool belongs to the Florida State Seminole Ladies and their trademarked zone, setting up a rematch from 2022 Nationals. That game ended 15-8. It's likely that North Carolina have their sights set on the teams that could await them deeper in the bracket: #4 Vermont Ruckus, #6 Carleton Syzygy, and #7 Tufts Ewo. These are the games that North Carolina are hungry to play; anyone interested in assessing their 2023 title odds should be hungry to watch.
New England Notables
This weekend will be our first look at Vermont and Tufts, two strong programs that expect to be vying for the New England crown — and cueing up deep Nationals runs — by the end of the spring.
On some level, Vermont might be hoping for a little payback this weekend. At last year's Queen City, they rolled until the final, where they fell 12-8 to UNC. A month later at Northwest Challenge, they faced Pleiades again, this time walking away with a heartbreaking universe point loss. These are the types of games that create rivalries — fans of good ultimate can only hope that we get to see a rematch in the bracket.
But let's not get ahead of ourselves. Before then, they'll have to face off against two ranked teams in pool play: #20 Pittsburgh Danger and #21 NC State Jaga. With plenty of high-quality matchups on the menu, we'll see how this edition of Ruckus — whose disappointing exit from last year's Nationals left something to be desired — is shaping up as a true title contender. Winning the pool with authority would be a promising start.
Tufts also drew two ranked teams in pool play: #19 Georgia Athena and #23 Michigan Flywheel. Against those tests, All-American Hazel Ostrowski will be certainly prominent, but look for Ewo to lean on their young talent, including sophomore Lia Schwartz. This weekend will provide lots of opportunities to develop the discipline and depth characteristic of the program, which will continue to serve them late into the spring.
West Meets East (Thanks, Carleton)
Coming off a tournament victory at Santa Barbara Invite on the back of their stingy defense, Carleton have established that they're legit. Now they're back on the road, headed to South Carolina just two short weeks after hopping off planes at LAX. The field should be on notice: Syzygy blowout-ruled every one of their opponents up to the final at SBI. Expect Tori Gray and Mia Beeman-Weber to continue to give opposing offenses fits. But Carleton haven't played the likes of UNC, Vermont, or Tufts yet this season; keep an eye out for how the team performs against elite competition.
Syzygy's appearance at Queen City is also a kindness to the rankings nerds (myself included). After facing off against several solid teams — #17 Cal, #14 UVic, #11 UCSD, and #8 Stanford — Carleton's eastward journey will create an algorithmic link between the coasts. Not only will their games against East Coast powers inform the results of the USAU rankings, it will enable a thousand casual "by-the-transitive-property" comparisons. Get your hottest, too-earliest takes ready.
Men's
S-Tier Darkside
Maybe this weekend #1 UNC Darkside will play a game decided by fewer than five goals. Then again, maybe they won't. The dominant winners of Carolina Kickoff (not to mention the last two national championships) have rolled through all opponents so far this season and are likely to take the short drive back to Chapel Hill still sporting an undefeated record. There's just no need to write anything else about them at this point. They're the best team in the country and should be expected to win all of their games except for a random quarterfinal at Easterns, the one major tournament they've famously never won, until proven otherwise.
Early AC Pecking Order
QCTU has always functioned as the early season "major" for teams local to the Queen City. With all of the major regional contenders in one place, many with a tournament already under their belt, results this weekend will set initial expectations for the rest of the season (for everyone except Darkside–those expectations have been made clear above). The Atlantic Coast seems to always have a lot of really, really good teams. Which will emerge as bid-earners and which end up peaking later in the season to steal said bid are going to be fun stories to follow this season. Here's a quick primer on the regional teams:
At this point, #11 NC State Alpha are well established as a Nationals-level program: the question is really whether they are closer to UNC at the top of the region or closer to the half-dozen teams nipping at their heels. Alpha comfortably made the final at Carolina Kickoff, but took a 15-8 loss to UNC to cap off their weekend. Though it's only been two weeks since that game, any sign of improvement for Alpha would be encouraging results-wise. And anything less than a finals appearance could be called a disappointment.
William & Mary Merry Men, last season's surprise Nationals qualifier, enter QCTU undefeated on the season with a win at Mid Atlantic Warmup just two weeks ago. Benjamin Greenberg is back after a stellar throwing season last year, but the Merry Men have lost a lot of major contributors from their previous campaign. This will be their first major test with a newer generation of players. While it's still early, every game matters in the bid picture; the accelerated development of newer contributors would go a long way to securing W&M a return appearance to the College Championships.
UNC Charlotte Skyrise made some noise at this tournament early last season, losing to Vermont in quarters after finishing second in their pool. They made the semifinal at Carolina Kickoff a few weeks ago and will be looking for a similar result this time around, though they have yet to beat another D-I Atlantic Coast team this season. Ben Simmons is the player everyone is looking out for–will another year of development be enough to catapult UNCC higher in the competitive landscape?
Though they have not made it past regionals since their famous 2018 backdoor run, #25 Maryland Space Bastards have hung around the back end of the Top 25 coming into this season. Coach Darryl Stanley and big man Fred Farah are coming off of the most successful club season the DC men's scene has ever seen. Add in Miles Grovic's success playing for nearby Virginia Vault and suddenly the Space Bastards are quite an interesting team. Could they push towards another College Championships appearance? A strong weekend and the potential for another AC bid have to be on their mind this weekend.
We have yet to see UNC Wilmington Seamen in action this season, but a program with their pedigree will always draw attention. Veteran Cole Feltman holds down the fort for the always feisty Seamen. Though they don't have the on-paper talent of the others in this group, Wilmington always find a way to punch above their weight; they'll gain valuable experience this weekend.
Outside Influence
While QCTU is an Atlantic Coast home tournament, it historically attracts talented teams from elsewhere as a premier early season event. With a good mix of connectivity and a generally high level of play, teams on the Nationals bubble have a chance to make an early season statement and score some important out-of-region wins as the bid picture starts to develop.
William & Mary are not the only surprise 2022 Nationals qualifier who will be in the field this weekend: WashU Contra enter the mix hoping to earn a third bid for the South Central region and repeat their program-best accomplishments last season. Captain Ben Reimler returns to lead the charge for a team that will feel some urgency to earn their own bid with Colorado and Texas sitting above them in the Power Rankings. Last year the team rode success at a different early season tournament, Santa Barbara Invite, to a Nationals berth. They'll be looking to do the same this time down in Charlotte.
Like WashU, Ohio State Leadbelly are also coming off a Nationals appearance. With veteran returnee Noah Krumme and Sion Agami's return to the team after a few years away, Leadbelly's top end is just as good as any team's they'll face this weekend (except UNC). Their depth could use some development and they'll certainly need to earn a second bid for their region with juggernaut Pitt waiting in the Ohio Valley. Balancing those priorities will be a tough line to walk this season, and we'll get an early look at their strategy this weekend.
In a crowded New England region, Tufts Emen will need to be thinking about earning a bid in every game they play. UMass, Brown, and Vermont are the clear favorites, but Northeastern and McGill are also in the mix. There's a lot of talent around and every bid matters. Earning wins over out-of-region foes will be vital for Tufts before they start to play other in-region teams and cannibalize each other's rankings points. On the field, Oscar Graff returns to lead a young but talented team. Like Ohio State, toeing the line between churning out wins and developing the depth of the roster will be vital to overall program success.
QCTU as the 'ESC' of the College Season
Though there are fewer "elite" teams at QCTU than have attended in years past, a number of up-and-coming teams are attending in hopes of boosting their stock and earning some much needed rankings points in a push to get closer to the College Championships.
A semifinal appearance at Carolina Kickoff has South Carolina Gamecocks firmly in the minds of many in the host region. With losses just to NC State and UNC, the Gamecocks have to feel confident entering what will be a more well-rounded competition. Their 15-12 win over Duke is incredibly promising, but the USC of the east will need a few more quality wins to be fully in the competitive picture.
Purdue Undue have been a team with a lot of buzz so far this pre-season. With a robust Indiana youth scene finally feeding into local schools and a wide open Great Lakes region behind Michigan, there's a lot to like about Undue.
Penn State Spank have never quite caught on to the trend of Big Ten state schools (see: Michigan, Minnesota, Wisconsin, Ohio State, Maryland) finding success at ultimate. With nearly 40,000 undergraduates on their University Park campus, you'd think 28 of them would be good at ultimate. This year, though, the offseason hype machine and a 5th place finish at Carolina Kickoff have Spank on the national radar. After finishing 4th in the region last season, a trip to a game-to-go is not inconceivable. Spank looked solid at Kickoff, but great teams adjust and tweak their strategies over the course of the season. Fans of Penn State will be looking for some improvement from their debut performance.