With three teams at 7-0 through day two of Presidents' Day Invite, it's sixth overall seed Oregon stealing the top spot in our re-ranked teams list.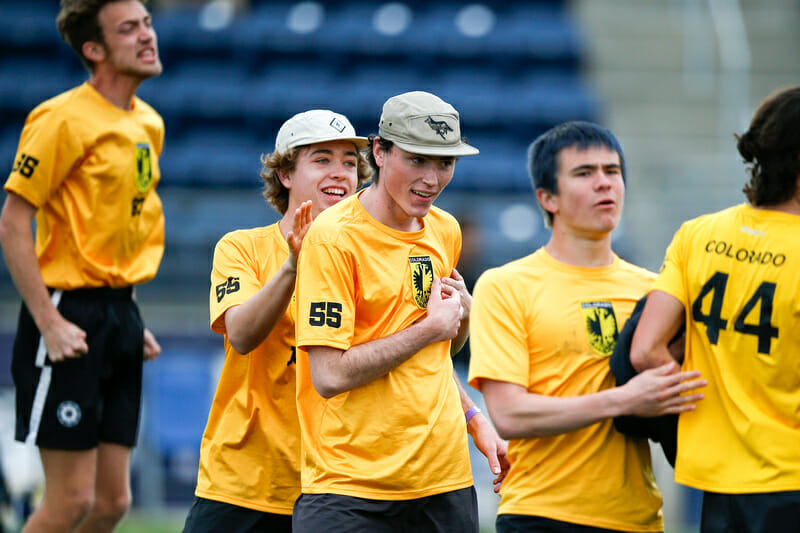 Ultiworld's coverage of the 2023 college ultimate season are presented by Spin Ultimate; all opinions are those of the author(s). Find out how Spin can get you, and your team, looking your best this season.
SAN DIEGO — Day two of Presidents' Day Invite was jam-packed with reshuffled pool play upsets and universe point death matches in bracket play. Ahead of today's deeper bracket play, we'll be re-ranking the field, primary based on tournament performance with some consideration given to season standings thus far.
1. Oregon Ego
#17 Oregon avenged the losses they took in Santa Barbara to Southwest teams by taking out UCSC, Cal, and UCLA. Mica Glass and Itay Chang were high usage on the O-line and crossed over frequently in their universe point win over UCLA, though their defense sometimes struggled to get breaks on good teams without either Chang or Glass crossing over.
Dan Ritthaler also contributed a lot today as a finisher near the goal line. He showed some throwing creativity and confidence that help him space the field to his downfield weapons. Ke'ali McCarter is as good as advertised. He got a layout block to win the game against UCLA and was useful to have as a matchup disadvantage downfield.
They also notched a nice win over Oregon State in an important in-region matchup.
2. Colorado Mamabird
Colorado is undefeated so far – but we expected more dominance out of the pre-season #2 team in the country. Oregon State and UC Santa Cruz took them to universe, and they also played close with Washington, who get another crack at them in semis.
Calvin Stoughton's dynamism continues to impress. He has been one of the top players at the tournament – if not the top player – through two days. Seth Wells distributed well today and got the game-saving block in their quarterfinal against UCSC. Mamabird have also flashed their depth, with Nanda Min-Fink on the universe line as a freshman.
It's early, so the criticism of Mamabird might not age well. Still, they do not look like they are that many levels higher in comparison to a team of Oregon or Cal Poly's caliber. Monday will really let us know if title aspirations are realistic for Memorial Day.
3. Cal Poly SLO SLOCORE
Despite not having a critical matchup problem (Seamus Robinson) for the weekend, #9 Cal Poly SLO have gotten it done so far with a 7-0 run through pool play and reshuffled pool pay. The wins included close ones over Washington, UCSC, and Utah State. Once elimination was on the table, however, they stepped it up, dispatching Oregon State comfortably in quarters.
Alex Nelson was special today in Robinson's absence. He often draws the best opposing defender and it does not seem to faze him. He dominated the deep space as usual and also showed his disc skills and throwing upside. Zach Riley and Anton Orme were also great for the offense. Riley made some big athletic plays and Anton was steadily unguardable downfield and in the reset. Calvin Brown is in good form so far after a somewhat bumpy return at SBI a few weeks ago. He went off in the OSU game, making huge plays with his throws and his legs. On defense, Kyle Lew did a really good job limiting Oregon State's Felix Moren.1
4. UCLA Smaug
Points in favor: wins against Utah State and a 10-3 win against Cal. Points against: a puzzling loss to Grand Canyon and a universe loss to Oregon (who they would not have had to play if they beat GCU). It's unclear if they understood the algorithm implications of losing to Grand Canyon and unfortunate that the algorithm does not understand Smaug were not playing their best players. There's a lot of season left to play, but losing this game could have potentially knocked them out from the top 20. This would force the currently #19 Smaug to have to perform well at their remaining tourneys or risk not earning a bid for the Southwest.
That being said, Smaug had an impressive showing other than the GCU hiccup. Riley Kirkman-Davis, Marshall Wildmann, and Brandon Van Deusen continue to wear down defenses by getting open at will and beating you at every level of the field.
5. UC Santa Cruz Banana Slugs
#12 UCSC have taken a bit of a step back given the huge breakout success they had at a loaded SBI field.
They've had a turbulent weekend with concerning results like their 13-9 loss to Oregon, universe loss to Emory, and a universe point win against Stanford. They played both Colorado and Cal Poly to universe point, but could not close either game. Their performance against Colorado could prove quite valuable for the Southwest if Mamabird hold their value as a potential Nationals finalist. The region would benefit greatly by having a strengthened UCSC ranking that earns a bid.
Dylan Burns has looked like their best player this weekend. He's a threatening cutter downfield and has become more aggressive with his hucks which makes him very dynamic.
6. Washington Sundodgers
Washington was the beneficiary of the UCLA sandbag debacle so they matched up with Grand Canyon in quarters and won handily, 14-9. They move on to semis after suffering two two-point losses to Colorado and Cal Poly,2 and a bad 11-10 loss to Western Washington.
David Zhou has hit the ground running and is already an integral pressure relief valve for the offense, while grad transfer Max Ramstad has settled in as the center handler. On the other side of the disc, Martin Le is poised to make plays for the D-line.
Washington face Colorado next and a likely loss, but if UW's stars can get hot and still have the endurance on day three to cross over, they could feasibly eke out a victory.
7. Oregon State Beavers
Deciding which of Oregon State and Washington should be ranked higher was tough, but it came down to the Beavers losing to UCSD and not keeping it closer with SLO and Oregon. Their double game point against Colorado and win over Cal are both great performances that prove what this team is capable of.
Felix Moren and Ben Thoennes were the two most important players for them. Moren saved the game against Cal and Thoennes was spinning gold out there to his receivers.
Freshmen Henry Wayte and Callahan Bosworth are really exciting for the team's longevity. They both looked wise beyond their years and were high impact guys all weekend.
8. Cal Ursa Major
Still conditions nerfed the CalZone that saw much success at SBI. Without their defensive foil, the team's consistency faltered and they suffered losses to UCLA, Oregon, and Oregon State. Ursa have shown they can beat these teams, but did not perform to their upside this tournament.
Gavin May and Dexter Clyburn are having legendary seasons so far for Ursa Major. They are big body athletic hybrids that always come to play in the moment. Sam Laur and Ridge Huang are also gelling nicely together in the backfield. Vikram Deepak and Carter Lankford were a nice 1-2 punch for the defense.
9. Utah St. Scotsmen
Another disappointing tournament for the #25 Scotsmen where it feels they underperformed the team's potential. After losing to the four power schools in the Southwest and failing to win any big games, they narrowly missed the championship bracket, just like they did at SBI.
DJ Sorensen and Jonny Hoffman have been elite this weekend, but the offense lacked the system to stay consistent throughout the tournament. Utah State have 3-4 star quality players and more than a solid enough supporting class to earn some better wins down the stretch this season.
10. Grand Canyon Lopes
Biggest mistake of my life was not watching any Grand Canyon games until the hype train had already left the station. While they lost to Oregon, UCSC, and UW, they notched solid wins over the teams seeded above them – including Emory,3 UCSD, and CSU – and defeated a limited UCLA squad that didn't play their starters until the second half.
Jake Paulson, Brayden Beeman, and Elijah Salmon stood out as top contributors in their universe point win over Emory, but historically GCU's problem has been that they flame out in pool play when their stars get fatigued. With this year's roster they should be able to play deeper and stay fresh for more critical games later in the tournament.
11. Emory Juice
The Juice couldn't squeeze out wins against Grand Canyon, Oregon, or Colorado, but a universe point win against UCSC shows they can beat a quality team if they are hitting with their deep game.
Likely to be taking those shots is Luke Kim, Emory's main distributor who showed his throwing prowess shooting deep and hitting tight break windows. On the other end is Justin Burnett, who makes jaw dropping players every game and could probably have a highlight reel just from this tournament that 99% of players would never be able to replicate in their entire career.
✈️ @EmoryJuice's Justin Burnett got up for the goal at Presidents' Day Invite! #SCtop10 pic.twitter.com/w4CUtEVoxP

— Ultiworld (@Ultiworld) February 18, 2023
12. Colorado St. Hibida
Better than your average college team, albeit not by much. Colorado State's two wins came by just one goal each against the lower seeded UCSB and UCSD and they struggled to reach the level of higher quality opponents.4
13. UCSD Air Squids
Losses to Grand Canyon, Colorado, UCLA, and Colorado State outweigh wins over Oregon State and Stanford. Their performance against Oregon State shows the Air Squids can put a win on a good team if not given proper respect.
14. Western Washington Dirt
Another decent squad with potential to play spoiler at Northwest Regionals, Western Washington Dirt lost every game besides a miracle victory over Washington. Ruben Keane and Elijah Diamond are the drivers of the team and can make games close with their abilities alone.
15. Stanford Bloodthirsty
Stanford went winless through two days of play despite a chance to take down UCSC on universe. Their record belies their play though, as Stanford looked respectable overall and could be a dark horse Regionals spoiler come the Series. Of note is Simon Covington's absence most of the tournament. His return can only spell good things for the Bloodthirsty squad.
16. UCSB Black Tide
Not much to say about the Tide. They sit at 0-6 after two days of play and will face the similarly defeated Stanford in the 13th place semifinal. Credit for a universe point fight against Colorado State.
---