BYU and Cal Poly performed to expectations with strong showings at SBI while Cal made a run to the final with tough zone defense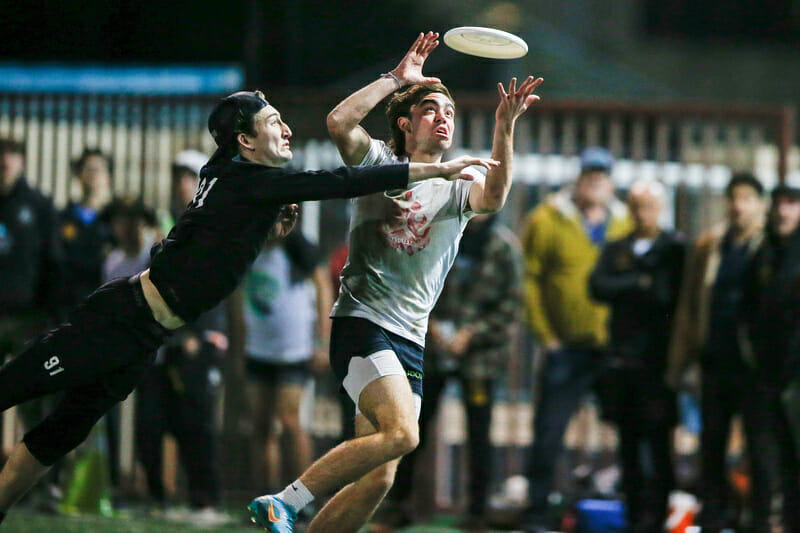 Ultiworld's coverage of the 2023 college ultimate season are presented by Spin Ultimate; all opinions are those of the author(s). Find out how Spin can get you, and your team, looking your best this season.
A mostly west coast affair, Santa Barbara Invite's semifinal was as Southwest-flavored as its lineup and location. No invader could penetrate the tournament's latter rounds. The region's reigning champion, Cal Poly SLO, also earned the regional title, taking down California in the final. However, SLO was not undefeated — a Friday night loss to BYU meant that the tournament's winner was not its best team.
BYU Look Unbeatable
#12 BYU were the best team at the tournament by far. We'd like to apologize to the rest of the college division for ranking them so low and giving them even more incentive to prove the doubters wrong. It would be surprising if CHI lose more than one or two games this season. We'll see if anyone at Florida Warm Up can challenge this team.
They have advantages in all facets of the game, but what sticks out the most is their athleticism. Their speed and endurance on long points is remarkable. The rate at which they convert breaks is alarming, too. It seemed they would get turns and then score almost immediately after. They fastbreak extremely well and can do it either with small ball or attacking deep to their playmakers.
BYU made themselves known immediately in a pair of Friday night showcase games, crushing UCSB 13-1. They followed that up with a confident 13-7 scoreline against SLO, powered by their overwhelming deep game. Victoria and UCLA suffered similar defeats before BYU departed from the tournament to let the bracket commence.
Although they have proficient throwers on the team, it's not one of their strengths. Losing Jordan Kerr can do that. Perhaps zone or junk is the only method for containing this high-powered offense. Matchup defense almost seems unwinnable against a team as fast and strong as CHI.
SLO's Balanced Attack Wins the Tournament
After asking defensive anchor Kyle Lew if he expected #7 Cal Poly SLO to take down the tournament, he answered with a simple "Yes." This SLO team is confident in their depth and working to keep building on the success of the program. The story of the tournament for Cal Poly is how far their young talent has come from last season.
This new SLO offense is as balanced as they come. There's not one guy that stands head and shoulders above the rest the way departed star KJ Koo did last season. Anton Orme is someone who has really elevated his play in all facets of the game. He looked like SLO's most composed cutter, but it was his throwing ability that stood out the most. His break and deep throws put a lot of pressure on the defense. Alex Nelson and Seamus Robinson are a fearsome duo downfield. Both have huge frames and length plus the experience and throwing ability to take full advantage of their physical gifts. Third years James Whealan and Carson Crouch are stepping up as center handlers in place of KJ Koo and Matt Miller. They are both natural facilitators and occasionally looked hesitant to send shots downfield to their playmakers. This sometimes made it feel that that offense did not come easy and they had to work really hard for their points. It will be fun to watch these two develop their chemistry together this season.
On defense, Kyle Lew stood out the most. He often guards the opponent's best player and then runs the show on the turn. The return of Calvin Brown was also great to see. He showed why he is such a renowned thrower. He hit some absurd shots in bracket play with ease but the volume of his turnovers against BYU and Cal are a bit troubling. While it's important to stay patient and let him work through the rust and get back to form, it's also worth noting that Browns throws open up the field for speedsters Dodger Middlebrook and rookie Max Gade to attack on the turn.
SLO were also without starters Garrett Bush, Keaton Orser, and Leo Lauritzen due to injury.
The Recipe of CalZone
This #23 California team started with an unexpected stumble — an opening loss to Northwestern — and ended much higher than expected, taking home second place at the tournament. It's clear that we did not give this Cal program enough respect.
Santa Barbara Invite 2023: Tournament Recap (Men's) is only available to Ultiworld Subscribers
Already have a subscription? Log in
Whether you visit Ultiworld for our reporting, our podcasts, or our video coverage, you can help us continue to provide high quality content with a subscription. By becoming a subscriber, not only do you receive benefits like exclusive articles and full article RSS feeds, you also help fund all of Ultiworld's coverage in general. We appreciate your support!