News from Northwest Challenge women's, Layout Pigout, New England Open, and more.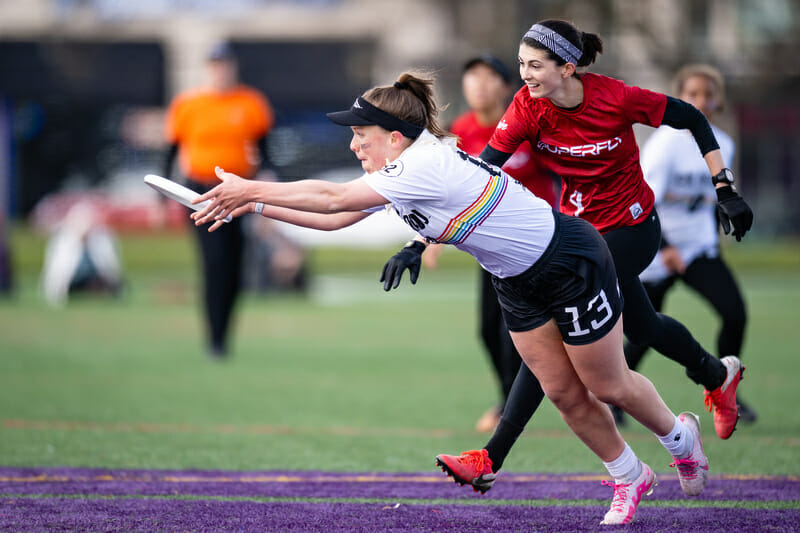 College Update, presented by Spin Ultimate, is back! Throughout the spring season, we will publish a bite-sized weekly recap of all the action across the college division. This will serve as a supplement to our standard tournament reporting and will offer a high-level look at the latest happenings and the biggest stories of the week. Please support the brands that make Ultiworld possible and shop at Spin Ultimate!
Want your tournament listed here? Submit a recap of what happened right here.
D-I Women's
Northwest Effectively Challenged at Northwest Challenge
The women's division Northwest Challenge headlined action in the college division this weekend for more reasons than one. It was the marquee event as the only tournament with top 25 competition but the spotlight shined even brighter because of an eleventh-hour change to the original round robin format proposed by DiscNW. Teams that traveled long distances expecting a traditional pool play and bracket format were not content with a round-robin, and made their thoughts known on social media (particularly Colorado and Vermont). The tournament directors made significant changes following the negative reactions and the weekend proceeded with pool play on Friday and Saturday followed by a bracket on Sunday.
For more details on how the tournament played out, see new reporter Chackgarin Brown's Friday and Saturday Storylines – and be sure to wait for the full tournament recap later this week.
What we can preview is that the nine top 25 teams in attendance put on a show in Seattle and the out-of-region teams came out looking best. Colorado Quandary and Carleton Syzygy met in the final, each surviving tight wins during earlier bracket play. Carleton had a particular grind of a weekend, going 4-1 with a hard-fought 13-12 win over Washington to win Pool B, coming out on top in a tight 13-10 quarterfinal win against Western Washington, and edging a hot Stanford team 13-11 in the semifinals thanks to excellent play from (among others) Emma Chin, Mia Beeman-Weber, and Alyssa Ehrhardt. Unfortunately for the squad from Northfield, Colorado was a step too far. Quandary showed their class with a 13-8 win in the final on the back of roster-deep athleticism and multiple highlight plays from their stars like Abbie Gillach, Clil Phllips, and Megan Kenny. Ultiworld subscribers can already watch Quandary's stellar performance against Syzygy.
Elsewhere in the Division
Looking Ahead
There are also a ton of smaller tournaments that will have a significant impact on seeding for sectionals and Regionals, such as the Atlantic Coast Open, Emory Luminous, the Southwest Showdown, and CWRUL Memorial.
D-I Men's
Colorado Get the Win
It wasn't a big weekend for top 25 competition. However, there was still quite a bit of noteworthy action with lots of bubble teams trying to sharpen up before the postseason.
Elsewhere in the Division
Looking Ahead
Easterns headlines an exciting last weekend of the regular season for the division. Keep a lookout this week for a preview, and be ready for a full streaming schedule for the weekend. Elsewhere, there will also be solid competition at Northwest Challenge and Huck Finn, with some key bubble bid teams in play at NWC.
D-III Women's
New England Open
Top D-III schools Wellesley, Mount Holyoke, and Brandeis met in Rehoboth to give us a small preview of the New England Regional tournament at New England Open. The Whiptails swept their pool, battling the rainy weather, only allowing 11 total points to be scored against them on Saturday. The team dynamic of the Whiptails is a bit of a departure from the normal D-III formula. Granted, Wellesley has the star power of Tess "Roo" Dolan and Bella Steedly, but the Whiptails' biggest strength is that every single player on the roster has strong disc skills, athleticism, and command of their offensive system. The low final score against SUNY Binghamton of 5-4 indicates windy conditions, and once again proves Wellesley's strength against D-I teams. If the flip at the start had gone differently, the Whiptails could have been undefeated this weekend!
Mount Holyoke's first appearance of the season was a strong one, with their only losses to the eventual tournament champions SUNY Binghamton, runner-up Wellesley, and Boston University for a fourth place finish. Gigi Downey was certainly a large factor in the team's success, but was also willing to draw the opposing team's best defender and trust the rest of her squad to work the disc down the field. She could get open in the reset space, break the mark, and place strong deep shots into the wind or with the wind at her back. Along with handler Molly Potts and cutter Gabrielle Perry, Daisy Chain was a genuine contender to beat any team they went up against.
Brandeis posted their fair share of upsets and tight games – against Boston University, Banshee took Uprising to double game point, broke SUNY Binghamton three times in a row to get to 4-4 before Big Bear upped the energy to win 9-4, and beat Connecticut in emphatic fashion 8-4. In their final game against Rhode Island, a dramatic 20 minute long universe point ended in Disky Business breaking upwind to take the game. Banshee put it all on the line, including multiple athletic bids from graduate student Laurie Chen to save possession, but in the end Rhode Island was able to take home the win. Overall it was a successful weekend for Brandeis, and we'll see the kind of splash they can make at New England Regionals.
Garden State
With tournament cancellations causing teams to scramble to make their game quota for the series, many D-III teams headed to Princeton to face off at Garden State. For the Haverford and Bryn Mawr Sneetches, this tournament was another opportunity to showcase their dominance not only over the Ohio Valley region, but as a Division III school. Adding another tournament win to their 2023 trophy case, the Sneetches defeated Lehigh Gravity a resounding 11-2 and went undefeated all weekend.
Lehigh Gravity seemed to struggle in the muddy conditions on Saturday, but rebounded quickly on Sunday with a quarterfinals victory on universe over Rochester and avenging their loss to Columbia in semis with a score of 8-2.
The terrible weather Saturday did not hamper scores or spirits for the Metro East. 2021 Nationals attendee Rochester EZ's won their pool, beating regional rival Skidmore 7-5. Bouncing back from a tough Saturday, Ithaca Kweezy was victorious over the region in bracket play. Powered by dry socks or sunny skies, Kweezy took down Swarthmore 7-1 and then Rochester 7-2 to secure a fifth place finish. Ultimately, Rochester finished sixth and Skidmore was seventh.
Elsewhere in the Division
D-III Men's
Layout Pigout
One of the few tournaments designed exclusively for D-III teams, Layout Pigout saw teams from the Ohio Valley and New England regions converge on Haverford, PA. Saturday was played in terrible conditions, but all eight teams persisted to get three games in. Williams and Bowdoin dominated their respective pools, each going 3-0 with a combined point differential of +50. Unfortunately, we never got to see a matchup between the two teams, as Sunday play was cut short due to the tournament losing their trainers, but NE Regionals is shaping up to be as exciting as ever.
While the NE had a strong showing, it was underwhelming for the Ohio Valley. Oberlin suffered an 11-7 upset loss against Bowdoin, and Kenyon got smacked by Williams 15-4 to start the weekend, effectively ending the Ohio Valley's hopes for a second Nationals bid.
Elsewhere in the Division
Needle in a Ho-Stack: a smattering of D-III teams from across the East Coast met in Charlotte for what turned out to be a shortened weekend. Middlebury were undefeated when thunderstorms ended play on Sunday, though they were losing 7-6 to Union when play was called.
Garden State: a handful of D-III teams competed in the one day event in Vineland, NJ, with Ithaca doing the best of the group, finishing second and only losing two games to eventual champions Rowan.
Old City Open: a few D-III teams from the North Central and Great Lakes were present at OCO, with St. Olaf doing the best of the bunch. The Berzerkers went 5-1 and finished third, only losing to Nebraska on double game point in the semifinals. They did have to come back from being down 9-5 in the quarterfinals against Carthage, hinting at potential for chaos in the North Central.
Looking Ahead in D-III
Haverford/Bryn Mawr, Mount Holyoke, and St. Olaf are all playing on back to back weekends, while Lehigh also get in action, among a number of other non-top 25 teams at scattered events.
In the men's division, Huck Finn's field includes four top 10 teams, with Grinnell, St. Olaf, Missouri S&T, and John Brown all in Tier 2.  Teams like Truman State, potential bid-earner Colorado Mines, and a shifting number of Northeast teams (based on tournament rescheduling) are all hoping to get on the field in the final weekend.