The headline stories from each division at Pro Champs, the last TCT event before the Series!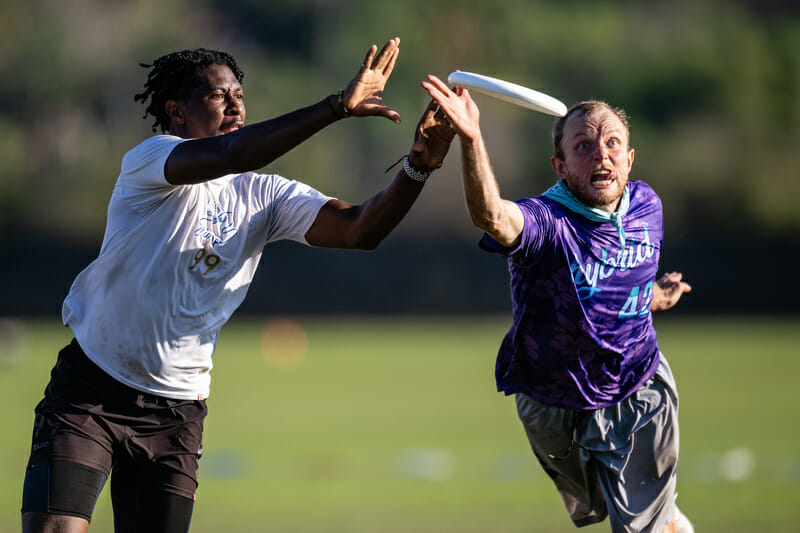 Ultiworld's coverage of the 2023 club ultimate season is presented by Spin Ultimate; all opinions are those of the author(s). Find out how Spin can get you, and your team, looking your best this season.
Welcome to Clubhouse Chatter, where the Ultiworld staff keep you caught up on the major events of the club season. The Pro Championships wrapped up the club regular season and the winners in all three divisions threw down the gauntlet in front of their likely Nationals competition. Add in action on the bid line, and it was a statement ending for a standout season. Here, then, are your top line takeaways from the regular season finale.
Drag'n and Hybrid: Two Sides of the Same Coin
On their face, the two 2022 Pro Champs finalists had radically different weekends in Milwaukee. #3 Minneapolis Drag'n Thrust made it back-to-back Pro Champs titles as they rolled past BFG and NOISE in the bracket by identical 15-9 margins after topping Pool B, and as a result vaulted up the rankings. With this showing, Drag'n now appear set to regain their perennial place as a top seed at Nationals, which is quite the rebound for a team that entered the weekend as the last ranked team.
Over in Pool A, #11 Ann Arbor Hybrid were busy eking their way into the bracket, with two universe point wins over #17 Boston Slow and Durham Toro just enough to earn the Great Lakes reps a spot in quarters. From there, though, it was a bumpy road, as Hybrid took two straight losses before stabilizing to hold seed with a win in the 7th place game against #12 San Francisco Polar Bears. Not the weekend they were likely hoping for, and certainly not the performance their fellow former finalists had. Still, it proved enough as Hybrid earned the final bid to Nationals by a single rankings point over #18 Nashville 'Shine.
Thus we see the confounding two-sided-ness of mixed, wherein worst can be first and a middling result can still be a success. While that doesn't offer much clarity for who will claim top billing in six weeks' time, it's bound to make for another volatile Nationals, as is tradition in the division. Stay tuned, there's more chaos to come.
Will the Real-Deal Favorite Please Stand Up?1
#1 Washington DC Truck Stop won the weekend, but will they win the war? DC went undefeated on their way to the Pro Champs title, with a runaway 15-7 win over a shorthanded #3 New York PoNY in semis the highlight, but the margins weren't particularly large. #2 Atlanta Chain Lightning nearly pulled the upset in the final, and #8 Raleigh Ring of Fire and #9 Austin Doublewide each came within two of Truck in pool play. With the Pro Champs crown now perched on their heads, Truck Stop will be favorites to earn the coveted top seed at Nationals, but they'll have to clear a crowded list of challengers to claim the program's first title.
The first name on that challenger list has to be PoNY, notwithstanding their heavy loss to Truck. As the title favorites coming into the season, New York has largely been in cruise control as their roster has waxed and waned from tournament to tournament. At full strength, PoNY should rightfully be the favorites as they showed at the US Open, the only caveat being whether they will be in six weeks' time.
Following Truck and PoNY, seven of the next nine teams in the rankings were at Pro Champs, and all of whom seem plausible contenders for a deep bracket run at Nationals. Finalists Chain and a resurgent #4 San Francisco Revolver team exchanged wins in Milwaukee, though neither cleared the field by a great distance. As for the rest, well, #7 Denver Johnny Bravo beat Doublewide who beat #5 Chicago Machine who beat Ring who beat #10 Portland Rhino Slam! who beat Doublewide, so your guess is as good as mine.
Phoenix Fly Amongst Status Quo
Raise your hand if you had #1 Raleigh Phoenix set as the top seed at Nationals before this weekend. Alright you liars and Triangle aficionados, put your hands down. After last playing in July, few could have seen this level of play from the North Carolinians, and what a level it was. An opening six point win over #5 Boston Brute Squad set the tone, and from there it was only up for Phoenix, their closest games both coming in wins over #2 Washington DC Scandal and avenging Raleigh's only loss on the season at PEC-East. It would be a shock at this point if Phoenix didn't capture the top seed come Nationals, and it's now on the rest of the division to respond.
Speaking of the rest of the division, Phoenix's ascent was notably the only real surprise of the weekend. Every pool play game not involving Phoenix went to seed, and Scandal, #4 San Francisco Fury, and #3 Denver Molly Brown being three of the four semifinalists was arguably the expected outcome. Brute Squad, the anticipated fourth team by seed, ended up finishing fifth with a win over the appropriately sixth seeded Toronto 6ixers, and the remaining four teams largely fell in order from there.
Stasis, then, remains the norm in the women's division. However, with Phoenix and Scandal making real leaps this season, we might have our deepest field of semifinal contenders in years. One way or another, it should make for a fantastic bracket at Nationals, with Phoenix rising to lead the way.
---
to the tune of the turn-of-the-century hit single "The Real Slim Shady" ↩