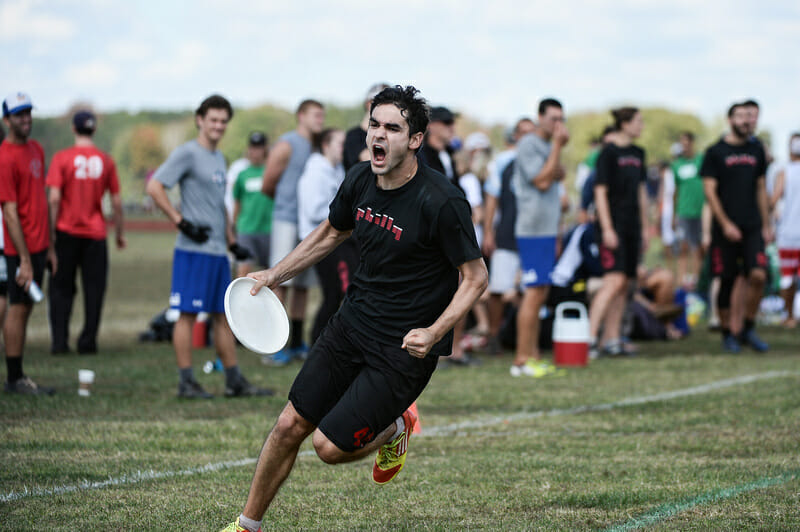 The final four Regional tournaments are now in the books and the Club Championships fields are set. There will plenty of discussion of the potential seedings and exciting matchups to come, but here we will talk about what happened this weekend.
While most of the tournaments went about as expected, there were some real surprises and some great excitement around the country. Here's what happened this weekend.
MID-ATLANTIC
1. Washington DC Truck Stop
The Truck girls took care of business in an undefeated weekend with an unusual twist. DC faced probably their stiffest competition in the first round on Sunday, after Pittsburgh Oakland rested their starters in the hopes of seeing the top seed on fresh legs. It didn't help them, as they'd be Truck Stop's biggest win, 15-8.
Pittsburgh Dire Wolf took the second spot, with Princeton Garden State Ultimate and Washington DC John Doe making impressive runs from lower seeds to 3rd and 4th place finishes, respectively.
1. Philadelphia AMP
2. Washington DC Ambiguous Grey
As anticipated, Philadelphia AMP dominated the Mid-Atlantic Region on their way to the title and a top pool seed at the Club Championships. Continuing their impressive season, AMP, who is ranked #1 in the USAU's regular season rankings, bested all challengers by wide margins, including Ambiguous Grey in the final, 14-8.
The rest of the field had a bit more excitement. Pool play saw the emergence of Washington DC Death by Jubilee, who went undefeated (including beating Termite's Entourage, who struggled this weekend) to make the championship bracket semifinals. However, in the second place bracket, they were surprised by Mercer County Jughandle, 15-13. Jughandle went down to Ant Madness in the 2nd place semifinal, 15-12.
The game to go between Ambiguous Grey and Ant Madness showed the easier road and greater depth of Ambiguous Grey to be too much for Ant Madness to overcome. AG would end Ant Madness's season, 14-8, to advance to the Club Championships.
1. Washington DC Scandal
It was nearly all chalk for the Men's division at Mid-Atlantic Regionals. Reigning champ Scandal received nary a scratch, winning the region running away, 15-7, over Philadelphia Green Means Go.
GMG asserted themselves in the field, putting to rest any doubts about their rivalry with Pittsburgh Hot Metal in the semifinals. GMG crushed their cross state opponents 15-7.
NORTHEAST
1. Toronto GOAT
2. Boston Ironside
3. New York PoNY
It was a thrilling weekend of action in Devens, Massachusetts, with three bids up for grabs and the most talented field in years.
GOAT continued their run of great play, knocking Ironside off their perch in a hotly contested final by a score of 15-12. The Toronto team's first ever regional championship came on the back of a mesmerizing and efficient offense, anchored by steady play from Derek Alexander and an imposing performance from Mark Lloyd. The victory puts them in position to take the top spot in a pool at the Club Championships.
Boston Ironside matched up with a PoNY squad they had beaten just two games earlier (15-12) to decide who would take the second bid. With their defensive unit applying a lot of pressure, Boston was able to take advantage of key turnovers and tired PoNY legs to snatch a double game point victory.
The drama trickled down to the third and final game to go, where New York took on Boston Garuda. Impressively, Garuda battled through seven games – four of which were decided by 3 points or less – to get to the third place game, a rematch of an earlier 14-12 PoNY victory. Despite showing great poise, a tiny margin for error was finally breached when a slight miscue gave PoNY the disc with the game tied 15-15. The Pride of New York would march the other way to punch their ticket to Frisco. The final points of this game are available for your viewing pleasure.
1. Boston's The Ghosts
2. Boston Slow White
3. Boston Wild Card
4. New York 7 Express
5. Montréal Odyssée
Five bids and a deep field of talent meant lots of competition at Northeast Mixed Regionals.
Pool play, however, was mostly uneventful, save New England Darkwing upsetting some teams. Saturday ended with bracket play, including tight wins for Wild Card and The Lions, over 7Express and Odyssée, respectively.
Sunday began with Slow White's 13-10 win over Wild Card in their semifinal, while The Ghosts cleaned up Boston's Lions 15-6. It set up a clash between two of the best teams in the country, with The Ghosts upsetting Slow White 13-10 to once again take the Northeast Regional title.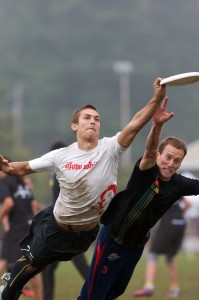 Slow White would drop to the next placement game, where they faced off with Wild Card. Both Wild Card and 7Express had already secured bids a round earlier, but that didn't stop Wild Card from battling Slow White hard for 2nd place. They came up short, with Slow White coming away with a 14-12 win.
In the 5th place bracket, Odyssée dominanted all comers. Montréal crushed the Lions 15-4 to eliminate them before doing the same to Somerville Pleasure Town, who was coming off a surprising 15-14 upset of New York SHUYAMOUF. The US Open champions did it the hard way, but will be in attendance at the Club Championships.
1. Boston Brute Squad
2. Toronto Capitals
3. New York Bent
4. Québec Nova
The four bid Northeast Region also played out almost entirely as expected, with Boston Brute Squad reclaiming the regional title. They'd top Toronto Capitals 15-8, barely breaking a sweat over the weekend. They were defensively dominant from the start of the game, with Leila Tunnell's deep pulls making it difficult for the Capitals to get out of their own half.
Capitals responded with a 15-10 win over New York Bent, who had already claimed a bid, in the 2/3 game.
Québec Nova had no problems claiming the 4th bid, despite the stinging they took at the hands of Bent, 15-9. Montréal Storm was no match for their fellow Canadians, falling 15-3.
Brute Squad looks to be a very dangerous team in Frisco.
SOUTHEAST
1. Atlanta Chain Lightning
2. Raleigh Ring of Fire
3. Florida United

Surrounded by questions coming in, the surprisingly bid-rich Southeast region has been once more conquered by Chain Lightning. Atlanta faced Raleigh Ring of Fire in a classic grind of a final that went down to the wire, a 16-15 double game point thriller. Ring took an 8-6 half time lead but couldn't hold onto it, going down a break. It was former Ring player Jared Inselmann that ended it, tossing a hammer to Jay Clark to take the region.
Ring did not struggle against Florida United in the second place game, notching an unchallenged 15-8 victory to take the second bid.
United cruised through the third place game, besting Orlando Omen 15-8 to qualify for the Club Championships.
With no true favorite, the lone bid for the Southeast was up for grabs in Decatur, AL. In the end, two experienced teams — Atlanta Bucket and Asheville Cahoots — would emerge from the pack to battle it out for a chance to go to Texas and represent the region.
Bucket would beat Raleigh 11-8 to capture the top spot in Pool A, while Asheville easily handled last seeded Southern Revival, who would finished 2nd in Pool B, to stay in their top spot. Atlanta was unchallenged in the quarters and semis, and despite having a tough semifinal matchup with Raleighwood, Cahoots would emerge the victor in the final, 14-12.
1. Raleigh Phoenix
2. Atlanta Ozone

Our Southeast Regionals Preview discussed the possible gap growing between the region's two elite programs, Ozone and Phoenix. The Raleigh men, however, showed up to Decatur ready to disprove the doubters and did so, beating Ozone not once, but twice. After a tough regular season, Phoenix looks to be peaking in time for the Club Championships, which they'll attend as the Southeast Regional champion.
The two teams had no trouble with any of the other up and coming squads in the region, keeping them fully primed for their battles. On Saturday, the Carolina gentlemen repeatedly capitalized on Ozone mistakes, staking out a big first half lead. Atlanta's offense settled down a bit in the second half, but their defense was in too big of a hole, and Phoenix would win 13-11.
The rematch Sunday was a cleaner affair and even more hard fought. Breaks were hard to come by and the teams mostly traded for the body of the game. With the game tied at 15s, Phoenix would come down play stifling defense and force an Ozone mistake. A patient post turned offense would work good Atlanta defense, calls, and stoppages, methodically moving the disc until punching in the title winning score.
Ozone took out their anger on an exhausted DeSoto squad, 15-5.
SOUTHWEST
1. San Francisco Revolver
2. Santa Barbara Condors
The powerhouse that is Revolver reigns supreme in the Southwest once more. After conquering a tough pool on Saturday, Revolver had no issues on Sunday, topping Condors 15-8 in the final.
Condors gained a major advantage when they beat San Diego Streetgang in the semifinal, 14-10. Streetgang was forced to play two tough games, including a double game point win over Phoenix Sprawl, before facing a waiting Santa Barbara crew. Condors ran away with it, 15-8, and claimed a spot in Texas.
1. San Francisco Polar Bears
2. San Francisco Mischief
3. Los Angeles 7 Figures
The wild wild Southwest lived up to its billing, providing a real battle for the three bids to the Club Championships.
Polar Bears was the only teams with a slate of clean victories for the weekend. Their smallest margin of victory was a four point win in the final over San Francisco Mischief. Mischief had a scare in pool play from San Francisco BW Ultimate, beating them by just two points, and would edge out San Francisco Groove 15-13 in the semifinals to lock up a bid before even playing PBR.
Reigning Mixed National Champion San Francisco Blackbird struggled on Sunday. They were upset by Groove 13-11 in the 1st/2nd place bracket, sending them to the lower bracket to battle for the last bid. Los Angeles 7 Figures sent Blackbird packing with an exciting 15-13 victory in the 3rd place semifinals. In the other semifinal, San Francisco American BBQ was busy upsetting Groove, 13-11, to end their run towards Frisco.
The game to go pitted 7 Figures against American BBQ, a rematch of an earlier 13-11 LA win. This time wouldn't be as close, with 7 Figures pulling away and taking a spot to the show, 15-10.
1. San Francisco Fury
2. Bay Area Nightlock
While it hasn't been a typical season for Fury, Regionals was pretty standard. The reigning national champions came out of Regionals unscathed, beating Nightlock 15-5 in the final (and 13-7 in pool play). They'll return to the Club Championships as one of the favorites, likely in a top 3 seed.
The battle for the region's second bid presented the potential for some upsets, with San Diego Safari and Los Angeles Viva emerging as threats to Nightlock. It didn't play out that way. Nightlock had no trouble dispatching either, with Safari coming closest, losing 9-6 in pool play. The two teams rematched in the game to go, but Safari was outgunned by the talent Nightlock team, who won 14-9. That makes it two trips to the Club Championships in two seasons for Nightlock.
Check out more of UltiPhotos' Regionals photography.