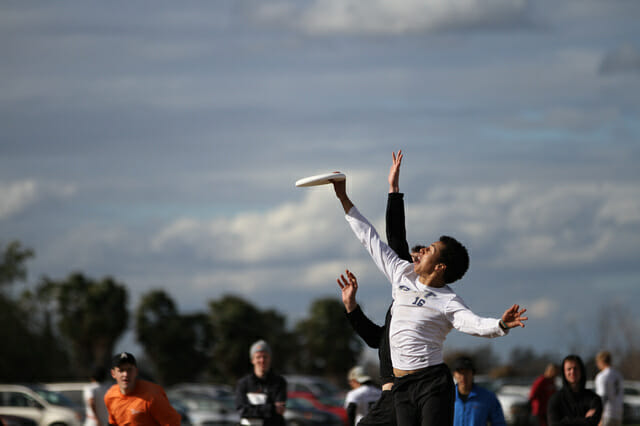 NEW YORK — You can plan a pretty picnic but you can't predict the weather.
That seemed to be the theme of the 2014 Stanford Invite. Not only did the tournament end up moving two hours away from Stanford to Stevinson, a small farm town in the central valley, due to rainouts in Palo Alto, but the wind on Saturday was vicious. Swirling, gusting winds that were consistently 20-30 miles per hour buffeted the fields and made clean play essentially impossible. Games were close and often decided by a single upwind break.
The conditions made putting a lot of stock in this weekend's results (particularly those on Saturday) a bit suspect. There was less wind in the prequarter round, even less in Sunday's quarterfinals, and then, after the lightning delay in the finals, basically none. All other rounds were dictated more by the wind than the play on the field.
Regardless, some teams handled the conditions better than others, mostly by playing smart, field position-based games. Pittsburgh hucked downwind almost immediately on every possession in that direction. Florida State was more patient and worked the disc into the hands of their most competent throwers.
Ultimately, the final results of the tournament were generally not unexpected, which reflects that quality teams managed to overcome the conditions and win games.
North Carolina Remains #1, But Suffers First Loss
Read more about the team's big weekend here.
UNC coach Mike DeNardis has not been shy about his team's struggles in the wind. He explained this weekend that, thanks to some practice in windy conditions at the Queen City Tune Up, the team is comfortable running certain patterns in winds ranging from 10-20 miles per hour. But they were not well suited for the severe wind on Saturday.
They ran into a Pittsburgh team in the final round of pool play that was determined to return to the elite team conversation. They couldn't have done much better. Landing some upwind uppercuts early in the game, they opened up a sizable lead in the first half that UNC could not recover from. They went on to win 10-8. It was clear that the victory was due to Pitt's much greater comfort in the wind.
"The players did a really good job making quick adaptations for playing in the wind – they deserve all the credit for that flexibility," said Pitt coach Nick Kaczmarek.
But in the teams' rematch in the finals, the story was different. After a blustery first three points, the game was stopped due to a lightning delay. The players retreated to cars for nearly an hour. When they retook the field, the wind had basically gone still. UNC, much more in their element, shellacked a tired Pitt defense, giving up just one break late in the contest with the victory already secured.
"We were well aware that our win on Saturday was a product of both our effort and the wind," said Kaczmarek. "There were a number of moments on Saturday where we lacked urgency and the wind covered up mistakes. When the wind subsided, our urgency didn't increase, and great teams make you pay you for that.  UNC's legs and depth allowed them to punish us for our shortcomings in finals."
UNC, as they did all weekend, shared the wealth amongst the cutters, featuring different players in starring roles. The constants were veteran handlers Jon Nethercutt and Ben Snell, who did the tireless work of distributing the disc and finding resets at will.
Despite another tournament win, including some impressive victories over Colorado and Florida State, UNC has lost an air of invincibility. Pittsburgh, not the most talented team that UNC faced this weekend, showed that UNC is susceptible to dips in energy and, more importantly, the wind. If the conditions are blustery in Cincinnati at the College Championships in May, teams will be ready to throw a Pitt-style game — man defense, punts downwind, and big shots to the upwind endzone — at the #1 ranked team.
Pittsburgh Returns To Semis Conversation With Tenacious Defense
After a lackluster Warm Up performance, it became even easier to write off this year as a rebuilding one for Pittsburgh. The 2014 losses have been well documented at this point: Tyler Degirolamo, Alex Thorne, and a lot of handling skill, particularly on the offense.
But with a finals appearance at the Stanford Invite, Pitt is right back in the mix of potential semifinalists at the College Championships.
They did it this weekend with a defensive tenacity that seems to be defining this year's team. Whereas so much of the attention was focused on the Pitt offense last year (just look at TD's stats from Nationals), this year they are finding their drive from defense.
Perhaps that's partly due to the fact that their top players — Trent Dillon, Marcus Ranii-Dropcho — are tenacious defenders and have been moved to the offensive line only because of their experience and skill set. But younger players like Carl Morgenstern had huge weekends as well, showing off big strides in disc skills while also putting in effort on the defensive end.
"We have a lot of guys on this team who have built their careers on defense, so there is no doubt that their identities are linked to that aspect of the game," said coach Nick Kaczmarek. "Our offense is progressing and our offensive identity has a steep growth curve."
Great defense led them to five straight wins, including their pool play win over top-ranked UNC, a quarters victory over Wisconsin, and a blowout of UC Davis in the semifinals.
The question is: do they have the athletes to compete with a strong, physical team like a UNC or a Colorado? In the finals, they were exposed by a deep UNC offense.
Kaczmarek says they learned a lot from the loss and believes they are in a good place heading into the second half of the season.
"We've got a high motor in terms of effort – guys just keep on giving," he said. "It will be key to translate this effort to our preparation.  Producing effort for a game is natural because the outcome results are almost immediate.  Producing effort at practice, in the gym, for mental preparation, for strategical preparation, on the sideline, etc. requires a deep understanding of how every action will translate to our goals. This can be challenging. This team will be defined by our ability to apply effort to every aspect of our preparation. I am confident that we will."
Athletic Florida State Is The Real Deal
While they may not be a historic Southeast powerhouse, #4 Florida State has taken their success from last season — which included a berth at the College Championships — and parlayed it into one of the most impressive regular seasons we've seen from any team this year.
After losing to #3 Florida on double game point at Warm Up, FSU came into Stanford with a lot to prove. They did just that.
After opening the weekend with wins over California and then-#4 ranked Oregon, they secured a bye into the quarterfinals — don't read much into their 10-6 loss to Tufts.
After getting past UC San Diego in the quarterfinals, they set up a big matchup with North Carolina. With the wind picking up — and the skill they showed working through the conditions on Saturday — it seemed the perfect opportunity for an upset.
After swapping early breaks, both teams would trade downwind scores for a while, some messier than others, with the receiving team eventually punching it in, often aided by long punts to attain better field position when the upwind team eventually turned it. After a particularly grueling point, where each team had at least seven turnovers, DUF called a timeout to gather themselves. FSU the came out fired up and used strong breaks and upline cuts to get the upwind break and go up 5-3. They would then use this downwind advantage to force some turns by UNC and complete the full, two-possession break and assert a 6-3 lead.
Only two points later, however, DUF would turn it on the downwind goal line and Darkside would work the full length of the field — largely through the seesaw motion of working it up the open side and hitting I/O breaks to give themselves more room to do so — and earn the upwind break at 6-5. This would put them in position to get another break going downwind to even the score.
The teams then alternated downwind conversions through half.
But with the game knotted at 10s, DUF made a critical mistake and threw into a poach at midfield, giving Darkside a short field to work it up. It was in this possession that one could view one of the many attributes that make UNC one of, if not, the best in the country.
Though they only had about 30 yards to the goal, Darkside never rushed any decisions or tried to jam the disc into tight spaces. Instead, they took as many passes as they needed, roughly fifteen or so, waiting for the easy, open looks before eventually hitting a streaking cutter in the back of the endzone to convert the crucial late upwind break. Perhaps just as important as this this score was UNC's conversion of the following downwind D point to complete the two-possession break and go up 10-12.
This vital second part of the break, forcing a turn and scoring the ensuing downwind D point, cannot be stressed enough. For, only two points later with the score 11-12 Darkside, FSU would capitalize on a UNC turn when DUF handler Chris LaRocque ripped a flick huck to a wide open cutter, leading to an upwind break for FSU and a 12-12 tie.
Though DUF would force a Darkside turn on the next point, a rushed lefty backhand on the downwind endzone would give UNC another chance to fight the wind and protect their lead. And for the second time in the game, Darkside worked the disc up the full length of the field in a strong head wind, inching themselves up with patient, small gains before a clap catch in the goal gave them the 12-13 lead. This effectively fended off what would have likely been a double game point finish had they let DUF complete the full two-possession break.
FSU would then turn it on their own endzone and give up a break, making it 12-14. Though they would convert the following downwind O point, hard cap would go off during said point, ending the game at 13-14 after their score.
It was incredible poise from UNC, but also a great performance from Florida State, who proved they can hang with anyone. LaRocque put himself into the Callahan conversation with his play this weekend; partner-in-crime Andrew Roney was also outstanding, making some of the biggest highlight plays of the weekend.
UNC coach Mike DeNardis said Florida State is "absolutely" a legitimate contender, and that their athleticism and energy has the ability to give any team trouble.
Despite being ranked behind Florida, Florida State looks to have the higher ceiling in the Southeast. It would not be a surprise to see this team take the #1 spot out of Regionals.
The Southwest Shines — But Will They Get The Bids?
UC Davis, last year's Southwest champion, returned to the semifinals thanks to outstanding play from Eli Kerns and Nathan White.
Stanford, after falling to Davis in the quarters, beat Colorado and Wisconsin on Sunday.
Las Positas, a late add to the tournament after filling in for Carleton, played with just nine players on Saturday. After getting back another six players for Sunday, however, including Marcelo Sanchez (Revolver) and Sean Ham (Mischief), the Hawks were able to steal wins away from Central Florida, Harvard, and Texas and further prove that they are a truly dangerous team with a full roster.
UC San Diego, the Southwest frontrunner coming into the weekend, beat Central Florida and lost only to top 10 ranked teams (Colorado, Wisconsin, Florida State). Though they looked less bulletproof than they have so far this year, they still didn't record any bad losses.
California went 2-1 in pool play, including a win over Oregon, then lost to Texas by one in consolation bracket semifinals.
That's quite a weekend for the Southwest Region. The problem? As it stands, they are looking at just two bids to the College Championships. It's arguably worse than last year, when there was also a lot of depth.
The talent is there: each of the teams has a core of strong players and a couple of standouts. But no team has been able to put together a consistent system that generates wins. Stanford is the closest thing to a dynasty from the Southwest, but they didn't make the College Championships last year and aren't a favorite to do so this year (though they did play without two of their best players this weekend, including captain Cody Mills). IF Stanford can replicate their Sunday success at Easterns, a third bid could be in the cards.
Yet Davis still looks like a team that could become the cream of the Southwest crop. They stayed after the end of the rounds on Sunday to play mostly rookies in a scrimmage against Pittsburgh. Their coach, Kevin Cissna, was also not happy to be filmed by Ultiworld in the semifinals and seems to want to be keeping his cards close to his chest.
Kerns and White are elite college talent and, although they struggled mightily in their windy semifinal against Pittsburgh, they look to have the pieces to make another quarterfinals run this year.
Oh, and Las Positas? I wouldn't want to play that team at Regionals; it feels like increasingly like a Southwest All-Star team. (see: Simon Higgins, Sonny Zaccaro, Marcelo Sanchez, Sean Ham).
Colorado Falls On Sunday, But Still Scary
After emerging from Saturday's wind unscathed, Colorado got one of their first big tests of the year against UNC in the quarterfinals. One of the best games of the weekend (perhaps outshined only by the UNC/FSU semifinal), Colorado v. UNC lived up to the hype. But a one point UNC win left Colorado reeling, and they lost to Stanford in the 5th place bracket in the second round of the day.
Jimmy Mickle was good — he was directly involved in six of Colorado's seven second half points against UNC. But he alone cannot win games for Mamabird. With marks trying to limit his around flicks and tight downfield defense, UNC stifled the Colorado offense and forced them into a number of reset turnovers and some too-deep hucks.
After finding Tim Morrissy in the endzone again and again in their matchup with UC San Diego on Saturday morning, Morrissy was not nearly as effective in the quarterfinals. Hidde Sneider was taken largely out of the game by Charlie Schaffner.
The Colorado vertical stack struggled at times to generate good motion and disc movement. Too many Colorado possessions were stagnant; they had to look to Mickle to make things happen with his throws. That was unfortunate for Mamabird, because Mickle was most effective downfield. He had two easy scores on what were essentially jump balls. Ben Snell was very effective on the mark, but few players can match Mickle in the air.
Colorado continued with their light-hearted approach to the game: throwing a football on the sideline as the team dog ran around the field. But they seemed to lack the requisite intensity at times and never mounted a full comeback against UNC. They were in some ways lucky to come away with just a one point loss.
But Colorado fans shouldn't fret much. The talent is there, the depth is there. With Centex in less than two weeks, they'll have another chance to fine tune the offense and develop their man defense. There are few teams scarier in a single game draw.
Wisconsin Quietly Building
Although Colin Camp is practicing with the team, he is staying off the field until the Series as he rehabs from an ACL tear. He was on the sideline this weekend offering some veteran guidance as his team looked to be gelling nicely this weekend.
After a limited roster kept them from getting a full test at Warm Up, Wisconsin took just three losses this weekend: one to Colorado, one to Pittsburgh, and a lightning-shortened game to Stanford at the end of Sunday.
Ben Rehmann and Danny Stuligross played particularly well this weekend, but this team has few standout players. They are deep and well-rounded, they play tough man defense, and they pride themselves on fitness. While they looked a bit unpolished offensively at times, they seem like a team that is on the right growth path. Getting Camp back will be significant for the O line.
Last year, Wisconsin may have peaked too early, playing their best ultimate in February at Warm Up. They seem to be ramping up at the right pace this year and are not a team to count out come May.
For Second Year In A Row, Texas Stumbles At Stanford 
Anyone who watched our stream of Texas v. Wisconsin in the prequarters may have noticed something unusual. Will Driscoll, the team's best player and a shortlister for the Callahan award, was on the sideline for defensive points down the stretch, despite Texas trailing in the game.
That's an unusual sight from top level college teams, who tend to keep their best players on the field as much as possible.
Texas' D line never had much offensive punch after Wisconsin turnovers; it sure seems that Driscoll would have helped them out.
Whether a strategic decision by coach Calvin Lin to work on developing the defensive unit without him or simply limited minutes for Driscoll (who is recently back from an injury), it was odd to watch Texas almost accept a loss in an elimination game.
Texas' only truly quality win on the weekend came against Harvard in pool play. They lost to Central Florida, UC Davis, and Wisconsin.
Mitchell Bennett was yet again a blur downfield and did yeoman work getting open underneath. Jon Clutton was effective as a deep cutter. But the team did not seem to handle the wind effectively; they lack elite handling, something that seemed to separate the winning teams this weekend.
NOTES
…Oregon's skills were not highlighted by the heavy wind. Dylan Freechild couldn't use his quick strikes to generate much. The team seemed almost resigned to losing by the end of the day on Saturday…Central Florida continues to play inconsistently and has yet to put together a great day of ultimate this season…Pittsburgh did pushups and ran sprints immediately following their finals loss to UNC…Big thanks to Mike Conant for his help at the fields…