Pool D is just brutally stacked with talented teams. Which of the top four is going to miss the bracket?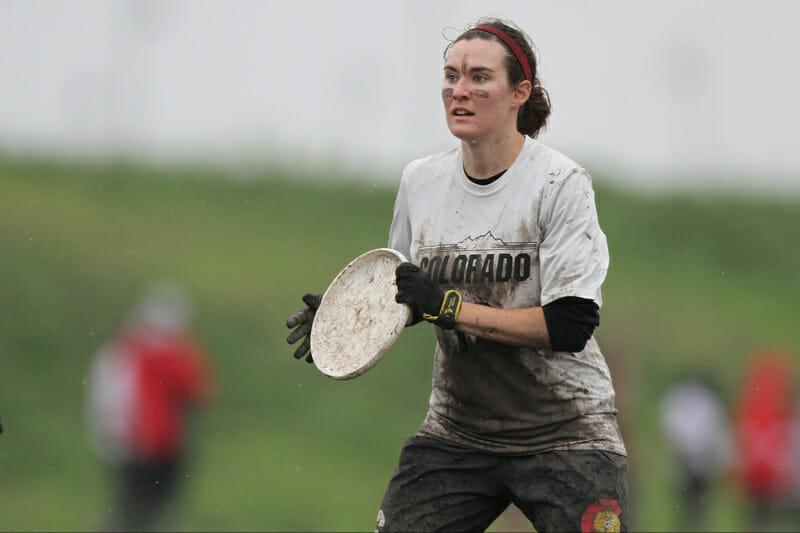 Disclosure: This post is brought to you by Ultimate Central. All opinions are those of Ultiworld. Thanks for supporting the brands that make Ultiworld possible!
Pool D is a murder pool indeed. Pool D features two season-long favorites, Colorado and Virginia, as well as two teams who have crafted reputations out of their upset potential, Whitman and Kansas. Each of these teams fought through their respective Regionals with dreams of quarters and beyond, and now each has to fight just to avoid the four seed spot, like a cruel version of musical chairs.
A three way tie for the top spot is a real possibility. Colorado could beat Virginia; Virginia could beat Kansas; Kansas could beat Colorado; and Whitman could beat any of these teams. These teams will not only have to fight for the win, but they will have to heed point differential as well. Every point at the College Championships matters, but especially so in such a stacked pool.
#4 Colorado Kali
Last year, Colorado Kali entered nationals after barely surviving their region. They were just happy to be there. This year, they will step onto the field as a one seed, and they have a lot more work to do. They still have a lot to prove, and they want it that way.
Kali will have to contend with three teams they haven't played yet this season: Virginia, Whitman, and Princeton. Kali is already preparing for Virginia's fast, relentless pace. They hope to pressure Hydra's downfield, likely setting Kirstin Johnson to guard Alika Johnston.
All season Kali showcased a knack for quickly adapting their defensive attacks, and their defensive versatility should serve them well against Hydra who has struggled to adjust their game when Johnston isn't an option.
Their final game of pool play may be their most definitive, when they face their old friends, Kansas Betty. Not only have they seen Kansas at Regionals for countless years, but this year Kali and Betty got a crack at each other at Centex as well.
"They challenge us in a way I think no other team does," says Kali coach Claire Chastain. "They're not going to hold anything back."
Colorado has the advantage of facing Kansas during the final round of pool play, timing that benefits the deeper Colorado team. If the Kansas handlers are tired, Colorado can claim the game's energy early and take over.
The other opponent Colorado may face this weekend is their own mental game; Colorado can lose games when they play nervous and tight, and no number of cheers can lift a team out of a mental pit if they're not focused on executing. On the other hand, Kali has been conscious of their mental fitness all season.
"We took it down to every point of every play," says Chastain. "Every time you step on the field you have a decision to make, and you can decide to win. Not the game, but each point and each play. This has really changed a lot for us." If Kali translates these words into action against their ambitious pool, they could survive and see the favorable side of Sunday. They have more room to breathe than Whitman or Kansas does, but they're not just grateful to play this year: they want to win. One play at a time.
#5 Virginia
Every other team in the pool is preparing for Hydra, and Hydra is preparing to play their game. They're not looking at the pool or their opponents.
"I honestly don't think any of our players are focused on seedings at all," says captain and Callahan nominee Alika Johnston, "We aren't preparing for any particular team. We've had the most success when we're solely internally focused."
Virginia will need a lot of focus on Friday. Visit the lovely Milwaukee Art Museum. Tailgate a Brewers game. Drive to Chicago, eat deep dish, and come back. Hydra could cross a lot of activities off their Midwestern bucket list between their first game at 8:30 AM and their second at 4:30 PM. Bright and early they will face the hungry four seed Kansas, and late in the day they'll have their sole opportunity for an upset against Colorado. Hydra is the most dangerous two seed at the tournament, but the format isn't doing them any favors. The other teams in Pool D should thank the scheduling gods.
When teams talk about facing Hydra, they're usually talking about Johnston. They aren't trying to stop her; they just hope to contain her and limit her downfield options. She's been called a behemoth by other division coaches, and Colorado coach Claire Chastain calls her the "best offensive handler in Club ultimate," let alone in the college division. She's been a standout player since she was a freshman, and in many ways she has shaped Hydra's upwards trajectory over the past four years. Her farewell tour of the College Championships won't end on Saturday.
Despite the unending cycle of hype surrounding Johnston, shutting her down will not ensure any team a victory. Hydra has grown into a deep, smart team, a reality they proved when Johnston incurred a concussion on Saturday of Northwest Challenge. Their close game against Carleton showcased the talent Hydra has had all along. It's easy to call Johnston the key to their success, but it's more likely that she's the shiniest gear in the Hydra machine. Nada Tramonte, Keila Strick, and Tess Warner each submitted commanding performances, and their ability to execute Hydra's offense without Johnston is promising for their program as a whole. Their extensive depth could be what separates them in such a balanced pool.
#9 Whitman
Last year when the Sweets made nationals, the statement was that they weren't a one hit wonder. They did slump, however, struggling to rally when the chips were down. This year, they're taking back the narrative. The second half of their season belies their seeding. Their only losses have been to Oregon, UBC, Stanford, and Carleton College since March, and their upsets at Northwest Regionals over Washington and UBC have been the source of plenty of water cooler speculation. What happened in Walla Walla? What are the Sweets doing right?
The answer: Whitman may finally be peaking at the right time.
This season's Sweets, who declined to comment for Ultiworld's preview, have blended a potent cocktail of youth talent. Their double game point line includes Julia Bladin, Margo Heffron, Claire Revere, Nina Finley, Linnea Soo, Alissa Soo, and Ari Lozano. All of these women played Seattle youth ultimate, and most shared at least one team before coming to Whitman. Beyond their national and international caliber skills, they have grown up playing with and against one another. They may have been working out kinks at Northwest Challenge, but the pieces have come together.
On Friday their job will be to secure their spot over Princeton and Kansas. Whitman and Kansas have both shown penchants for close battles; if the game is won by a margin of more than 4 points, I'll pull a Chastain. Saturday will be their opportunity to yet again take down favorites. If the Sweets can deliver on the promise they've been building, they'll have a chance at another chapter on Saturday.
#16 Kansas
Last year Kansas polished off their Cinderella season by earning and claiming the first bid to Cincinnati, where they ended tied for 13th. This season, Betty has done a lot of literal legwork to make their sophomore appearance. Of their 19 regular season games, seven have been won or lost by a single point. Kansas has visited both ends of the spectrum on the way, winning the Florida Winter Classic only to get blown out in the Centex final.
Kansas recognizes that their front loaded starting seven have been their biggest strength and their biggest weakness this year. They will get the most they can from seniors like Jenni Corcoran, Caitlin Fitzgerald, and Kate Eshelman, even if it means the back half of their weekend suffers.
But where the pool gods are against Virginia, they seem to smile on Kansas. "The format really favors us," says coach Loren Schieber, "because we're pretty top heavy. With 2 to 3 games we'll still be running strong in our pool." Indeed Corcoran and Fitzgerald have been able to command three-fourths of a weekend, showing their wear only late on Sundays. Kansas is counting on this pattern for their success in Pool D.
Kansas is preparing to face Virginia, Princeton, and Whitman. But they know the real prize is Colorado, a team they have already bested twice this season. "All our matchups [with Colorado] have been dictated to a large degree by who wants it," says Schieber. At Centex, Kansas won the mental game. They came out hot on Saturday of Regionals to win yet again, but Schieber admits they lost the mental battle on Sunday, when Colorado won 11-7.
"Nationals will be the time that both teams are going to meet up and want it really badly. It's going to come down to who executes better, not who wants it more. They're gonna match it." Kansas is betting the house on this final game. This one seed and four seed game, slated for the final round on Saturday, will likely determine the fate of the pool, especially if other upsets have already reshaped the pool's landscape.
#20 Princeton
Princeton Clockwork Orange will return to the College Championships for the first time since 1999, but if you ask the captains, this is their inaugural appearance.
"We didn't even know we had gone in '99," jokes captain Lyra Olson. "As far as we knew, this was the first time we'd gone to Nationals. For the [team] leadership, it's an incredible gift."
Princeton plans to treat it as such. With 10 rookies and a quickly developing program, the team is upfront about their intentions to treat the tournament like what it is: a perfect opportunity to give their young players elite experience and to instill a hunger for more.
"We are the 20th seed," says captain Jane Urheim. "We know we're going to face teams who are going to beat us handily. What we're trying to get from this is growth for next year and the years after that."
Even with open lines and rookies on the field, look for experienced play from captains Sherry Li, Lyra Olson, and Jane Urheim, each of whom sports a healthy ultimate resume.