Pool B:
Ames Chad Larson Experience 15-8 Washington D.C.Ambiguous Grey
A series of drops early in the game sunk Ambiguous Grey(overall #14, seeded B4), vaulting Chad Larson Experience(overall #2, seeded B1) to a 15-8 victory.
CLX's zone was stifling in the wind. Even when Ambiguous Grey managed to work it up most of the field, they would drop it or throw it away when they got close to the endzone. And CLX's exceptional chemistry and breakmark game helped them convert numerous break opportunities.
Thanks to their big win over Atlanta Bucket, however, Washington D.C. still has a chance to take second in the pool with a win over New York Metro North and put themselves in a good chance to make it out of prequarters tomorrow.
Atlanta Bucket 12-8 New York Metro North
Coming off their near-miraculous upset of CLX, New York Metro North (overall #11, seeded B3) tanked in their match-up against Atlanta Bucket (overall #7, seeded B2) and lost 8-12.
A good amount of the chemistry problems that Bucket had in their opening round looked to be on their way to being smoothed out. Atlanta figured out better ways to navigate the wind than Metro North and often connected on deep shots, not all of which ran through their former Chain Lightning ballers.
The deep game that seemed to be so lethal against CLX largely failed Metro North in their second match with the increased wind. With that aspect of their game mostly neutralized, New York struggled to find other ways to keep their momentum going.
With the bounce-back victory, Atlanta placed themselves in a position to possibly salvage some of the day and set up a favorable prequarters match. Unfortunately, they'll have to go through the well-oiled CLX to do so.
Pool C:
San Francisco Polar Bears 14-8 Boulder Love Tractor
After playing perhaps a closer game against Seattle Birdfruit than they might have liked, San Francisco Polar Bears (overall #6, seeded C2) began to hit their stride against Boulder Love Tractor (overall #10, seeded C3) and cruised to a 14-8 victory.
On serve through 4-3, PBR really opened up the game up with a 5-1 run that gave them some breathing room and their D-line's offense some much-needed confidence. This run came on the back of excellent, fundamental defense on the part of San Francisco, which created many opportunities for them to jump ahead.
While their break conversion rate still leaves something to be desired, the occasional synchronicity that they were able to tap into in their second game should place them in a good spot for their last game against a fiery Boston Wild Card to determine the winner of the pool.
Love Tractor, too, should be able to put up a great game against Birdfruit that could really go either way.
Pool D:
Chicago UPA 15-10 Boston Slow White
If there was any doubt left about whether or not Chicago The UPA (overall #16, seeded D4) is for real, they pretty much erased it with a resounding 15-10 smashing of Boston Slow White (overall #4, D1).
Slow White made a handful of execution errors in the first half, mostly drops and throwaways on good looks in the wind, and UPA quickly converted many of them to take half 8-4. They then coasted on this lead and even managed to get another break in the second half to win 15-10 and leave the pool's top seed dumbfounded.
Despite not being a tenured team, Chicago has been playing exceptionally well together today. They may not be the most talented or athletic or in shape team, but they may be the best so far this weekend at maximizing their strengths and not stretching too far, yet still remaining loose and taking a fair amount of chances.
San Francisco Blackbird 11-10 Philadelphia AMP
In a game that saw no team amass a lead of more than one point, San Francisco Blackbird (overall #5, seeded D2) somehow edged out a universe point victory over Philadelphia AMP (overall #9, seeded D3) to avoid a total meltdown in pool play.
Both teams seemed to be playing down with lots of turnovers and poor choices sides, part of which was admittedly triggered by a good amount of zone defense thrown by both squads.
Neither team managed to find a good rhythm or even have many smooth offensive holds.
Despite all their talent and experience, Blackbird has not been able to capitalize on much of their potential so far today. They'll need a complete turnaround in order to best Slow White, who will assuredly be upset after their trouncing at the hands of The UPA.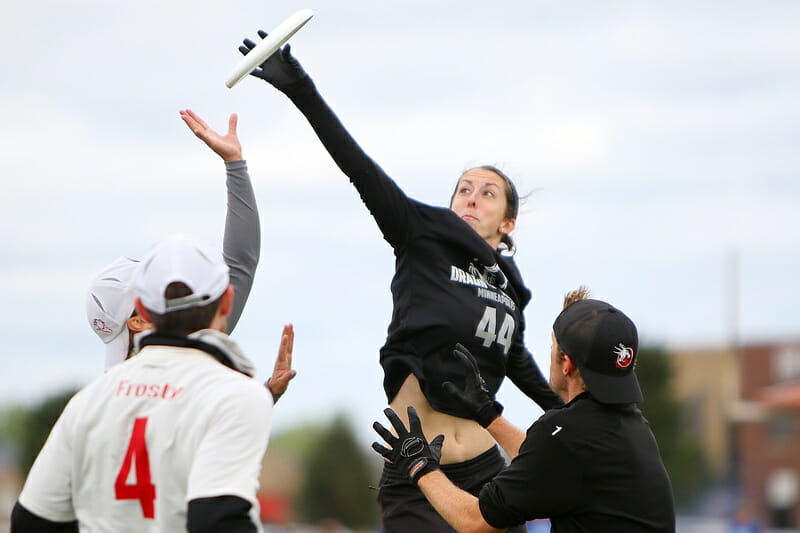 Other scores:
(#8, A2) Seattle Mixtape 15-8 Madison NOISE (#12, A3)
(#1, A1) Minneapolis Drag'n Thrust 13-11 New York 7 Express (#13, A4)
(#3, C1) Boston Wild Card 15-6 Seattle Birdfruit (#15, C4)