The west's best are primed to show what they can do.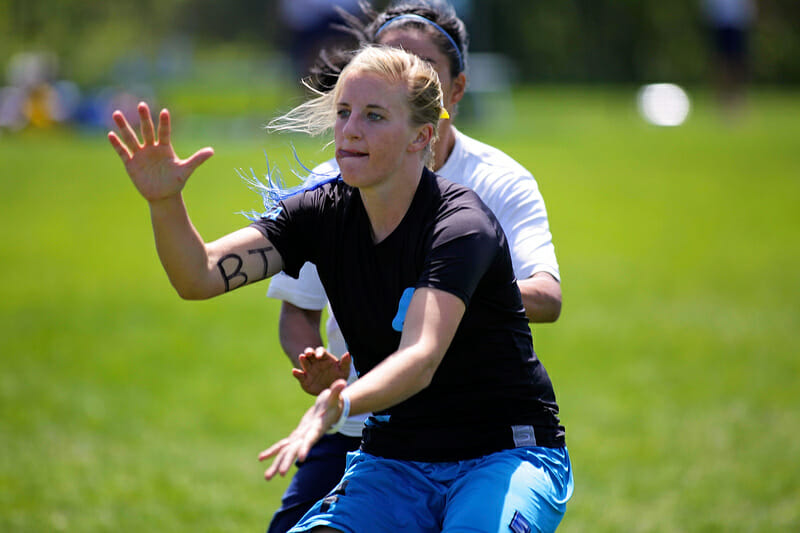 With all the hype, headaches, and focus in women's college ultimate coming from the east coast these past few weeks, we can now turn to one of the largest tournaments on the west coast: Prez Day. 18 teams, 81 degrees, and a whole lot of ultimate over the course of three days.
Tournament Profile
Date: February 13-15, 2016
Location: San Diego, CA
Weather: Sunny, highs near 75, 10-15 mph winds
Top 25 Teams: 10
The pools are out and so the prepping begins. What should we be watching for this upcoming weekend?
Can Oregon Bounce Back?
#3 Oregon may be glad #1 British Columbia and #2 Whitman — the last two teams to beat them — won't be at President's Day, but for teams facing Fugue, there's less to be excited about.
Coming off their early season losses, a deep Oregon squad enter the weekend looking to regain their #1 overall ranking. History has proven Fugue has the depth to overcome California's overdose of Vitamin D; they enter the tournament as defending champs. The team is led by the dynamic trio of Jesse Shofner, Alex Ode, and Beth Kaylor, but don't think that shutting them down is enough when juniors Hayley Wahlroos, Kaitlin Brunik, and Sarafina Angstet-Leto are there to back them up and goal scoring machine Olivia Bartruff is lurking. Prez Day will also be the debut of the 5'10" Wisconsin transfer Maggie Kennedy, who hasn't played at Fugue's prior tournaments due to injury.
Another Stanford-UCLA Showdown?
Yes please! Both Superfly and BLU have already proven their supremacy in the Southwest region in previous tournaments. Their Santa Barbara Invite final performance proved nothing short of pure entertainment and grit on both sides of the disc.
#6 Stanford's Monisha White and Caitlin Go are tenacious on offense, and when partnered with the size and quickness of Anne Rempel, make for a dangerous combination. Operating out of the front of that vertical stack, Rempel proves to be more than just a reset for the handlers. She has the quickness to get herself open anywhere on the field and the dirty throws to make herself a duel threat on offense.
On the other side, #4 UCLA's Han Chen will have to establish her presence early on defense to place pressure on these Superfly handlers. Alongside Chen is Kristen Pojunis who is coming off an impressive performance at the west coast National Team tryouts and has been playing lights out all season; she is one of the hardest working players in the game and causes real headaches on both sides of the disc.
Can Another Team from California Prevail?
Adding to the strong foundation of Stanford and UCLA in the Southwest region, two other teams to keep your eye on are the Pyschos of #24 UC-San Diego and #19 UC-Davis Rogue; each were semifinalists at the Santa Barbara Invite last month. UCSD will be looking to get their revenge from their last encounter with BLU, a 6-5 loss in the rain and wind in Santa Barbara. After a one loss weekend at SBI, Rogue has moved inside the top 20 and will want to prove they belong there. Be on the lookout for these California teams to make a run at a semifinal appearance on Monday; both have proven themselves as early spring standouts and will be looking earn extra bids for this SW region that could come in handy when the Series rolls around.
Welcome to Spring, Colorado.
Ranked #10 overall, Colorado Kali is the three seed at Prez Day and are led by the "Big 3" of Megan Ives, Kirsten Johnson, and Nhi Nguyen. This team is a dangerous combo of slice-n-dice and shake-n-bake. Nguyen, just a junior, has unbelievable handling skills and movement that makes a squirrel look slow; she is a nightmare to defend. Alongside her, Johnson is the senior rock and captain of this team, a solid defender who can lead an offense with break throws. Operating downfield, Ives, is an easy target with a nose for the disc and incredible leaping ability. Kali have a tough pool ahead and will have to get past #13 Washington and UC-San Diego.
Texas, Texas, Yee-haw.   
The current #8 ranked team in the country, Texas Melee is another challenging opponent for any team at Prez Day to face. As the top seed in their pool, they'll be looking to let others know you Don't mess with Texas.
UCLA, Northeastern, and Santa Barbara have their hands full against a UT squad returning Andrea Esparza, Domenica Sutherland, Marissa Land, and Susan Gilbert, to name a few. Plus, it'll be the first time UCLA and Texas face off since Melee surprised the then top seed in their pool at Nationals, the first time a fifth seeded women's team has ever pulled off that upset. Swift handler movement, accurate hucks & deep cuts, speed, speed, and maybe some more speed is the formula for this Melee success.
What To Watch For
Colorado vs. Washington (Sat. 12 PM) – High-powered offense vs relentless defense… who wins? This game will come down to whether Washington's defense can create breaks against Kali's talented offensive roster of Johnson, Ives, and Nguyen. Nora Landri, the foundation of the Element defense, better come with her A-game to lead her defense in a battle to contain this Kali trio.
Texas vs. UCLA (Sat. 10:30 AM) – Even though UCLA is ranked higher than Texas overall, Melee snags the #4 seed in the tournament and faces off against #5 tournament seed UCLA Saturday morning. Melee has always had consistent offensive rhythm led by good chemistry and skill. With so many returners this year, expect them to look in sync. BLU star Han Chen will have to step up on defense and use her speed and size to control this Melee offense.
UC-Davis vs. Stanford (Sat. 9:00 AM) – Superfly returners Monisha White and Caitlin Go are essential to Stanford's dynamic offense. White plays without fear and is capable of game-changing layout Ds. She will need to be a steady leader on both sides of the disc during this game and try to control the momentum for Stanford. This Davis squad is definitely capable of going on runs at any time, so momentum and an early leads will be critical, especially bright and early Saturday morning.
Catch UCLA vs. Texas — plus a whole lot more — which will be filmed and available to Ultiworld subscribers after the tournament.