Can Trent Dillon take over in Pitt's biggest pool play matchup?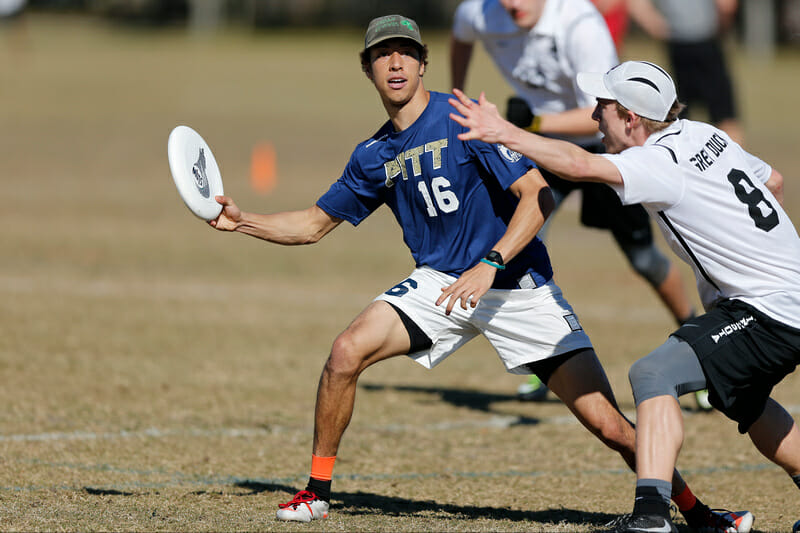 You can watch Minnesota take on Pittsburgh LIVE on Friday, May 27th, at 4:30 PM Eastern right here on Ultiworld.
Looking ahead to Friday's matchup between #4 Minnesota and #5 Pittsburgh, one of the keys to the game for both sides will be how Pitt's Trent Dillon impacts the game.
Pitt was a shell of itself when the two teams met for the only time this season at Florida Warm Up. With both teams playing their first game of 2016, Minnesota took home the (at the time) surprise win, 13-11. If Minnesota wants to repeat that performance, they'll need discipline and a strong game plan to limit Pitt's superstar.
Decoding Dillon
One of the best players in the nation, Dillon is also one of the most versatile – he does damage as a cutter, thrower, and a defender. Dillon plays primarily with En Sabah Nur's O-line, but Pitt coach Nick Kaczmarek will look to find ways to get him involved on the defensive side as well. Early in the Stanford invite finals, and selectively throughout the rest of the game, Kaczmarek sent Dillon out with the defense, often with a fairly low-effort assignment – putting a flat mark on the opposing offense's center handler. This lets Kaczmarek add Dillon's speed and throws to his D-line's offense, without adding significantly to his workload.
That's exactly what Pitt benefits from here, where Dillon's involvement in the offense in the red zone helps Pitt notch an early break.
https://gfycat.com/ShadowySeveralFoxterrier
When Dillon goes to work with the offense, one way that Pittsburgh takes advantage of his versatility is by moving him around the formation. He is comfortable catching the pull, making the first throw, initiating the offense from downfield, or picking his spot as a continuation cutter.
By constantly slotting Dillon into different roles, Pittsburgh will create matchup problems for Minnesota. If Grey Duck puts one of their better downfield defenders on Dillon on a point where Dillon is behind the disc, or puts a handler defender on him for a point when he goes to work downfield, then they are missing an opportunity to take full advantage of their players' strengths. Instead, Dillon can exploit the weaker part of the defender's game.
Even if Minnesota gets the assignment right initially, Dillon frequently changes his role within the point, which can create a matchup advantage out of nowhere. Here, he starts in a backfield position, but immediately takes off deep, and spends the rest of the point downfield, eventually making himself a target for the Pittsburgh handers.
https://gfycat.com/HandyNaturalAfricanwilddog
Here, after throwing the hitch, Dillon takes off deep, shaking his defender and getting free for a gainer underneath.
https://gfycat.com/AngryConfusedAmbushbug
If the defense had assigned a handler defender, this action takes that defender out of their comfort zone and forces them to cover downfield actions.
Similarly, after catching a pass and throwing the continuation, Dillon is comfortable setting up (and sticking around) in a reset position, forcing his defender to guard handler cuts.
https://gfycat.com/MediocreRigidHomalocephale
In addition to finding ways to take away his defender's strengths, Dillon also finds ways to maximize his impact within a single point. In this clip, he attacks the break side, and rather than clearing back into the formation, he filters into the reset space, and then cuts up-line.
https://gfycat.com/AnguishedAdmirableGentoopenguin
This sequence results in him being a factor three times in short succession (cutting for the disc, giving himself an opportunity to get the disc in his hands, and then making an attacking cut), rather than making one cut, clearing, and waiting longer for his next opportunity to get involved.
Here, as the Pittsburgh offense transitions into a goal-line set, Dillon gets very active, working a weave with the other handlers – an action that takes full advantage of his speed and break throwing abilities by creating a number of opportunities for him to do damage with his cutting and with his throws.
https://gfycat.com/FaithfulSimplisticBorzoi
With a talent like Dillon, the more he is involved in the play, the more effective Pittsburgh is as a team.  Formations and sequences like these let him maximize his impact on the game without pressing.
Ducks Fly (Too Close) Together
In addition to bottling up Dillon, Minnesota will need to be close to flawless with both their spacing and their execution.
After struggling against UMass's zone at Easterns, Minnesota's offense should expect to see plenty of zone looks from their opponents in Raleigh. Their struggles against zone defenses are in large part due to their spacing.
Here, their poppers have drifted too close to the disc, which draws additional defenders into an already crowded space. The poppers stay relatively stationary, which allows the defense to take them away without too much effort. Minnesota's downfield players have taken themselves too far out of the play – barely in the frame, they are not viable targets. They do stretch the field and create space for their poppers, but the poppers need to make better use of it by moving more, changing the point of attach and making defenders make choices – this action is what stretches the defense and opens up holes for the offense to attack.
https://gfycat.com/BetterCharmingBoilweevil
Here again, Minnesota's downfield defenders have crashed towards the disc, and don't move aggressively enough in the space behind the front wall. This clogs the space around the disc with defenders, leaving the offense with fewer options and tighter throwing lanes, resulting in a bad turnover.
https://gfycat.com/DecimalDefenselessHoneyeater
Execution also needs to be a focal point for Minnesota. When their offense gives up the disc, too often it's on an unforced error, like these plays where the thrower simply misses the spot:
https://gfycat.com/ScaryGraveElk
https://gfycat.com/SharpWelldocumentedJohndory
These plays can come in bunches – Minnesota's O-line gave up the disc 12 times against Florida in the Warm-Up finals. With Pittsburgh likely spotting Dillon on a handful of D points, Minnesota needs to play cleanly, to avoid giving En Sabah Nur break opportunities when one of Pittsburgh's most dynamic players is on the field.
The 4-5 matchup is often the best game of pool play, and this year will be no exception — each team will need to be at their best.
For Pittsburgh, this means finding as many opportunities as possible for Dillon to make an impact. For Minnesota, it means staying disciplined, spacing the field, and executing cleanly.
May the best team win.