With a deep roster of talent, Whitman has found ways to carve out roles that allow their stars to complement each other.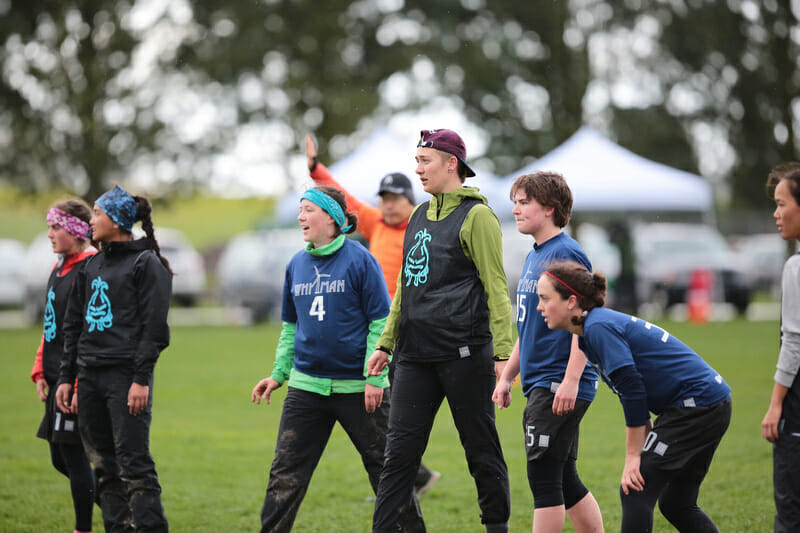 The Northwest D1 Women's region has been home to two of the nation's best five teams over the past several years: Oregon's Fugue and the British Colombia's Thunderbirds. Both of these programs were expected to be top five teams again this season, with strong returning classes featuring elite club-level players. But this year, a third team entered the conversation to contend for supremacy in the northwest — and beyond.
Whitman entered the season hot on Fugue and UBC's tails, earning a #4 preseason ranking. Despite losing possibly their best player from last season in Julia Bladin, the 2016 roster included many familiar faces: Claire Revere — earning consecutive Club Nationals silver medals with Seattle's mixed team, Mixtape, as well as a 1st team All-Club nod — Ari Lozano, Margo Heffron, Nina Finley, and Linnea and Alissa Soo, who have all represented the U.S. at international competition.
The Sweets jumped ahead of the rest this early season by winning their first two tournaments: a small, shallow field at the Flat Tail Invite, beating Fugue in the finals; and a large, deeply talented field at the Stanford Invite, beating the red-hot UCF Sirens in the title game, earning them the #1 ranking in the nation. The team wouldn't win another tournament as Oregon Fugue caught fire and won every game after the Stanford Invite, but Whitman closed strong, finishing in fourth place in USAU rankings, and finishing third in the region behind the two aforementioned powerhouses.
Several players on the 2016 roster have rightfully earned All-Region and "All-Star" considerations, and have combined to create a Sweets offense that is efficient and powerful, paired with a defense that is stout and likes to play fast and shoot big.
There are five players in particular that we will look at today that have certain skill-sets and talents that enable the team and each other to perform certain tasks and play certain roles, each of which tie into the greater team strategy while simultaneously taking advantage of each players' abilities. At the center of it all lies Whitman's three most vital players: the handler trio.
The Handler Trio
Margo Heffron is the base from which the Sweets' offense is built. Operating as the the team's center handler, Heffron abuses her tall, long frame to reach over and around her marks, distributing the disc with relative ease. Not only is her size a match-up nightmare, but Heffron is also left-handed, meaning the typical force-flick, person defenses allow Heffron to throw open backhands with a lot of touch, or she can step farther around for a break-mark forehand, stretching farther than a typical backhand around throw.
While not the quickest, fastest, or most exciting player on the roster, Heffron, who "has been playing Ultimate since she was in the womb," according to Sweets' captain Nina Finley, has throwing abilities that are unparalleled on the team. "Her throws are some of the best in the country, and she sets the bar high for her teammates as we all work to reach her level."
Check out this throw from Heffron (#33 in white):
https://gfycat.com/RegularTintedKinkajou
While not wildly impressive at first glance, the pace and space of the throw in windy conditions that gave many people fits shows a mature understanding of throwing angles, releases points, and Heffron's own abilities. This is the type of throw Heffron makes for the team: patient, calculated throws that, when she's honed in, are rarely contestable.
Here are two more long-balls that are typical of Heffron and the Whitman offense:
https://gfycat.com/RemoteSlowBoar
https://gfycat.com/SatisfiedInconsequentialFlycatcher
---
On the other side, Alex Hardesty balances the presence of Heffron on the offense by being a primary handler on the defense. While Heffron will look to maintain possession and work in a flow of an offensive system, the Sweets' defense likes to simply pick up the disc and run. Despite a smaller stature, Hardesty packs a big punch with her hucks, which she can bend and manipulate around marks and defenders to try and jump on teams in transition offense. Whitman takes advantage of Hardesty's throwing prowess and defensive fire by frequently placing her in the "deep deep" position in zones, playing the farthest downfield. While there is some weakness in this strategy from a downfield height/size perspective, it allows her to pick up the disc quickly after a turnover while the rest of her team is already streaking towards the endzone in front of her.
Hardesty's pace and passion make her somewhat of an emotional leader on the team. Finley says that Alex brings "both a fierce drive to win and unconditional love for her teammates, a combination that makes her a centerpiece who the whole team rallies around."
Some trademarks of her game are stepping through marks, embracing the contact and drawing frequent fouls, while attacking space in somewhat unconventional ways. It was an important tool in Whitman's Stanford Invite victory over UCF and their vaunted zone (#15 in white):
https://gfycat.com/PhonyGiftedEyas
Hardesty works the same way when attacking deep space, frequently stepping through marks, either drawing fouls or laying out great hucks:
https://gfycat.com/ComposedValidFrog
https://gfycat.com/SeveralDisguisedIcelandgull
---
Finally, Nina Finley is the backbone of this 2016 Sweets team. Logging likely the most points on the team, playing both sides of the disc, Finley does it all: handling alongside Heffron and Hardesty, picking up the disc and launching hucks to lead fast breaks, or cutting downfield, acting as a frequent deep cutter for Heffron through pull plays. Whether it's being the primary disc catcher on pulls, or the primary puller herself, Finley performs many important tasks for the team.
"This is maybe the most effective player on the Whitman team right now; your star player more or less, and they send her down in the cup. I love that." -UltiWorld's Keith Raynor during a broadcast at the 2016 Northwest Challenge.
Finley's greatest asset is her throwing abilities. She's the primary puller on the team, and her fundamental, never-changing form on hucks gives the team consistent, quality disc movement in all conditions. Here she is working into the blunt face of the winds at the Stanford Invite, able to slice through UCF's zone for breaks or hucks:
https://gfycat.com/LoathsomeLimitedCats
https://gfycat.com/AchingShimmeringAntarcticgiantpetrel
Another show of her all-around skills: as a center handler, Finley most-typically will take resets and distribute, but pressure the reset, and she'll take you up-line and take a power-position shot for a ton of yards:
https://gfycat.com/EmbellishedFortunateBorzoi
Army of Cutters
Claire Revere is one of the most polished, balanced talents in college ultimate. Finley refers to Revere's fundamentals as "beautiful," and they really are. Fast, long, and experienced, Revere is a constant problem for defenders downfield. Her tendency is to set-up deep, work underneath for a sizeable yardage gain, then punch it into a continuing cutter if she is thirty yards or closer to the end-zone. Her touch and pace when throwing allow her to create and attack with the disc in a way that is virtually unstoppable. It's clear that her time with Club competition has elevated her game to a level most college players don't achieve.
In watching just two games of her this season, her effectiveness is undeniable:
https://gfycat.com/TerribleThinAmericanriverotter
https://gfycat.com/ForsakenAgitatedHarpyeagle
https://gfycat.com/ScentedSoggyHoopoe
---
After a quality season of role-playing and gap-filling, Marlena Sloss — affectionately known as "Merlin" — walked into Regionals and blew away the opposition with a rare display of elite speed. Working within the pace-and-space framework of the Whitman D-line offense, Sloss was simply unstoppable breaking deep after turnovers, allowing players like Finley and Hardesty to simply throw the disc as far as they could in any fashion after picking it up to an uncovered cutter.
"[Marlena] seems to predict the future on defense and offense," describes Finley, "getting run-through blocks and sprinting deep for hucks that haven't even happened yet."
Her speed also draws matchups against other elite speed. Sloss was one of few, if not the only player, able to throw a wrench into Oregon Fugue's pull plays that would isolate fellow speedster Olivia Bartruff in deep space.
Against UCF in the Stanford Invite Finals, Sloss managed to shut-down key parts of the opposing offense on several occasions. Here, Sloss guards "Eli" Williams (#66 in blue), who UCF's entire offense works through, and Williams simply can't get open against the speed of Sloss:
https://gfycat.com/AgedDistantDwarfrabbit
While there isn't a ton of great video of Sloss, her performance at Regionals was eye-opening, and she seems poised for a great performance at Nationals.
Filling Out the Roster
There is a wealth of additional talent on the team; we haven't even touched on the 2016 Callahan nominee Ari Lozano, who might be the team's best true athlete, as seen in her Callahan video. Whitman has the luxury of placing Lozano anywhere they might see fit on a point-by-point basis. A fast cutter and defender, a legit thrower, she is the most capable and talented gap filler on the team. On most other teams, Lozano might very well be the focal point, but up in Walla Walla she can pick her spots and find success how and when the team sees fit.
The Soo sisters — Alissa and Linnea — are long time teammates in the Seattle youth scene, and are quick cutters and defenders. While a little on the shorter, slighter side physically, these two can hang around with most any other player from the opposition, and are reliable options on either side of the disc. Brenna Bailey — who Finley says has one of the "sharpest minds in Ultimate" — and Elissa Piccozzi work in similar fashion rounding out a deep rotation of quality cutters. To top it all off, Kaileah Akker — a recent transfer from the volleyball team — might be the tallest female player at Nationals this year, and slots into the front-lines of the Whitman zones. While still a new, raw player in terms of disc skills, her athleticism and size paired with a fearless style of attacking the disc can wreak havoc at any moment.
Nationals Outlook
The Sweets enter USAU College Nationals as the #5 overall seed, landing them in Pool D with #4 Central Florida, #9 Texas, #16 Wisconsin, and #20 Ottawa. Whitman has only faced UCF this season, splitting their two games: a loss in pool play and a win in the title game at the Stanford Invite.
The Sweets look better coached than they've ever been; their roster is packed with players that can fill roles, play both ways, and take over games; they've beaten all but one team (Stanford Superfly) seeded ahead of them at the tournament. If they can stay healthy through the weekend — something they have rarely managed to do the past couple seasons — this team has just as good of a shot at the finals as anyone else.
UltiWorld will be live-streaming Whitman's pool play game against Texas Melee on Saturday, May 28th, at 12:30PM Eastern time.