Key takeaways from the holiday weekend in Rhode Island.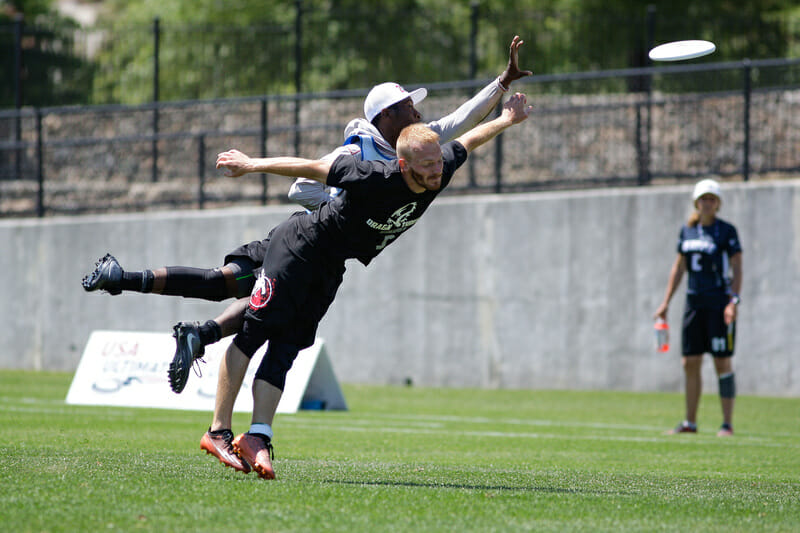 This post is presented by Disc Store. All opinions are those of the author; please support the brands that make Ultiworld possible and shop at Disc Store!
The US Open gave us a first look at the country's top club teams as the 2016 season gets underway. Although many teams were not at full strength and some were getting one of their first chances to play together, the tournament still provided some valuable information about where teams stand early in the season.
Amp Up
For much of the weekend, Philadelphia looked like the best mixed team not to qualify for the semifinals. They will long rue the universe point loss to Drag'n Thrust that earned them that dubious honor. After easily dispatching both Panama and the Polar Bears on Friday morning, Amp lost a tight game to Metro North to end a mostly satisfying opening day in Rhode Island. On Saturday morning, they raced out to a commanding 7-1 lead against the three-time defending champs, only to see their lead and their semifinals berth disappear before the eyes with a disastrous second half.
Amp recovered from the shock to beat Toronto Union in their final pool play match and would go on to win out in the fifth place bracket with victories over Wildcard and Noise. But this will be a weekend of what ifs for Philly. They certainly have talent, as Raha Mozaffari remains among the class women in the division and Nico Lake and Stuart Hean were impressive as grinders all weekend for Amp. While their defense was sharp and their effort can never be questioned, their decision-making and efficiency on offense will need to be improved if they hope to crack the top tier in the division.
Madison Makes Some NOISE
Coming into the weekend as something of an afterthought, Madison managed an impressive sixth place finish after going 3-2 in pool play and then crushing Polar Bears before losing the fifth place game to Amp. Overall, it has to be considered a successful weekend for NOISE, as their only losses in pool play were to the eventual finalists, giving both Slow White and Mixtape more than decent games.
Not boasting the same top-end talent as some of the elite in the division, Madison has built a roster that is solid from top to bottom and that plays well together. While they got contributions from almost every player, Rachel Enyeart and Matthew Becker stood out as goal-scoring machines, with Becker leading his team in goals (10) and assists (12). Perhaps a surprise qualifier for last season's Nationals, after their performance in Rhode Island, it would be far from shocking to see them in Rockford this fall fighting for a spot in the Pro Flight. They will look to build on their strong start to the season in Colorado later this month at the Pro-Elite Challenge.
The Heat Turns Up On Polar Bears
A former US Open Champion, the third-seeded Polar Bears were both short-handed and a late arrival to the East Coast, which left them out of sync for much of the weekend. Despite a reasonable 3-2 pool play record — perhaps aided by a last round victory over a Metro North squad that had already clinched the pool and had little to play for — they finished fourth in their pool and had to settle for a seventh place finish after a two-point consolation victory over Wild Card.
While they were missing some players this weekend, this still does not appear to be a vintage Polar Bears roster. It's a strange look for the San Francisco powerhouse who have been contenders for years, but they have a lot to prove moving forward this summer. With a fuller roster, they will look to rebound at the Pro Flight Finale and return to the conversation of serious title threats.
A Reshuffle For Wild Card
After years of being near the top of the national pecking order, this is looking decidedly like a down season for the Boston squad. They have experienced heavy roster turnover this year — losing top female talent to Brute Squad and Vincenzo Vitiello to Oakland's Guerrilla — and have a long way to go to bring their younger talent up to speed. The return of Ian Engler will surely help, but it will still be a tall order for this Wild Card team to compete with the top tier.
While they managed only two victories on the weekend in what was nearly a home tournament for them, the US Open was far from an unqualified disaster, as they finished eighth and notched some decent scores against top teams. They clearly have talent, especially in their women, to be stronger by the end of the year. They will need a strong showing at the Pro-Elite Challenge in Colorado to earn a strength bid for the Northeast — one which they may need just to get back to Nationals. Concerningly, they are already a combined 0-3 against the other top teams in their region, Slow White and Metro North.
Foreign Disappointment
Echoing results from the week prior in London, the foreign contingent of mixed teams at the US Open did not manage a single victory over any American opponents on the weekend. Columbia was energetic throughout, but with a short roster, struggled to compete over three intense games per day. As the first-ever competitive tournament for several of their players, it is unsurprising that Panama failed to win a game at the Open, though they will be proud to take home the Spirit award.
Union will be the foreign team most disappointed with their weekend. After finishing fifth last year in Cincinnati and spending much of the year near the top of the USAU mixed rankings, Toronto likely will have expected to perform well in Rhode Island. Having stated that they intend to compete in this year's USAU Series, they did themselves no favors toward earning a strength bid again this season1.
Semifinalists Wrap-Up
Slow White – The US Open champions look confident headed into the middle of their season. Aside from a pool play game against Mixtape, they were in control of every game they played from start to finish and just looked more polished and complete than the rest of the teams in Rhode Island. But this may also be their biggest concern. With as good as their chemistry looked this weekend, it may hint that they are much closer to their ceiling than the rest of the division. Will that ceiling be high enough in the back half of the season? They will be hoping to continue to build over the course of the summer and are bringing close to a full roster to their only other regular season tournament this season — the Pro Flight Finale in August. It will be interesting to see how they fare on the other side of the country after their title rivals have had more time to get up to full-speed.
Mixtape – The squad from Seattle may as well use Katy Perry's "Hot N Cold" as a team anthem; this is one of the streakiest teams out there — and they know it. That's Mixtape's gameplan: play exciting ultimate and make big, fun plays that bring the team energy up. Once they are up and rolling, they are very tough to slow down. But when things get tight, they look overly reliant on their top players to make difficult plays just to keep them in the game. Slow White's basic game plan worked brilliantly in the finals, which stifled any Seattle comeback before it really got started; many teams will try to replicate that plan throughout the season. Will more practice time together help Mixtape figure out a way to stay more stable and have constant energy? If so, they will be incredibly dangerous.
Drag'n Thrust – Maybe the worst tournament Minneapolis has played in years, they were still able to make the semis, falling just short of beating the streaky Mixtape team. Without coach Jake Henderson, they looked unpolished and lax all weekend, meaning they still have plenty of room for improvement if they can clean up some early season mistakes and bring it all together again. After a contentious individual battle in the semifinals, it will be very interesting to watch the Jay Drescher-Khalif El-Salaam rivalry develop at Pro Flight Finale and Nationals.
Metro North – A lesser-known second year team from Connecticut and New York headed into the weekend2, Metro North impressed by winning Pool A and earning a berth into the semifinals. Losing to regional rival Slow White for a third time this season3 should be of some concern, but this is a veteran-heavy squad that will be hungry for an inevitable rematch. If people questioned their credentials before, it should be clear now that this squad is prepared to take on challengers all season.
---
Last year they earned a strength bid for the Northeast, but then decided not to participate in Sectionals. ↩

Despite earning their Pro Flight status at Nationals last season. ↩

Though one loss came at Mixed Easterns before the formal start of the regular season. ↩