The week in college ultimate.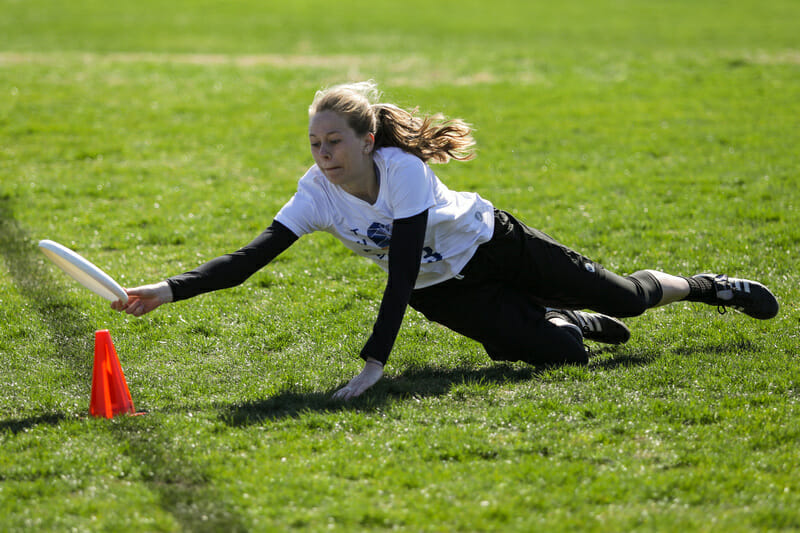 During the spring season, we will publish a bite-sized weekly recap of the action across the College Division. This will serve as a supplement to our standard tournament reporting and will offer a high-level look at the latest happenings and the biggest stories of the week.
Want your tournament listed here? Submit a recap of what happened right here.
Women's
Tufts Emerges From Crowded Queen City Tune Up Field
QCTU was, per usual, filled with surprises and big time ultimate, making for an exciting weekend. It certainly bucked expectation for #10 Tufts Ewo to come away the victor, losing just a single game on the weekend. They were championed by Rachel Kramer's dynamic offensive ability and Jojo Emerson's skilled handling, while also possessing enough depth, fitness, and strategic versatility to outlast and outwit the field. They looked very strong against Ohio State in the final, dominating in the second half on the way to a 15-10 win.
#9 Virginia Hydra, #11 Ohio State, and #12 Pittsburgh all impressed, but with such a balanced playing field, nobody went home unscathed and there were mixed results from numerous teams.
For more coverage of Queen City Tune-Up, check out our full tournament recap and scores! Game video is available in Ultiworld's video store for subscribers and will continue to be updated.
D-III Update: Flat Tail Women's, Turf Wars
Both #6 Portland Uproar and #7 Puget Sound Clearcut had solid performances at Flat Tail Women's last weekend in Corvallis. Since 2015, Clearcut has dominated the Northwest region, emerging after two barren years where no Northwest team was represented at nationals. However, two weekends ago we saw a another team step up to challenge Clearcut. Portland finished third, beating Clearcut in pool play 11-9. Uproar's captain and main handler Demri Horton played a key role in the team's success, but UPS fought back point for point, led by Ellen "Cady" Kallenscher, to cause trouble for Uproar. For its part, UPS played several tight games losing four of them by a combined four points. Lewis and Clark Artemis went 1-5, taking big losses to both Portland and Puget Sound, dropping them out of the power rankings.
That same weekend, #24 John Brown Savage Skies got off to a great start to their season at Turf Wars, throttling all comers from the all-Texas field of D-I teams. It puts them on the map in a South Central region that has been dominated by Truman State and Rice.
Quick Hits
Men's
Hometown North Carolina Marches Through Queen City Tune-Up
It was another win for #2 North Carolina Darkside, who has opened the season with two straight tournament victories. Darkside, led by Matt Gouchoe-Hanas on offense and Nathan Kwon on defense, demolished a hampered #6 Massachussetts team in semifinals before meeting surprise finalist, #8 Georgia Jojah, in a battle for the title. Kwon scored three straight breaks to give UNC a big lead, and despite the aggressive play of Parker Bray and Nathan Haskell, Georgia succumbed, 15-13.
Most other ranked teams performed about as expected, confirming previous suspicions. The biggest exception was Harvard Red Line, who failed to register any meaningful wins and took losses to Richmond and Notre Dame. It looks like they'll have a lot of work to do in order to get back to Nationals.
For more coverage of Queen City Tune-Up, check out the final recap, full tournament recap, and scores; game video is available in Ultiworld's video store for subscribers and will continue to be updated.
UCLA Narrowly Defeats Chico State to Win President's Day Qualifier
While UCLA Smaug was the No. 3 seed coming into the weekend, they might have been the biggest name team in the President's Day Qualifier field. But they were tested, having to go through the two teams seeded above them — Santa Clara and Chico State — in the semifinal and final consecutively. UCLA survived, winning the games by a combined three goals, and landing a spot at President's Day in a couple weeks.
D-III Update: QCTU, Big D in Little D
Four D-III teams from the Atlantic Coast region were present at QCTU, and three of them put in performances that bode well for the region's chances of earning a strength bid this season. #1 Richmond was the strongest of the bunch, putting up a 3-1 record in pool play highlighted by a win over defending D-I national runner-ups Harvard. #18 High Point and #12 UNC Asheville both also had solid weekends, finishing 12th and 15th respectively to break seed. The fourth AC D-III team in attendance, Davidson, went 0-7 on the weekend and struggled to find their footing.
A few weeks ago, #2 Air Force laid down a marker with their impressive performance at Flat Tail Open. This weekend in Denton, the rest of the South Central region showed at Big D in Little D that Afterburn won't have it easy at Regionals. #3 Colorado College cruised to a 7-1 record, just falling short to Texas Tech in the final after an otherwise dominant weekend. #6 John Brown also finished the weekend with a 7-1 record, losing to Texas Tech in the semis and preventing an all D-III matchup in the championship game.
Quick Hits
No. 3 seed Virginia claimed the championship at Mid Atlantic Warmup, going through Northeastern and George Washington on the way to the win. D-III #14 Williams finished fourth while #25 Mary Washington slumped to ninth.
LSU got revenge for a Saturday loss, beating Emory in a very close final at Bama Secs Invite. These teams, along with Tennessee, are potential landmines in the Southeast regional field. Defending D-III national champs Georgia College got their season off to a disappointing start at the tournament, with star man Nathan Vickory playing hobbled.
Big D in Little D featured a cast of 20 teams, and No. 7 seed Texas Tech came out on top, an upset over top seed Colorado College. No. 15 seed Texas State and D-III contender John Brown were the other semifinalists.
Looking Ahead
The Stanford Open (M/W) is on tap, featuring a massive field and some teams looking to get a shot at top 25 status, like Oregon State and UCSB men's, or looking to protect it, like UC San Diego women's. The weekend should also help clarify the West Coast D-III picture considerably, with seven ranked teams in attendance across both gender divisions.
More Southeast action, as T-Town Throwdown (M) and Luminous (W) bring a few out-of-region teams to meet Southeast competition; #19 Georgia Tech headlines the Luminous field.
Antifreeze (W) brings a lot of Texas teams together to get their seasons started, hosted by D-III powerhouse #3 Rice Torque.