Four incredible matchups, many unexpected, are lined up for this year's quarterfinal round.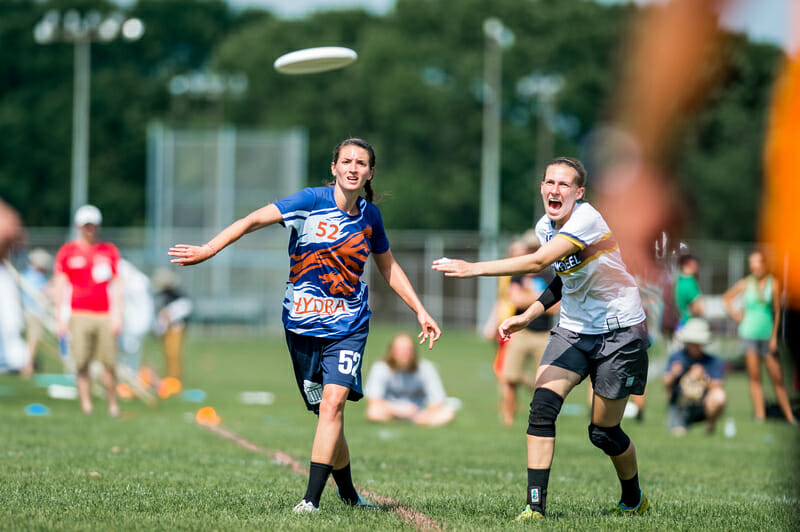 Ultiworld's reporting on the Women's 2017 D-I College Championships is presented by VC Ultimate as part of their season-long support of our women's coverage. All opinions are those of the author. Please support the brands that make Ultiworld possible and shop at VC Ultimate!
Seven of the top eight seeds in the division have made to the quarterfinals, along with powerhouse program Oregon, the no. 11 seed. Their paths and order are not what was expected, but their talent is unquestionable. From here on our, there's no reason for anyone to hold back. The wild card is the weather, which is projected for rain and potentially worsening conditions.
Stanford Superfly vs. Dartmouth Princess Layout
When Dartmouth lost to Oregon, it shook up the entire championship race. It meant that Stanford and Dartmouth, a showdown of two teams that many expected to play in the final, would face each other in quarterfinals. One of the top two teams in the division will not even make semifinals.
The game will feature several titans of the game. Jaclyn Verzuh has had a monster weekend for Dartmouth, while Angela Zhu has been a little inefficient but still shown herself to be one of the best handful of players in the division. Courtney Gegg has been a two-way wrecking machine for Stanford. And she should get help from Monisha White, who has missed much of the tournament with heat exhaustion.
But while Stanford does have starpower beyond those two, this game will be a battle of Darmouth's elite top end versus Stanford's incredibly deep roster. Dartmouth's top line may be the best in the country, with Verzuh and Zhu1 of course leading the way, and getting big contributions from Julianna Werffeli, Piper Curtis, and Caitlyn Lee. But Stanford boasts the roster with the more talent from top to bottom than anyone. That dichotomy, in addition to the sheer amount of ability on display, makes this a delightfully intriguing matchup.
The two have played once before this season, a 13-5 beatdown by Dartmouth in the semifinals of the Stanford Invite. It would be surprising to see another such lopsided affair with seasons now on the line. It may come a couple of rounds earlier than expected, but Stanford and Dartmouth have all the makings of a classic showdown that will be remembered for years to come.
UCLA BLU vs. Texas Melee
Texas and UCLA, per their pre-tournaments seeds, were projected to play each other in quarterfinals. The twist is that they're now both on the opposite side of the bracket that they would have been if things had gone chalk. UCLA unexpectedly won Pool C thanks to an upset over Virginia and and Texas lost out on the Pool D crown with their double game point loss to British Columbia.
Apart from those two decisive games, Texas has probably had the better weekend of the two teams. Texas demolished every other team they played in pool play by a combined score of 45-24 and then took care of Carleton in prequarters without too much trouble.
UCLA on the other hand, has been tested by teams they would have been expected to breeze past. They were inconsistent against Michigan, and needed to come back to win against pool five seed California San Diego.
This matchup will the third time these two squads have met. The previous two were both weather shortened affairs at Presidents' Day, and UCLA was victorious in both. Julia Schmaltz was also not involved in the second of those games, so the third chapter of this series could bear little resemblance to the first two.
Stylistically, Texas and UCLA should give one of the most entertaining games of the whole tournament. Both teams play an aggressive style and feature exciting playmakers, like UCLA's Han Chen and Syliva Liang, and Texas' Schmaltz and Dre Esparza.
It will be particularly interesting to see how Texas attacks against UCLA's vaunted zone defense. Chen is one of the most dominant deep defenders in the game's recent history, and Schmaltz is one of the most dangerous deep cutters. How those two strengths play out against each other could determine which team advances to semifinals.
British Columbia Thunderbirds vs. Virginia Hydra
Virginia coach David Allison still remembers the last team his team played UBC: it was 2015, and they were facing off in the quarterfinals. Alika Johnston was a senior who had lead her team through a dominant regular season, and Hydra felt like it their time to reach the final… until a violent bout of food poisoning took down nearly half their team. They didn't have a chance to give UBC their full firepower with some of their roster's best role players and stars sidelined or even hospitalized.
Allison remembers that game well, and they'll be ready to rewrite history tomorrow morning. Virginia will focus less on drawing up blueprints to beat UBC and more on resting their legs and recovering for another long day of running tomorrow. Virginia hasn't played the same style of composed, space conscious ultimate they usually favor this weekend, and it's created some holes they had to battle out of.
"This whole tournament we've been rushing throws," agreed Allison. "And [we've been] throwing it into the trap sideline and trying up the line cuts over and over again… but it's not there."
Virginia draws their power from being a deep team that relies on all seven players to score every point. But the flipside of this approach is that when they're having sloppy points, the problem is collective instead of individual. Hydra can't bench one trigger happy player and hope their problems are solved.
If Hydra can't center themselves tomorrow on offense, they won't be able to dance with British Columbia. The UBC Thunderbirds are undefeated so far this weekend. They closed the book early in all their games, except in their double game point game with Texas. UBC's offense is the happy union of discipline and speed. Opponents can run for one point with UBC's small army of speedy cutters, but they can't keep up for four, five, or 10 points. Virginia will be able to work through their zone, but UBC won't have to worry about towering deep threats that have hurt them before.
Janelle Siwa, Esther Au, and Serena Tam are crafty handlers who create cutting lanes with their throws. Naomi Morcilla, Ellen Au-Yeung, and Julia Zhang cut rhythmically in the lanes, and at least two of them are open during any one stall count. UBC has dominated the scoreboard more than any other team in the quarterfinals (they're +30 so far) because they know how to score fast. 
Hydra may have scores to settle during this quarterfinal, but Allison will have to mastermind a defense to stutter UBC's natural momentum if they want to return to the semifinal this year. UBC believes its their year to reach the semifinals and beyond, and they'll step onto the field ready to run.
Oregon Fugue vs. Colorado Kali
Oregon and Colorado earned this quarterfinal game through their respective defensive successes during pool play, and tomorrow morning two very different styles will clash. Oregon is undefeated so far after a huge 15-10 upset over the overall no. 2 seed Dartmouth. Colorado is 4-1 so far in the tournament with only one 13-11 loss to Stanford during Round 1.
Colorado wears their reputation for great person defense like a badge of honor. The team doesn't have set O- and D-lines and prefers all their players to share the same brand of defensive intensity. They get run through blocks and layout Ds regularly, and they can read discs well enough to win shots to the endzone.
By contrast, Oregon sets a wide, fearsome zone that lures handlers into believing they've found open lanes before a Fugue defender appears to slap the disc down. Their cup – which usually features Kaiyana Petrus and Gabrielle Aufderheide on the mark – drags the opponents' offense to a crawl. Any ambitious shots deep have to get past Ella Hansen, too.
"I think it's going to be a big defensive matchup," said Colorado coach Claire Chastain. "I know they run junk a lot, and turn and burn on the turn. So I'm kind of excited to see how we deal with that, and how that challenges us… I'm interested to see if we can work it all the way up in that zone – I have a lot of faith."
Oregon's zone will be a challenge, but Colorado's zone offense has never looked better, and it's certainly better than the last time these teams met at Presidents' Day Invite, when Oregon edged out Kali 10-8. Colorado handlers Kirstin Johnson, Kelsey Bennett, and Jean Russell have thrown more zone swing passes this weekend than they may have thrown in all their previous Nationals appearances combined. Colorado is exploring their conservative side, and it's paying off.
Oregon is building a nice little peak of their own. Their offense was focused, in sync, and lethal on the breaks during pool play. Ella Hansen is on another level this weekend, and her fast break pace paired with pinpoint shots brings Fugue closer to the legendary style of past Fugue teams than this squad has been all year. Wahlroos may be the only woman to make Jaclyn Verzuh look silly this weekend, and she'll be a challenging assignment for Colorado's best defenders.
Colorado hopes to break their streak of leaving bracket play in quarters, while Oregon is on a mission to return to the finals during their last year with this strong senior class. The game will be won by the D-lines; it's the only way these teams know how to play.
---
Working Title: The Dynamic Zhuh-o? H/T @patrickparris8 ↩