What you need to know about the 2017 season.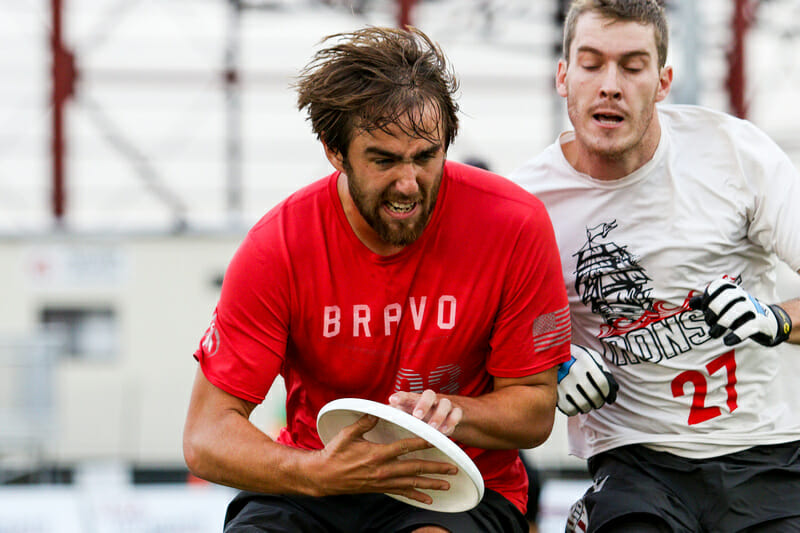 Welcome to the 2017 Men's Division Club Mega-Preview! This is a wide angle look at the competition this season, plus a preseason ranking for the top 25 teams.
Remember that Ultiworld will be filming club games all season long and you can get access to every game with a Full or Plus subscription!
Major Storylines
1. Can anyone touch Revolver?
Before reading the rest of this mega-preview, go to Revolver's roster and try to make an O-line. No seriously, go look at it and think about what seven you start on offense. Ok, easy peasy, you say: Rasmussen and Kerns center to Joye with Higgins, Kittredge, Doi, and Schlachet in a side stack. That sounds alright except you've left off two of the best offensive players in the world and Team USA World Games members Grant Lindsley and Nick Stuart. And at this point we haven't even mentioned Christian Johnson and Marcelo Sanchez who have played lots of minutes on O for Revolver in the past few seasons but who may be on the D line this year with the glut of talent. And are you really going to keep George Stubbs off the offense down the stretch in a tight game? The point is that this team is stacked. And of course it is. This is a California team in 2017 absorbing all the best talent to make a super team. Unheard of!
This is the most talented team in the division and could go down as an all-time great team if they win. But could that be their weakness? Too much talent with too little chemistry could be this team's undoing.
That seems unlikely. Revolver's system and culture lend itself to integration like no other team. This may be further helped by the leadership of Lindsley and Stubbs who are joining Nathan White and Lucas Dallmann as captains.
If all of these stars are willing to play their roles, there truly will be no stopping this team. Even Kurt Gibson and his magic Revolver kryptonite that he hides in his socks won't be able to keep them from winning again (it's an odd year, after all).
This is the kind of season where you could get 2:1 or 3:1 odds in the betting market taking the field.
2. Which teams will earn the last four bids?
As rosters filtered in over the past month, there was a very noticeable gap developed between the top 10-12 teams in the country and the rest. Historically strong programs like Sub Zero, Prairie Fire, Machine, and Furious George look much weaker this year than in past seasons. Part of this is the consolidation of talent that arises every four years for World Ultimate Club Championships qualification and part of it is the natural rise and fall of programs. This leaves a big hole in the final bids to Nationals that any number of teams could claim.
In the hunt are obviously those four teams above and the likes of Florida United, Guerrilla, Temper, and Dig. GOAT will likely being fighting for one of those last spots as their roster is downgraded from the #4 ranked team they had going into Regionals last year. This year's race will be wide open and most of these teams will face off at the Elite Select Challenge at the end of August, where the top performers will be able to go out and earn a bid. Usually the ESC is an early summer building tournament, but this year it will be a closing statement for bids.
Going into the end of the season, keep an eye on who's in those final spots in the top 16 and who is just outside the cutoff. It's going to come down to the wire for all of the teams in the hunt. Every ranking point counts.
3. Which teams are pushing for WUCC spots?
As of this posting, the number of WUCC berths for USA teams is not yet determined. For Lecco 2014, each major US club division received four bids to World Clubs; we expect a similar number (plus or minus one spot) for 2018.
We've already talked about Revolver, so let's focus on the other teams that look poised to earn a bid.
You have to begin with Boston Ironside, the defending national champions. While their roster isn't quite as potent as it was last season, you cannot forget that even in rebuilding years this team simply wins. They have been at least to semifinals in every year of their existence. That should be good enough for them to get to WUCC again.
That leaves what appears to be three top tier teams jostling for the last two spots: Raleigh Ring of Fire, Denver Johnny Bravo, and Seattle Sockeye.
Ring nearly upset Revolver in semis last year and, although their roster isn't out yet, they should be even better in 2017. All signs point to Goose Helton and Brett Matzuka joining the team this year. The Raleigh Flyers are the #1 ranked team in the AUDL. Jon Nethercutt's game has gone to the next level. They have one of the best coaches in the Division in Mike DeNardis.
In many ways, Ring feels like the team that has the best chance to shock Revolver this season: they've played them very tight at Nationals in recent years and always seem to have a way to disrupt SF's offense.
So that leaves us with Bravo and Sockeye. Bravo made semis last year (Sockeye didn't), but Sockeye's roster looks a touch more imposing with the addition of Dylan Freechild. Still, Bravo didn't miss out on the arms race this offseason, as they bring back Nick Lance after a season away.
Perhaps the difference maker will be 2016 Player of the Year Jimmy Mickle, who was unbelievably good at Nationals last year as he took a team that everyone expected to have a down year to semis where they put up a good fight against eventual champion Ironside. It's hard to pick against Mickle right now.
Other teams that same capable of making a run to a WUCC bid are Doublewide and Truck Stop. Past those top seven, there's either not enough talent or not enough consistency for a run to semis.
Players Who Will Define This Season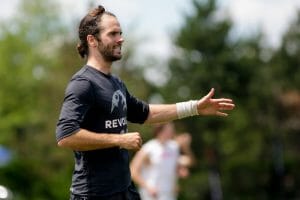 Grant Lindsley (Revolver)
If you had to pick one player that defines Revolver, who do you choose? For years, the answer has been simple: Beau Kittredge. But Father Time is undefeated and it's not such a simple choice this year.
There's a pretty strong case to be made for Grant Lindsley, who's coming off of a selection to the All-Club 1st Team last season and the 14-person World Games roster in May.
To be fair, three of Lindsley's teammates — Nick Stuart, Beau Kittredge, and George Stubbs — are also on the World Games team. But Lindsley was the best among them last club season and we've heard from some players that he is the best player in the world right now.
Lindsley is the rare player that can provide lethal skills both as a cutter and as a thrower. Sure, most elite club players are a plus in one department and at least serviceable in the other. But Lindsley offers the combination that only a few others can match.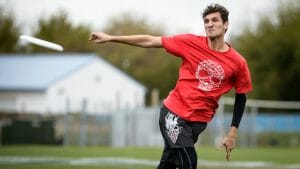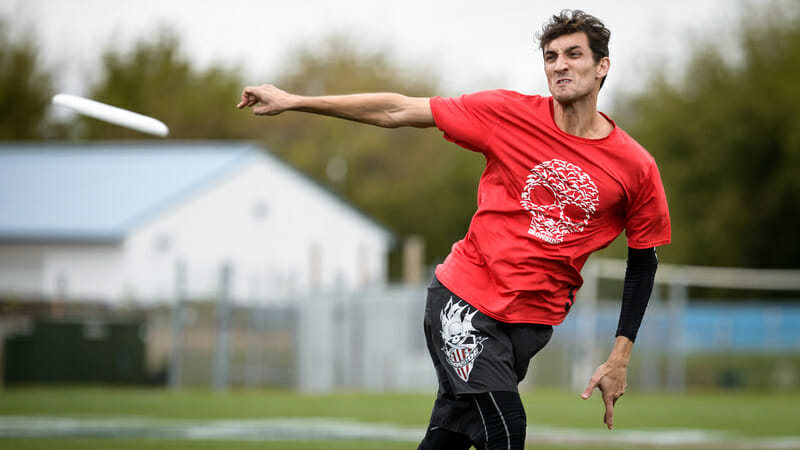 Kurt Gibson (Ironside)
Kurt Gibson's return to Ironside is a really big deal. It's entirely fair to argue that Ironside cannot win a Championship without him. For years, they reached the semifinals and finals of Nationals, only to fall short. Then Kurt comes on board and boom — they win a title.
If Ironside can make it a two-peat, it will be on the back of Gibson. The core around him is a little thinner, a little older. There's some players retiring or taking the year off of competitive club. There probably won't be the same sense of urgency now that a championship is finally theirs.
But Gibson is as competitive as they come, and he has the talent to steer the ship. He'll play every damn point if he needs to.
There's a huge question mark, though. Gibson is recovering from a pectoral tear this spring that kept him off of the World Games team. Will he be able to get back to 100% and play at the level he did a season ago?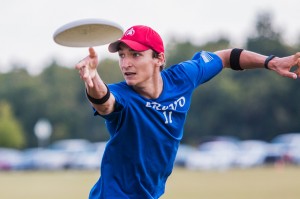 Nick Lance (Johnny Bravo)
Nick Lance won't be the best player on Johnny Bravo. That title obviously belongs to Jimmy Mickle. But could he be the difference maker?
Lance was a 1st Team All-Club player in 2014 when Bravo won the title. He made 2nd Team in 2015. Then he didn't play last season as Bravo "rebuilt" and made it back to semis.
Could Lance be the missing piece that Bravo needs to reclaim the throne? His knack for coming up with huge blocks and then rifling the disc all over the field after the turnover was a hallmark of his game. If he can deliver that again, Bravo could have that extra push their D-line lacked at times last year.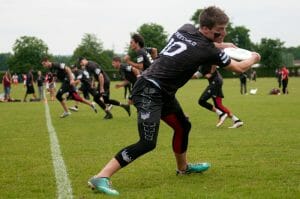 Dylan Freechild (Sockeye)
Dylan Freechild wearing a Seattle Sockeye jersey is something straight out of an ultimate fan fiction. The most quintessential small ball, give-and-go player is now playing for the small ball-iest, give-and-go-iest team in the country.
Whether that narrative is an uplifting one of a player finding their true home or a horror story depicting a great hero slaying his own people depends solely on your connection to and affection for Portland Rhino.
Rhino will be out of the bid hunt and out of the Nationals conversation come September without their best player and emotional leader at the helm. But Sockeye, on the other hand, may have found the spark that their team was missing last year.
For a team filled with so much talent, they criminally underperformed and want this year to be different. With an already complete backfield of Danny Karlinsky, Chris Kosednar, and Simon Montague, Freechild will have the ability to slot in downfield on the offense or take control of the D-line as a hybrid field general. Either way, Freechild's dynamic playmaking ability and lightning speed and quickness will pair perfectly with Sockeye's philosophy, and it's really going to be exciting to watch.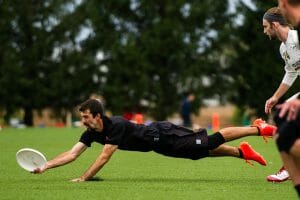 Jonathan Nethercutt (Ring of Fire)
The past few years have brought a lot of success to Jonathan Nethercutt: a college championship, a Callahan award, two club semifinals appearances, 2 YCC championships as the coach of Triforce, a U24 world championship, and, most recently, a world beach championship. But this summer may be the year he goes from star to superstar. Everyone knows about his throws. His ability to crack open defenses simply because he can put the disc to any point on the field at any time and from seemingly any trajectory is feared throughout the club division. But what we've been seeing from Nutt over this past Raleigh Flyers season is a new evolution and elevation of his game.
Nethercutt is showing off his defense and cutting abilities every time he touches the field in a way he would only do in flashes for UNC and Ring of Fire. How do you stop a deep defender who can get up huge for a block, rip the disc out of the air, and then bomb a flick 80 yards in the other direction? Opposing teams may have a hard time figuring out an answer to that question.
Preseason Power Rankings


1. San Francisco Revolver
It seems like every summer we find ourselves wondering, "is this the best team Revolver has ever fielded?" and, once again, the answer might be yes. After being upset (maybe not in seed but definitely in terms of legacy and supposed cosmic destiny) by Ironside in last year's championship game, San Francisco replaced some of their older pieces like Chris Kosednar, Nick Schlag, and Josh Wiseman with the likes of US National Team members Ashlin Joye (returning), Nick Stuart, and Tom Doi, along with young studs like Sawyer Thompson and Antoine Davis. This team is absolutely loaded with offensive talent, with more throwers and dynamic cutters than the coaching staff will know what to do with. If you're looking for a reason to doubt them, it would have to be concerns about their chemistry, but you'd be reaching.
2. Boston Ironside
The eternal bridesmaid of elite men's club ultimate finally got their turn on top last season, but can that success last another season? This version of the Boat may not have the same magic as last year's team. But we do know that Boston is retaining the services of Championship magnet Kurt Gibson. With Gibson back and the core of their championship offense intact, Ironside is poised to make the semis for a tenth consecutive season. However, the turnover of their depth makes a repeat seem less likely.
3. Seattle Sockeye
The 2016 season was a colossal let down for a squad filled with as much US National Team talent as Sockeye possessed last year. Up-and-down regular season results with the promise of a strong Nationals that never materialized led to some soul-searching among the team's core. Three new captains will look to bring success back to the storied Seattle program. Dylan Freechild, coming off a disappointing club season in his own right, headlines the new additions and is probably the ideal player to plug into the run-and-gun offense the Fish utilize. Losing Stuart, Lim, and stalwart Mike Caldwell will hurt, but this is an immensely talented team and should be cruising to ESPN games at the end of the year.
4. Denver Johnny Bravo
Even in a self-proclaimed rebuilding year, Johnny Bravo was able to make a run to the semifinals of Nationals. This year's team looks ready to build on that success. Another year of perfecting the nuances of coach Jim Schoettler's vertical offense, the return of Nick Lance and Jackson Kloor, and the addition of transplant Elliott Erickson bode well for a team that already boasts the 2016 POTY Jimmy Mickle and two of the most impressive defensive players at Nationals last year, Stanley Peterson and Tom Tulett. Denver may not be as talented as the super teams they've produced in the past, but they look collectively bought into a team ethos. They get to start off the season on their home turf at the PEC in Colorado this weekend.
5. Raleigh Ring of Fire
Outperforming most prognostications in 2016, Ring of Fire was one point away from the title game and will bring back the core of last season's team. Jonathan Nethercutt — who is absolutely lighting up the AUDL this summer — will continue to anchor the offense like no other handler in the country. UNCW star Jack Williams returns to do more of the seemingly impossible, as he did this past college season carrying the Seamen to a silver medal.
Ring has arguably the most developed statewide program in the whole country with Triforce making three consecutive YCC finals and UNC and UNCW both stocked with talented rosters to pull from. With three semifinals appearances in the past five years and a pipeline of young talent, Raleigh is poised to continue their ascendance to the top of the division.
6. Austin Doublewide
After just barely scraping past Inception in the third place game-to-go at Regionals last year, Doublewide's roster has taken a big step forward going into this season. Much of this roster improvement comes directly from the shuttering of HIP, the young team that usurped Austin last summer as Texas' best. HIP standouts like Dalton Smith and Kai Marshall along with Prairie Fire transplants Jay Froude and Abe Coffin highlight the 16 new players on the roster. For Doublewide, it will come down to integrating these new stars into their system and molding a single team together. Not a bad sleeper semis pick.
7. Washington D.C. Truck Stop
For the past two seasons, Truck has been the trendy semis pick but has disappointed even with a roster chock full of stars. This year is quite different and may signal the end of Truck's championship window. Nicky Spiva and Markham Shofner will remain anchors in the D.C. backfield, but the losses of Peter Prial, Sean Keegan, and Tom Doi will significantly weaken the Truck Stop cutting corps. Tyler Monroe's emergence could help fill in that gap, though. In what could be a rebuilding year, look for Jonathan Neeley and Alan Kolick to step up in a big way if Truck is to make a meaningful run.
8. New York PoNY
This version of the Pride will rely heavily on the AUDL's New York Empire to start the season early. Bringing on board many of the new additions the Empire signed, PoNY will look to improve on a disappointing 2016 campaign which saw them (again) bounced in prequarters at Nationals. Newcomers Sean Keegan, Harper Garvey, and Ben Jagt will join PoNY's veteran stars Chris Kocher, Jack Marsh, and Robbie Gillies to form a strong team looking to get over the prequarters hump that has plagued PoNY for years. All their additions look to be steps in the right direction.
9. Michigan High Five
No one really knows what to expect from this team. They were riding a hot streak going into Nationals last year and looked like a legitimate quarters team before being knocked off in pool play by Truck, Mad Club, and Dig. Their roster this year continues their tradition of having mostly players with little name recognition outside of the region; look for young additions Daniel Lee and Joe White to power the D-line. Johnny Bansfield will again be a key player, but with so few big names and a track record of inconsistency, it's hard to say what to expect from Michigan.
10. Philadelphia Patrol
In a world where the most exciting news every club season is who moved to which roster, Patrol stands out as being the model of consistency. With only seven new additions to their team and most of their top end still intact from last year, the boys from Philadelphia should start off the season a step ahead of their peers who experienced more roster turnover. David Brandolph is back to marshall their offense, and Jake Rainwater remains a potent deep threat. Billy Sickles and Sean Mott are capable of making big plays on either side of the disc. Of course, the biggest question we'll all be asking: is this the year Trey Katzenbach finally shows the effects of time? Probably not.
11. Madison Club
Madison has been consistently consistent and this year looks to be no different. Adding recently graduated Hodags like Avery Johnson and new Radicals players like Victor Lou to a solid core of Wisconsin alumni like Sterling Knoche and Colin Camp and long time Radicals players like Kevin Pettit-Scantling and Pat Shriwise continues the tradition of Madison being the most Madison-centric team it can be. But translating the success of the Radicals into success for Mad Club has been an ongoing process that seemed to be nearing completion with Madison finishing the 2016 season ranked as the #6 team in the country. However, they flamed out at Nationals with a loss at the hands of Doublewide. But out in Wisconsin, those hopes again bloom strong.
12. Boston Dig
In their first season, Dig embraced the title of "Babbitt and Friends," but coming into their second year they will compete without Jeff Babbitt (taking a season off to coach New York Bent). That will no doubt make for a different looking attack, but they retain most of the core that upset GOAT in the game to go last year. This is a far deeper team than last year, too, with young additions like Noah Backer, Henry Babcock, Eli Motycka, and Emmett Blau alongside former Ironside players Rusty Ingold-Smith and Thomas Edmonds. Of course having Ben Sadok, the 2017 College Men's POTY, on your roster doesn't hurt either. It remains to be seen if this top-to-bottom better team will be able to do what a Babbitt-led one could do a year ago.
13. Vancouver Furious George
What was supposed to be a rebuilding year where the longtime Vancouver program missed Nationals ended well for Furious last season, as the team made a strong run to the quarterfinals. While returning most of that core, Vancouver will hope to build on the youth of last year's squad and prove that 2016 was no fluke. Look for World Games teammates Kevin Underhill and Tim Tsang to shoulder the load, especially after losing Gagan Chatha (ouch). The veteran leadership from Morgan Hibbert and Alex Davis will be crucial down the stretch as Furious looks to take advantage of a down year for Rhino and continue their resurgence.
14. Florida United
Another big question mark in the division is how Florida will respond to last year's disappointing Regionals and a slumping past few years for their feeder college programs. The clear upside is that the Jacksonville Cannons have been playing well. It doesn't hurt that rumor has it Mischa Freystaetter is coming back this season. That could spell trouble for the likes of Turbine and Chain Lightning in the Southeast.
15. Oakland Guerrilla
Coming off a strong inaugural season, Guerrilla will try to make the jump from the top of the Select flight into the National scene this year. They find themselves in a somewhat unique predicament—they are a team with enough talent to compete for a Nationals spot in most regions, but not the one they're in. Revolver is simply too good to give the younger Guerrilla team any hope of knocking them off. So, Guerrilla will have to earn their way to Nationals by getting the Southwest a second bid. While SoCal Condors are also in the bid-earning conversation, Guerilla's most realistic hope of reaching Sarasota will be by creating their own path. The depth of talent reflected in the two Bay Area pro teams gives the Oakland squad the horses to compete, and while they lose the services of top cutter Jackson Stearns and D-line ace Sawyer Thompson (now of Revolver), Guerrilla has re-loaded with young talent in the form of Ethan Falat (a budding star for the San Jose Spiders), handler Elliott Chartock (Ultiworld's 2017 College Offensive POTY Runner-Up), and Lior Givol (formerly of Revolver).
16. Chicago Machine
Two years after making the semifinals of Nationals, Machine is fielding one of their least impressive rosters in many years. Given the departures of Jonathan "Goose" Helton, Brett Matzuka, Bob Liu, Ben Spielman, and Ron Kubalanza, the remaining core will have their work cut out for them if they want to return to Nationals, let alone make any run in the bracket. AJ Nelson and Walden Nelson will lead the team on both sides of the disc, and Pawel Janas must continue his growth last year as an O-line handler for Machine to earn a second bid for the Great Lakes, one they will likely need to land a spot in Sarasota.
17. Toronto GOAT
Toronto GOAT suffered the biggest upset of the 2016 season when they lost to Boston's Dig in the game to go at Regionals. As the team rebounds from that disappointment, this year they must also deal with the departure of their heart and soul of the past many seasons: Mark Lloyd. Lloyd has been at the core of Toronto's success for many years. But this year's team does retain many of the key pieces from last season's squad, including Andrew Carroll, Remi Ojo, and Bretton Tan. With that kind of experience still intact, do not be surprised to see them playing well once again.
18. Minneapolis Sub Zero
Montague. Stuart. Lindsley. Jagt. Few teams have bled talent as profusely as Sub Zero these past few years. But despite (or perhaps, in spite of) many young stars heading off to play with "bigger" teams, Sub has managed to stay a North Central powerhouse throughout. Although the departures of Ben Jagt, Conor Kline, Harper Garvey, Pat Jensen, and others will hurt, expect Sub's resilience to be on full display in 2017. Eric Johnson returns after a brief hiatus, bringing big throws and excellent athleticism with him. Others newcomers — like Caleb Denecour, Sam Bumsted, and Charlie McCutcheon — will help plug the holes left by Sub's multitude of departures, while Josh Klane, Ryan Osgar, and Greg Cousins attempt to steer Sub back to Nationals after missing out in 2016.
19. Pittsburgh Temper
Can Tyler Degirolamo bring this team back to Nationals level relevance? That seems to be the biggest question surrounding this team. They sport young depth with the Pitt pipeline leading right to the city's top club team along with the chemistry built during the Thunderbirds' season, but for the past few seasons they have not mustered up enough firepower on either side of the disc to earn a spot at Nationals. A healthy Ty D could be the spark they need to push them back to Nationals and Sarasota.
20. Portland Rhino
Chasing Sarasota is now available on YouTube for free, and that is the closest any Rhino team will get to making Nationals this season. Without Dylan Freechild or Jacob Janin, there is likely no path forward for this young team to the end of the series.
21. Atlanta Chain Lightning
Chain is one of the most storied programs in all of men's club ultimate, but the past few seasons have seen a sharp decline in the level of talent as studs like Dylan Tunnell and Jay Clark moved on. This season is a doubling down on the rebuilding approach Chain started last year with lots of rookies and young players filling the ranks. Many of these players (like Stan Birdsong and Danny On) are budding stars in the college game. With nine new players and most of their roster under 30, this Atlanta team will be a force in years to come, but will need to work through a few years of growing pains to return to their expected level of excellence.
22. Kansas City Prairie Fire
After a few seasons of making Nationals, the blaze is starting to whimper out for Prairie Fire. They are losing all but one of their captains, most notably Abe Coffin, and their most athletic and exciting playmaker in Jay Froude. Luckily for Kansas City, those two are transferring out of region to Doublewide and not to some in-region rival. What is unlucky is that the North Central may not have enough fire power to earn a second or third bid, meaning unless Prairie Fire can pull another rankings miracle, they'll be missing a trip to Sarasota.
23. Denver Inception
Only seconds away from making Nationals and with the disc on double game point, Inception's collapse at Regionals is still fresh in players' minds. With the loss of a few of their players to Bravo and an aging group of veterans, the ship may have sailed on this team's goal of making Nationals. With likely only two bids headed to the South Central, Inception must be prepared to slay one of the two regional giants.
24. SoCal Condors
Remember when Streetgang and Condors merged to create a super team in the Southwest capable of qualifying for WUCC? That seems like so long ago, and it seems like that dream has faded fast and they can no longer even claim to be the Southwest's second best team with the emergence of Guerrilla. Guerrilla looks good enough to possibly earn a bid this season. The Condors will be circling come Regionals to snatch that trip to Nationals away, but earning a Worlds spot seems wildly unlikely.
25. Baltimore Medicine Men
Leading Patrol 9-6 in the game-to-go last season at Regionals, Med Men seemed as though they were going to break free from the shackles of the "regionally competitive also-ran" tier they had been trapped in for almost twenty years. Patrol roared back in the second half to end that dream, but maybe this season could be the year Baltimore finally escapes the shadow of D.C. and Philly. They were able to hold off Truck Stop from poaching their DC Breeze standouts Matt Kerrigan and Max Cassell, and last year's heartbreak gave the team a taste of what it feels like to get big game reps.
Other teams of note: Voodoo, Streetgang, Blueprint, Dark Star, Powderhogs, Mad Men