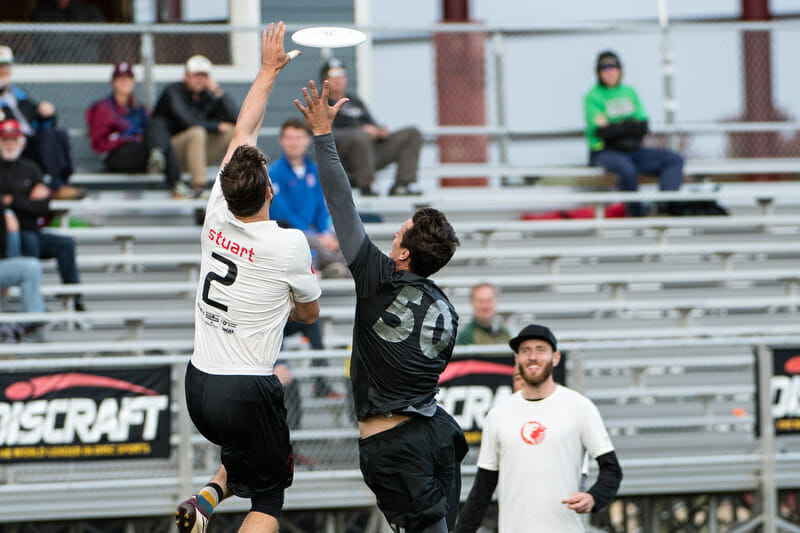 Men's Division coverage of the Pro-Elite Challenge is presented by BE Ultimate. Please support the brands that make Ultiworld possible and shop at BE Ultimate!
Care for a replay of last year's National Championships? 840 miles southwest of Rockford in Aurora, Colorado, just outside of Denver, 13 of last year's 16 Nationals-qualifying teams — including seven of the eight quarterfinalists — will kick off the Triple Crown Tour at the Pro-Elite Challenge/Colorado Cup.1.
Historically, the Pro-Elite Challenge has fallen later in the calendar and after some other marquee events like the U.S. Open. This year marks the earliest weekend for the tournament since 2014 at the Chesapeake Invite and the first time that the event will kick off the season.
While it may not be 4th of July weekend, it's still quite early. Some teams have yet to finalize a roster. Others have World Games players who won't likely play a ton. A couple have AUDL commitments. Don't expect postseason polish, but do expect the lower-tier teams to fight hard for perhaps their best shot this season at earning a bid.
Tournament Profile
Location: Aurora, CO

Dates: July 8-9, 2017

Weather: Hot & sunny, highs near 90, light wind
Top 25 teams: 16
Filming Schedule
Ultiworld will be filming three Men's games this weekend, to be released after the tournament. Access to the games will be available to Full and Plus subscribers. Here are the games:
Michigan High Five v. Denver Johnny Bravo (Pool Play)
Prequarter (TBD)
Final (TBD)
The Rich Get Richer
First things first: it's an odd year, so San Francisco Revolver is winning the title in October. If that's not enough to convince you, just take a glance through their roster this season: they added an absurd amount of talent to an already loaded team. Ashlin Joye is back, Nick Stuart and Justin Lim came over from Sockeye, and Tom Doi switched coasts, just to name a few. Six of the 10 players selected to the initial World Games roster and four of the final seven (Beau Kittredge, Grant Lindsley, Nick Stuart, and George Stubbs) are playing for Revolver this season.
Ironically, the team's heavy representation on the WG roster may actually hurt them this weekend, since the tournament is two weeks away and the WG players are coming off of a weekend of competition at Potlatch; limited minutes seem likely.
Seattle Sockeye, too, made some huge acquisitions in the offseason, including longtime Rhino player Dylan Freechild. With the large majority of the roster eschewing AUDL competition this year, expect a more focused Sockeye team this season as they look to claim a bid to the World Club Championships set for Cincinnati in 2018. Given their high expectations for 2017, Sockeye seems like a great candidate to win the tournament this weekend.
After something of a surprise run to the semifinals last year, Denver Johnny Bravo won't be catching anyone off guard this year as they maintain their core — led by 2016 Player of the Year Jimmy Mickle — and add Matt Jackson, Elliott Erickson, and Nick Lance (returning). With Jim Schoettler and his tremendous vertical stack offense coming back this season, Bravo is ready to go bigger and better this year. How will they fare playing at home this weekend? They will have the altitude advantage, as usual, but Mickle almost certainly will not be running out there for every O point with World Games right around the corner. It could be tough for them to get past the top tier teams without his heavy influence.
2016 National champion Boston Ironside may not have quite the roster they did a season ago, but Kurt Gibson is back and rumors are swirling that Peter Prial will rejoin the team this year after a stint in Washington D.C.2 Boston is unique amongst the elite teams: they have no World Games players on the roster and they have no AUDL team in their city. Although some Boston players are sprinkled on other AUDL rosters around the Northeast, Ironside won't face much distraction this weekend: we should get a great look at how their new players fit in on the team.
A Scary Pool A
Seeding this weekend is based off of last year's Nationals results and final rankings. As such, roster changes and the "on paper" strength of teams had no bearing on how the pools were put together. Hence, we get Pool A (Ironside, Doublewide, Machine, PoNY).
Austin Doublewide is an entirely different looking team this season after Houston H.I.P. got folded into the team during the offseason. 16 new players will suit up for Dub in 2017, including some bona fide stars like Jay Froude, Abe Coffin, Matt Bennett, and Dalton Smith. The team's core is also intact: Chase Cunningham (5G, 19A at 2016 Nationals), Jeff Loskorn, Ethan Pollock, Dan Emmons, and Jason Best all return.
A big challenge for Doublewide this weekend, though, is that most of their roster is showing up on Saturday morning. They will have little to no time to get warm before their 8 AM game against New York PoNY.
That could spell trouble, since PoNY has also made some significant roster upgrades this year. Lots of young talent floods the team this year, including Harper Garvey, Sam Little, John Best, and Ben Jagt. The team is also adding two well-established veterans in Sean Keegan and Nasser Mbae-Vogel. A possible point of concern, though, is that the AUDL's New York Empire also added many of the same players this season but has struggled to get wins and is almost certainly going to miss the playoffs.
But don't read too much into that. New York players undoubtedly focus more on the club season and head coach Bryan Jones is now in his third year leading the team. PoNY looks like a top 10 team this year.
Chicago Machine rounds out the pool. Chicago has a long legacy of success at the club level, but the team's roster has lost quite a bit of firepower over the last two seasons. Most notably, they lose Jonathan "Goose" Helton and Brett Matzuka this year; both are rumored to be headed to Raleigh Ring of Fire for the season (they currently both play for the AUDL's Raleigh Flyers).
Machine has some big shoes to fill on offense, where they will look to Pawel Janas and AJ Nelson to lead the way. Defensively, the team returns a core of key players like Alex Evangelides and Walden Nelson and should remain effective on that side of the disc. But at least in terms of overall star power, Machine looks like the bottom team in the pool.
The Bid Battle
While the tournament's top teams don't have a whole lot on the line this weekend, many of the teams in attendance will be battling for postseason berths. The more condensed club season leaves a lot less room for error when it comes to earning bids.
Teams that missed Nationals last year like Portland Rhino, Oakland Guerrilla, and Atlanta Chain Lightning can all blaze a trail to the Show this season with a strong start in Denver. With talent pooling in places like San Francisco, Seattle, Denver, and Austin, smaller teams that went to Nationals last year have either disappeared (H.I.P.) or lost too much talent to really contend (Prairie Fire). That means spots are up in the air for the return to Sarasota.
Quick Hits
An injury note: Revolver's Justin Lim broke his collarbone at Potlatch and is out indefinitely. A return for Regionals or Nationals seems plausible.
The weather should offer absolutely perfect conditions for offense
While the thin air at Denver's mile high altitude is taxing on players' fitness, it's more taxing on throwers' accuracy. Teams that adjust the quickest to their hucks going out the back will have an advantage.
How will teams treat this tournament? Last time the PEC was this early in the year, it felt a lot more like a tuneup than a high caliber event.
---
The only Nationals teams missing are Raleigh Ring of Fire, Boston Dig, and Houston H.I.P., which folded this offseason ↩

Prial is not on the roster for PEC ↩