Columbus Rival, SoCal Condors, and Boston Wild Card deliver impressive performances in Columbus.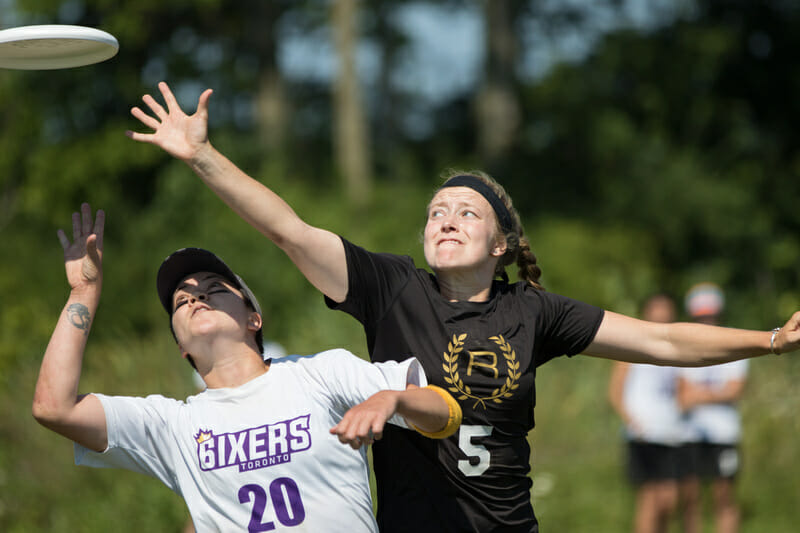 During this 2017 summer and fall season, we will publish a bite-sized weekly recap of the action across the Club Division. This will serve as a supplement to our standard tournament reporting and will offer a high-level look at the latest happenings and the biggest stories of the week.
Want your tournament listed here? Submit a recap of what happened right here.
Women's Division
Rival Show They Had None In Hometown Victory
#14 Columbus Rival topped the competition this past weekend at the Select Flight Invite, finishing the tournament 6-0 with impressive wins over #11 Toronto 6ixers and #22 Chicago Nemesis. Coming in as the number two seed, they used their overwhelming speed and athleticism to outpace and outlast their opponents. Sara Scott stood out as a defensive stalwart and a playmaker on offense, pairing with the backfield skill of Tracey Lo and Hannah Henkin.
Both Nemesis and 6ixers had solid weekends. Chicago suffered a one-point Saturday loss to pool top seed #25 Quebec Iris, but were otherwise fairly dominant on a run to the final, with only a single opponent getting within five of them prior to losing to Rival. Toronto also dropped a pool play game in the always tight 4 vs 5-seed matchup, but were similarly dominant against all other opponents until falling to Columbus in the semis.
Elsewhere, it was an upset filled weekend1 as #18 Minneapolis Pop took down 6ixers in pool play, #24 Ottawa Stella beat tournament one seed #19 Raleigh Phoenix, and then Iris fell to 6ixers in the quarterfinals. Three of the four pool winners were unable to win a game in bracket play and are surely disappointed both with their inability to perform under pressure and the missed possibility of gaining much needed rankings points.
For more coverage of the women's division at the Select Flight Invite, check out our Tournament Recap and scores.
Men's Division
Condors Offense Looks Good At SFI
The men's division of the Select Flight Invite hosted many teams from around the country that are just on the precipice of earning national respect. Unsurprisingly, the two programs who have the greatest legacy of success on the national stage clashed in the final. #24 SoCal Condors looked impressive all weekend with their efficient offense firing on all cylinders down the stretch, as they bested #15 Toronto GOAT in a double game point thriller.
With their performance, the Condors got themselves into the top 10 of the first official USA Ultimate Rankings. But questions remain about whether they could be the team to claim it at Regionals; as impressive as their offense was in Columbus, their defense could not supply enough pressure to win games decisively. This led to many close victories for the Condors, including all of their bracket games.
Baltimore Medicine Men had a good weekend, taking their pool with an upset of #23 Denver Inception before falling to GOAT in the semifinals. But this tournament may spell the end of national relevancy for #22 Kansas City Prairie Fire for a little while; between their roster departures and disappointing results in Columbus, the clock is striking midnight for this multi-year Cinderella story.
For more coverage of the Men's Division at the Select Flight Invite, check out our Tournament Recap and scores.
Quick Hits
In College Station, TX, the Texas Boys U20 YCC squad Texas Two Step looked impressive sweeping through pool play undefeated at PB&J, only falling to Austin Singlewide by two in the tournament final. Should be a good tune up for the youth squad before their appearance in Blaine this weekend.
Mixed Division
Wild Card Commanding National Respect With Dominant SFI Victory
#9 Boston Wild Card continued their season-long hot streak as they rolled all competitors this past weekend in Columbus; it wasn't until their semifinal matchup with #21 Durham Toro that a team put up more than five points on them. Then, after vanquishing the North Carolina squad 13-11, Boston took the finals 13-6 over #22 Atlanta Bucket. This performance is par for the course for a Wild Card team who is yet to be beaten in 2017 and who has already taken down both of last year's national finalists. Their offense was efficient all weekend long and their defense stifled opponents. In the final, they played a near perfect game, including an immaculate first half with zero turnovers.
Pool top seeds #17 Chicago UPA and Austin Cosa Nostra were both upset in pool play — by Toro and Orlando Swing State, both eventual semifinalists, respectively — and never seemed to recover, falling early in bracket play. It was also a disappointing weekend for both Toronto UNION and Minneapolis Bird as neither team found a rhythm that could have seen them challenge to get into the bid-earning discussion.
For more coverage of the mixed division at the Select Flight Invite, check out our Tournament Recap and scores.
Quick Hits
The top two mixed seeds at PB&J, Texas Sellout and Houston tHUMP, were on a collision course from the word go, and both took their pools unscathed, rolling into the final undefeated. Sellout emerged victorious and took the tournament title, 12-9.
Looking Ahead
The US Open, starting this Friday, will give us a clearer picture of how the top teams stack up in all three divisions. For the men, #1 San Francisco Revolver looked a step above the field at the PEC — but not totally invincible — and this weekend will tell if those cracks have been repaired or have only widened. In a much anticipated matchup, Revolver will take on #5 Raleigh Ring of Fire in a potential national semifinal or final preview; they game will be streamed by Ultiworld on Friday morning.
On the women's side, it is the top four against the world as #1 Boston Brute Squad, #2 Seattle Riot, #3 Denver Molly Brown, and #4 San Francisco Fury will find anything less than a semifinal berth a disappointment. Boston's defense was suffocating at PEC and a major storyline heading into Blaine is if any team can make the adjustment to play effective offense against them. Watch the next chapter in the greatest rivalry in club ultimate, as Riot faces Fury live streamed by Ultiworld on Friday afternoon.
As usual, the Mixed division appears to be the most volatile, with a slew of teams that seem capable of taking the US Open crown. #3 Seattle Mixtape will be gunning for #2 Boston Slow White after a double game point loss in Denver last month, while #5 Drag'n Thrust will be determined to reclaim the top spot on their home turf. The final will also be the first ultimate game ever broadcast live on ESPN2.
In combination with YCC this year, Ultiworld, USA Ultimate, and ESPN will be taping or streaming 49 games across six youth and club divisions, so there will be plenty to follow along with from home.
Elsewhere:
Classic and Select teams (with the exception of #23 Philadelphia Green) in all three divisions from across the Northeast and Mid-Atlantic will converge on Allentown, PA to battle it out at Philly Open (M/X/W), looking to play well enough to poach a strength bid.
Orlando Omen headlines the field of eight men's teams scheduled to clash in Athens, GA at Trestlemania (M).
Also sanctioned this weekend are White Mountain Mixed (X) and Grand Rapids Invite (M/X), neither of which currently have any information available on Score Reporter about which teams will be in attendance.
---
Well, at least according to seeding. ↩