Texas survives some losses and close games to claim the MLC title.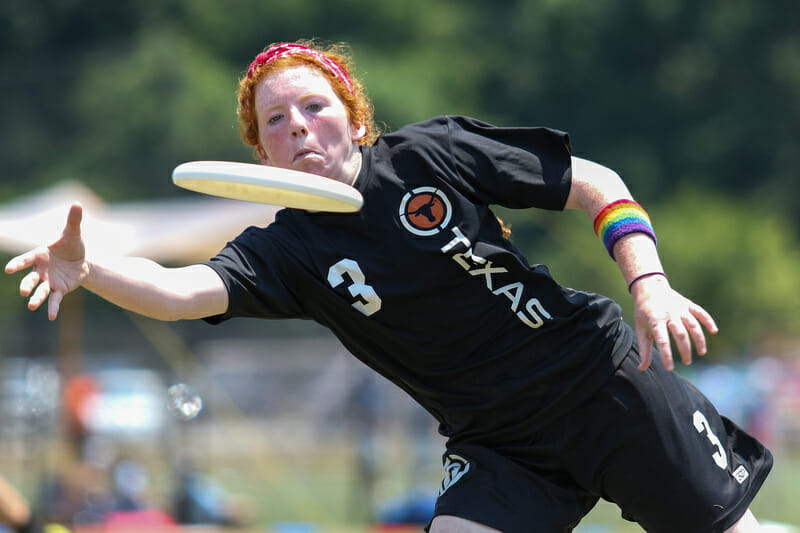 Ultiworld's coverage of Missouri Loves Company is presented by Spin Ultimate; all opinions are those of the authors. Please support the brands that make Ultiworld possible and shop at Spin Ultimate!
COLUMBIA, Mo. — Welcome to fall ultimate, where the weather is unpredictable and the brackets inevitably get screwed up. Iowa State beat Texas on double game point on Saturday to take pool A. Wisconsin got knocked from the championship bracket in prequarters. Texas still ended up winning the tournament. Through it all, many young players are filling the holes left behind by departed stars, leaving us plenty to look forward to in spring.
Pool Play Struggles
Although Texas Melee would go on to win the MLC crown, it was not without some setbacks. Early in pool play on Sunday, Texas handled Northwestern Gungho and Colorado College Strata with poise. They were calm and collected, looking established in their system and their players. But Wisconsin Bella Donna gave them their first look at pressure.
Bella Donna came out firing entering the weekend. It was clearly true that their overall disc skills were higher. Everyone was a thrower, cycling in and throwing upfield. This wasn't your average fall tournament with returners as obvious handlers and newer players as cutters. Having 16 returners definitely gave them a leg up.
Wisconsin took Texas to double game point with their aggressive air play by Sabrina Hoffman and Caitlin Murphy and overall confidence in their throws. They would bid and jump to reach the disc at pinnacle height and when you were expecting a reset, they would throw to the endzone. However, Texas' consistency helped them pull out the win.
Then came Iowa State. Maybe Texas was tired; maybe their head was in the wrong space. Captain Laura Gerencser had mentioned after their finals game that the difference between Saturday pool play and the Sunday bracket was their intentions for the weekend. "We were tightening up lines [on Saturday] and we realized we really needed to develop a roster," she said.
Iowa State came ready to play. They had gotten their revenge with Wisconsin on double game point and just beat Northwestern 13-6. Behind the leadership of handler Megan Halverson, energy was high. Texas was trailing the majority of the game and when they eventually went up 10-9, they thought they had won. Unfortunately for them, there was still time for four more points. Iowa State scored on double game point to take the pool.
In the other power pool, Colorado Kali had a shaky start to their day, pulling out a win on double game point against Minnesota. Colorado Kali has confident players and their offense, when not hasty, is tough to defend. However, the weather was rainy and windy and very different from typical Colorado conditions. Coach Claire Chastain noted that "[Kali] focused on [defense] a lot during the spring and then we became kind of known for it," which was notable in scrappy defensive plays by Katiana Hutchinson, Jessie Chesnut. Shut-down handler defense from Britta Bergstrom was vital for their late game wins when points had multiple turns. Colorado would finish the day undefeated, but Texas' loss to Iowa State meant Kali would see Melee in the semifinals – sound familiar?
Sunday Upsets
Most prequarter games went according to expectations, with top seeds winning with a cushion, other than the Wisconsin and WashU game. WUWU went up 4-1 against Bella and their sideline kept the energy going. Senior handler Stephenie Wang threw herself into ridiculous defensive bids regardless of their defensive schemes. WUWU picked up handler Mary Hermann, a Notre Dame Womb graduate, for her 5th year of eligibility as a grad student. On offense, Mary and Stephenie threw like they had played together for years and kept the disc moving faster than Bella could handle. WashU closed out the upset win, 11-9.
WashU's path ended in quarters against the Minnesota Ninjas, 11-6. The leadership both on and off the field from Minnesota's Makella Daley and Rachel Elbing was a big reason why. In both the game against WUWU in quarters and Iowa State in the semis, these two would be staples for long and arduous points. Makella caught unwieldy throws and Rachel sped past many unknowing defenders. (That tactic did not work as well against Texas in the final). Minnesota is not yet completely rostered with many players abroad this semester. With a notably young team, depth could come with time.
Both Colorado Kali and Texas Melee would come into the semis generally uncontested. Texas would start on offense and the game was on-serve until Texas got the first break to make the game 6-4. From there, Texas held steady and took half, 7-4. Texas' Domenica Sutherland ran the field. On the line she was confident in strategic calls, ready to continue chugging and not hesitant with the disc. Gerencser is also a pivotal part of Texas' flow. She handles with conviction and care and will layout to save the disc if need be. Texas' demeanor did not waver in the face of wind and a steady opponent. They would eventually win the game 9-8 to face Minnesota in the final.
Texas rolled in the final, taking half 7-2 against the Ninjas. However, the second half of the game featured plenty of marathon points. The wind gave Minnesota a late surge of goals, but Texas would ultimately win the game 12-7. The difference? "We didn't tire out or put on our top seven," said Gerencser. "We were doing [the lines] equally."
Texas still has plenty of talent, and their success this weekend despite their decision to keep their lines open makes that clear. They still have work to do to fill the holes that Julia Schmaltz and Dre Esparza left as they hope to repeat their 2017 success in the spring.