We project the stars of this spring's college season!
We know — it's early December. All the drama and intrigue that comes in the heart of the season is several months away. But we're college ultimate nerds, and as the chill sets in, we reserve the right to cozy up by the fire and take wild guesses at which women will dominate the playing field this season. Let us know if we're spot on or too deep into the eggnog. College season is nearly here, and we're too excited to wait.
Frontrunners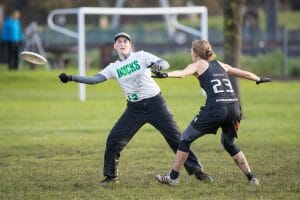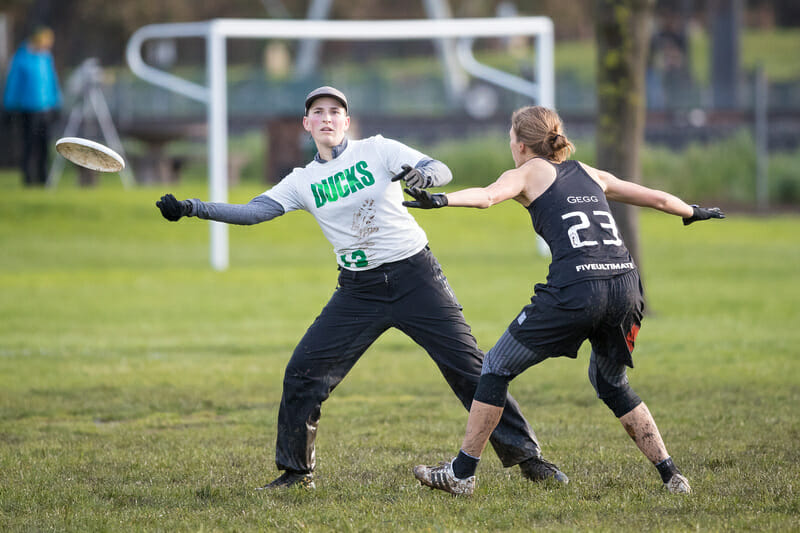 Ella Hansen (Oregon)
Would it even be college women's ultimate if Oregon didn't have a star? And in fitting with tradition, Hansen is an athletic playmaker with both big and creative throws, and a great understanding of tempo. The handler notched 24 assists at the 2017 College Championships on her way to a 1st Team All-America selection.
She's also proven to be an elite deep in zone defenses. Expectations for Fugue may not be what they once were, but if they have another great year, expect Hansen's contributions to be the tentpole.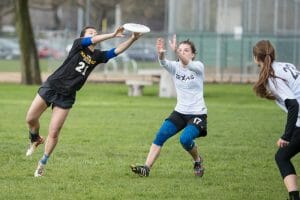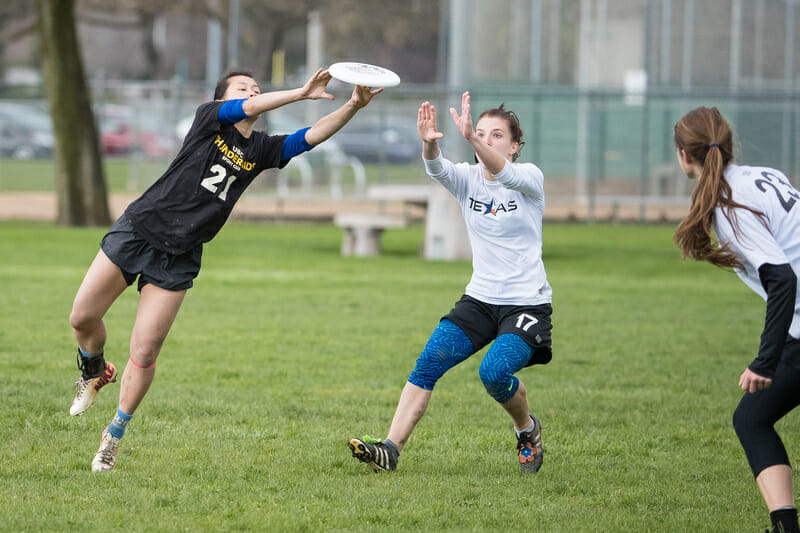 Ellen Au-Yeung (UBC)
Au-Yeung has been a core piece of British Columbia's success for so long that she seems to be going into her sixth or ninth year of eligibility. Au-Yeung's play style is the juice concentrate is the team's collective fuel, and last year it brought UBC to the semifinals for the second time since their National Championship in 2008. She's quick, strong, and smart with the disc.
The only obstacle impeding Au-Yeung's utter domination could be her team's depth. Au-Yeung is one of the best players in the division, but she doesn't have to be during every point. It's a tough hand if you're shooting for POTY, but pretty good news for British Columbia's season.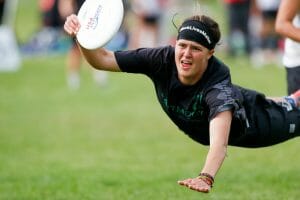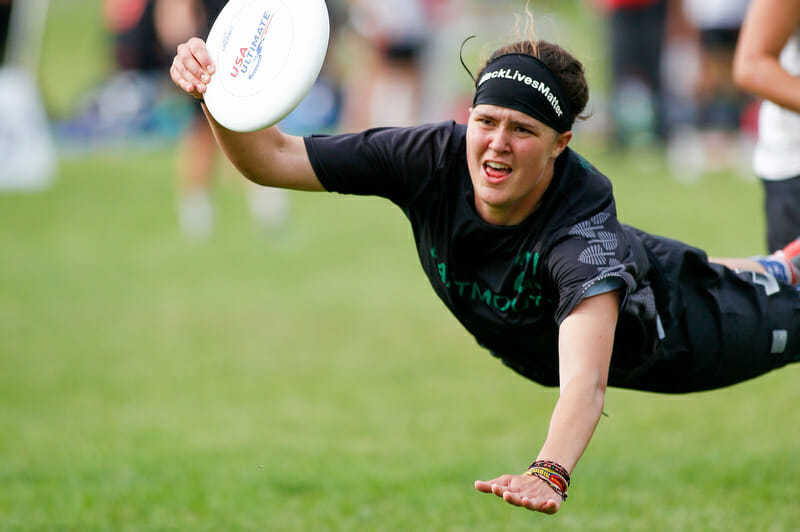 Jaclyn Verzuh (Dartmouth)
"But she won last year!"
Yes. And she's poised to be just as good – and just as impactful – as she enters her junior year. Last season, Verzuh propelled Dartmouth to their first National title through a potent cocktail of jaw-dropping grabs and perfectly timed blocks. It's still not confirmed that she even broke a sweat as she tore apart opponents' defenses or shut down the deep space.
Until anyone else in the division shows even a glimmer of the potential to play at her level, Verzuh remains the best player in the division by leaps, bounds, and bids. Game over.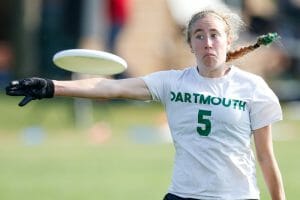 Julianna Werffeli (Dartmouth)
The parallels between Werffeli and her predecessor on this list, Angela Zhu, are numerous. The pair have been a backfield presence not only for Dartmouth in their two consecutive excellent seasons, but also in back to back club seasons with Brute Squad. Both are wonderful defenders on top of powerful throwers. Perhaps most importantly, both have Jaclyn Verzuh on the receiving end of their hucks.
With an increase in workload on the way, Werffeli is in prime position to pick up where last year's Callahan winner left off.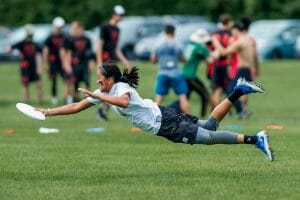 Nhi Nguyen (Colorado)
After multiple seasons hampered by injuries, we all finally got to see what former U-20 teamer Nhi Nguyen could do in 2017. She dropped a bomb in the semifinal, to the tune of seven goals and four blocks, including some huge plays in the air, where she's a dynamo thanks to her explosive hops.
She's likely to have her way with most matchups thanks to her athleticism and experience, on both sides of the disc, making her one of the highest profile and most exciting returners in the division.
Need To Fight Off Teammates
Shayla Harris or Julia Butterfield or Hallie Dunham (Stanford)
You can pick your flavor among the Stanford stars: Shayla Harris is a classic speedster, a shutdown defender with an impressive vertical and good hands. Hallie Dunham is a power shooter with a willful backhand and quick movement. And Julia Butterfield is a physical force on the field who makes the big, face-melting plays. All three propel Stanford into the upper crust of the preseason rankings, but choosing which of these women will be highest impact for Stanford this season is nearly impossible. Check back in with us in April.
Alissa Soo or Linnea Soo (Whitman)
While the Soo twins have appreciably opted to have clear visible differences in appearance, when they are racing down discs, it can be hard to tell their two near-identically shaped blurs apart. It's even tough to tell their games' apart, as both have a nose for the endzone — Linnea tallied 15 goals at the 2016 College Championships1, while Alissa had 11 goals and 3 assists — and neither turns the disc over much when they come under. They each have the ability to assert themselves; any questions that linger are about their health, their role, and Whitman's team success.
Need Help From Their Team
Sadie Jezierski (Ohio State)
With Han Chen, Angela Zhu, and Andrea Esparza all out of the division, the mantle for most exciting college women's thrower is up for grabs, and Jezierski might be the most likely candidate to take hold. Her barrage of blades, arounds, hucks, and bending breaks are breathtaking and can slice a defense up in short order. She's been shouldering a heavy load in Columbus for a few years, but if she can help a fairly experienced team achieve success, you can expect her to make a surprise run behind her throws and explosiveness.
Jenny Wei (UNC)
The game changes when Jenny Wei is on the field with UNC. Last year, Pleiades struggled when Wei was sidelined by an injury, but come Nationals she notched four goals, five assists, and one recorded block for North Carolina. Wei returns to UNC for a 5th year this season. This former All-Star can put on an elite-level show, but her team doesn't perform with the kind of consistency we demand in these preseason POTY debates.
Anna Thompson (Pennsylvania)
We all saw what Anna Thompson is capable of at Club Nationals this year:
She can ball. Unfortunately, her team Penn is perennially well out of reach of Nationals. They didn't attend Regionals in 2017, and they failed to qualify in 2016. Thompson is good, but she'll need a lot of help to break into the national conversation at the collegiate level.
Darkhorses
Jackelyne "Kobe" Nguyen (Cal)
Look, we know Nguyen can bid and sky as well as anybody in the division. But she has been quietly piling up production to surround the highlights. She led Cal in both goals and assists last Nationals, with seven and eight, respectively, and then added another eight goals for Nightlock at Club Nationals. The one they call "Kobe" has some seasoning, and that experience along with her athleticism makes her an outside threat.
Dena Elimelech (UCSD)
The UCSD Psychos burst out of the Southwest region last season to attend Nationals after a nine year drought, and Dena Elimelech led the charge. Elimelech is the kind of player you grab popcorn to watch. She racked up 10 goals, 10 assists, and a whopping 16 blocks at Nationals for the Psychos. Elimelech's explosiveness and endurance make her a tough matchup, and she throws her body around with abandon to make the play. UCSD was last year's Cinderella story, and Elimelech could play herself into award conversations if they have another banner year.
Maddie Gilbert (WWU)
Gilbert has been the star of a Western Washington team that fell out of the spotlight after failing to advance at Nationals in 2016 and being removed from competition by their school in 2017. But don't sleep on Gilbert, a do-it-all talent with size, speed, and skill. Seeing her play a more specific role for Riot during her rookie year this season was refreshing, and she displayed serious defensive chops. Gilbert has a wealth of talent to play into the conversation.
---
Whitman did not qualify in 2017 ↩