Nearly half of the top-ranked teams are in action at the 2018 edition of this early season tournament.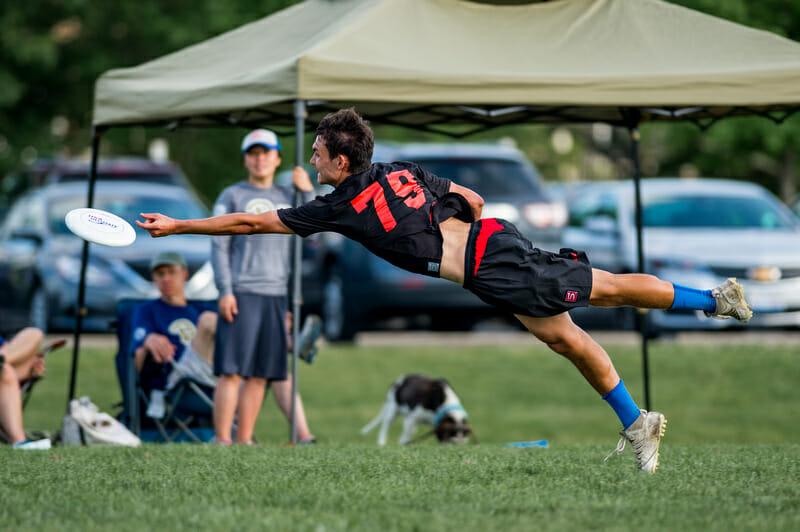 This article is presented by Spin Ultimate; all opinions are those of the author. Please support the brands that make Ultiworld possible and shop at Spin Ultimate!
Nine teams in the Top 25 take the field this weekend in Charlotte, NC. That'll make for more than enough action at the top of the slate, with a large set of Regionals-level competition jockeying for position down the seedings. Take a look at some of the top storylines to follow in the men's division this weekend.
Tournament Profile
Date: February 3-4
Location: Charlotte, NC
Weather: Low-30s to Mid-40s, 5-10 mph winds, with high chance of rain on Sunday
Top 25 Teams: 9
Semis Rematch?
Last season, #2 North Carolina and #8 UNC Wilmington gave us the game of the year in the men's college division but pulled the plug on a rematch in the final of Carolina Kickoff. Barring more inclement weather1, we could get that showdown if seeding holds and these two perennial powers are pitted in another semifinal.
North Carolina would be the favorite against Wilmington, or any other team in the country not named #1 Carleton. Even without Matt Gouchoe-Hanas, Liam Searles Bohs, and Anders Juengst playing, Darkside were the class of Kickoff. Those players are likely to be unavailable again this weekend, but, even without them, Darkside has shown that they have the depth to withstand a few absences.
How Darkside chooses to array their arsenal may be more interesting than any of the games they play this weekend. North Carolina has so many two-way players—Walker Matthews, Kai Marcus, Elijah Long, and Marc Rovner jump to mind—that getting the chemistry on the team just right will likely be a year long process. Their coaching staff, which has further loaded itself with former Virginia women's coach David Allison, likes to tinker, but they'll have to hold off on establishing cohesive units until the injuries subside.
Wilmington has some experimentation of their own to do but of a different variety. The Seamen lack the top-tier talent of their intrastate rival, but they have depth and experience. Queen City could be a good chance to see who on their roster is going to separate themselves and make big plays in tight contests. If Wilmington gets into a game against a team like Darkside, seeing which players they turn the keys over to should be an indication of who will be expected to carry the load for UNCW this season.
The returning faction from last year's finalist has perhaps been undersold. Kevin Mateer and Willie Stewart were the duo flanking Jack Williams, and they can each play both ways. Colin White, Grayson Sanner, Rick Hennighausen, and Connor Russell will all get a chance to become more central to the offense. And they've added some quality rookies, as seemingly all teams from the state do. What they've done well in the past is have a clear identity to create buy-in, and if they have that again this year, it will make them greater than the sum of the parts.
Hot Preseason Teams Keep Cooking
It can be hard to tell from early season tournaments whether a good team can be a great one, but you can pick up pretty quickly whether a team is any good at all. Over the years, QCTU has become a graveyard for preseason hype, with fall darlings failing to bloom in the spring.
#5 Michigan Magnum was really impressive at Classic City Classic and their trip to the final vaulted the defending Great Lakes champs to their current ranking. Michigan doesn't need to win the tournament to validate their fall buzz, but they need a respectable showing in games that matter if they want to be taken as a serious threat this postseason. Solid wins over teams like Pittsburgh or Auburn could demonstrate that Magnum has made the leap, but if they take another beating in quarters here in Charlotte, then it's hard to project them outside of 12-20 range they have occupied the past few years.
#20 Connecticut Grind was another team that looked impressive in the fall, and their performance buoyed their preseason ranking to heights usually verboten for Metro East teams. Pool B looks pretty stout, and just holding seed on Saturday will be a good sign of Grind's staying power as a nationally competitive program after losing their top player in each of the past two seasons. A quarterfinal matchup against either Wilmington or Auburn would be a good barometer of whether the class of the Metro East can measure up to more than "also-ran" status at Nationals this season.
Early Bid Implications For Bubble Teams
Despite early season games weighing less in USAU's rankings algorithm, it's never too early to talk about bid implications. The Atlantic Coast has two teams that will likely be near the cutoff in #23 NC State and #25 Virginia Tech. The Southwest and Northwest both looked very deep at the Santa Barbara Invite, and failing to secure at least another bid for the AC could be a death sentence.
Perhaps more desperate, there are multiple regions looking to get more than just their auto-bid. Georgia will need to get off to a hot start and notch some upsets if they want to avoid another one bid Southeast. The Great Lakes is a perpetual one bid region at this point2, but Northwestern flirted with a second last year before torpedoing those chances in the back half of their regular season. They play the kind of schedule in which some key early wins could snake them a bid hold on later in the season as the big teams knock each other off. Ohio Valley members Case Western and Penn State unfortunately face one another, but playing close with the top of their pool and faring well in consolation play is a potential path.
More than the diminished value of early season games, the new USAU rule devaluing games that get capped could become significant down the road, especially because the expanded format means shorter round times.
Can Any Teams Vault Into Top Tier?
UMass, Pittsburgh, and Auburn are all teams that should comfortably make Nationals, but can any of them mount a title challenge this year? Emerging from the pack this weekend would be a good indication.
#6 Massachusetts has traditionally had success in Charlotte, making at least the semifinals the past few years. With Ben Sadok graduating, it's Tannor Johnson's team now, but any Tiina Booth coached squad is going to have depth. A guy like Pat Barron went from being a lanky, awkward tall guy to someone playing virtually every point in a National semifinal really quickly, and it's no accident that Zoodisc has been able to stay consistently relevant despite significant roster turnover. With big ticket freshmen Jared Scheinberg and Ethan Smith bolstering the squad, UMass should have plenty of legs to navigate the demanding schedule this weekend.
#12 Pittsburgh is another program that has been able to stay competitive year after year despite significant personnel losses. Although they usually don't make the trip to Queen City, En Sabah Nur will be starting their competitive season early this year. Pitt lost most of their handling core from 2017, and rely heavily on Jonah Wisch in the backfield. Pay attention to which players get the nod as O-line handlers this weekend, as coach Nick Kaczmarek is likely still auditioning players for the role. Pittsburgh features one of the best cutting cores in the country with Dylan Best, Mike Ing, Dylan Tranquillo, and Andrew Lehmberg all capable of chewing up big yards downfield. Expect Pitt to run through their cutters if they make a deep run this weekend.
#10 Auburn brings three big weapons to QCTU. Martin Newman, Eric Sjostrom, and their sideline. With one of the biggest, loudest, most involved sideline presences in the game, you can count on Aetos to bring the intensity every time they play. That sort of energy can go a long way in early season contests when other teams are still working out the kinks and games get sloppier, so don't be surprised if Auburn simply out-will a few teams over the course of the tournament. They have never been the most talented squad, but Auburn have found a way to Nationals three years running. A good showing this weekend could demonstrate that they are more than just the cream of the Southeast, but a true National program.
Any New Player Of The Year Candidates?
QCTU is usually a good launching pad for a POTY run. Last year Parker Bray made his intentions for the season clear when he quite literally threw Georgia past UNCW in semis, and in 2016, Jeff Babbitt showed that he was entering the season in "not messing around" mode with a dominant display.
We could get a look at some prime candidates in head to head matchups on film, as Pitt's Mike Ing will be taking on Virginia Tech's Joe Freund in a title card bout. The always entertaining 4 vs. 5 matchup gives us an Auburn v. Wilmington game that should showcase some individuals making a case for themselves. Auburn's Martin Newman has a head of steam coming off of an impressive fall, and you can expect someone from Wilmington's stable of veterans (Willie Stewart, maybe?) to make it big this weekend.
Elsewhere, Michigan's Jake Steslicki could have quite the season in store for him if he plays like he did at CCC, and if he can come back from a wrist injury then Conor Chickos of NC State should turn some heads this weekend.
---
Please please, bar this. ↩

The GL has sent one team to Nationals in 5 of the 7 seasons since the redraw, and last sent two teams in 2014 ↩