The Stanford Invite is finally here, and we couldn't resist going through, and trying to predict the entire tournament!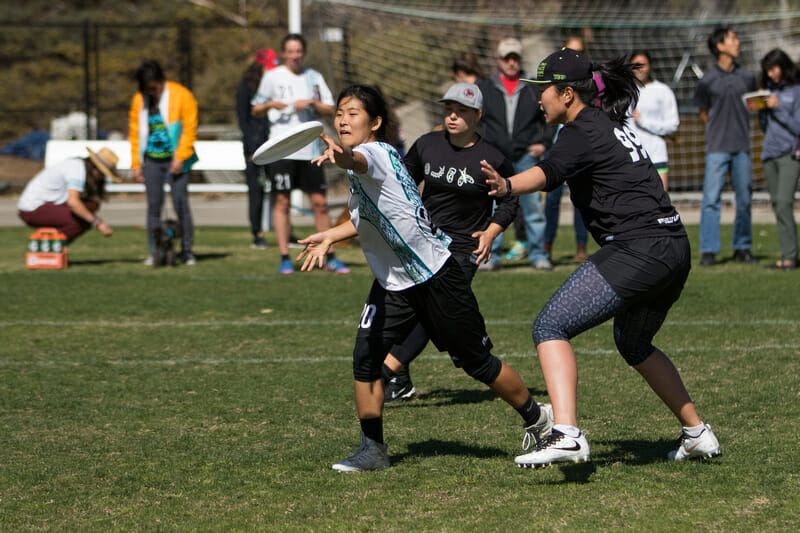 Coverage of the Women's Division at the Stanford Invite is presented by VC Ultimate as part of their season-long support of our women's coverage. All opinions are those of the authors. Please support the brands that make Ultiworld possible and shop at VC Ultimate!
March is here, and it's time for some big league games. Stanford Invite is the first of the two most stacked tournaments in the Women's Division, featuring 12 of Ultiworld's Top 25 teams.
Dartmouth is notably absent after winning the tournament last year, but in their stead is a crop of contenders ready to prove their mettle. Colorado will be eager for another shot at Stanford after losing in the windy Presidents' Day Invite final. UCSD has yet to reach a tournament final despite playing some of the best games at tournaments so far this season, while Texas has much more to prove after their shaky showing in La Jolla, CA. Finally, UBC is still untested against the field, but they're a talented and deep team and a terrifying no. 2 seed in Pool D.
Last year's Stanford Invite final foreshadowed the eventual National final, pitting Dartmouth against Texas. This weekend, rain or shine, could deliver the same prophecy.
Speaking of prophecies, we're going to take our shot at clairvoyance and predict the outcome of every pool and subsequent round of the championship bracket. Along the way, just like our primary school math teachers taught us, we'll show our work so you can know the methods behind our prognostication. If it's right, we'll take all the credit, and if it's wrong, we'll write it off as a fun exercise.
Tournament Profile:
Date: March 3-4
Location: Stevinson, CA1
Weather: Lows of high 30s, highs of mid-50s, 7-10 mph winds, chance of showers on Saturday
Top 25 Teams: 12
Pool Play
Pool A: #2 Stanford, #15 Ohio State, #19 Western Washington, UC Davis
Keith: Stanford (3-0), WWU (2-1), Ohio State (1-2), UC Davis (0-3)
While no pool has anything approaching certainty, Pool A is the one I feel most confident about. Neither Ohio State Fever nor Western Washington Chaos has played well in their past couple of trips to this event, delivering a cumulative 3-9 in pool play games. I don't expect any of the teams in this pool to have the level of offensive execution necessary to get by Stanford Superfly's brick wall of a defense. Even though I have WWU ahead of Ohio State, I do think OSU has a better shot at Stanford, especially if we end up dealing with precipitation. Don't forget that Ohio State held the advantage over mighty #1 Dartmouth in the downpours of Charlotte at QCTU before games got called. But that was only part of Dartmouth, and Stanford's got a heck of a zone waiting for Fever.
As for Western Washington versus Ohio State, I've been full-throated in my support for Maddie Gilbert, who is a wonderful five-tool threat that can be a defensive nightmare. If she's back and healthy, that's a huge plus for WWU coming off of an underwhelming Presidents' Day. Samiya Ismail has been slinging the disc with both power and touch, and they have plenty of other throwers in Ruby Cassidy, TQ Yen, and rookie Tova Breen. It should be close, but I'm putting my money with Maddie.
The outlook for UC Davis is somewhat grim. Aside from a win over #18 Minnesota, Davis has been a doormat for top teams. Their closest other result against a ranked team is a 13-8 loss to #23 Victoria. It's downhill from there, plus three losses to unranked teams. Davis certainly has the weakest resume, but we've seen them pull out magic at Stanford Invite before…and what do you know, it was when they were seeded last in their pool and they upset Western Washington.
Graham: Stanford (3-0), Western Washington (2-1), Ohio State (1-2), UC Davis (0-3)
Pool B: #4 Colorado, #6 Oregon, #11 Pittsburgh, #21 Whitman
Graham: Oregon (3-0), Colorado (2-1), Pittsburgh (1-2), Whitman (0-3)
Is there any pool more terrifying than Pool B? They're a combined 23-4 on the season, including Whitman's perfect 0-0 record this season. There's a case to be made that any team of the four could win the pool, and there's a tremendous disparity of possible outcomes.
The season started strong for no. 2 seed Colorado Kali, their second place finish at the Presidents' Day Invitational was the deepest run they've ever had at that tournament. Say what you will about their path to the final, Colorado looked more disciplined and polished than every team they faced before the final. Jean Russell and Kelsey Bennett anchor their offensive unit and Katiana Hutchinson is already in the discussion for Defensive Player of the Year.
While they looked good at PDI, it wasn't without some concerns. Nhi Nguyen was injured early in the tournament, and it's uncertain whether she'll be playing for the team at Stanford. Nguyen is a veteran presence on the field and has great chemistry with the Kali handlers. Without her, Kali is missing their most threatening downfield weapon. Another concern for Colorado has been their zone offense. Their coach has admitted the team has not practiced much against a zone, and it showed in their games against Stanford.
Colorado's small weaknesses may be all that are needed for a tenacious no. 7 Oregon Fugue team to win the pool. Oregon ended Prez Day with two double game point losses and an early quarterfinal exit. It was certainly not the outcome Fugue may have wanted, but it's given them a chip on their shoulder which they can carry into Stanford. Oregon's offense still boasts a core of Ella Hansen, Hayley Wahlroos, Maddie Boyle, and newly-named U20 US National Team member Rachel Hess. These players all have had outstanding moments throughout Fugue's season and there's no reason why this upcoming weekend should be any different. It would be wrong to consider Oregon an underdog in any of their pool play games, as they have already shown a penchant for close games with the best teams in the nation. It's enough for me to believe they can pull one out over Colorado.
Let's be honest, no. 10 Pittsburgh Danger is not the 3rd seed you want to see in your pool. They're firmly in preseason talks as a contender at Nationals. It has to be disconcerting for both Oregon and Colorado. Pittsburgh's combination of Carolyn Normile, Sarah Russek, and Abby Bomberger is a potent one. Their defense at Queen City Tune-Up was impressive, and their roster isn't afraid to get aggressive for the block. Despite a promising early season showing, Colorado and Oregon have had impressive tournaments no less than two weeks ago and Pittsburgh cannot claim much of an edge over either perennial powerhouses. Colorado has contributors up and down their roster and Oregon's top offensive line can huck past most defenses. I'm ready for Pittsburgh to prove me wrong but I don't see it yet.
No. 15 Whitman Sweets showed promise early at Bellingham Invite despite missing Alissa Soo and Kaileah Akker, but they're in a tough pool filled with offensive juggernauts. Despite the individual talent on Whitman's roster, all of the teams in their pool have capable stars of their own that can match them pound for pound. The Sweets have a chance to surprise some teams if their chemistry is on point, but it's just as likely that they will treat this weekend as a chance to develop their young roster. This is their first sanctioned tournament and it's very possible that they will only be able to show their best after pool play.
Keith: Colorado (2-1), Oregon (2-1), Pittsburgh (2-1), Whitman (0-3)
I can echo Graham's sentiment, this pool is terrifying to predict, meaning it's probably even worse to play in. Somebody's not making the bracket.
And yes, I'm calling for the three-way tie that goes to seed. And that's because I have a healthy respect for the volatility of Oregon and Pittsburgh. And cause I'm a madman. Each of those teams has lost a game to a team lower in our Power Rankings.2 Both are equipped with a strong-armed thrower who can take over a game, and you can argue Oregon has two such players. It's a lot to ask these teams to have tightened up their turnover issues from their previous tournament, especially having to play such stiff competition.
Let's dive in to the schedule to see how get there. Colorado and Pittsburgh tangle first in round two, after round one byes for Kali and Oregon. Colorado gets Oregon in round three, while Pitt gets a bye, and Pittsburgh gets Oregon in round four. So when Oregon nudges past Colorado in a hard fought game to the cap, Pittsburgh will be waiting to catch Fugue before they can recover. See, it's practically fait accompli!
Of course, Whitman represents a wild card. They could steal a game with their talent and so much less pressure than the bends-worthy amount they faced last season. We haven't seen them play sanctioned games yet, and they'll need to have straightened out the timing and execution errors that plagued them at this tournament last year. And they'll need some tactical diversity to manage the skill of Colorado, aggressiveness of Oregon, and versatility of Pittsburgh. The Sweets draw the toughest pool, enough to sour my outlook on their pool play, despite them being my favorite bottom seed.
Pool C: #5 UC San Diego, #6 Carleton, #16 Washington, Southern California
Graham: UC San Diego (3-0), Carleton (2-1), Washington (1-2), Southern California (0-3)
Pool C promises to offer some interesting games but perhaps not as much parity between the teams as other pools. No. 6 Carleton Syzygy versus no. 3 UCSD Psychos has the making of a great game, and USC versus UW is already in the makings of a season long rivalry3. There does not seem to be much chance that Washington or USC could upset the top two.
UC San Diego is the most likely to emerge from the pool without a defeat. Despite already having two losses to their name, they were both to Stanford in back-to-back semifinals. It's hard to count those losses against them, especially when considering their impressive wins over Oregon and Texas. Dena Elimelech is a gifted two-way player and plays almost every point for the Psychos, while the rest of the UCSD veterans alternate between offensive and defensive points. The largest critique to be leveled against UCSD is that they may be reaching their ceiling already. It seems as if they have a game plan and are sticking to it. This could make them much easier to prepare for later in the season and into the postseason.
Carleton stands the best chance of upsetting UCSD, as they head to Stanford without a single loss and are an experienced team that seems to have figured out their team chemistry this year. Between Madeleine Preiss, Maya Powell, and Nariah-Belle Sims, they may have the necessary firepower to topple UCSD, but their best win this season has been over #15 Ohio State — not incredibly telling. They do pass the eye test, though, and even on waterlogged fields their team played with confidence and discipline that transcended the awful conditions on the final day of Queen City Tune Up. I'll play the homer card; I can't call an upset over UCSD in due conscience. Carleton loses in a tight game.
No 11. Washington Element still is developing a young squad with a lot of potential, and that takes time. Their results at PDI were not especially promising, but they had flashes of the team that they could become. That evolved form is a very competitive team. Their largest problem during Presidents' Day was running into a stacked power pool, which actually may have better prepared them for this upcoming weekend. It should be enough to get them into bracket play, assuming they can beat USC, but probably not enough to overcome Carleton or UCSD on Saturday. Still, the team has many players that could make the leap at the Stanford Invite, including Kate Dusenbury and Maria Carla Marigmen.
No. 14 Southern California Hellions does not have a lot of buzz riding into Stanford, but they have already claimed a victory over one team ranked above them in their pool. The rematch between USC and UW should be telling, as USC looked like a much better team on the Sunday of the Presidents' Day Invitational. They have a few powerful rookies and sophomore talents that could rise up alongside Alana Archer and Alyssa Perez to give USC a chance during pool play. They're probably just a few pieces short of making a real run, which is why they're unlikely to make the bracket.
Keith: Carleton (3-0), UCSD (2-1), Washington (1-2), USC (0-3)
Pool D: #9 Texas, #3 British Columbia, #17 California, UCLA
Keith: UBC (3-0), Texas (2-1), Cal (1-2), UCLA (0-3)
Each of the top three teams in Pool D has a key question that will probably define their Saturday. I'm not going to entirely write off no. 13 seed UCLA BLU, but their resume is sorely lacking. They are 4-10, with all of those wins over unranked teams, and few of their losses look good either. I buy that they can play better this weekend, but I'm going to respectfully wait until they prove it.
UBC: Can their talent overcome their rust?
The no. 5 British Columbia Thunderbirds are, again, exceptionally talented. On Deep Look this week, I compared them to Carleton in the men's division. They don't have any bad players. If you took every team in the national conversation and evaluated them by the back 10 players on their roster, I'm pretty confident UBC would have the best one. I doubt they are spending many of their practices teaching basic forehands, explaining what a mark is, and correcting which pivot foot players are using. That lets them advance further along their progression than many of the other teams in the division. Not only has much of their roster been playing for years, but a bulk of them have played together, or at least in similar systems across their Canadian experience. They even imported another American talent, Melissa Bernstein out of the Minnesota youth community.
All of that goes to counteract the "first tournament" problem. So sure, the rest of their pool has gotten a lot of valuable tournament reps that UBC can't claim. And even with talent on both sides of a practice scrimmage, it's almost impossible to replace game reps. They topped both UCLA and Colorado in the bracket in the same situation last season at Stanford.
Their high skill floor and fundamental base is another great weapon against lack of preparation and a gap in game experience. "Stanford will be a success if we can execute our offensive and defensive goals, and if we can do the simple things well," the captains told Ultiworld. That focus, if it comes to fruition, will put them in a position to answer this question with a resounding affirmative.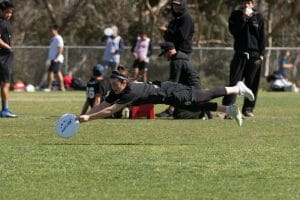 Texas: Regression or Progression to the Mean?
For no. 4 seed Texas Melee, I hope we get an honest look at them, because it's their chance to show which Melee results are more representative of this team's mean playing ability. Are they closer to the Texas team that lost to #14 UC Santa Barbara and #18 Minnesota early in their first tournament? Or is it more of the team that defeated Oregon in their quarterfinal and played within a point of Colorado in the winds of the semifinal rounds a couple games later? I'm dying to find out.
I expect that many of the familiar names on Texas are going to play to expectations. Domenica Sutherland, Laura Gerencser, and Caroline O'Connell will swing and give and go until something juicier opens up downfield. O'Connell's development has been critical in helping replace Andrea Esparza and Shiru Liu, and it's eerily similar to the path Gerenscer traveled to her current role. Marissa Land, Gabrielle Cuina, and Ivy Harrison will do the work with their legs and athleticism. The question is how far that core can take them. Melee proved they can ride a strong unit a long way in their run to the final last year, but it would be helpful if players like Cameron Bryan or Katelynn Zacharias emerged over the course of the tournament.
Also, it's great to get another matchup between Texas and UBC. Their Stanford Invite semifinal last year was an awesome game that Melee won 13-11, but UBC got their revenge in their pool-deciding game at Nationals, a double game point victory for the T-Birds. Rubber match!
California: Can they finally break out of their shell?
Maybe it's our bad, but the no. 12 seed California Pie Queens have steadily slipped in the Power Rankings. They started the year as #6, and have yet to move up since then. Call me stubborn, but I refuse to give up hope on them. I look at their roster, and I see Anna Wysen, Jackelyne Nguyen, and Allegra Mayer, and think that's a top end that can go head to head with nearly any trio. Sydney Horanic can patrol the skies, Janice Chui has stepped up in a bigger role, and Cidney Weng is coming off of a great weekend in La Jolla. They have a great coach and a good development process.
Part of the "problem" might be how focused they are on full roster development during the regular season, sometimes to the detriment of their performance. That's a good long view to have that has paid off before. But PDI was not a good showing for Cal, 3-5 with some blowout losses for good measure, and with two of those wins coming by narrow margins over unranked teams. What's that, one of those unranked teams is UCLA, who is also in this pool? That's not ideal, even if the wind played a major factor. UCLA seems to be trending upward more than Cal, though.
Still, the talent is very convincing. The execution? That's got to change. If they come out this weekend playing with a ton of confidence, they could quickly become a thorn in the side of teams with deep bracket runs in their eyes, starting in their pool.
Graham: UBC (3-0), Texas (2-1), Cal (1-2), UCLA (0-3)
Bracket Play
Keith's Bracket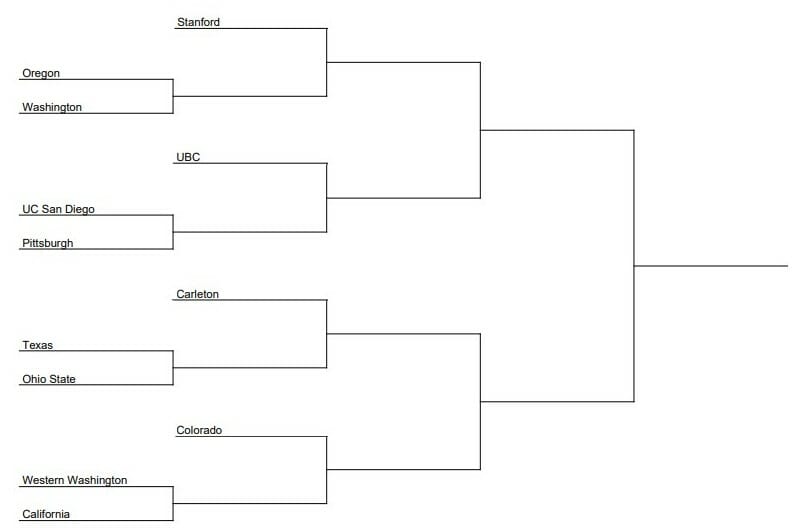 Graham's Bracket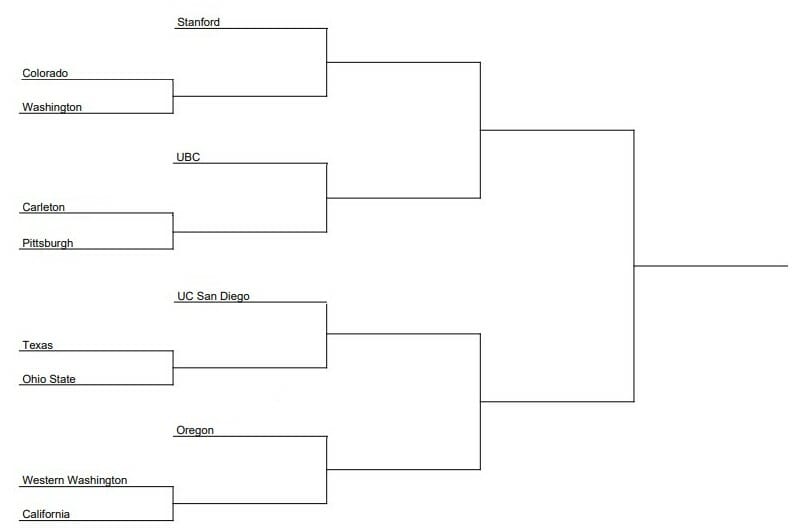 Prequarters
Keith: Oregon v Washington, UC San Diego v Pittsburgh, Texas v Ohio State, Western Washington v California
It's crucial to note that prequarters are the last round of Saturday and not Sunday morning. I think that removes some of the edge in the bye, and means tired (and potentially soaked) teams. Prequarters could be a war of attrition. Sure, it's only the fourth game of the day, but these games are hard.
I feel pretty comfortable taking Oregon and Texas to advance. I think Texas's defense has the teeth to make Ohio State uncomfortable, and while Fever's grit does them favors in these circumstances, it's going to be hard to simply out-grind the Austin women. And, hypothetically, Ohio State is coming off a tough loss to Western Washington. Meanwhile, Oregon is in the same "just lost a game we felt like we should have won" boat as they take on neighboring Washington. The difference? Oregon knows Washington well enough to be relieved to see such familiar faces across the line from them. An otherwise even game, I expect a few Oregon runs to make the difference on the scoreboard.
The other games I'm already sweating. I like Western Washington, but they have never been a model of consistency and depth. And I've been just waiting for Cal to wake up and flex the muscles their talent implies. Championship bracket play has dealt the Pie Queens an 11-8 loss to Vermont and an 11-7 loss to Colorado through two tournaments. With their depth and approach, however, I think they can take down Western Washington in a late round that will test both teams' endurance.
Meanwhile, I've got an amped Pittsburgh team, fresh off of beating Oregon, and a bit of a stunned UC San Diego team. Those different emotional momentums are what give me pause, because the difference between these two teams is small enough that their attitudes could make up the difference. But this UCSD team is more mature than their previous versions. They have the toughness to bounce back and rise to the occasion. I expect this to be a really good game, but UCSD simply has enough firepower to outmuscle Pitt in the downfield lanes, on both sides of the disc; I don't know how Pitt matches up with Elimelech, but I invite Bomberger, Russek, Katie Schrieber, and whoever else they throw at her to give it their best.
Graham: Colorado v Washington, Carleton v Pittsburgh, Texas v Ohio State, Western Washington v California
There's not too much to say here about prequarters that Keith has not already noted. Prequarters will really test the fitness and grit of teams, which informed most of my picks heading forward.
For me, the Colorado pool play loss is perhaps the hardest pick I made.4 Now that they're in prequarters, there's no way they're allowing a second loss to impede their run. Washington is still developing as a team while Kali seems fairly consolidated. I expect them to pull out a win to close out day one.
Carleton and Pitt is another tough game to call but I'm putting my money on Carleton's depth to provide them with the victory. The team will have had three games to develop their offensive chemistry and should have the entire roster firing on all cylinders by prequarters. Pittsburgh's elite top-end talent will keep the game close, but I expect Syzygy to pull away with it in the second half.
Texas comes into prequarters knowing exactly how to rise out from a disappointing early loss. They were punished by Stanford on Saturday at PDI and found their way back to semis. Apart from their disclaimer-filled win over Dartmouth5, OSU hasn't yet shown that they can hold their own against teams in the top 10. Texas has a wicked defense and never drops their head after the turn. Tough game, but Texas comes away with it.
The game between Cal and Western Washington is the hardest for me to predict. Cal and Western Washington have had flashes of extremely good teams but I'll side with Western Washington here, if only because of Maddie Gilbert's return to the Chaos squad and Cal's unlucky results in bracket play so far.
Quarterfinals
Keith: Stanford v Oregon, UBC v UC San Diego, Carleton v Texas, Colorado v California
Going to back to 2010, this tournament has had a format that had prequarters three times.6 Of the 12 quarterfinals that followed, the pool winner, with their bye into the round, has won 75% of the time. That's a small sample size, to be sure, so if you expand to add the men's division, they've had prequarters all but one of those seasons, and they still have the exact same percentage of pool winners advancing.
This is all to say that coming out of prequarters to win your quarterfinal is hard, mostly because the pool winners are dang good. But it does happen, and history indicates its likely that someone is going to get the upset.7
As for these matchups? They are awesome. That's what great about the Stanford Invite.
The only one I feel has a heavy favorite is Colorado against Cal, seeing as how Colorado was 2-0 and +9 against Cal at PDI. The Pie Queens are going to get treated to a tough opponent in their prior game in almost any scenario. It doesn't portend that they'll buck the trend. Give me Kali.
Stanford's ability to apply defensive pressure to a turnover-prone Oregon team and execute after the turn will let them continue on their march towards another tournament victory. Julia Butterfield is going to be a serious problem for Fugue. And the two teams Oregon lost to at PDI, Texas and UC San Diego? Stanford beat them both, crushing Texas.
Speaking of Texas, their game against Carleton is a real litmus test for both of these teams. On paper, this reads like a battle of execution for two teams that have similar athleticism. And I think that plays to Carleton's strengths. If Texas can turn this into a game of athleticism, and use their size and speed on both sides of the disc, they could steal it, meaning the play of Marissa Land and Gabrielle Cuina will be pivotal. But Carleton's pretty tall themselves, making them a tough matchup for Melee. There may be some hands of fate on this one, trying to guide us towards another Colorado vs. Texas semifinal. But doesn't an alignment of three or more celestial bodies8 seem pretty fateful? Mysticism aside, Carleton is just a good foil for Texas, so I like Syzygy.
British Columbia and UC San Diego, a quarterfinal between two top five teams. Yikes. UCSD has so many reps under their belt, but UBC has so much more depth. Elimelech is going to get some doses of Kaitlyn Harper and Naomi Johnson, maybe Delaney Ignatieff. The Canadians always seem comfortable throwing multiple defenders at someone in an effort to wear them down. But I'm worried about UBC's ability to execute without a lot of top reps. Plus, if the hands of fate fail to get us Colorado versus Texas, they would probably like to settle for Stanford versus UC San Diego again. Gimme that Southwest goodness!
Graham: Stanford v Colorado, UBC v Carleton, UC San Diego v Texas, Oregon v Western Washington
Now we're talking. These quarterfinals are going to be devastating for some really good teams. Placing 8th at Stanford Invite will be a huge accomplishment, even if the competing teams don't feel that way. This will also start off the Sunday, so teams will likely be well-rested and more sharp with their execution on offense.
All that being said, Colorado's already had a chance to meet Stanford in bracket play this season and it didn't end well. I can't see two weeks making enough of a difference for them to overcome Stanford's impressive zone, especially if Nguyen is still out. Colorado's offense should fare better if there is less wind, but Stanford's own offense has been pretty untouchable and that will be on full display when they're playing on their home turf. Stanford and Colorado both have exemplary coaches who will likely try unique defenses to offset the rhythm of the game but Stanford's pedigree makes it hard to pick against them. So the home team has the advantage in this one.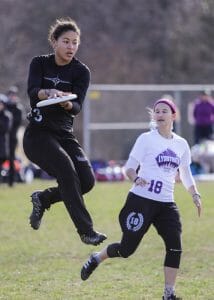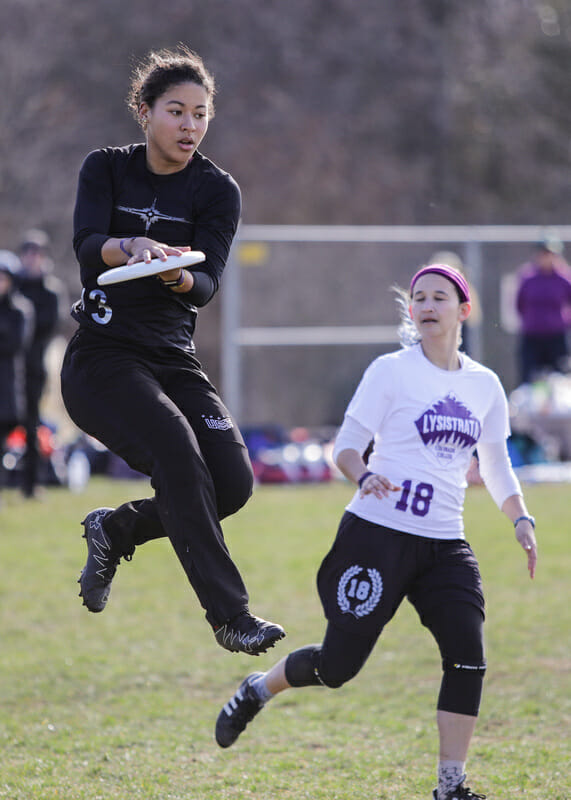 UBC versus Carleton promises to be a game of young talent squaring off. It wouldn't be wrong to say that there are a couple ROTY candidates that could emerge from either of these teams at Stanford Invite so having them competing in a game with huge stakes is thrilling. While Carleton has a lot of promise, I give UBC the edge, if only because they have more players that have competed in elite ultimate tournaments. The Canadian ultimate system provides a lot of reps for young players to play competitive ultimate and UBC will likely have the necessary mentality to finish strong in a close game.
Texas has had the chance to meet UCSD before and the results were not in their favor. UCSD marched to an 8-6 win over Texas, but the circumstances may be completely different if they meet again. For a start, the weather forecast isn't such that it will be blowing like a hurricane9, as it was in La Jolla. Texas will also be strengthened by the return of Domenica Sutherland, who missed the Monday games at Presidents' Day. This won't be the same Texas that lost to UCSD, but I'm still predicting a Psychos win. UCSD has won every game this season when they're not facing Stanford, and have done so with a number of different defensive tactics. Their offense remains stoically familiar but teams haven't yet figured a way to slow it. There just aren't a lot of defenses that are tooled to stop lefty backhands and the relentless cutting of Dena Elimelech. Even if we're predicting this to be a close game, UCSD has won almost all their close games.
I'm guessing Oregon is going to ride the chip on their shoulder right past Western Washington. I can't say for certain what the score will be10 but if Oregon senses a minutia of weakness in the Western Washington offense, they're going to start rolling off breaks. "One Throw Ella" Hansen11 can traverse the field with a single throw, and has done it multiple times this season. Western could prove a challenge, but it's more likely that Oregon will aggressively attack the deep space until they start racking up points. It would take a big game from Maddie Gilbert and Samiya Ismail to overcome Oregon, and it's asking a lot from Western Washington's stars to take on a team that will have Ella Hansen or Hayley Wahlroos on almost every single point.
Semifinals
Keith: Stanford v UC San Diego, Carleton v. Colorado
My apologies to UC San Diego, but this feels hopeless in my fictional timeline. They had to grind past Pittsburgh in prequarters, then British Columbia in quarters, and their reward is Stanford? Brutal. If they didn't have a little sister complex yet, going up against Stanford in a big game while running out of steam has all the ingredients of a beatdown that will give them one. As for historical context, I noted earlier that 10 of 40 prequarters teams since 2010 advanced to the semifinals. How many managed to get even further? Just 3, all in the men's division: Pittsburgh reached the final in 2011, while Oregon and North Carolina won the tournament in 2013 and 2014, respectively.
I can't believe I'm writing this, but I've got Colorado to make it through to the final, as well. I slept on them at the Presidents' Day Invitational to my own detriment, and I'm skeptical of their ability to repeat if Nhi Nguyen can't suit up. But while I like Carleton's ceiling this season quite a bit, I expect a team who has undergone so much change and who benefits so much from some new players to falter somewhere along the line. Against an experienced, cohesive, and well-coached outfit like Colorado in the semifinals seems like the perfect trap for Syzygy's inexperience to catch up with them. With Kelsey Bennett, Jean Russell, and an experienced group of throwers, plus depth to match up with Carleton, Colorado can take this.
Graham: Stanford v UBC, Oregon v UCSD
Look, I 100% believe that Keith made all his picks to get a UCSD versus Stanford semi to occur again, just because that's a good narrative. But you know what's also a good narrative? An undefeated Stanford team playing an undefeated UBC team. Yes, I'll admit, technically UBC is only undefeated because they haven't played a regular season game yet, but if they do make semis this way, they'll have won four in a row without a loss which still qualifies them. #2 versus #3 sounds pretty desirable, right?
And mark my words, this will be a good game. It may be the most exciting hypothetical to emerge from my USAU2K1812 simulations. Both teams have tons of elite ultimate experience and a case could be made for either team to win. Stanford's stars have been gaining praise all season for their talent on the field, but lest we forget, UBC's roster has four u24 silver medalists and they didn't really have an offseason to slow down. They could probably beat Stanford, but I just don't see it right now. This will be the Thunderbirds' first tournament and Stanford's third. Stanford has had plenty of semifinal wins under their belt already and scarily enough, don't seem to have reached their peak yet. British Columbia has all the pieces to win against Superfly, but their season's still young.
Has Oregon v UCSD already happened? Yes. Was it a double game point match? Yes. Was it the best game at Presidents' Day? Subjectively, yes.
It's basically already a given that this game will be close. In their previous bout, neither team really had an edge and it came down to the wire. There were points where Oregon scored in three passes and there were other points where it took them twenty. UCSD's offense would look unconquerable one point and surprisingly frantic the next. Oregon has the potential to come into this game with a slight advantage. UCSD's propensity to play tight games will undoubtedly mean that they'll have just finished a marathon game against Texas. If Oregon can capitalize on that early, it may put far enough ahead that UCSD cannot find a way to another victory over Fugue. I hate to say it, but I'm calling another semis exit for the Psychos.
Final
Keith: Stanford v Colorado
I've got the rematch of the final of PDI. It makes me feel icky to pick the #1 and #2 to make the final of Stanford Invite. To turn to the history books again, it's happened once since 2010, back in 2015, that classic Oregon vs. Stanford double game point slugfest. With such an impressive field and a bunch of other variables at play, the math just doesn't bear out. But that's why this article isn't just a series of algorithms. These two teams simply are a combination of skilled, deep, experienced, and in rhythm in a way most other teams haven't shown themselves to be this year.
Plus, there's no Dartmouth. Stanford looked well on their way to a berth into the final as the #1 overall seed last year, but they got taken to the brink by Oregon in quarterfinals and were absolutely throttled by an underseeded Dartmouth in the semifinals. Oy, maybe I should revisit my Stanford vs. Oregon quarterfinal? No, let's press on. It's too late to turn back.
I don't know how much we can look back at their previous matchup, which was played in extreme winds, to inform our predictions here. There was no Hallie Dunham for Stanford, no Nhi Nguyen for Colorado. And Kali hadn't even practiced zone offense yet. Stanford took a 6-1 lead in that final before they eased up a bit for the 9-5 win.
But even if you throw those results out of the window, Stanford has been the superior team this season. They have not really played at their highest capacity this year. And by that, I don't mean they haven't played to their 2018 ceiling; I mean they haven't played the best they could considering what point they were at in the season, that they haven't hit their midseason ceiling. With the leadership they have, on the field and on the sideline, they are going to get closer and closer. They have the fundamentals to match Colorado and the playmakers to overcome them, especially if Nguyen is absent again.
If it comes to pass, we have to have a real conversation about Dartmouth and Stanford.
Graham: Stanford v Oregon.
Oregon making the final isn't exactly a Cinderella story but it'll still be a wonderful game. As Keith mentioned before, this would be a rematch of the 2015 Stanford Invite, in which the two teams seemed very equally matched. Oregon and Stanford are two completely different teams than they were in 2015, but they're still both loaded with talent. And neither side has played each other yet this season, which means that there's still a realm of uncertainty when they clash. It would be an uphill battle for Oregon to beat Superfly, but they could give the home team a run for their money.
Stanford's best shot at winning is to rely on their depth. There aren't a lot of teams that have the same abundance of offensive weapons to match Stanford, and Oregon isn't exactly packing the sideline. They currently have a short roster of 17 players. This will mean that Stanford's strong offensive core are going to meet the same fierce defenders point after point and it could wear them down. What's more likely is that it'll wear the defenders down. Oregon has had great success when they can roll past teams but they've lost every close game they've played so far. The longer the game goes, the more tired their tight roster becomes and they begin to wear out. If the game remains close, Katie Weatherhead and the rest of the Oregon leadership will have to put on a masterclass of line calling.
While we're thinking about lines, this game could feature some impressive matchups on the field. Ella Hansen and Julia Butterfield will have to mark each other at some point and both are willing to bomb discs deep or turn right around and help recover the disc on defense. Hayley Wahlroos and Caitlin Go both play similar roles for their team, and if they're playing against each other, it could be a war of attrition. Rachel Hess and Maddie Boyle have flown a little under the radar but could menace Hallie Dunham and Shayla Harris for the entirety of a game. Still, Oregon runs into the problem of Stanford's bountiful army. For every Hallie Dunham that is shut down, there's still a Michelle McGhee and Carly Eckstrom that Stanford can turn to to be a playmaker for them. This will be the real test for Oregon as they will need incredible contributions from their full roster and any injury could be potentially damning for Fugue.
A victory for Stanford isn't a foregone conclusion, but there's a reason why they won both SBI and PDI. Oregon will need to break early and try to earn their win quickly to beat Stanford, and that's not an easy task. I haven't even mentioned Stanford's crushing zone or tactical coaching staff. A win over Stanford isn't a matter of doing the small things right, it's a wearying check list of in-game adjustments and mental fortitude that is rare to see this early in the college season. I'm giving Stanford the Three-peat here.
---