Can Oregon—or anyone else—get in the way of a CUT vs Darkside final?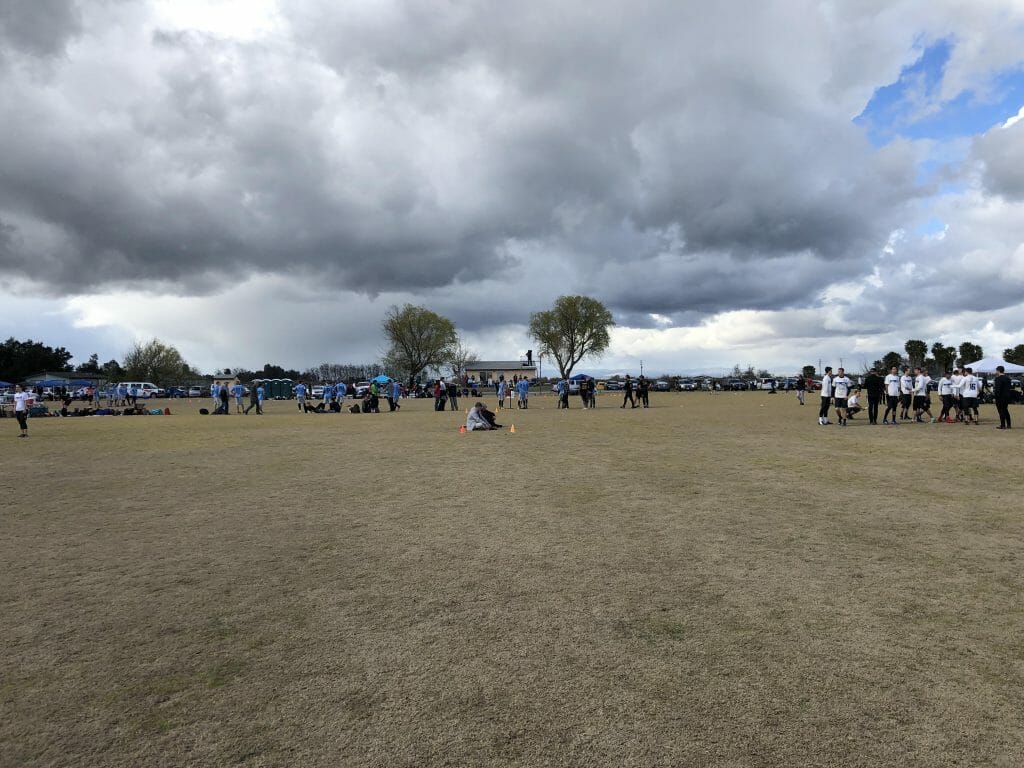 Carleton, North Carolina, Oregon In A Class Of Their Own
Pools A, B, and C were dominated by their respective one-seeds today, in spite of a location change and weather conditions that offered up a sampling of all four seasons.
Defending national champions and current #1 Carleton CUT didn't let an opponent within six points on Saturday, easily dispatching British Columbia (13-6), Oregon State (13-6), and Cal Poly-SLO (13-7). Though their play was nowhere close to perfection, CUT had little trouble regaining possession after turnovers and scoring nearly at will.
#2 North Carolina Darkside had a similar day, though their margins of victory were a few points shorter. Without coaches Mike Denardis, Jon Nethercutt, and David Allision—but notably with Matt Gouchoe-Hanas on the field for the first time this spring—Darkside put away California, BYU, and Pittsburgh.
There was a casual swagger about the team from Chapel Hill, who at times seemed to waltz through defensive pressure and connect on fearless deep passes. The relaxed attitude also produced some silly turnovers, like when Kai Marcus tried to restart play after a call before checking the disc in, laughed back to his spot, and tossed a scoober over the mark downwind that immediately hit the brown grass at the Central Valley Polo Club.
#4 Oregon Ego also cruised today, winning the open side in every game regardless of wind, precipitation, or lightning. The variety of zones, junks, and person defenses that opponents threw at them didn't slow Oregon down. Ego made hay with the turnovers coughed up by Wisconsin, Colorado, and Tufts.
Whenever other teams made mistakes, the weather and shift of location could've been easy scapegoats. Not for these three. To watch them score, to see their sidelines energized and active, one could've been forgiven for thinking they were each playing on their home field in front rowdy well-wishers.
The Clear Second Tier
The #11 Washington Sundodgers put on a game-planning clinic this afternoon, zooming to a 13-7 win over Brown Brownian Motion.1 That victory put the Sundodgers back in the driver's seat for their season after a lackluster finish to the Presidents' Day Invitational.
Washington bookended their day with two more wins to finish pool play undefeated; a near scrape 13-12 win over Emory Juice and a nice West Coast rivalry win over Stanford 12-10 right before lightning struck in the distance and both divisions retreated to the cars. The Sundodgers succeeded with smart defense, and big contributions from Nick Roberts, Derek Mourad, and Reed Hendrickson—it was Hendrickson's first weekend with the team in 2018.
For their efforts, Washington earned a bye, skipping tomorrow's 8:00 AM round and awaiting the winner of a Colorado-Pittsburgh prequarter matchup.
***
#6 Brown, #7 Cal Poly SLO, and #10 Pittsburgh all had rough patches today, but came alive when necessary to earn their 2-1 records. Brown swatted away a tired Stanford in the morning round, took the Washington loss on the chin, and then outlasted a scrappy Emory team 13-12 to close out the day. SLO and Pittsburgh both struggled against their respective one-seeds (CUT and UNC), but played well down the stretch against lower seeded opponents, overcoming deficits and scoring under pressure to pull away for wins.
The Best Of The Rest
For the rest of the field, gameplay was pockmarked by moments of windy messiness. Host team #14 Stanford managed a 12-8 win over Emory, but otherwise took a pair of tough losses to Brown and Washington. #15 Colorado put together a come-from-behind win to beat Tufts 11-9 this morning before conditions got weird, but struggled mightily on offense elsewhere—enough so that their aggressive defense couldn't save them against a similarly impotent Wisconsin team. As for Oregon State, brothers Aaron and Drew Peterschmidt are an excellent pairing, but will struggle when stuck with elite defenders.
The Championship Bracket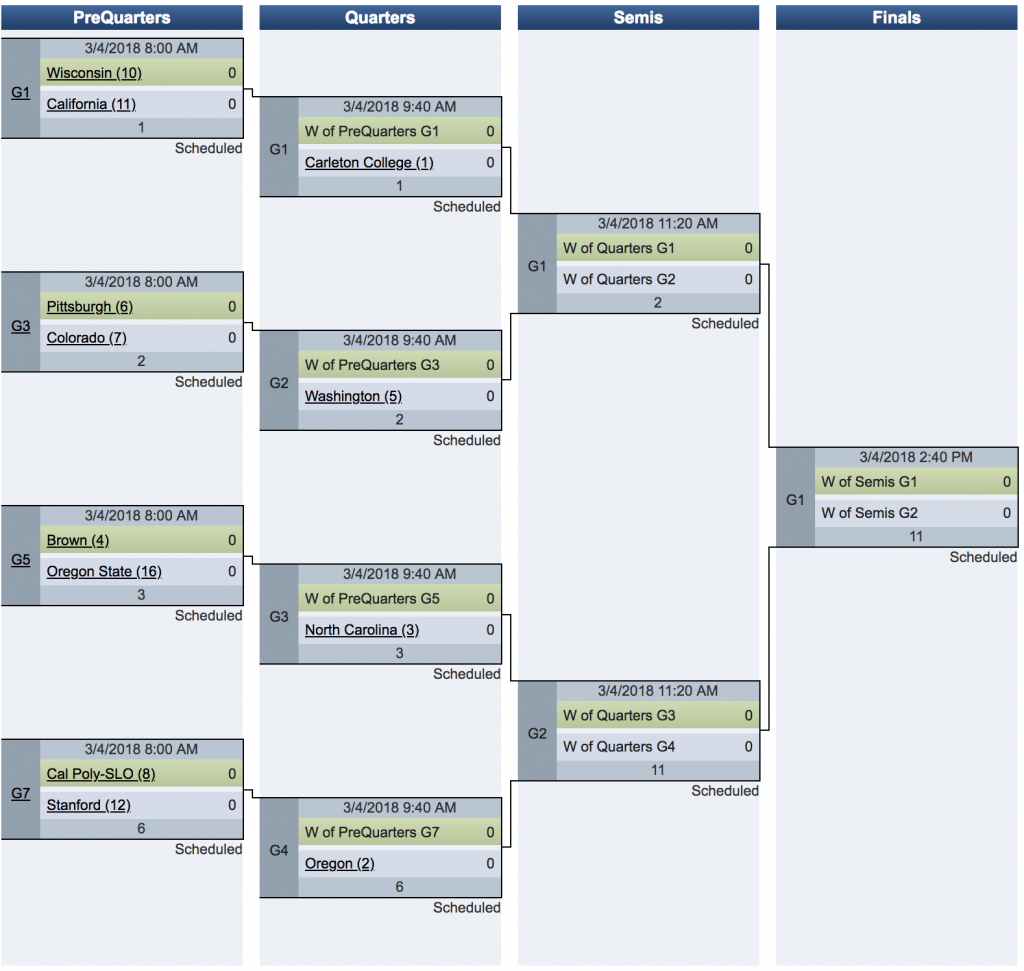 ---
Game available to Ultiworld subscribers in our video library. ↩