Through some unruly weather, some teams in the women's division made a big splash, while other floundered.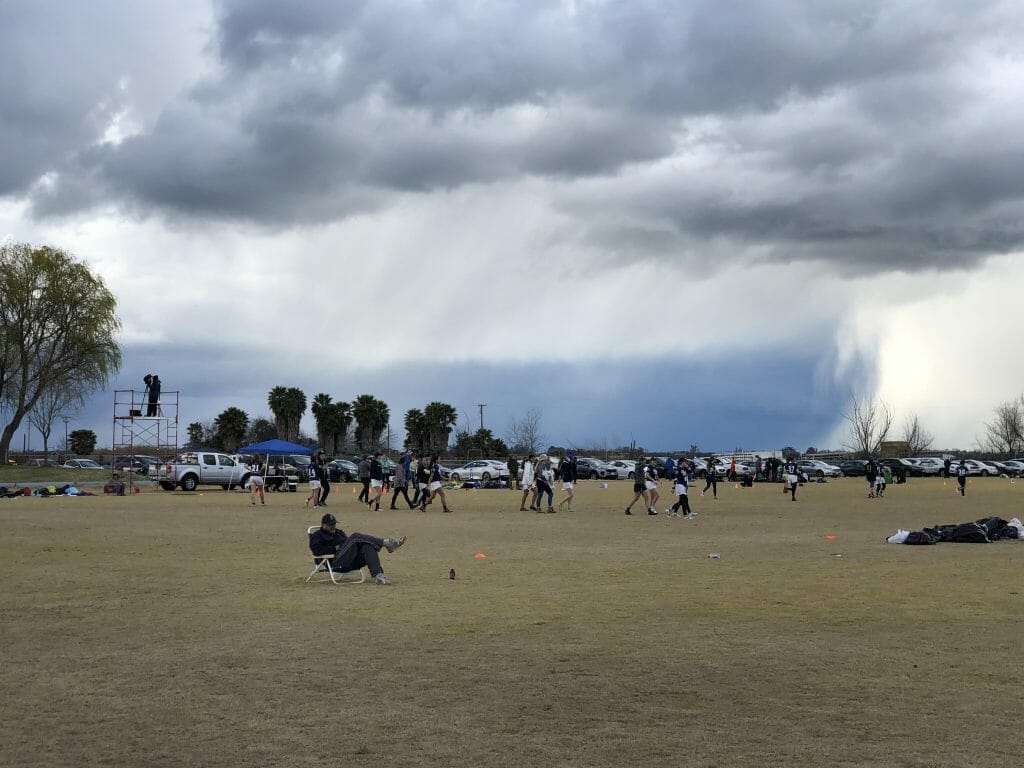 Coverage of the Women's Division at the Stanford Invite is presented by VC Ultimate as part of their season-long support of our women's coverage. All opinions are those of the authors. Please support the brands that make Ultiworld possible and shop at VC Ultimate!
STEVINSON- When the dust settled and the tumbleweeds passed, we had gone through the weather of all four seasons in Stevinson on Saturday, and maybe a couple more seasons on top of that. Between freezing winds, hail, intense rain, bright sunshine, and calm overcast, there was definitely a chance for teams to test themselves in all sorts of conditions. While the weather was out of sorts, it didn't deter the quality of the pool play games. Here's the biggest stories from Saturday.
Pittsburgh Puts Everyone On Notice
From the moment it was announced, we knew Pool B was going to be unpredictable. What we didn't realize is how prepared #11 Pittsburgh Danger was to compete. The depth of Danger was evident on both sides of the disc. Carolyn Normile still played most of their points, but was given free reign downfield to cause havoc while the likes of Jessie Sun, Hannah Blizzard, and Miranda Kosowsky anchored their backfield. This allowed Normile to take the disc in stride and hit deep cutters like Abby Bomberger and Gabrielle Doran without her defender having time to set up. She also could poach deep and hang off her mark enough on defense to keep the opposing handlers guessing. Normile had a terrific day, but Pittsburgh was remarkably better because they didn't have to rely on their star for everything.
That's not to say they weren't without close games. Pitt never won a game by more than three points, but they showed the tenacity and mental toughness required to win a pool and earned the bye into quarterfinals. It was an impressive performance from a team that had a lot of uncertainty before the season started.
Colorado's Step Backwards
Just 13 days after making the final at the Presidents' Day Invitational, #4 Colorado Kali almost failed to make it out of their pool at the Stanford Invite. The pendulum swung on Colorado early, with a tough double game point loss to Pittsburgh. Their offense couldn't find a rhythm and they clearly missed captain Nhi Nguyen, who was still out from a lingering hamstring injury. Their game against #6 Oregon was another uphill battle that they never crested. Oregon's zone was content to allow a high volume of passes, and when faced with that prospect, errors cropped up in Colorado's execution. Make no mistake, Kali played a good offensive game, but Oregon's aggressive roster made them pay for every mistake. When time wound down, Kali couldn't earn enough breaks to keep themselves in the game. Even their victory against Whitman came tough, with a 7-6 halftime lead ballooning only once the second half began.
Kali has to thank the weather for delaying their prequarters. They were scheduled to begin a game immediately after their win over Whitman. With a full night's rest and some time to rekindle their fire, Kali may have a better chance to turn things around on day two.
Stanford Won Their Battles, But May Be Losing the War
It should come as no surprise that #2 Stanford Superfly won all their games on Saturday. That was to be expected. What may come as a surprise was two of their victories came with little breathing room. Apart from their blowout win over UC Davis, Stanford only outscored their competition by a cumulative three points. Their games against Ohio State and Western Washington were not marked by the dominance Stanford's known for.
They started their day with a tight game against Western Washington. Stanford's defense was giving Chaos a lot of room to begin the contest, and WWU took advantage. Stanford couldn't contain the combined force of Maddie Gilbert, Samiya Ismail, and Ruby Cassidy, but the Chaos women were playing well across the board. Western Washington actually took half over Stanford, a feat no other team has accomplished this season. Stanford clawed back into the game but it wasn't pretty, requiring a double game point to earn the 9-8 win. Their offense looked out of sync and was harmed by overthrows. This could all be passed off as first game jitters, but it happened again in the Ohio State game. Stanford's sideline and players on the field were unusually flat and struggled to close out the 9-7 game.
In the end, Stanford held their seed and will head straight to quarters. The difference is that they're showing a vulnerability that wasn't present earlier this season. For the first time in 2018, Stanford's iron grip in the West is loosening.
UBC Brings the Thunder, and Some Flames, too.
It may be the #3 British Columbia Thunderbird's first tournament, but you wouldn't know it by the performance they had on Saturday. They opened their day with an emphatic victory over UCLA, but it was just the beginning of what UBC had to offer. It often seemed as if the Canadian team was playing in another gear than their opponents, and they were relentless on both offense and defense. If you're looking for a team that shreds their opposition through sheer pace, UBC's got you covered. Noting the elite performances from Ellen Au-Yeung, Janelle Siwa, and Naomi Morcilla (who arrived back from time off in Australia to surprise her teammates) doesn't do justice to the team's total level of play. This was punctuated by their performance against Texas. Melee was able to match their stars pretty closely, but couldn't keep up with the abundance of talent that UBC could offer on any given point.
The Thunderbirds' only asterisk was a tight game against Cal, who went winless on Saturday. From the offset, UBC lacked the intensity that had been present in their previous games, and Cal stubbornly refused to go quietly. They flipped the switch after half, turning their 7-6 lead into a 12-9 victory, but they won't have the same opportunities late in bracket play on Sunday.
UC San Diego Continues to Impress
For the first time in three tournaments, #5 UC San Diego was the top seed in their pool, and they backed that up on the field. No other women's team in the tournament was as overpowering as the Psychos. They didn't allow a single opponent to score more than seven points through pool play. UCSD was very reliant on their core players to generate points, but stayed in control with a stifling zone that allowed their role players to carry their defense. No team was able to stop their reset passes, or Dena Elimelech for that matter. The Psychos played a cumulative 57 points on Saturday and Elimelech may have only sat out two of them. Her ability as a two-way player helped the Psychos find breaks and pull ahead early on.
Only Stanford has been able to overcome this team and that's become more impressive with every win. Sunday will be the first time Superfly is on the other side of the bracket for San Diego. There's two rounds of play standing between now and another meeting of the two Southwest powers, but the quest for another challenger continues for the Psychos.
The Championship Bracket
The prequarters round was ultimately postponed until Sunday by an incoming storm. The tournament has been restructured with 90 minute rounds for Sunday in order to accommodate the extra round of play. Here's tomorrow's bracket: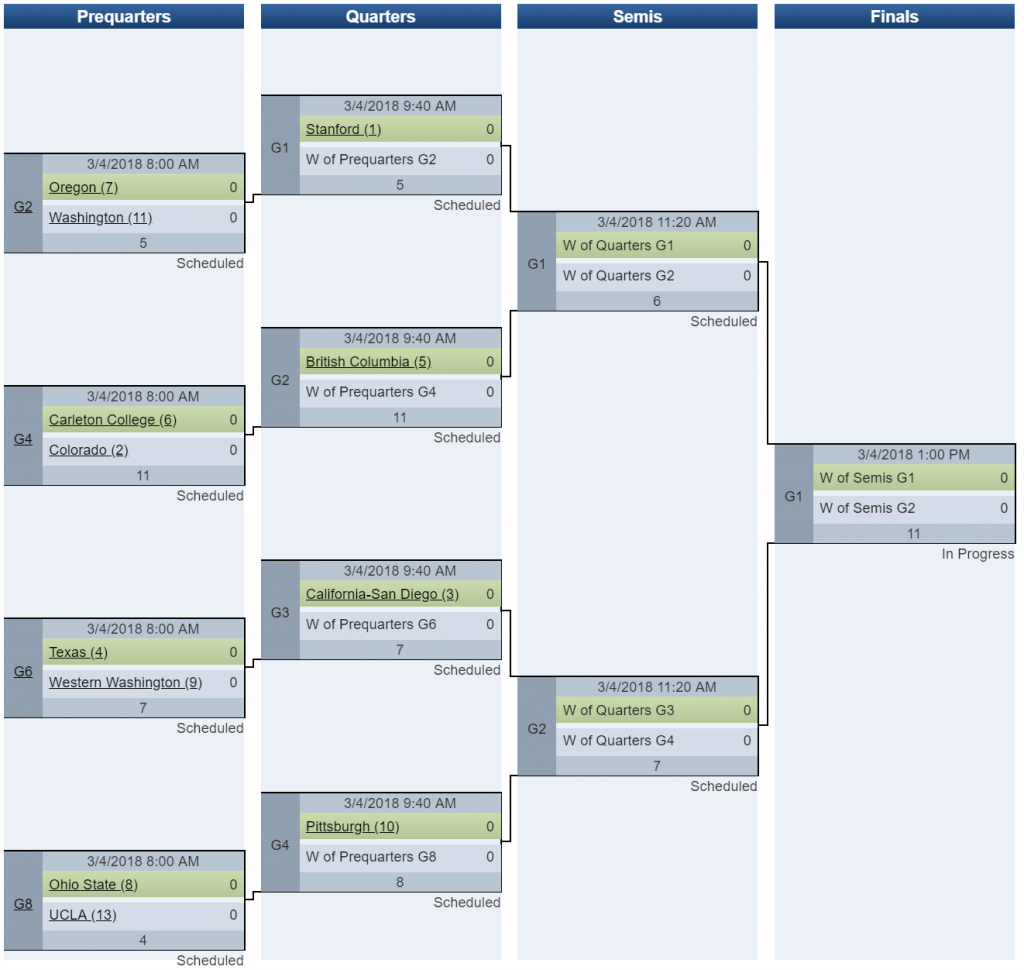 Quick Hits
#15 Ohio State looked competitive, surpassing our own reporters' expectations, but lost Sadie Jezierski to injury against WWU. Jezierski adds another dimension to Fever's game and it'll be tough for them to overcome the gap she'll leave in the roster.
#19 Western Washington finished third in Pool A, but suffered two close double game point losses. Chaos still played a great Saturday even if their bracket ranking does not reflect it.
#21 Whitman suffered from being the 4th seed in the toughest pool, but had moments of brilliance. They stayed competitive in every game and played solid defense. Their record simply doesn't tell the full story.