UC San Diego tops most of the division's best.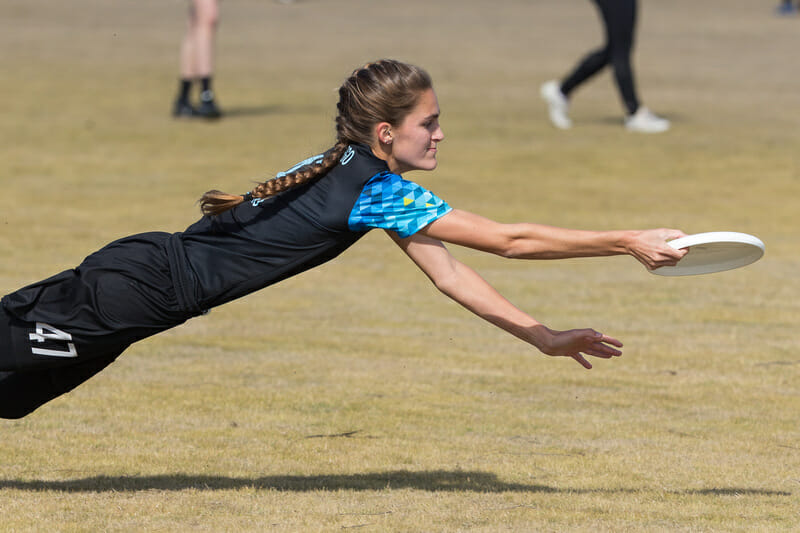 Coverage of the Women's Division at the Stanford Invite is presented by VC Ultimate as part of their season-long support of our women's coverage. All opinions are those of the authors. Please support the brands that make Ultiworld possible and shop at VC Ultimate!
STEVINSON, Cal. — We drove hours away from our original location, endured Saturday hail, a lightning delay, a round postponement, other various schedule changes, and somehow, got great ultimate. When all was said and done, the 16 teams that traveled to Stevinson to do battle made for quite a spectacle at the Stanford Invite. There were high profile matchups that could preview Nationals, stars taking on stars, breakout performances, and shocking upsets. Add it all up, and it's basically what you'd order at the counter for a great tournament. The lone disappointment was the underwhelming final, which featured a scorching hot UC San Diego running roughshod over British Columbia.
Let's take a look at what transpired and what it tells us about the women's division this season.
UC San Diego Announces Themselves With Win
Going into this tournament, we asked which team apart from Stanford could topple the #5 UC San Diego Psychos. No one stepped up to the challenge. UCSD had a perfect tournament and finished the majority of their games with more than five breaks over their opponents. The Psychos benefitted from a strong team identity and disciplined structure. They didn't win games by outpacing teams, but they did set the pace in all their games, forcing defenses to adapt to their calm, flowing offense.
In the final against British Columbia, the Psychos got off to a 3-0 start with a zone defense that UBC could not crack. After the turn, UCSD patiently worked the disc into the end zone, relying on off-hand reset throws and safe upline passes to get the offense rolling. UBC was caught off guard and their emblematic fast-paced offense was forced to work at a slower tempo than the Thunderbirds often prefer. While the UCSD defense was headlined by their stars, they were getting strong contributions on offense from their entire line. Madison Tenney, in only her second year on the team, scored the first three points for the UCSD. They went on to carry a 7-2 lead into the halftime break.
"We had a good first half but most of us didn't really know the score. As a team we try to focus on playing every point like it's 0-0," said UCSD captain Leanne Go.
UBC found their second wind in the second half, although it may have been their 3rd or 4th wind considering how close they had played Oregon minutes before the final started. Their offense began to play a far more crisp game and settle into the system that had made UBC so effective all weekend. The two offenses traded points, with neither team able to gain an edge. The teams were far more equally matched in the second half, but facing a five point deficit, it never really felt like UBC stood much of a chance. UC San Diego closed out the 13-7 victory to win the tournament.
"It was amazing, but we're still in complete disbelief," said Go. "This is the first time any of us were a part of a team that was even invited to this tournament. And to play UBC, who we've never seen before this season, we had no idea what to expect."
The second half was punctuated by pair of impressive defensive plays from both sides. In the first, Naomi Morcilla tried to make a straightforward open side backhand only for Dena Elimelech to perform an outstanding layout block that provoked gasps from the sideline. Later that point, not to be outdone, Morcilla barely reached around Elimelech for a layout block on an upline cut just outside the end zone to prevent the first break of the second half.
UCSD clearly benefited from an exhausted UBC team, but there should be no disclaimers surrounding their victory. UCSD looked like the most efficient offense at the tournament and played like it, too. They dismantled #7 Carleton in pool play, who otherwise was one of the most impressive teams at the tournament. Their closest game was against Texas, where they broke twice to start off the match and won 11-7.
All tournament, teams struggled to unlock the UCSD zone, in no small part due to the dominating presence of Elimelech, who is one of the best two-way players in college ultimate right now. The former soccer player and high jumper almost never took a point off for UCSD all weekend and was the focal point of much of the UCSD offense downfield. But the team has other sources of skill and athleticism, and perhaps most importantly, a clear identity. Their attack is handler driven, relying on Kelli Iwamoto, Samantha Wool, and Go to go at handler defenders with changes of pace and smart spacing. The Psychos undoubtedly have a star in Elimelech, but this weekend they proved that they are a complete team and a real threat.
Debut Weekend for UBC Validates Elite Ranking
Despite their loss in the final to UCSD, there was a lot to like from the #3 British Columbia Thunderbirds this past weekend. If it needs reminding, this was UBC's first regular season tournament and they made it to the final over some of the best teams in the nation. UBC played with their foot firmly on the gas pedal and teams struggled to match their pace all weekend. The downfield combination of Ellen Au-Yeung, Naomi Morcilla, and Esther Au was unstoppable when they were in their rhythm, and that's only some of the talent that UBC has to offer. If the Thunderbirds can settle their offense enough to eliminate errors against teams like Oregon and UCSD, their talent could potentially dwarf other teams by comparison.
Looking at the tournament as a whole, UBC benefited from the talent of their defensive line and the breaks that they could generate. UBC's games often featured multiple consecutive breaks, only for some teams to return the favor later on. The Canadian lines never appeared afraid to turn over the disc on a risky shot, mostly due to their confidence that they could recover the disc on defense. Brianne Wager, Serena Tam, Julia Zhang, and Kaitlyn Harper were given sizable roles, while Morcilla and Au-Yeung cheered from the sideline for longer breaks than most star players are afforded. This led to some tight games against Texas and Oregon, but earned them victories in every match leading up to the final.
Many teams wish to have as good a starting tournament as UBC. Few others could have done it. Once they work out a few niggling chemistry issues, it would not be surprising to see them return to the finals at every subsequent tournament.
Colorado Collapse
It's hard to place #4 Colorado Kali after this weekend. The same team that came in second at Presidents' Day Invitational barely made it into the bracket in Stevinson, and even more alarmingly, failed to make it to the quarterfinal round. This was in part due to the horrendous luck of the draw for Colorado. They were placed in the toughest pool of the tournament; #11 Pittsburgh, #21 Whitman, and Oregon were all worthy opponents and Kali struggled to find their rhythm early on Saturday. It didn't help that they were still missing their captain, Nhi Nguyen, who was out with a recurring hamstring injury. With her gone, Colorado seemed to lack a spark on offense that could right the ship when they started to go down a few breaks. The defense, still solid and led by Emma Capra's penchant for run though blocks, just couldn't dig them out of some of those holes.
Colorado finished their weekend with an even number of wins and losses, but it's a far cry from their appearance in the final two weeks earlier. Their notoriously efficient offense struggled to get open on their reset passes and many of their star players had uncharacteristic drops at inopportune moments. They looked inept in their quarterfinal matchup with Carleton, going down 7-1. It definitely felt like the deck was stacked against Kali, and yet they pulled off some tidy wins, including a 13-6 win over Western Washington. Their tight contests with elite teams proves that it wasn't all doom and gloom. Colorado has some obvious adjustments they will have to make, but they have the personnel to make those changes.
Stanford Less Than Perfect
It seems oddly fitting that #2 Stanford Superfly's first loss was at their home tournament. Despite the field site being a good hour away from their actual campus, Superfly came into the weekend as the favorites and were looking to complete a trifecta of perfect tournaments. This was brought into doubt early on, as Stanford had a few close games in pool play and seemed very vulnerable after Saturday. The team still won their pool outright, but it was not the dominating performance that we had come to expect. Stanford seemed to have chemistry issues and many miscommunications.
In some ways, that's been the refrain for the team this season. They've consistently been able to win ugly, a nod to their talent and mental toughness. It made the prospect of them really clicking truly terrifying for the rest of the division.
Their reward for a perfect Saturday was to play a motivated Oregon team, fresh off a win over #16 Washington. Unlike their games on Saturday, this was a remarkably clean game from both sides, and the two teams traded points for the majority of the match. Stanford started the game with a picturesque side stack pull play that was finished in three passes. On their next offensive point, they did it again; different players, same result. It wasn't long before Oregon threw out a zone, just to stop Stanford from starting with their excellent pull plays.
Stanford also had effective zone offense, as Hallie Dunham threw a handful of artistic passes around, over, and through the cup to keep Stanford's offense flowing. On the other end, Shayla Harris' defensive influence was ubiquitous for Stanford, and she took the hardest matchup by guarding Hayley Wahlroos while also somehow appearing under every huck that Ella Hansen threw out into space. It's a testament to Oregon that they matched Stanford the entire game and came away with the victory because it was one of the cleanest games that Stanford has played all year.
Superfly may have lost, but they dispelled the rumors that they could be in trouble. A double game point loss to Oregon won't derail their season, and Superfly will have a little more motivation after this loss. It's telling that they've already beaten the newly-crowned Stanford Invite champions this year, twice.
Quick Hits
Another entry into the Pittsburgh-Ohio State rivalry1 in quarterfinals, when Ohio State upset Pitt in a Jezierski vs. Normile showdown. They were both putting on a show. Going back to 2015, however, Fever is 6-2 (+3) against Pittsburgh.
Speaking of Ohio State, the biggest shock of the tournament? When Sadie Jezierski showed up ready to play Sunday. She suffered a leg injury after she got rolled up by a poor bid that needed serious medical attention. "I was very upset [and] in lots of pain. But I went to urgent care and they said no break or sprain, which is just crazy to me since it hurt so badly," said Jezierski after the tournament.
Carleton's finish was not as impressive as they were on the field. It's a tough draw to play the future winner in pool play and the future runner-up in quarterfinals. Isabel Arevalo made a statement as the best rookie in the division as the centerpiece of their disciplined and efficient offense. Their weakness is that they lack explosive athleticism to matchup with dynamic downfield threats.
Southern California sure loves to put on their Sunday best; they continued their pattern of winless Saturdays and undefeated Sundays. They are 0-9 on Saturday, 8-0 on Sunday, and have lost just one game after pool play (Minnesota on Monday of PDI). That's an impressive feat. Has a team ever gone through the whole season this way? It's a fascinating trend that we're kind of rooting for now.
Texas's performance gives us a rare chance to toot our own horn: they beat every team they played that we have ranked below them, and lost to every team they played that we have ranked above them. This is a balanced and talented team with the typical Texas toughness, but they have trouble forcing really great teams to make mistakes.
The records for Whitman and UCLA are not pretty: 2-4 and 1-5 respectively. But they made a habit of hanging tough and creating lots of opportunities against good competition. It's difficult to project how they'd stack up at events with less-talented fields, but don't make the mistake of taking their records at face value. Both showed improvement this weekend, even if their win columns didn't.
Oregon's volatility seems likely to continue to expand the number of potential outcomes wherever they play. They looked overmatched against Pittsburgh in pool play, but they really rose to the occasion against Stanford. And they showed both Jekyll and Hyde in their semifinal against UBC, when they went down huge but came back to force double game point. Fugue simply turns it over too frequently to have consistent results.
It's been quite the slide for #17 California, who has won fewer games at each successive tournament. Their lone victory, 13-4 over last place UC Davis, isn't much for the Pie Queens to hang their crown on. Losses to UCLA and Southern California cast a dark shadow over their ability to get back to Nationals, a startling turn considering their talent.
All-Tournament Team
Dena Elimelech (UC San Diego)
If you didn't know who she was before, you probably do now. Along with the play of the weekend, Elimelech was a relentless force, rarely seeing the sideline or a matchup she couldn't win.
Ellen Au-Yeung (British Columbia)
While her team seemed intent on not relying on her, when they needed to dial up a goal, it usually came from isolating Au-Yeung. Her quickness and decisiveness make her hyper-efficient in space.
Carolyn Normile (Pittsburgh)
It's been a real treat to see Normile start moving downfield, where she can get the space to use her massive throws more effectively. Her versatility is more on display this season.
Sadie Jezierski (Ohio State)
It seemed like tragedy had befallen the division in the final moments of pool play, when Jezierski went down with a leg injury that paramedics had to check out. Once she was back on the field, she returned to crushing with her wide array of blades, breaks, and hucks.
Ella Hansen (Oregon)
In the Fugue tradition, Hansen is a gamer, who seems to play better the bigger the stage and more fearsome the opposition. If she's not dominating the deep space on defense, she's finding teammates in it on offense.
Domenica Sutherland (Texas)
Sutherland's a sparkplug for Melee that is emblematic of the team's tone. There's not a play Sutherland's afraid to throw herself into, and that fearlessness seems to energize her teammates.
Kelli Iwamoto (UC San Diego)
Elimelech's eye-popping highlights captured the hearts of Twitter, but Iwamoto was just as spectacular, in a totally different way. Her off-hand backhand break was unstoppable, in part because she's armed with a mean around backhand and a quick enough first step to roast defenders on the give and go.
---
Can we start giving rivalries sweet names, like traditional college sports? ↩