Is this list of title contenders thinning as the postseason begins?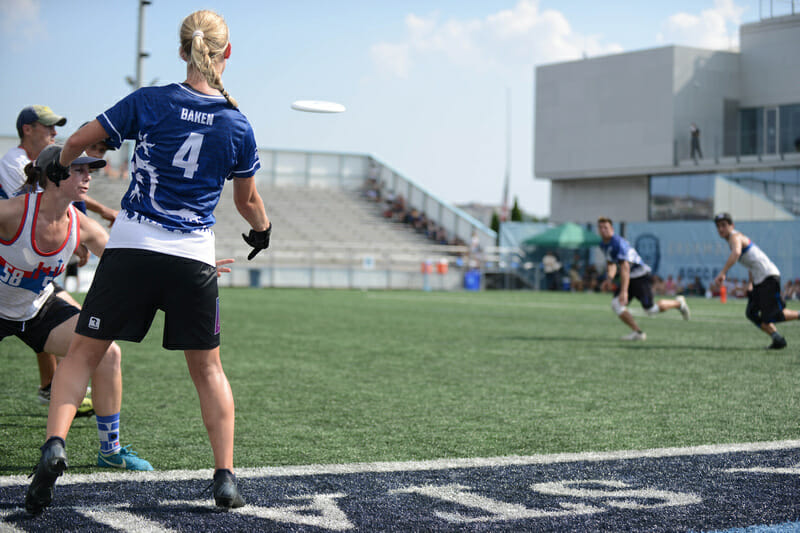 Ultiworld's reporting on the mixed division of the 2018 Pro Championships is presented by Universe Point cleats. All opinions are those of the authors. Please support the brands that make Ultiworld possible and shop at Universe Point!
The top teams in the mixed division arrived in New York for a final tune-up heading into the series. For some, it was a chance to build on previous successes. For others, it was an opportunity to get back on track. A lot was learned about those in attendance and the bid picture is finally set.
Drag'N Thrust is a Title Contender
#3 Minneapolis Drag'N Thrust is no stranger to be at the top of the mixed division. They won three consecutive national titles from 2013 to 2015 and a world championship in 2014. However, after a 7th place finish at Nationals last year, missing Club Worlds in the process, it seemed like Minneapolis' days of dominance were behind them.
Winning a tournament is impressive. Winning the second leg of the Triple Crown Tour when every other team loses at least two games is dominant. Drag'N returned to form and built on a successful U.S. Open to position itself as the team-to-beat heading into Nationals. Their defense was the best of any team at the tournament. The D-line was regularly stringing together runs of breaks and digging the team out of holes in big games. Sarah Meckstroth, Caleb Denecour, and Brian Schoenrock all stood out at different points for their two-way play.
Meckstroth certainly put her name in the Player of the Year conversation as well. She posted 12 goals, 11 assists, and seven blocks over the course of the weekend. More impressively, Meckstroth had just three recorded turnovers the whole weekend, including a turnover-free game in the final.
Drag'N definitely showed some weaknesses though, specifically the play of their O-line. They allowed a lot of breaks throughout the weekend and seemed intent on stretching the field, but turned the disc over too frequently on deep throws. The lack of consistent play showed up in both the semifinal and the final. Minneapolis went down 6-3 to Wild Card in their semi and held just twice on eight attempts against Mixtape. Coach John Groess kept having to send his defense onto the field to get the job done. If Drag'N is going to capture another national championship, they will need solve their offensive woes.
Mixtape Back on Track
Between a quarterfinals exit at WUCC and a rough showing at U.S Open, it was easy to wonder if #5 Seattle Mixtape was suffering from a championship hangover. The 2017 national champs bounced back in a big way at the Pro Championships, avenging a pool play loss to AMP and coming up just a point short of winning the tournament.
There were significant signs of progress. The Mixtape defense looked stronger than in previous showings with Khalif El-Salaam running the show and Evan Klein back on his wing. He and Bert Abbott praised the development of the defensive strategy and execution following the team's semifinal win over Philly. Despite the loss in the final, Seattle generated a ton of turnovers. This team looks a lot closer to the team that won a title last year than the version that showed up to U.S. Open.
On the other side of the disc, Mark Burton continued to pull the strings for the Mixtape attack. He had a tournament-high 19 assists. One of his main targets was Brad Houser, who had a phenomenal weekend, leading the team in points. Houser emerged from this tournament, like Drag'N Thrust's Sarah Meckstroth, in the Player of the Year conversation. He regularly came down with tough deep grabs and his constant movement gave Seattle's offense excellent flow. Ellen Goldberg also stood out for her great downfield cutting. A strong performance at Nationals might just land her Breakout Player of the Year.
The offense is slowly finding its identity. It was a sloppy game from Mixtape in the final. They had 19 turnovers out in the New York heat, including eight unforced errors. Ineffective play from Minneapolis' offense kept Seattle in the game, but it is something they will need to clean up by the time postseason play begins.
Wild Card Comes Up Aces
Boston mixed ultimate is as deep as it potentially has ever been. Slow White and Snake Country join #11 Boston Wild Card as bid earners for the Northeast. With wins over Slow White and AMP, a one-point loss to Mixtape and a run to the semifinals, Wild Card proved they are still a competitor in the division.
It had been a while since we had seen Boston play, with their last tournament appearance coming at the Pro-Elite Challenge in early July. After disappointing losses to Toro and Blackbird in Colorado, and a lackluster showing at Club Worlds, it seemed like Wild Card was on the downturn.
Kyle Johnson and Ian Engler powered the offense, especially in the red zone, playing lots of small ball to work an opening. Close to the goal line, Wild Card was deadly. However, they really struggled to work their way into that space. Boston used a deep vertical stack to give the handlers room to work, but there was often a disconnect between the movement from the handler and the timing from the cutters. If Wild Card can polish off the offense in the middle of the field, they will be dangerous come the series.
Defensively, Eva Petzinger and Judy Ledlee made their presences felt with a combined nine blocks. The two of them regularly took the top female matchups and fared well. Boston's defense proved more than capable of building early leads. They built a 6-3 margin over Drag'N in the semifinals and went up 7-5 in their pool play win over Philly. Wild Card is clearly getting better at the right time. Winning Northeast Regionals would really show they can play at this level with consistency.
Solid Weekend from AMP
Despite missing the final, it was a good weekend for #1 Philadelphia AMP. The only losses for Philly on the weekend came against Wild Card, in a game they did not need to win to secure the top spot in the pool, and Seattle Mixtape.
AMP beat Mixtape on Saturday in pool play, 15-13. The Philly offense rose to the challenge and played at an extremely high level. Linda Morse looked like a true downfield threat, having grown immensely and with lots of opportunity with Anna Thompson injured. The depth of handler play for the offense is still there, with Calvin Trisolini continuing his return from injury. Thompson is expected return at Regionals, making AMP even more dangerous.
There were some cracks in the usually stellar defense. Mixtape's Brad Houser beat the Philly defense deep with regularity and Wild Card managed to grind out points through patient handler movement. AMP has already shown how good they can be, winning the U.S. Open. The 15-11 loss in the semis exposed some flaws the team will have to fix before the Series heats up.
BFG and Slow White Falter
The finalists from WUCC 2018 both suffered some tough losses at the Pro Championships. Neither #2 Seattle BFG nor #4 Boston Slow White looked as sharp as they did earlier in the season and some key departures have a lot to do with that.
As expected for Slow White, Tannor Johnson and Lexi Zalk both left the team after Club Worlds. Johnson joined Boston DiG in the men's division and Zalk moved to the aforementioned Snake Country. The signs have been there that Slow White would struggle without them, especially after being drubbed 15-4 at U.S. Open by AMP, but the wheels fell off in New York. Boston's only wins came against Metro North and Rally, who they lost to in consolation play.
Seattle's missing pieces came as a bit more of a shock as Rena Kawabata and Kieran Kelly were both not on the roster this weekend. Kawabata is playing with Seattle Underground in the women's division. Kelly is not playing the rest of the club season. Neither of them were in attendance at Pro Championships and BFG took some tough losses without them. They dropped games against No Touching! and Drag'N Thrust in pool play, before losing to crosstown rivals Mixtape 15-11. BFG led 7-5 in that game before being outscored 10-4 the rest of the game.
Both teams will have a lot to focus on in practice heading into regionals after a disappointing end to the regular season.
Other Notes:
New York XIST had a strong Saturday with wins over No Touching! and Metro North paired with a two-point loss to Drag'N Thrust. However, New York went 0-3 on Sunday, including losses to Metro and Rally.
#13 Minneapolis No Touching! looked like they were in for a big weekend after beating BFG on Saturday. Injuries started to pile up and Minneapolis was blown out by Drag'N Thrust and Wild Card on Sunday, before losing the rematch against BFG in the fifth place game 15-11.
Wedding season was in full swing. It seemed like every team was missing a handful of players who had conflicts of some sort of the course of the weekend. Some Mixtape players arrived at the fields just before the second round began on Saturday still in their formal attire.
All-Tournament Team
Sarah Meckstroth (Drag'N Thrust)
Brad Houser (Mixtape)
Kyle Johnson (Wild Card)
Justin Simanson (No Touching!)
Linda Morse (AMP)
Caleb Denecour (Drag'N Thrust)
Ellen Goldberg (Mixtape)