The biggest weekend of college ultimate thus far!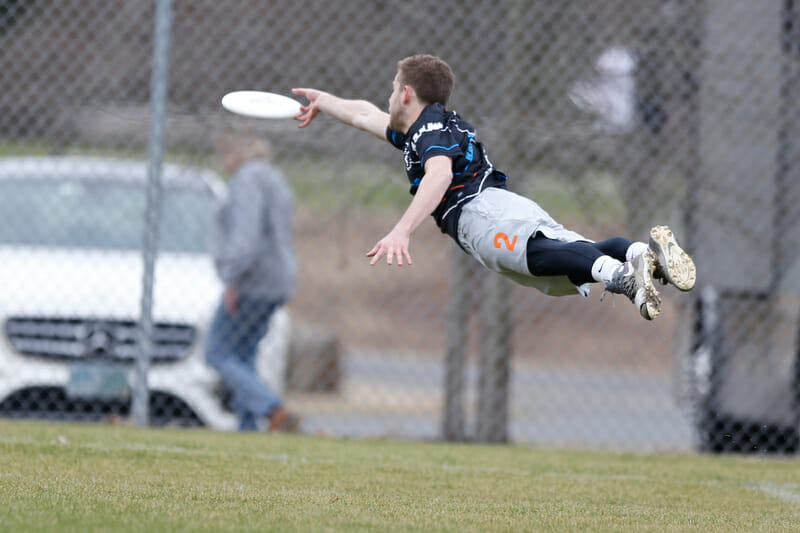 College Update during the 2019 season is presented by Spin Ultimate. Please support the brands that make Ultiworld possible and shop at Spin Ultimate!
During the spring season, we will publish a bite-sized weekly recap of the action across the College Division. This will serve as a supplement to our standard tournament reporting and will offer a high-level look at the latest happenings and the biggest stories of the week.
Want your tournament listed here? Submit a recap of what happened right here.
Men's
UNC Stays Perfect at Queen City Tune Up
#1 North Carolina Darkside moved to 13-0 on the year and won Queen City Tune Up over UMass, 13-8 in the final. All of Darkside's games were comfortable victories, with the exception of the opening game against #25 Ohio State. Leadbelly forced double game point on the defending national champions, but that was the wake up call UNC needed. They cruised the rest of the weekend to come out victorious near home in Charlotte. Fellow in-state teams, NC State and UNC Wilmington, also had strong weekends.
For more on the men's division at Queen City Tune Up, check out our Tournament Recap.
Brown Wins and BYU Shines at Florida Warm Up
#4 Brown topped a tremendous field in Tampa Bay, defeating Central Florida — yes, really — 13-9 in the final of Florida Warm Up on Sunday. But perhaps the tournament's best team was #9 BYU, who upset Carleton and Pittsburgh in match play, only losing on double game point to Wisconsin after dropping the pull. UCF, blazing back onto the national radar out of nowhere, almost blew a huge lead to UT Dallas in the quarterfinals, but came out on top 12-11 to hold on. After failing to make it to Southeast Regionals last year, UCF's shocking run to the final of the tournament was powered by the consistency of Adam Vinson and a well-oiled offense.
The massive tournament yielded many storylines, so for more, check out our Tournament Recap.
Quick Hits
Inclement weather may have ruined Stanford Open, canceling many games and shortening championship bracket rounds to just an hour. Given the conditions, be cautious reading too much into results. California defeated Whitman 6-5 in the final, earning a spot at the prestigious Stanford Invite.
William & Mary, inspired by NC State, began hosting the Virginia Showcase Series, starting against D-III #13 Mary Washington. They won 15-12 in the opener.
Minnesota-B won the Ugly Dome round robin, bouncing back from a tournament opening loss to win their next four and finish first.
D-III Update: Little to Take Away from Stanford Open
Most of the action taking place this week in the D-III Men's division was at the Stanford Open in Morgan Hill, CA. Due to some, let's say, unusual circumstances, consolation play was cancelled on Sunday, leaving many of the D-III teams in attendance without a full weekend of games.
#1 Air Force Afterburn made their 2019 spring debut and hit the ground running,1 posting a +24 point differential in three pool play wins and crushing Claremont 7-1 in the first round of bracket play.2 Afterburn's run in the bracket came to a halt in quarters against California. After breaking upwind to take an 8-7 lead, Air Force couldn't convert the downwind break, giving up two straight points and getting broken on double game point to lose 9-8.
Rocking their usual Hawaiian shirts, #3 Carleton GoP steamrolled through a weak pool on Saturday before also falling victim to the shortened round times on Sunday. In a back-and-forth game with multiple breaks from both sides, Nevada-Reno got the one that mattered, breaking on double game point to beat GoP 8-7.
The rest of the D-III teams in attendance failed to make a significant impression in their limited playing opportunities. The Claremont Braineaters made the bracket thanks to wins in a weak pool, but they got blown out by both GoP and Air Force. #22 Occidental Detox showed that they have a lot of growing to do to return to Nationals this year, suffering two blowout losses in pool play, including a 13-4 drubbing at the hands of Air Force. Colorado School of Mines missed the bracket after going 1-2, although one of those losses was an 11-10 loss to Stanford.
Of the Northwest teams in attendance, Lewis & Clark Bacchus had the strongest showing. They missed the bracket after going 2-2, but they picked up a solid win over Arizona.3 Portland UPrise also went 2-2, but one of their wins came in a meaningless game against Cal-Berkeley after Cal had already locked up the pool. Whitworth Bangarang struggled to a 1-3 record and have a good bit of catching up to do in order to compete with the rest of the region.
Women's
UNC Forceful in Hometown Victory
#3 North Carolina defeated #9 Pittsburgh in the championship game of Queen City Tune Up 15-10. #17 NC State failed to make it out of pool play in a disappointing season opener. UNC had a much tougher path to the final through bracket play, defeating #4 Carleton and #5 Ohio State in the quarters and semis. Pittsburgh faced less resistance, but they definitely looked strong and proved they are a top tier team.
A team that performed very well whose Sunday placement did not reflect that? #13 Tufts. They played their hearts out against Ohio State, winning on double game point, and squeaking by UNC Wilmington in quarterfinals by just a single goal. They fell to Pittsburgh in the semifinals, but proved they will be in the thick of the national conversation this season.
For more on the women's division at Queen City Tune Up, check out our Tournament Recap.
Quick Hits
#19 Cal Poly SLO was the top college team at the Stanford Open, but they weren't the champions. That honor goes to Seattle-based high school club team, Seven Hills. SLO took a victory off of their young opponents on Saturday, but fell 10-5 in the final.
Trinity went 6-0 for a surprising win at Antifreeze, topping the likes of Texas A&M and Rice on their way to winning the event.
No. 2 seed William & Mary won the two day round robin that was Ultimate Galentine's Celebration, even beating vaunted high school club Triangle Tourists.
D-III Update: Loads of Action at Stanford Despite Weather
The majority of D-III Women's action went down at Stanford Open, which unfortunately saw all Sunday consolation play cancelled due to severe weather issues (that also prevented teams from getting home).
In Pool A, Lewis & Clark Artemis had a definitive 11-5 win over the Claremont Greenshirts, and lost to D-I Cal Poly SLO by only one point. Puget Sound Clearcut came in second in Pool B, losing via tiebreaker on winning the pool; they also lost to SLO in bracket play by a single point during shortened rounds, but overall outscored their opponents on the weekend 48-35 over five games. Pool C saw the most D-III action: Pacific Lutheran Reign won the pool and beat Air Force Kiwis and Occidental WAC by margins of 10-8 and 10-5 respectively. Air Force had originally taken half in the match against Reign, but when tied 8-8, PLU's deployment of a 3-3-1 zone defense for the first time all game was enough to shake up Air Force without letting them readjust. Air Force also notched a win over Occidental of 10-6, using their athleticism to shut down Occidental's vertical stack as highlighted by their coach Melinda Alvey. In bracket play, PLU went on to lose in quarters 6-5 to UC Davis.
In Pool E, Portland UPRoar had the most unique path to the bracket: they went 1-1 in pool play but won their crossover against Pool D, and proceeded to win their quarters matchup against one of the teams from Seven Hills, before losing to SLO 6-4 in their semifinal. Critical in getting the squad so far into the bracket was the use of their zone defense as noted by Portland's Maddy Otto, and working out the kinks in their zone offensive looks with this year's handler corps of Kristen LeBar, Celina Li, Jules Kampe, and rookie Jackie Watatoka.
At Antifreeze, Trinity Altitude came out of almost nowhere to have a perfect 7-0 weekend, including two wins (of 15-5 in pool play and 9-6 in the final) over Rice Torque, last year's South Central bid earner. For a team that went 6-8 in 2018, 2019 is off to a blazing hot start and it could mean a very interesting Conference Championship event this year.
Elsewhere, Elon and Wooster had an early Galentine's Day at Wake Forest's Ultimate Galentine's Celebration. Elon's small but fierce squad went 2-4, including a 13-3 win over Wooster; Wooster finished with a 1-5 record on the day.
Looking Ahead
The Presidents' Day Invite (M/W) is the weekend's major event. 

In the men's division, #3 Oregon and #11 Cal Poly SLO are going to participate down in La Jolla, CA. In the women's division, #1 UC San Diego, #7 Oregon, #8 Texas and  #10 Colorado, are all slated to attend. A number of ranked programs are set to make their season debuts. Hopefully, the rain holds off.

The field at Easterns Qualifier (M) are hoping to reach one of the division's most competitive events. UConn and Georgia Tech are the top seeds, but without a clear favorite, the bid is up for grabs.
Other Events: Big D in lil d (W), Luminous (W), Cherry Blossom Classic (W), Jillz Jamboree (W), Music City Tune Up (M), RAGE Presidents' Day (W)
---
Hit the air flying, maybe? ↩

Bracket play on Sunday was hardcapped at 55 minutes due to limited field space ↩

Although, Arizona's performance the rest of the day makes that win look less impressive ↩