Can Oregon add a third Presidents' Day Invite title in four years to kick off their 2019 campaign?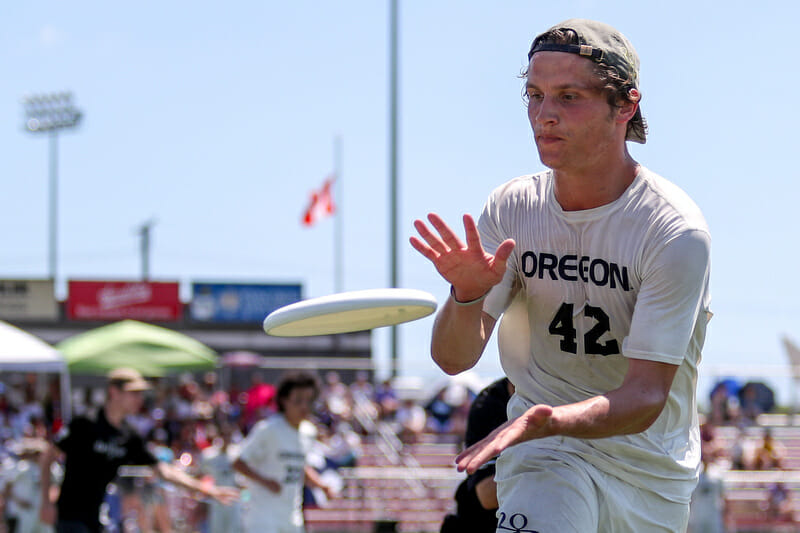 Ultiworld's 2019 college coverage is presented by Spin Ultimate; all opinions are those of the authors. Please support the brands that make Ultiworld possible and shop at Spin Ultimate!
As the college season transitions from early jitters to mid-season adjustments, the west coast season gets into full swing at the Presidents' Day Invite. For many teams, their second impressions this weekend will be important as the bid picture starts to take shape, and teams are beginning to turn an eye towards building strategy and depth for the postseason. Here are a few storylines to keep an eye on this weekend.
Tournament Profile
Date: February 16-18

Location: La Jolla, CA

Weather Forecast: 60s, partly cloudy, chance of rain

Top 25 Teams: 5
Filming Schedule
Filmed games will be available online next week for Ultiworld Full and Plus subscribers. Game schedules are subject to change.
Saturday
1:45 PM: Oregon v. UCLA
3:00 PM: Utah v UC Santa Barbara
4:15 PM: Cal Poly SLO v. UCSB
Sunday
12:30 PM: Colorado v. Cal
1:45 PM: Quarterfinal
Monday
7:30 AM: Semifinal
8:45 AM: Final
Oregon Opens its Season Looking to Defend Title
The Northwest is set up to be a two-team showdown at the top, with defending regional and Presidents' Day champions #2 Oregon Ego looking to keep their advantage over the #16 Washington Sundodgers. A few weeks ago, Washington played below their abilities at Santa Barbara Invite (SBI), taking some tough losses. Can Oregon stake an early claim to the best team in the Northwest while adding another tournament title in La Jolla?
Oregon has legitimate national championship aspirations this spring, and they'll set the tone for their season this weekend. Ego is set to debut the newest iteration of their offense, looking to Ted Sither and Will Lohre to attack quickly and set up their teammates for easy scores. Something to keep an eye on this weekend, though, is the other side of the disc.
While Oregon has entered the last few seasons with an offense good enough to get consistent holds against any opponent, they've needed a lot of runway to develop their defense. In 2018, it took a full regular season to coalesce, but Sunday at Regionals, Oregon was generating heavy pressure all over the field and looked ready for Nationals. Ego alum Dylan Freechild joins the coaching staff this season and will focus on improving the team's defensive intensity.
Leandro Marx leads an improving, athletic defense, pinning opponents with his deep pulls, and helping his teammates create pressure from the first throw. With Marx's leadership experience on the field matched by Freechild's signature intensity and motivation from the sidelines, the promise of Oregon's best defense in years looms. 
Who Builds On Their SBI Performance?
Three semi-finalists from Santa Barbara will be making the trek down to La Jolla. #8 Cal Poly SLO are starting out as favorites among them after taking the SBI crown, but #14 UBC and #15 USC both scored some quality early season wins to build from.
SLO impressed at SBI but the team is nowhere near its peak.1 Sean Liston and Ian Sweeney lead a strong defense that will keep SLOCORE in every game they play. Calvin Brown's quick acclimation to the college game has landed him a spot alongside Caleb Merriam running the offense. Emmet Holton and KJ Koo also impressed as rookies taking on big roles. If they can stay healthy, they could stand strong inside the top 10 all season. They might have the chance to test themselves against a team like Oregon in the bracket (a rematch of the 2018 Prez Day men's final), perhaps an early season showcase of their true abilities.
UBC upset their way to the SBI final before falling to SLO. Ty Barbieri and Connor McFadyen–both Canada U24 players–plus Victor Cheng are all important players for the Thunderbirds, who could push for a fourth bid in the Northwest region this year. British Columbia is a patient team that doesn't make too many mistakes but might not have the explosiveness of the top teams at this tournament. Their consistency, though, could carry them into bracket play.
Southern California fell to UBC in the semifinals at SBI, but not before upsetting then-top-ten team Washington in pool play. Grad student transfer Hill Balliet fits perfectly in USC's huck-happy offense, while Dave Sealand and Wyatt Paul patrol the skies collecting both goals and blocks aplenty. Presidents' Day will be our first look at Sam Cook, who didn't compete in Santa Barbara. The senior star should add an extra punch to a team that has already impressed this season.
Before the season, Cook was excited about Lockdown's new depth. Coach Thomas Lin echoed his star senior's sentiment, shouting out Washington Zhao and Richard Kirkpatrick as young players stepping into larger supporting roles. While USC can rely on its top players to do the heavy lifting, fatigue could wear them down and defenses will find a way to slow them down. Cook, Paul, and Sealand all got heavy minutes in 2018.
USC's ability to incorporate their new depth will be key for their first three-day campaign. Bracket play at Presidents' Day is an early-season test of team stamina and something USC lacked at SBI, where Lockdown ran out of gas on Sunday (and even late in the day on Saturday). In the semifinal, USC dropped the second half to UBC 6-3, and in the third place game, USC blew a 7-2 halftime lead to Victoria. To become a more competitive team, USC will need its depth to shine, or at least to show up.
A second straight strong showing could change the stakes in the Southwest bid picture. USC knows they likely need to get through SLO or win a second bid to make Nationals. Another impressive performance against a deeper field could cement them in both the power rankings and the bid algorithm.
Can Colorado Get Back To The Top?
Presidents' Day is the first leg of #21 Colorado Mamabird's journey back to Nationals, after last year's squad was the first in two decades to miss the season's final tournament. 
"Last year was pretty disappointing," said new captain Jack Ziemer. "We have a lot of young guys. I'm excited to see them develop and reach their potential. We have a lot of new coaches join our coaching staff this year, and we want to keep learning what they've been teaching us, and perform well."
Ziemer's fellow captain Quinn Finer will be the headlining name leading this squad, which makes up for its lack of star power with depth, athleticism, and chemistry. It remains to be seen if that's enough for Mamabird to play deep into the bracket in La Jolla. Regardless, a strong start at Presidents' Day could be critical for this storied program looking to rebuild their regional dominance and add to the long legacy in Boulder. 
Will the Mid-Tier Teams Step Up?
UC Santa Barbara and Western Washington already have one double game point bracket game between them and profile as similar teams in their respective regions. UCSB is a tier below Cal Poly SLO and USC in the Southwest, while Western is looking up at Oregon, Washington, and probably UBC and Victoria in the Northwest. Yet each is a tough team with a patient offense and tight defense.
Western has demonstrated sparks of potential in the seasons since their last Nationals run in 2015, but they've struggled to maintain it across a season. Injuries have also limited their progress. A healthy year for multi-talented cutter Daniel Mah could help.
UCSB is not a team that jumps off the page for any one reason but doesn't appear to have a particularly weak spot, either. Robby Odum played well enough at SBI to earn a spot on the team of the tournament and the team has enough depth to create difficult matchups for teams with thin defenses. Both of these teams have the talent to pull off an upset or two and create some chaos on the west coast.
Which Team Surprises Everyone?
While the ranked teams are clear favorites, there is a reason they actually play the games. This early in the season, upsets are bound to happen (look at UCF last week at Florida Warm Up).
California ran hot and cold at SBI, starting the season with a 5-3 record, including a win over UCSB and a split with Washington, but has the tools to upset a contender. UGMO uses a diamond zone to take away pull plays and force offenses off of their timing. That zone has already slowed down USC and Washington this season, and should only get stronger as defenders build chemistry over the course of the season. On offense, Cal is fairly handler dominant, spacing their cutters far downfield to allow deep uplines and a lot of quick movement. They are able to isolate their athletic handlers in space to gain yards quickly. This kind of movement is difficult to stop once it gains flow, and puts a lot of pressure on downfield defenders who are tempted to poach the handler space but need to respect the continuation cutting downfield.
Utah has recent Nationals experience and will look to throw their name in the hat with UBC, Victoria, and WWU as solid Northwest teams that will fight for a bid that could come courtesy of BYU. In a region with a lot of high quality teams, experience playing against a deep field will help Zion Curtain build the character and mental toughness they will need to compete later in the season. Perhaps ZCU can join UBC and Victoria as another surprise contender out of the Northwest. 
---
Which is fine this early in the season. ↩