Oregon Ego put together an undefeated run to win their second Presidents' Day Invitational title in three years.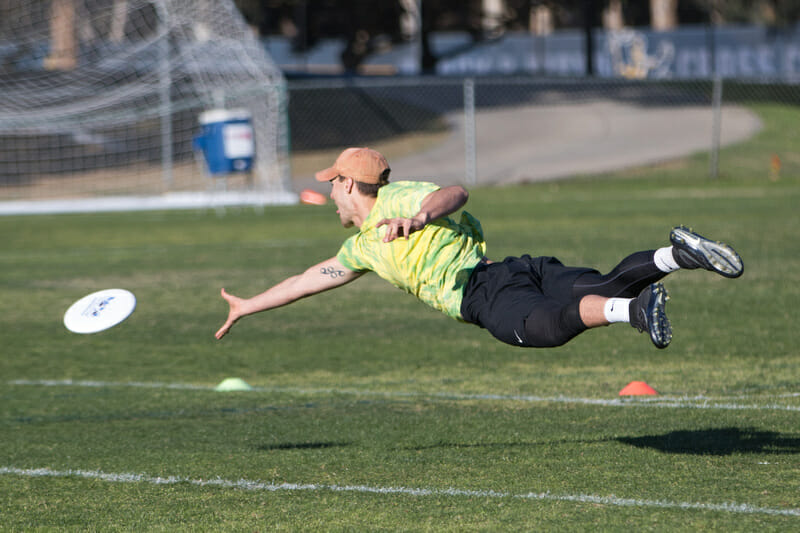 Coverage of the men's division is brought to you by Spin Ultimate; all opinions are those of the author. Please support the brands that make Ultiworld possible and shop at Spin Ultimate! 
A Team-Centric, Undefeated Start For Ego
At some point in #4 Oregon's 12-9 victory over #9 Cal Poly SLO CORE in the tournament final, Ego players seemed to stop losing foot races on the open side. They just kept winning battles in the tiniest of throwing and catching windows, toeing the sideline on 15-yard flick after 15-yard flick going downwind. Ego throwers were unfazed. Even with lengthy, scrappy CORE marks pushing the stall count past seven just outside the end zone, Oregon ripped breakmark throws to the center of the field to set up the offense.
It wasn't true for the entire tournament—especially when the team ran deeper lines during pool play—but as the clock wound down Monday, Oregon loudly acted out the role of Best in Show. When other teams faced the drain of a third day of play, Ego played like they were turbocharged. The field and sidelines were filled with the kind of emotional intensity that made Will Lohre pay tribute to teammate Connor Matthews by ripping his homemade yellow jersey to shreds when he scored the winning goal.1
Mike Fielden, team manager and now veteran contributor, said the energy was part of the plan, at least on defense.
"Our whole mantra this weekend was: boring offense, fiery defense. On offense let's just be chill, run our systems. On defense, let's ball out and make some plays," said Fielden moments after the win.
To Oregon's credit, the offense was boring most of the weekend. It's not particularly exciting to watch a team beat every defender down the open side off the pull play, run a few swings in the red zone, and then score over the open side cone. That's mostly what happened. It felt like a natural result when Will Lohre, Adam Rees, and Xander Cuizon Tice were outrunning everyone. The various zone defenses they faced as conditions shifted didn't the O-line's demeanor or plan. Ego took a few extra possessions to adjust, kept the pressure on, and eventually pulled away.
For the D-line, the mood was different. Connor Matthews departed O-line cutter duties for the weekend and brought his athletic, mouthy energy to the defense. He went after opposing deep receivers with his hops. Handler Braedon Petrus moved over, too. He let Ted Sither handle reset duties on the O-line, while doing a speedy Chris Strub impression sticking to handlers. Leandro Marx ripped some incredible pulls, and Colby Chuck earned his share of blocks (and likely bookends goals).
Chuck stood out. He was as valuable scoring as he was guarding players of all positions. He looked more comfortable as a sophomore than he did in his first year. "Just in terms of confidence, last year he struggled being a freshman and adapting to the college scene. He's always been a great player, but this year he knows how good he is and he's really showing it," said Fielden.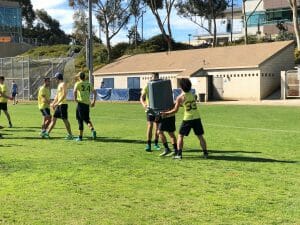 Players all over the roster stepped up during moments on the weekend. Many of Oregon's games were played to early ties, like 4-4 or 5-5, before someone like Marx or Chuck would get a big block, charge up the D-line offense, streak into the end zone for a goal, and get put into the Break Bucket by a teammate.2 They mostly won their matchups in person defense, but the team showed some greater cohesion bracketing the lanes than in years past. The switching was well done.
Oregon won every game this weekend by a margin of three points or more, although it's notable that they completely avoided the #11 Washington Sundodgers and #15 Colorado Mamabird in the process. Both teams are stuffed with great individual defenders and practiced coaching staffs. It's tough to say whether that type of talent and experience would have mattered in the final—Oregon didn't look a step slow in game number nine on the weekend.
SLO Scraps For Second Place
Cal Poly SLO CORE found their confidence by the conclusion the 2018 Presidents' Day Invitational. The team can play nearly three lines of talent at any time, but they lacked belief in themselves earlier in the weekend, taking a 12-10 hit against Colorado Mamabird and a 15-10 loss to Oregon Ego before the bracket.
In the final, playing without key D-line cutter Dillon Whited and the explosive talent of Justin Ting3, SLO still closed the points gap against Ego and didn't get down on themselves. That in itself was a win, after co-captain Jeremy Dolezal-Ng admitted the day before that Oregon's talent intimidated CORE a bit.
Though there was no tournament title for the team to take home this weekend, they did leave La Jolla with a strong revenge win against Colorado and a banner 12-9 win against Washington in quarters. Add in the steady fight the team put up in the final and SLO earned their rankings jump.
"I'm proud of all three moments," said SLO coach Cody Mills. "I'm proud of us getting our ass handed to us a little bit by Oregon [to finish power pools] and bouncing back to play [Washington]. I'm proud of us beating Mamabird. And I'm proud of us improving on the Oregon result and staying up even when we got broken."
The team was closer to full health with Dolezal-Ng, Nate Pettyjohn, and Ian Sweeney all back on the field for most of the weekend. Sweeney resumed command of the D-line backfield, while Whited and Sean Liston added their length and athleticism to a variety of different lines and sets over the course of the weekend. Dean Otsuka continued to look at home as a handler cover, Conor Schofield grew as a downfield threat, and Ting showed off his full skillset playing wherever the team needed him.
SLO really started to believe in themselves as they picked apart Washington during the last round of play on Sunday. In the span of two or three points, Ting out-jumped Derek Mourad, Nick Roberts, and Steven Benaloh in the end zone to gain possession. CORE caused problems for the Sundodgers vertical stack and turned blocks into breaks.
More important than any particular skill, pull play, or defensive set, Mills said the team's willingness to stay in games after getting broken and to fight for possession after an O-line turns were key improvements.
"Mamabird probably broke us more times than we held," said Mills of their semifinal win. "And we found it in ourselves to go get those upwind holds, go get those breaks back, and always believe that we're getting it back. And I think that, as much as we may have said that in the past, our biggest progression is believing. Whenever we don't have it—that's our disc."
Strategically, SLO didn't look at whole lot different in La Jolla than they did in Santa Barbara. They ran their vertical and side stacks and varied the defensive game plan for opponents. The difference was buy-in. That was clear to Mills after losing the final.
"It's never fun to lose a game, but we discovered a new part of ourselves, where we scrap for every point."
Washington Off The Pedestal
The Washington Sundodgers had a team meeting on Sunday night this past weekend, a few hours after taking their first loss of the season 12-9 to Cal Poly-SLO and long enough for the shock to wear off.
"We talked about how throughout the whole tournament, SLO felt like the first test," said coach D.Y. Chen. "It felt like we weren't ready for that test, physically or mentally. So that was sort of like a punch in the face. Like, 'Oh, well, we're not that good.' Here we are, there are a lot of teams that are really, really good and if we want to compete with them, we've got to get to that next level."
Washington's season up until Sunday's last round had been flawless, a 13-0 run. Pool play at Presidents' Day was a cakewalk—regional rivals Western Washington were the only team to come within four points.
"I think the first day felt very similar to Santa Barbara [Invite]. The first day we played four games, cruised. We played well, for sure. It felt like we were playing U-dub ball," said Chen.
Put the loss to SLO in perspective of a normal format. The last round on Sunday? Game number seven on the weekend? Physically, that game feels like a final. At Presidents' Day, it was a quarterfinal.
Maybe the Sundodgers were looking ahead to Monday, or they were plain tired. Maybe both. But as SLO amped up the intensity and locked down on marks, Washington players started missing catches in rhythm. The vertical stack drifted too close to the open sideline. The defense couldn't hold their marks, let alone convert breaks. The team couldn't recover.
During the Sunday evening meeting, the team settled for making fifth place their version of the final. Then the wind picked up Monday morning. #21 Southern California Lockdown came out with a huck-and-play-defense version of their zone, with their top players on the O-line getting short fields. Stacked Washington lines came out for upwind points and couldn't score. USC took a four point lead at half and won the game going away, 11-6.
Washington closed the weekend with a 12-6 win over Oregon State, a brief respite from the run of two games where they weren't themselves. Mourad said after the SLO loss that the team had been knocked off their pedestal. Chen shared that feeling from a coaching perspective.
"I think as we get deeper into the season and we play harder teams and higher level teams, we gotta keep stepping up. We can't just settle with, oh we had a good Santa Barbara so we're gonna use that to coach. We gotta keep climbing, keep getting better."
Colorado With Room To Grow
Colorado Mamabird may have had moments of disbelief similar to Washington. The South Central contenders spent Saturday and Sunday feasting on teams, thanks to fantastic fitness and great defense. They tested side stack sets that relied on cutters to switch sides of the field relative to the position of the disc. They got blocks on everyone—so many in fact that throughout pool and power pools, they were able to dig out of the holes they dug with turnovers. They converted late deficits against UC Santa Barbara and #17 California into wins.
But the offense was shaky. The cutters ran the sets well, but the passing was off. The team had yet to practice outside. They were missing star recruits Sam Hammar and Daniel Brunker. Captain Alex Tatum was out. The gaps were, at times, obvious.
"We're a super young team this year. Play to the strengths of our freshmen and sophomores. Our O-line is mostly—we have a couple of juniors, but they're second year guys on the team, so freshman, sophomore, first or second year [Mamabird] guys," said coach Mike Lun.
Colorado went 6-2 on the weekend, but the body language around the sidelines didn't give off the impression that the team was happy with their semifinals berth. Then again, both Monday losses were to teams Mamabird had beaten earlier in the weekend. They opened the tournament by overpowering SLO 12-10 in pool play and finished that same day of play by putting UCSB away with a couple of energizing breaks late in the game. Both teams came out on Monday and got the revenge win.
That's a tough way to end a weekend, even one that was more about bucking the expectations that Colorado would come out running the same vertical offense they've been running since the 2014 championship. "I'm sure most teams think of us as a center stack team. We're trying to change that. We're trying to open up our deep game," said Lun.
And while the team took some stingers on Monday, Lun saw improvement. "I'm pretty pleased, you know. It's all about growth. Everybody says that, but it's true."
Mamabird will make practicing outside a priority. Guys will come back from injuries. The team will stop doinking easy catches and adjust their away throws and cuts. They'll be back in action at Stanford Invite, as tough an out as ever.
Fifth Place Finish For Western Washington, Again
Two tournaments into 2018, #16 Western Washington Dirt has two fifth place finishes. To the team, that's a bit of a disappointment.
"It's unfortunate that we haven't made it to the bracket both times. I think it's just a lapse of our mentality. We've definitely been coming out flat. I think that's something we're going to be practicing on," said longtime player and former captain Adam Choi.
The team's losses scaled in difficulty as the weekend wore on. There was the 13-12 double game point loss on Saturday to USC, where Choi said the team thought they had played the final point twice before it actually happened. Washington was still feeling hot in power pools the next day, dealing Dirt an 11-7 loss. Then Oregon knocked them out of the bracket in a 12-7 quarterfinal loss.
Western bounced back on Monday with a strong performance against Oregon State in a fifth place semifinal, followed by a scrappy 10-9 win over Southern California to even the series with Lockdown.
Dirt is a talented team with a steady attack. Morgan Higgins has looked strong in the center for the offense, Dennis Casio has driven the D-line offense, and Choi says the rest of the roster is ready to take over. "We've got a whole bunch of young stars that are about to blow up. Our bottom of our team is fucking ridiculous," he said.
This early in the season, Dirt's still playing with their own homemade jerseys—large white cotton tees with stenciled spray paint prints of Ol' Dirty Bastard in a variety of colors and player numbers. In 2018, pretty much every jersey also has another graffiti-style acronym printed on it: TTP.
"We've been preaching TTP. We've got it on our jerseys, that's Trust The Process," said Choi. It's a reference the the NBA's Philadelphia 76ers, a team that embraced a longterm plan to find success years down the road.4
Western has about five weeks before Northwest Challenge, their next tournament, and they've got a Sunday sluggishness they need to shake off if they're going to make semis or better. While the Presidents' Day semifinalists prep for Stanford Invite, Dirt will be planning two-practice weekends to dig into the heart of the season.
Strength In The Southwest
While SLO and Stanford still feel like the strongest teams in the Southwest, California UGMO and USC Lockdown turned in the kind of solid weekends that'll help them both grow into threatening postseason contenders. Both teams earned some nice wins when it mattered and took a few lumps.
Turning a 4-4 weekend into a third place finish feels a bit like a magic trick for UGMO. Then again, Cal never finished behind more than three points. Two of the four losses were 12-11 double game point game against USC and Colorado.
"It's felt good the whole way. I never felt like any team was really crushing us," said Cal coach Dan Silverstein. Silverstein's in his third year with the team and has a previous six-year stint coaching Stanford under his belt. Alexander Morris, his co-coach, is in his first year with the team.
Cal's bevvy of defensive looks came in handy. Silverstein eventually wants the team playing great person defense, but the ability to slip into different zones and junk pending conditions and matchups seemed to give UGMO the edge they needed. By tournament's end, after a shiny 10-7 win over Colorado Mamabird, Silverstein was pleased.
"It's always pleasing to win, but the more exciting thing is to see the improvements. So for example, [Monday], our main offensive handler was down and we were in a high-wind situation. We were pretty nervous, but everyone stepped up. The team has improved a lot. As an old man and as a coach I like to see improvement more than wins, but love to see both," he said.
UGMO has now had a good look at talented teams—though they split the weekend 1-1 with Colorado, they lost Oregon, USC, and Western Washington. They got thumped by Washington at Santa Barbara. Teams with offensive confidence have found their way through Cal's defenses and overpowered their offense.
In just over a week and a half, the team will be back in action. They earned a place at Stanford Invite after winning the Stanford Open. It'll be their fourth tournament. They'll get a timely shot at some of the nation's best.
***
USC Lockdown can take a breather after a sixth place finish at Presidents' Day. That'll be welcome for a team that's been open about stacking their offense, while trusting the zone sets and the young guys on D-line to make a few key plays for wins.
Sam Cook and David Sealand were again focal points for the team. They shouldered more of the burden with Wyatt Paul out, pending diagnosis of a possible hip injury. Cook had a few sky-high downwind shots against Washington on Monday that fell just-so for his receivers. That 11-6 win  in the fifth place semifinal should be quite the confidence booster to go along with the 5-3 tournament record.
Now, the team can rest and think about building into Northwest Challenge. They want the defense to be able to hang tough when late April rolls around and bids to Milwaukee are the tournament prize. The offense might be able to put them in sight of that next big program leap.
"We don't think we have a super deep region. I think the top four are very good. And then there's a steep pretty drop off where I don't think we had that last year. I think we're going to be able to run through some teams pretty easily and then we'll be able to stack our guys," said co-coach Joe Forbes.
A Note On Format
On the way home, I found myself thinking through what felt like a lack of urgency from teams at Presidents' Day in comparison to my recent experience in Santa Barbara. Quarterfinals didn't feel like they were well-contested. Were the teams tired, or less concerned with winning? Or was it me?
It was probably me. But I went on wondering.
The tournament field this year was made up of 18 teams—two pools of five, two pools of four. The top 12 teams from Saturday moved into power pools on Sunday. The top eight from power pools played quarterfinals Sunday afternoon. Semifinals and the final were held Monday starting around mid-day.
Knowing full well that the tournament may have tried this in the past, what if the format switched so that teams moved directly from power pools to semifinals? To put it another way, instead of eight teams advancing from power pools, only four would. Would that have added some fire to Sunday play?
No matter how you slice it, three days of play this early in the season is tough stuff.
Quick Hits
Utah Zion Curtain are still good, but still inconsistent. They looked like they could threaten semis after going 3-1 in pool play. Then they lost three in a row and snagged a forfeit win. Update: Cub's team is also calling him Nasty now. Trey Taylor told me I made it real.
Cornell Buds went 4-5 on the weekend, but there was a run of points during pool play against Oregon where they where shredding Ego marks with around backhands. Buds lost that game 14-7, but it was sweet to watch Oregon scramble.
Two observers who worked the weekend are Colorado Mamabird alums. One of them helped found the team. Both of them remembered playing at this tournament. Presidents' Day has been around forever.
Thanks are due to Tournament Director Chelsea and her well-coordinated staff of volunteers.
---