One of the best weekends of the college season!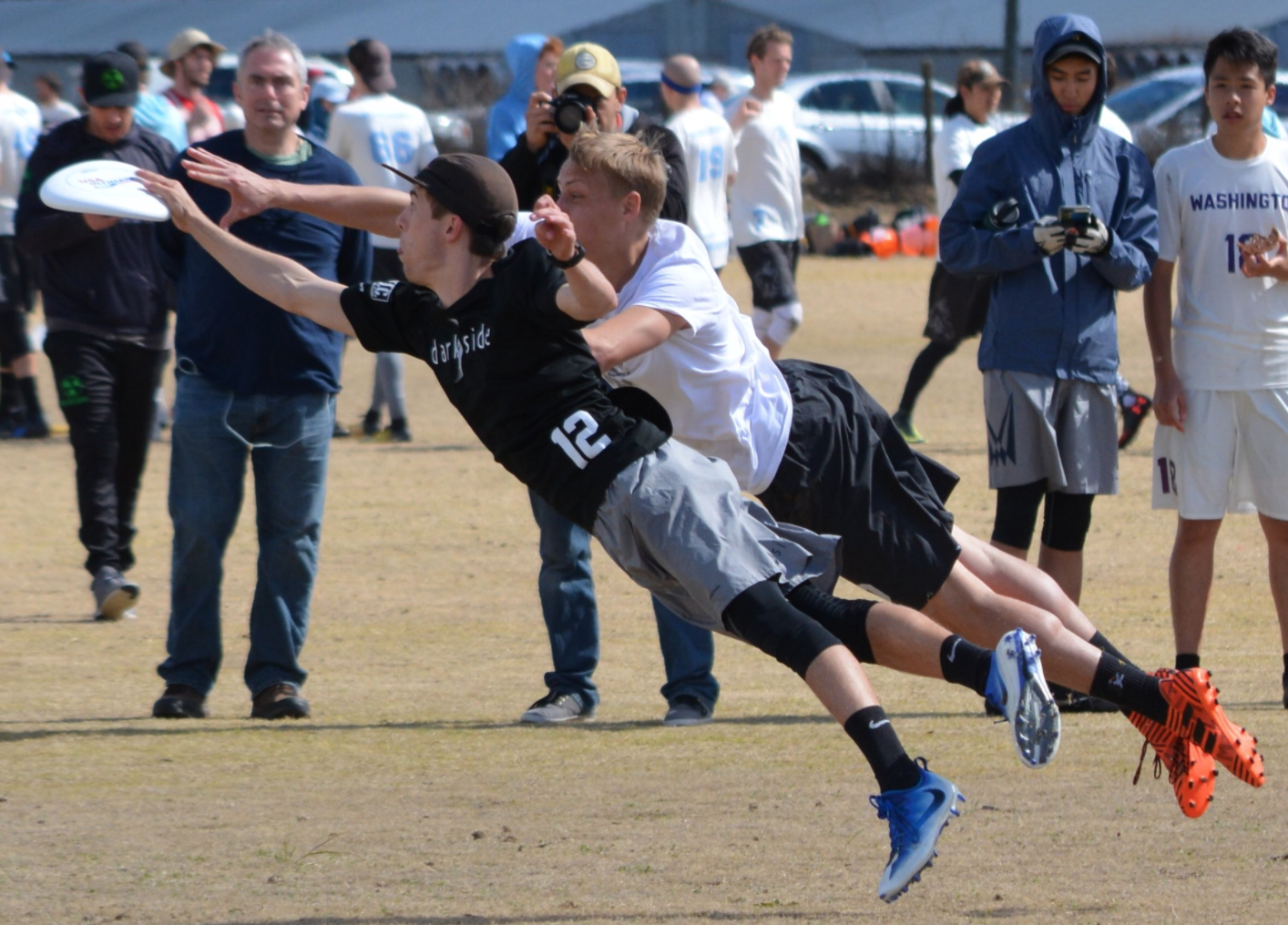 Ultiworld's 2019 college coverage is presented by Spin Ultimate; all opinions are those of the authors. Please support the brands that make Ultiworld possible and shop at Spin Ultimate!
March has arrived in a blur. Just in time for teams to buckle down and get to the bid-earning business. With the Stanford Invite sitting right around the midway point of the season, contenders in the Men's division can no longer blame their results on early-season jitters. In northern California, 13 of Ultiworld's top 25 teams will converge to make their case as the nation's finest, and eight will be hoping to fight their way into the bid picture.
The top-end talent is out in full force. Pitt is the only team in the top five that will not be in attendance. This bodes well for an exciting bracket on Sunday: in the past five years, only one team seeded outside the top six has ever made semis1. The rain may put a damper on things on Saturday, but for now, spirits are high (despite the move to Stevinson…again). Here's what we are excited for heading into the 2019 Stanford Invite.
Tournament Profile
Date: March 2-3
Location: Stevinson, CA
Weather: Highs in the low 50s, 5-10 mph winds, rain Saturday
Top 25 Teams: 13
Pools


What Will it Take To Topple #1 UNC?
In their first trip outside of North Carolina this season, UNC will be trading the cold, wet conditions at home for, well, cold, wet condition in California. Seriously, the weather forecast in the Bay Area this weekend mirrors Chapel Hill so perfectly that it's almost eerie. Since even the elements seem to be aligning for UNC, what will it take to dethrone Darkside?
The reigning national champions are currently the only team to have played more than ten games and remain undefeated and, with wins over teams like NC State, UMass, and UNCW, could probably end there today and remain inside the top five. But their games this weekend will offer a fresh set of challenges for the team. For a start, their pool is filled with teams that made it to Nationals in 2018 and aren't afraid to get their licks in against UNC.
And once–yes, once–they make it to the bracket, the real fun can begin. Brown, Carleton, Oregon, and SLO could put UNC's offense under pressure and cause them to sweat. And that's the real key to beating UNC. So far, even Darkside's best opponents have been largely ineffective against the full force of the UNC offensive unit. If any team can even pull off three breaks against them, that could be the difference.
So far, UNC has looked untouchable. And they won Stanford last year in a huge blowout over then-#1 Carleton, though Oregon gave them a heck of a game in the semifinals. Will they get that tough game again this year?
BYU Gets Another Opportunity to Prove Their Worth
BYU looked like a National semifinal caliber team at Warm Up, grabbing big time wins over the likes of Pittsburgh and Carleton. This weekend won't provide them as many opportunities against Nationals level competition as Warm Up did, but they'll still get some good chances to prove that they're the real deal in pool play this weekend.
They'll start the weekend off with a showcase game against Stanford on Friday night, and then will have to run through a testing pool schedule featuring four teams that all have Nationals aspirations. They'll face Northwestern, who they beat 13-9 at Warm Up, first thing on Saturday, before taking on Ohio State and then Cal. But their final game of the weekend against Oregon to conclude pool play is one of the most intriguing of the weekend. BYU has already beaten a couple of teams with semis-or-bust type rosters, and Oregon isn't far behind that level of expectation, if not right on par with it.
Jordan Kerr is one of the most dangerous weapons in the division, primarily with his cutting ability, though he can hurt teams with his throws, too. Joe Merrill is a goal-scoring machine, and Braden Eberhard has been one of the steadiest handlers in the country this season. The BYU offense will be a real challenge for the Oregon D-line that employed impressive matchup defense at Presidents' Day.
The BYU D-line is also always a threat to get breaks, and the Oregon offense looked like it was still trying to work out some kinks a couple of weeks ago. Ego is still a legit semis contender, though, and they're another big test for this BYU team that has relished them so far this year.
It would be a real surprise for BYU to not be in this game late. They've already proven they're good enough to give the best teams in the country everything they can handle. But if BYU does beat Oregon outright, then it'll be yet another shovel of coals into the 'Just How Far Would BYU Go at Nationals?' discussion.
Time For Brown To Earn Their Stripes
If there was one knock you could make on Brown's run to the Warm Up title, it was that their schedule ended up feeling a little soft. They didn't play Pitt, Carleton, or BYU, and a couple of their 2018 Nationals opponents, Minnesota and Northwestern, looked a long way off from that level on the weekend. There's also still probably plenty of doubters over the true quality of their win over UCF.
But any discrediting of Brown's schedule will have to end after this weekend. Right out of the gates, they start with three top 25 teams in pool play. Carleton and Washington were both top 10 preseason teams and, despite disappointing starts to their respective seasons, should both be good tests. And don't forget that Washington stomped Brown on "national TV" at Stanford one year ago. Colorado State doesn't quite provide the same level of pedigree in their matchup, but they would still be another win against a ranked opponent for Brown. Any kind of run through the bracket would provide some resume-padding matchups as well.
Brown passed the eye test at Warm Up and are deserving of their current #2 ranking. Mac Hecht and John Randolph were two of the best players at the tournament, and the top end of their supporting cast — players like Dylan Villeneuve, Ken Noh, and Sol Rueschemeyer-Bailey — all played at a very high level. At this point, Brown doesn't have many doubters. But if they run through their pool and go on a strong run in the bracket, there shouldn't be anyone left doubting them as legit national championship contenders.
Can Cal Poly Complete the Southwest Triple Crown Tour?
It may be a completely arbitrary title, but Cal Poly SLO is one tournament victory away from sweeping the premier college tournament circuit in California and becoming the first team to win the Southwest Triple Crown Tour (Santa Barbara Invite, Presidents' Day Invite, Stanford Invite). Sure, the odds are stacked against them. But that's what makes it fun.
In order to make it, they need to iron out a few wrinkles. The team has a tendency to start their tournaments with low energy, especially against opponents that are seeded below them. UCSD, the 15th seed at President's Day, took them to double game point and the team never showed their best effort in their season opener against BYU at SBI. They don't have the luxury to ease into ferocity this weekend. Colorado and Texas will be fighting to give the South Central another bid and Minnesota has their own point to prove (and bid to earn) after a middling Warm Up.
Even if they make it out of pool play unscathed, they're in a similarly tight position in the bracket. Early season wins over Victoria, Washington, and Oregon look good now, but the threat of Brown, Carleton, and UNC still loom large. Cal Poly has never made it to semis at the Stanford Invite, and with the the talent they're up against, it's a long shot they go all the way. Chances are, the Southwest Triple Crown Tour will remain unclaimed.
OSU Lucks Into an Advantageous Position
By now, BYU's situation is altogether well known. The debate over accommodating the team has already been discussed at length, but the repercussion of their current situation have an immediate effect on the teams competing this weekend. One team in particular stands to gain from BYU missing out on bracket play, and that's Ohio State.
So far, Leadbelly has won their games over weaker competition and lost games against their opponents in the top 25. That's not to say that those were bad losses, though. OSU played tight with NC State and gave UNC their closest game of the season, an 11-10 battle at Queen City that almost made Darkside look vulnerable. They're obviously eager to show that they have what it takes to keep up with the best teams in the division. With BYU ending their tournament on Saturday, it's left a channel for OSU to not only make the bracket, but have favorable placement when they arrive.
Assuming the pool shakes out according to seed, OSU would move into bracket play as the 2nd seed from Pool C. This would likely put them in the line of fire for Washington or Carleton, but those are the games OSU would have hoped for when they accepted their spot at Stanford Invite. Even if they lose in prequarters, they'll still be playing a number of other teams inside the top 25.
Stanford will be a trial by fire for them, but they'll definitely have the support of the rest of their region. No one wants to see a single bid Ohio Valley again.
Teams In Need of a Bounce Back: CUT, Wisco, Washington, Minnesota, Northwestern
A whole host of teams will be looking to get their seasons back on track at Stanford Invite after shaky Februarys. Carleton, Wisconsin, Washington, Minnesota, and Northwestern all have expectations of making Nationals this year, but just two of them find themselves on the right side of the bid cut off right now. And one of those two (Carleton) may have had the most shocking start of any of them.
But Stanford Invite will be an excellent opportunity for any and all of these teams to bounce back, get some important results for the rankings, and get their seasons back on track.
There's still no Joe White or Luke Webb on the roster for Carleton, but, historically, they tend to have strong bounceback performances at Stanford. And with the talent that is on the roster they have to, surely, play better than they did in Tampa.
Wisconsin is another club that historically underperforms at Warm Up and then turns it around at Stanford, making quarterfinals each of the last five years. The coaching staff was disappointed with the effort of some of their veterans playmakers at Tampa, but now that they've gotten a chance to shake off some of the snow, perhaps they'll play more like the team we expected before the season.
Washington's early season struggles at Santa Barbara Invite were a little less trademark, though they were without captain Derek Mourad. Their opening tournament wasn't as big a disaster as some of the others either, and they're still in the top 15 in the rankings.
They'll have a pair of brutal tests in pool play against Brown and Carleton, but Washington could theoretically post a worse record this weekend and still feel better about themselves than they did after SBI. They'll need to be cleaner at the start of games, but if they do that, they will have an opportunity to re-establish themselves as a top 10 team.
Minnesota, too, was missing key players earlier in the year with cutters Cole Wallin and Cole Jurek both resting leg injuries. Minnesota will have to be a lot more sound in the backfield than they were in Tampa, though, if Stanford is to be a turning point for them.
Northwestern really just needs to get a couple wins to get their confidence back. The wheels completely fell off for them at Warm Up, as they went 3-6 with some shocking losses mixed in. At times, Kyle Rutledge and Jeff Holm had to do everything for Northwestern, and the rest of the team wasn't clean enough to grind out the holds they needed to win games. If the support staff can do a better job of holding possession, perhaps Rutledge and Holm can provide the firepower to get some wins and get the team back on track this weekend.
What To Watch For In Pool Play
Pool A
As much as we like to predict the upset, it'd be a mistake to say that anyone other than UNC is winning this pool. Victoria, Wisconsin, and Stanford have their fair share of pedigree, but lately haven't been anywhere close to UNC's dominance. With a roster that is overloaded with talent, Darkside moves through teams like Neo in the matrix. It's entirely possible that they have an entire line of future first-team All-Americans that don't get much playing time because they're behind generational talents like Liam Searles-Bohs, Matt Gouchoe-Hanas, and Elijah Long. As good as UNC is, they're not infallible. The team already let OSU get within one point of an early season upset and they'll need to bring consistent focus to ensure that doesn't happen again.
It's tough to say which of UNC's opponents has the ability to trade blows with the reigning champs. Despite all four teams in this pool making Nationals in 2018, Wisconsin was the only other team to win a game at Nationals. The Hodags also have the best chance of matching UNC this weekend, too. A confident win over BYU at Warm Up showed that they could take on elite talent and emerge victorious. Their defense seemed locked in, and it bought them some favors in games where they were down. Offense was an issue for Wisconsin, but they've had more practices and throwing reps since Florida, which should manifest on the field.
The marquee game will probably be the battle for second place, likely between Victoria and Wisconsin. After exceeding all expectations in Santa Barbara, UVic could follow suit in Stevinson. A few of Victoria's best players are coming off Team Canada U24 tryouts, which should help set expectations for the level of ultimate they need to maintain this weekend. UVic's O-line v. Wisconsin's D-line should be a lot of fun.
It's easy to think that the goal for these teams would be to upset UNC, but placing second in the pool has its own advantages, including potentially avoiding games against Brown, Oregon, or CUT in the bracket.
Pool B
There's no use beating around the bush on this. Brown vs. Carleton is the best game on the pool play slate this weekend. While they both competed at Warm Up, Carleton's strange losses and Brown's early dominance meant the two teams never met. As already mentioned, Brown's Warm Up wins were mostly against teams outside the top 10, and as such could ring a little hollow by the end of the season. Defeating Carleton would truly set the narrative straight. Brown has already shown what they can do when they run their offense through their stars; with Carleton, they'll finally see what it's like when the firepower can be matched.
For Carleton, a win would come down entirely to execution. The talent is so obvious that it's maddening how laissez faire Carleton played at Warm Up. It's long been heralded in college ultimate that talent is what eventually wins out, but is Carleton even the more talented team in the matchup? They may have a lot of U24 players (5 vs. Brown's 2), but with injuries, absences, and a sneaky deep Brown team working against them, it's not obvious that CUT should dominate.
Don't sleep on Washington in this pool, either. The Northwest team was stung by injuries at Santa Barbara but still could have won the tournament outright if Cal Poly hadn't rallied late in the second half of their quarters matchup. Washington doesn't have the same expectations placed upon them as CUT or Brown, which could set them up nicely for an upset or two. All it takes is one good performance against either program to disrupt the entire pool.
Taking the pool has major implications, too. Coming in second sets up a harrowing quarters game against UNC–If they take care of business in pool A. Winning the pool outright could be the difference between a semis appearance or not.
Colorado State might be outgunned in a tough pool, but they are no pushover. Their SBI performance looks solid in retrospect (win over UTD, close loss to Cal) and they'll have made some strides since January.
Pool C
BYU's exit on Sunday leaves the first place spot up for grabs in Pool C, if only Oregon wasn't the 2nd seed. Even if Oregon does not manage to upset BYU in pool play, which is entirely possible, they still reap the benefits of BYU performing well this weekend. If CHI plays to their potential on Saturday, they'll have all but wrapped up a bid for the Northwest, which would take the sting out of a possible loss for Ego.
That's not to say Oregon won't do their best to pull one out over BYU. It's still an in-region rivalry and would mitigate the SLO loss from two weekends ago. Oregon's main fault in that game was poor reset handler communication, a fixable issue going into the Stanford Invite. With Ted Sither and Will Lohre holding things down on offense, there's an argument to be made that they should still be considered the favorites in Pool C.
While the two Northwest teams may seem like the main attraction, OSU could sneak in and disrupt the party. They've already shown remarkable resilience against UNC. Beating either BYU or Oregon would turn heads, and would be enough to vaunt them ahead in the pool. So far OSU has made all the right moves to show they deserve to be considered in the bid picture, they just need an marquee win to back up the hype.
Cal and Northwestern, too, are fringey Nationals teams. Northwestern looked like a lock to win the Great Lakes heading into the season before a very bumpy performance at Warm Up. Cal has been a step behind SLO and USC in the Southwest, but, at full strength, they've looked like a real challenger. BYU and Oregon will be the heavy favorites, but the three teams below them will each have a chance to make the bracket.
Pool D
As with most tournaments that follow a snake format, Pool D all but guarantees a close game between the 4th and 5th seeded teams–in this case, Cal Poly and Texas. SLO has been making a name for themselves on the West Coast while Texas went 6-3 at Warm Up. And while Cal Poly has a close win over Oregon on their resume, Texas wins the CV comparison with a stunning win over Pitt. Granted, Texas endured more losses than SLO, but both teams lost to BYU, and Texas' only other losses came at the hands of a red hot UCF team.
SLO's shown a penchant for close games this season but has won them more times than not. Expect another tight game here. Texas has a mean defense which could be bolstered by the rain. Reese Bowman and Noah Chambers are ready to pounce on any Cal Poly mistake and could be the difference makers with the game on the line. Cal Poly's offense is far from perfect but has generally found a way to make it through by playing athletic defense to get the disc back after the turn. Dillon Whited, in particular, is an excellent two-way player, but rookies KJ Koo and Calvin Brown have also come up big for them when they need it most.
It's worth mentioning Minnesota has a chance to play spoiler to both teams, although they haven't quite shown the ability to do that this season. Grey Duck seems to have been bitten with the injury bug and it's stalled their progress so far. They're just too well-coached to write off immediately. Minnesota's no stranger to ramping up their intensity as the season wears on. They need these wins more than most, too. If the North Central only gets a single bid this year…yikes. That's motivation enough for them to fight tooth and nail for every point this weekend.
---
Harvard in 2016. Yes, that Harvard. ↩