A fearsome Western trio at the top.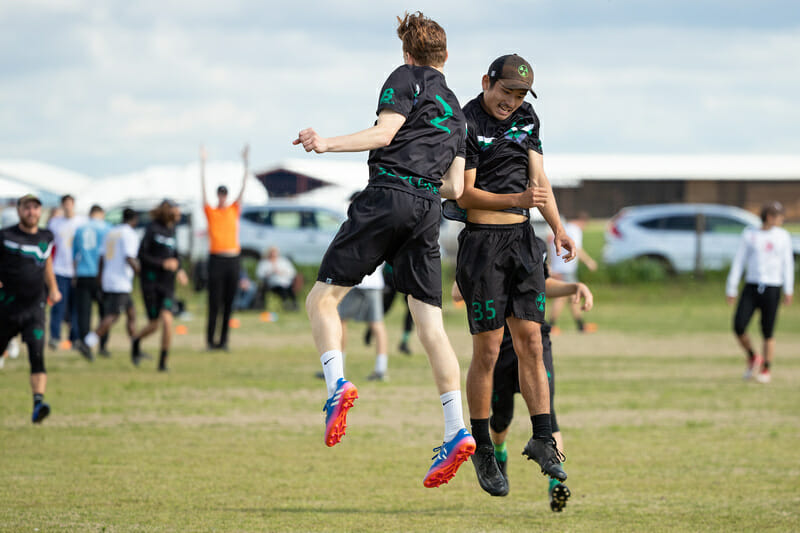 Ultiworld's Men's Division college coverage is presented by Spin Ultimate; all opinions are those of the author. Please support the brands that make Ultiworld possible and shop at Spin Ultimate! 
As is always the case in Pool D, the potential for chaos is at its peak. Cal Poly SLO is a team with the talent and skill to last until Monday at Nationals, but close on their heels is Colorado, who took them to double game point the last time the teams played. Right behind them is Washington, who has had their own share of close games with SLO and is finally getting healthy. Northeastern and Rutgers round out the pool, with seemingly only a slim chance to pull off an upset. But when has a Nationals Pool D ever actually gone according to plan?
Cal Poly SLO Core
Seeding: D1, Overall No. 4
Power Ranking: #4
Overall Record: 32-4
Against the Nationals Field: 11-2
Against the Pool: 2-0 vs. Washington, 1-0 vs. Colorado
Watch: vs. Washington, Saturday 8:00 AM; vs. Colorado, Friday 4:00 PM
One short season ago, Cal Poly SLO failed to make Nationals after losing to Stanford in the game to go. Now, they're coming into the tournament as the fourth-ranked team in the nation and the top seeded team in their pool. How quickly the tides have turned.
It may have been a full season since SLO Core has made it to the big dance, but the team is arriving in dramatic fashion. Not only can they lay claim to one of the best regular season records at the tournament, but they also haven't dropped a game to any team in their pool. Considering how precarious a position the top seed in pool D can be, SLO's captains are definitely happy with how things have played out, but they're also careful not to lose their edge.
"Taking in the moment and maintaining perspective on why we compete is important for mental preparation. After missing out on Nationals last year, this team is taking no moment for granted and putting in all the extra work they can," said Cal Poly's leadership.
If there is a red flag for this team, it's their lack of games against the premier teams from the East Coast. Of the 36 games they have played this season, only one was against a team east of Texas. That game, a 12-10 loss to Brown, is the largest stain on SLO's record, considering the competition they'll face in Austin. But Cal Poly's captains never expressed any concern: "All things being equal it would have been fun and useful for us to have matched up with a few more east coast squads in the regular season but it didn't work out. Even so, we know we have what it takes to compete with those teams."
The good news is that the team won't be facing many East Coast competitors in pool play and instead are matched up against teams they have played, and beaten, before. With Colorado and Washington in their pool as the 2nd and 3rd seed, Cal Poly holds a perfect record in the games against their pool play competition. Their win over Colorado at the Stanford Invite wasn't particularly inspiring, as the game ended with Cal Poly barely holding onto an 11-10 lead after cap went off. Colorado has only improved since that tournament, setting up a potential 'instant classic' when they meet at Nationals.
Cal Poly's two wins over Washington are a little more authoritative. They boast a 13-11 and a 13-9 win against the Sundodgers at the Santa Barbara Invite and Northwest Challenge, respectively. The only asterisk to those games were Washington's injuries. Neither of those games featured a fully healthy Sundodgers roster, but, then again, Cal Poly's roster was similarly limited each time. There are no more excuses this time for either team. Saturday's game promises the full strength of both teams at the height of their powers.
Cal Poly may have been hamstrung for most of their regular season tournaments with injuries and players studying abroad, but now they're about as close to full health as they will ever be. Players like Sean Liston, Keaton Bates, and Nate Pettyjohn, who all missed time this year, are cleating up for Nationals and ready to compete.
The injuries SLO suffered this season may have been a blessing in disguise. Without their full veteran talent playing every tournament, it's provided plenty of playing time for their talented rookie class. Calvin Brown, KJ Koo, and Jake Thorne have made a major impact for SLO this season and now have the reps needed for them to make that same contribution when it matters most.
Still, if Cal Poly is going to live up to expectations, it'll be on the back of their senior stars. Caleb Merriam is finally getting the national attention he's deserved for the past two seasons, matched only by the hype surrounding Ian Sweeney and Dillon Whited. This core from Cal Poly's 2018 senior class chose to remain for a fifth year and they're finally starting to see the fruit of their labor.
To hear the captains tell it, though, Cal Poly's success will come from a full roster effort: "We want to be the best team we can be and leave the weekend with no regrets. Of course we want to go as far as we can through this tournament, everybody wants to play on Monday, but the way we're going to do that is by being the best team we be, on the field and off."
Colorado Mamabird
Seeding: D2, overall No. 5
Power Ranking: #6
Overall Record: 21-6
Against the Nationals Field: 6-4
Against the Pool: 0-1 to Cal Poly SLO
Watch: vs. Northeastern, Friday 8:00 AM; vs. Cal Poly SLO, Friday 4:00 PM
Cal Poly was not the only team in pool D to have missed Nationals last year, and it had a lot more meaning for Colorado Mamabird. Colorado's record 20 year streak of Nationals appearances got snapped last year, and it forced the program to reset as they prepared for the 2019 season.
Adding Team USA coach Bob Krier was the start of their rebuild for the season, and while they started off slow, Mamabird's season has rounded out in dominant fashion. After going 7-6 in their first two tournaments, Colorado has since swept the board. That's right: the team hasn't lost a game since the first weekend of March.
Mamabird captains are quick to praise Krier for their success. "[He] has helped us helped us with consistency in our practice routines, and that has been a positive influence on our tournament preparation all season," they said.
To continue their clean sweep on the second half of their 2019 season, they'll first have to get past Cal Poly SLO, Washington, and a sneaky Northeastern team. SLO Motion is one of the few teams that has bested Colorado this season, but the game was anything but decisive. After taking an early lead lead in the first half, Cal Poly started hemorrhaging points in the second, thanks to Colorado's unwavering offense from their defensive unit. The cap saved Cal Poly from finding out if the momentum had completely swung against them, but both teams know that the outcome was could have been very different.
Colorado has yet to play either Washington or Northeastern, but they emphasize their team ethos of respecting each team and bringing the same energy in all their games. "Every pool play game is important for us, so we prepare for them all the same and see each one as an opportunity to grow as players and as a team," said Mamabird captain Alex Tatum.
This season, Colorado has been among the deepest teams in the nation. As Tatum notes, "For us to have success at Nationals, we expect every single player on our roster to show up in a major way by doing their job and the team's success will follow."
Even their more impactful players are known better as being hyper-useful role players than stars. Quin Finer, Alex Atkins, and Tatum are among the best players in their region, but they do their best work within Mamabird's system.
If Colorado's going to make it deep at Nationals, it'll be a full team effort. They refuse to place all their chips on a single player's ability and maintain a balance on offense few teams can match. This may very well be their greatest advantage in Texas. Teams that are more top-heavy could well struggle in the heat, while Colorado's faceless army could potentially march them straight to bracket play.
Washington Sundodgers
Seeding: D3, Overall No. 9
Power Ranking: #7
Overall Record: 24-8
Against the Nationals Field: 7-5
Against the Pool: 0-2 to Cal Poly SLO
Watch: vs. Cal Poly SLO, Saturday 8:00 AM
Whether they like it or not, the Washington Sundodgers are back in pool D. They know the dangers of the pool all too well, but that experience may be what they need to avoid the pitfalls that could befall a less prepared team.
Washington holds another advantage heading into Nationals–they're finally healthy. With a season mired in injuries, Washington now has a chance to compete at full strength. A reinvigorated Sundodgers roster could push both Colorado and Cal Poly to the brink.
The talent from Seattle's premier college program is undeniable. Derek Mourad, Lucas Chen, and Manny Eckert are among the nation's best, but it's the depth in their roster that they like to brag about. "We can play truly 29 deep, which should help in the heat," said Washington's captains. "We hope our opponents say, 'damn Washington really crushed us that game.'"
They're in a tough pool to hang their hats on depth, though. Colorado, Cal Poly, and even Northeastern, claim that depth is their calling card. Washington has the benefit of a strong feeder program from the Seattle area, but Mamabird cut their cloth on player development and Cal Poly has had one of the strongest rookie classes in recent memory. At some point, it's going to come down to individual players that can win their matchups. Luckily for Washington, they have those stars on the roster.
It's evident that Washington understands the difficulty of their pool and the challenges that come with it. For them, setting manageable goals in every game is the key to staving off their toughest opponents. "It's about winning games to three," said the captains. "If we win all the games to three, we can't lose."
If Washington truly wants to claim an edge, it will be with their energy. Over the past two seasons, the Sundodgers have done a great job of generating hype for their team. They're one of the loudest sidelines in the game and have figured out a good system to pick each other up when the momentum is swinging against them. It's hard to beat Washington mentally, and that matters at Nationals when so much is on line. Season after season, the team has managed to reinvent themselves without losing that fighting spirit.
"Obviously, the floaties were a huge staple for us last year at Nationals and helped us keep the energy high," said the captains. "We're still a very high energy team, but no floaties this time. Overall, the team dynamic has not really shifted much and we expect to bring the same energy as before."
Northeastern Huskies
Seeding: D4, overall No. 16
Power Ranking: #21
Overall Record: 20-13
Against the Nationals Field: 1-7
Against the Pool: N/A
Watch: vs. Colorado, Friday 8:00 AM
Is there a team with a better postseason story than Northeastern? The team pulled off a respectable, unassuming regular season that ended outside of bid range, only to unseat UMass in one of 2019's most unpredictable upsets.
This weekend marks the first Nationals for Northeastern, ever. That means that they have an entirely blank slate for the tournament. No expectations, no precedent, no baggage.
"The focus for our squad has always been that everything we do is for us. We keep our focus on each other, play for each other, work for each other, positive results will just be symptomatic of that," said Northeastern coach Dan Hourigan.
Heading into Nationals, Northeastern has earned the respect of their opponents, while still remaining somewhat of a mystery in their pool. It's tough to predict the strength of a team that has had no games against the opponents in their pool and clearly was not playing at their peak until the postseason.
If their games against other Nationals-qualifying teams are anything to go by, Northeastern knows how to play tough and stay tight even if they're down. They weren't able to pull off any statement wins until the postseason, where wins over Tufts and UMass have suddenly boosted the team's stock.
They'll need to recapture that same magic if they want to make it out of Pool D. Close losses don't mean anything at Nationals and Cal Poly, Colorado, and Washington are programs with a caliber that the Huskies haven't had much experience against. Even while acknowledging the difficulties of their pool, Northeastern remains confident.
"For the last two years we have pushed a team mantra of 'believe.' Believe in yourselves, believe in each other, believe in the work we put in, and believe in our own success," said Hourigan. "So to label ourselves as 'underdogs' would be counter to that belief."
Northeastern's path to a spot in prequarters or higher will rely on their senior class to be locked in for every game. Justin Tran and Ilya Yudkovich have put a lot into this program and can reach another level when they're in rhythm. This isn't 2016 Harvard, though. Depth is just as just as crucial for this team as their top talent–it's also something that Hourigan emphasises on his team: "I believe a lot of people's perception of team's in our position would be getting carried by a few great players, and I would say that's not at all true. We've put a ton of focus on fundamental depth in the team this year and I think that's really paid off."
At the end of the day, if Northeastern wants to prove their legitimacy, they'll need to pull off another upset like they did at Regionals. Beating UMass helped quiet the critics, but it certainly won't silence them. Making Nationals is an achievement that this team should be proud to claim, making the bracket would be a statement.
Rutgers Machine
Seeding: D5, Overall No. 20
Power Ranking: Unranked
Overall Record: 19-12
Against the Nationals Field: 0-4
Against the Pool: N/A
Rutgers finally did it this year. After spending so many seasons in the shadow of UConn, Machine has finally clinched a Nationals berth. Rutgers may have entered the postseason as the top seed in their region, but beating Grind at Regionals is another matter. Getting that win–on double game point, no less–says a lot about the work Rutgers put into this season.
Nationals is another beast entirely.
While Rutgers had a strong regular season compared to their Metro East rivals, they still struggled in the few games they played against Nationals-caliber teams. Florida Warm Up was not kind to the New Jersey boys, and they haven't faced a Nationals-bound team since.
Their overall record shows at least some promise. Getting to 19 wins in a season is no small feat, and Machine has definitely played their best ultimate over the past two months. Still, the teams above them all have decisive wins over ranked teams to get them to Nationals; Rutgers only has their UConn wins.
The good news for Machine is that they have nothing to lose and everything to gain. As the bottom seed at the tournament, the expectation is on every opponent to beat them, and there's power that comes with that. It only takes a few breaks to get their opponents overthinking their game and tensing up.
If they can gain an early lead or any sort of advantage, Rutgers has the players to punish unsuspecting opponents. Dean Klimek, Daniel Kline, Declan Alvidrez, and Benjamin Levy are just a few of the players that have stepped up for Machine in 2019. Their fluid offense and plucky defense has been carrying them all season, it might just be enough for them in Austin, too.