A pool filled with questions.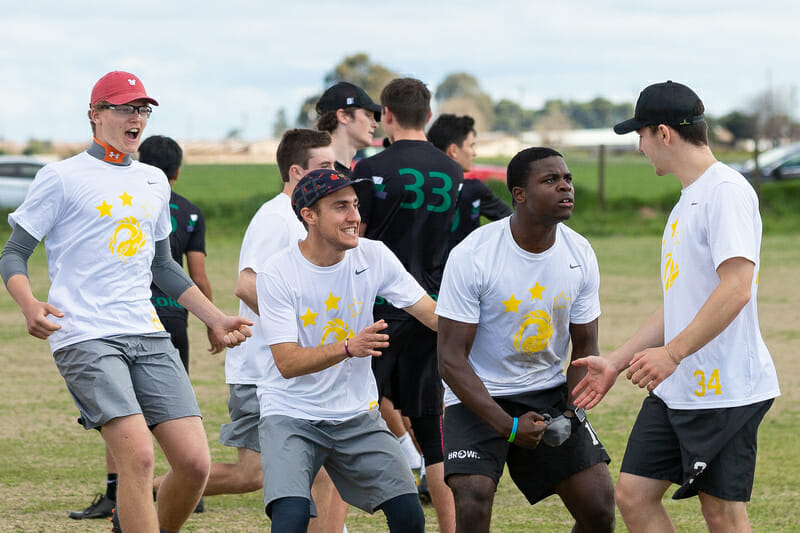 Ultiworld's Men's Division college coverage is presented by Spin Ultimate; all opinions are those of the author. Please support the brands that make Ultiworld possible and shop at Spin Ultimate! 
Brown may be the #2 seed, but they're the #1 ranked team in the country right now after defeating UNC soundly in the quarterfinals of Easterns. They will face off against a pool of teams with question marks surrounding them: how will NC State play after finally getting over the Nationals hump? Will Texas play better after slumping in the second half of the season? How will Michigan stack up after playing a light schedule this year? And can Iowa State make a splash in their program's first-ever trip to Nationals?
Brown Brownian Motion
Seeding: B1, Overall #2
Power Ranking: #1
Overall Record: 33-2
Against the Nationals Field: 12-2
Against the Pool: 1-0 vs. NC State
Watch: vs. NC State, 12:00 PM Friday
Last year, BMo was a fresh-faced team testing the waters at Nationals, brimming with talent but short on pedigree. This year, they are here to win.
As reigning champions at Florida Warm Up and Easterns, and the only team to eliminate top-seeded North Carolina at a tournament this season, it's safe to say nobody is sleeping on Brown in 2019.
So how do they manage the expectations that accompany their new role as a favorite, rather than an underdog? "We choose to turn our attention inwards," said Brown coach Sam Lehman. "We are much more interested in becoming the best team that we can be than in trying to live up to others' expectations. We know that we are a talented team, and that if we play the best ultimate we are capable of, we are going to find success."
The Brown program's faithful hope that this year is just the teaser for what is to come in the future. Their stars are household names by now, but the depth of this team is criminally underrated. Top-heavy teams just don't cruise by Nationals-caliber opponents the way Brown has this season. Dylan Villeneuve, Solomon Rueschemeyer-Bailey, Ken Noh, and Azeez Adeyemi have all played impactful roles in key moments for BMo in 2019, and none of those players are seniors. Their self-penned biography on USAU jokes with no small amount of salt: "BMo relies heavily on the play of its elite players — all 22 of them."
Still, Brown's standout senior and Callahan finalist Mac Hecht has no room for a "there's always next year" mentality. The strong Player of the Year candidate has the offensive firepower to pull off a Jack Williams/John Stubbs-esque semifinals performance, should it be necessary. If Brown is playing up to their full team's potential, it won't be.
Of course, the conditions in south Texas will be an important factor to the gentlemen from wintry New England. As coach Lehman pointed out, "The game we are playing against the heat will be just as important as the games we play against other teams. We have been doing a lot of physical preparation to get ourselves ready." Adding another wrinkle into the mix is the fact that the second and third teams in Pool B, NC State and Texas, will already be much more naturally acclimated. Look for Brown to lean heavily on their aforementioned depth to carry them into bracket play on Friday and Saturday, as well as their sidelines: "We have dozens of alums flying out to support us in Texas and they would like to extend a friendly challenge to any other team to try and have better sidelines," boasted Lehman.
Keeping the energy up to play their customary style of defense over the course of a hot, humid weekend may be the difference between an early exit and the program's first title since 2005.
North Carolina State Alpha
Seeding: B2, Overall #7
Power Ranking: #11
Overall Record: 26-10
Against the Nationals Field: 4-4
Against the Pool: 0-1 vs. Brown
Watch: vs. Brown, 12:00 PM Friday; vs. Texas, 2:00 PM Saturday
The NC State Alpha bandwagon is an easy one to hop aboard this season. After consecutive seasons in which a burgeoning talent pool filtering into the program from the Triangle area youth scene developed hype and expectations yet failed to deliver the accompanying results, a frustrated leadership decided to rebrand the team and redefine their identity for the 2019 season. A combination of increased experience and chemistry on the roster, as well as a renewed commitment to principles of accountability and team-first ultimate, finally delivered the newly christened Alpha through the chaos of Atlantic Coast Regionals into a well-deserved promised land.
"In the past, we have run into problems with good players trying to do too much and abandoning our systems," explained fifth year captain Wesley Dudas. "This year we've changed up our systems to make our O-line shine as a group of seven guys playing well together. Most of our failures have come from our players getting too anxious and trying to make plays."
Improvement in the mental game and dedication to teammates is all well and good, but you still need talent and athleticism. Luckily, NC State has had that in bunches, it was simply a matter of putting the pieces in the right places. The vaunted 2017 class of freshmen are now juniors and are really starting to come into their own, most notably a healthy scoring weapon in Austin Von Alten, as well as captain Michael Lee and defensive stalwart Rhys Gretsch. Captain and Callahan nominee Bailey LaBerteaux provides much-needed versatility and leadership.
For so long, NC State's goal has been simply to break through the seemingly cursed barrier to this stage, but now that they're here, they recognize that they have an opportunity to demonstrate the power of what they have created. "We took our time to celebrate and enjoy our accomplishment, but we then made it clear that we weren't done," stressed Dudas. "We've made a point at practice that we aren't content… we want to be a contender that people are looking out for."
A Friday matchup with Brown will provide an early litmus test for Alpha, a rematch of a loss two months ago at Easterns, where NCSU had an otherwise solid showing. Time to find out if they are leaders of the pack or merely howling at the moon.
Texas TUFF
Seeding: B3, Overall #11
Power Ranking: #8
Overall Record: 23-8
Against the Nationals Field: 10-4
Against the Pool: 1-0 vs. Iowa State
Watch: vs. NC State, 2:00 PM Saturday
Stationed less than a half hour's drive from the field complex in Austin, the boys from Texas certainly have the shortest trek to and from the tournament. The strong sideline presence and the understanding of the conditions will undoubtedly provide an advantage to this group, already a dangerous third seed.
The hype train has idled at the station for a while for TUFF after a surprisingly strong start to their season, which saw them notch some quality wins and semifinals appearances at both Florida Warm Up and Stanford Invite. Since then, however, they have underachieved, looking like the clear second fiddle in their own region. Still, they were able to get the job done to claim the bid they earned to the first Nationals to take place in Texas since 2003 and are in position to claim a spot in bracket play Sunday, where history proves all bets are off.
Unlike some of the others in Pool B, TUFF is a heavily upperclassmen-laden team. Much of their scoring and handling duties come from a group of seniors and fifth years led by Reese Bowman, Mutahir "Square" Ahmad, Keivaun Waugh, and Callahan nominee Vinay Valsaraj. Texas will rely on the chemistry, leadership, and level-headedness of this unit to help them overcome the loss of star junior Noah Chambers, who unfortunately suffered a season-ending leg injury at South Central Regionals.
Friday will see Texas attempting to hold off the teams below them in the pool, including a hungry Iowa State squad that pushed TUFF to double game point last time they faced off at Centex in March. If they can play to their strengths and muster performances like they had early in the season, they have the talent and depth to win those games and challenge the teams above them as well, like they did from the same seeding at 2018 Nationals.
Michigan MagnUM
Seeding: B4, Overall #14
Power Ranking: #20
Overall Record: 25-3
Against the Nationals Field: 1-1
Against the Pool: N/A
After a year's absence from the Nationals stage, MagnUM is back to represent the Great Lakes. This year's version of the program, which makes its sixth appearance at Nationals in this decade, is more of a wild card in comparison to years past. The numbers above tell the tale: only three losses on the season, but only one win against any of the other teams at Nationals. That lone win came at the hands of 20th-seeded Rutgers, in MagnUM's first game of the season at Florida Warm Up. Those results are impacted by the team's decision to play a lighter, more local schedule, perhaps in order to develop chemistry and experience in something of a rebuilding year for the program.
Nevertheless, Michigan are winners of four of the five tournaments they attended this year, quality of competition aside. They may be untested and facing unfamiliar conditions, but they will have the confidence that accompanies a standard of success, always a dangerous weapon.
MagnUM was able to grind their way through the messy weather at Great Lakes Regionals for two reasons – intelligent defensive adjustments to account for the conditions and the throwing prowess of the team's senior leaders like Nicholas Gerber and Jared Schwallie, which allowed them to generate consistent holds. They will need both of those facets at full potency to overcome the size and athleticism deficit they will face against teams like NC State and Texas.
Whichever team represents the perennial one-bid GL region at Nationals usually plays with something to prove. Rest assured, Michigan will not go down without a fight, and with players like Raymond Lu and Eli Weaver returning, we may grow familiar with this team in the coming years.
Iowa State ISUC
Seeding: B5, Overall #18
Power Ranking: #25
Overall Record: 18-7
Against the Nationals Field: 0-3
Against the Pool: 0-1 vs. Texas
Iowa State is not your father's 18th-seeded team at Nationals. Just a few weeks ago, they pulled off a massive upset over a Carleton team that was only a year removed from a #1 overall seed and two years removed from a national championship, breaking the seal on the CUT-Wisconsin-Minnesota triumvirate to steal a bid from the North Central for the first time since 2013.
Plagued by poor weather throughout 2019, Iowa State only played one full regular season tournament, and they were almost relegated to second-tier competition. The 16th-seeded team at Centex in March was not on anyone's radar but their own. Brimming with confidence thanks to a renewed commitment to work ethic in the offseason from their full roster, as well as savvy leadership from their senior class and new coach Brian Schoenrock of Drag'N Thrust, ISUC was a point shy of a semifinals appearance at that tournament. They hope for a similar Cinderella story this weekend.
If Iowa State does have success, it will be due in large part to intelligent, measured play from their senior class, a group of standout athletes who have endless chemistry built over four seasons of college and club ultimate. Scott Hearne, Bryan Hall, Jack Loy, Ben Joerger, and others will run the offense and have to resist the temptation to play the hero against the stiffest competition they have faced to this point.
The heat will also need to be properly accounted for by the Midwestern squad that is accustomed to practicing indoors for most of their season. Luckily, conditioning and depth have been major focuses for Iowa State this year, and they will have to rely again on contributions from their full roster if they are to fulfill their goals in Austin.