The old guard together in a pool.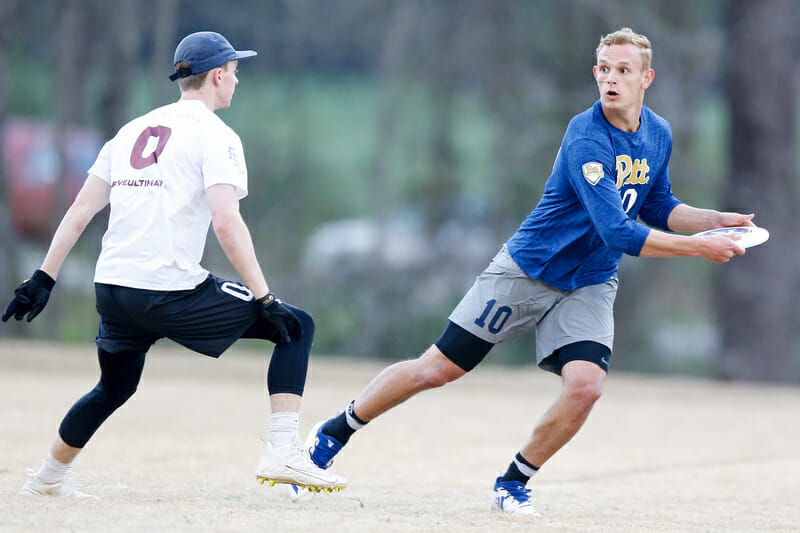 Ultiworld's Men's Division college coverage is presented by Spin Ultimate; all opinions are those of the author. Please support the brands that make Ultiworld possible and shop at Spin Ultimate! 
The unlikely upsets, drought-ending victories, and first-time qualifiers from two wild weekends at Regionals seemed to promise a tide of the new at this year's Nationals. But novelty has not taken hold everywhere. On the contrary, with Nationals mainstays Pittsburgh, Oregon, and Wisconsin boasting a combined six championships (double the next most-decorated pool), Pool C is the realm of the old guard. The lower two seeds are no strangers, either, as Tufts take their eleventh trip to the tournament and relative newcomers Victoria enter the fray for the second year in a row. Plus ça change, indeed.
If that sounds like a snooze, though, think again. Pool C is less a museum piece than an imperial court, where the staid business of tradition is but a disguise for frenzied intrigue. There has been a healthy amount of crossover between these five teams during the season, so that they might be able to plan reliably for particular matchups — to say nothing of that wonderful catalyst called payback. And, in spite of successful seasons, enough questions surround the top three seeds in the pool that it would not be inconceivable for any of them to find themselves on the wrong end of an upset or two and miss the bracket.
Pittsburgh En Sabah Nur
Seeding: C1, Overall No. 3
Power Ranking: #10
Overall Record: 28-6
Against the Nationals Field: 4-4
Against the Pool: 0-1 vs. Oregon, 1-0 vs. Wisconsin, 1-0 vs. Tufts
Watch: vs. Oregon, 2:00 PM Friday; vs. Wisconsin, 10:00 AM Saturday
Few teams can even come close to the level of success Pittsburgh En Sabah Nur has enjoyed in recent years. It goes deeper than last season's (somewhat) surprising run to the final, and deeper than the back-to-back titles in 2012 and 2013. In fact, in each of the last ten years, Pittsburgh have at least made it to the quarterfinals. That's an astounding track record.
The 2019 version of En Sabah Nur figure, at the very least, to add another year to that streak. At times, they look like a perfect blend of size, speed, poise, hunger, and discipline. The offense, led by the relentless upfield attack of handlers Andrew Lehmberg and Leo Warren, chews up yardage and often finishes a point in under a minute. Any attempt to play help defense against the handlers frees up space for as fearsome a set of deeps as any in the division in Matt Hanna, Noah Robinson, and, of course, 2018 First Team All-American Michael Ing.
The defense, featuring Will Helenski, Ben Morgenstern, and Kevin Tsui, is like a multi-tool with an answer for everyone: brawn to box out your bigs, length to hassle your throwers, agility to frustrate your evasive threats. And that's before crossing over Ing, one of the best defenders in the division. It's easy to see how the Pittsburgh D-line can smother opposing offenses, like they did during a 13-3 beatdown of Georgia back in March. As if that isn't enough, for a change of pace they'll bring out a zone with the tallest front cup I've seen this year. These are the kinds of problems that keep opposing coaches awake at night.
Further adding to their status is the strange and villainous personality Pittsburgh has been cultivating this season. From the infectious wildness on display when they start to string together breaks, to the measures they've taken to discourage advanced scouting, to the team's embrace of Wojtek, a bear who was raised to the rank of corporal in the second World War, they have fashioned themselves into a band of specters. With the possible exception of defending champions North Carolina, there isn't a more intimidating team at the tournament.
Given all those edges, one would think they'd be a heavy favorite to win the pool and a lock to make the bracket. But there are questions here. Losing freshman star defender Henry Ing to an ACL tear hurts both their top end and their depth, and there are games when the offense fails to find their rhythm quickly enough and spins through different options in a somewhat aimless cycle. They'll need to find their footing early and engineer a substitute for the younger Ing's production if they're going to go on a run worthy of the team's rich history.
More importantly, however, Pittsburgh have shown themselves capable of stumbling. One point losses to highly ranked teams like Brown, Oregon, and Brigham Young during the regular season, taken individually, are no great matter. But taken together, and adding in more puzzling losses to Massachusetts and Texas, to say nothing of their shocking defeat at the hands of regional upstarts Ohio State at Regionals, they point to a team that might well underperform. One reasonably wonders whether Pittsburgh can put all their talent to work to take the big games this year. At a glance, the résumé seems weak for a no. 3 overall seed. Their best wins during the regular season, none of them against top-ten competition, came against an NC State team missing several key pieces and squads from Central Florida and UMass that ultimately failed to make Nationals.
That said, are you really going to bet against them?
Oregon Ego
Seeding: C2, Overall No. 6
Power Ranking: #5
Overall Record: 32-6
Against the Nationals Field: 8-4
Against the Pool: 1-0 vs. Pittsburgh, 1-0 vs. Tufts, 2-0 vs. Victoria
Watch: vs. Pittsburgh, 2:00 PM Friday
2019 has been another good year for Oregon Ego, who have had no shortage of them this decade. The team bounced back from losing star Will Lohre for the season to put together a nice third place finish at Easterns and win the Northwest region over border rivals Washington.
The Ego D-line, one of the more underrated units in the division, often play in the shadow of their vaunted offense. That's partly because it's hard to distinguish a plan of attack after the turn: the ubiquity of playmakers on the D-line make them all a little bit anonymous. Noah Coolman and Kuochuan Ponzio, to name two of the unheralded group, find themselves in the mix on big plays often enough; so do sometime crossovers from the offense Leandro Marx, Colby Chuck, and Xander Cuizon Tice. But the fact that no one clearly rises to the top makes skill level of the whole group all the more apparent. Regardless, they're quite effective at breaking up big plays and countering quickly with a longball from their own end or a fast-break flip if they force a turn on the attacking side. Oregon also flashed an interesting junk look at Santa Barbara Invite, and it'll be of note when they choose to deploy it.
On the offensive side of the disc is where the individuals for Ego begin to sparkle. Handler Ted Sither has been ironing the mistakes out of his throwing game more and more as the season has progressed while continuing to exploit seams in the defense as they open up. The versatile veterans Marx and Chuck handle or cut as the situation dictates — both of them have the kind of speed and field sense to make the most of a flex role. Cuizon Tice, on the other hand, is a pure cutter, one of the best in the college game. Heaven help a defense that tries to contain him in isolation.
Like Pittsburgh, however, Oregon has shown some vulnerability. They aren't a tall team, especially without Lohre, nor did they throw particularly well in the wind at Easterns. They'll have to contend again with height mismatches and strong gusts at Nationals. They've lost games against teams, like Cal Poly SLO, Colorado, and Carleton, with big, athletic matchup defense schemes. Pitt fits that mold — although Oregon won their game in March by a goal — and so does Wisconsin. Ego have the tools to beat them both; they have the tools to beat anybody if they stay focused enough to maximize their strengths on every point.
Wisconsin Hodags
Seeding: C3, Overall No. 10
Power Ranking: #13
Overall Record: 25-8
Against the Nationals Field: 5-6
Against the Pool: 0-1 vs. Pittsburgh, 1-0 vs. Tufts, 2-0 vs. Victoria
Watch: vs. Pittsburgh, 10:00 AM Saturday
When the music stopped at a wild North Central Regionals, Wisconsin had found the last chair next to Minnesota and Iowa State. All in all, it was a fitting way to punch their ticket. The Hodags' season has been all over the map. They started slowly at Florida Warm Up, where early losses to LSU and Virginia Tech ensured they couldn't finish higher than 17th place. Traveling out to California for Stanford Invite only went a little better, and Wisconsin's perennial spot at Nationals was suddenly in jeopardy. But the pull of history is strong in Madison, and Wisconsin ended up right where they belong. A strong run to the final at Centex put them in back in bid-earning range, and they cashed it in with a furious performance against Carleton in the game-to-go at Regionals.
Tradition or no, it's going to be a tough ask for Wisconsin to beat both Pittsburgh and Oregon, as well as hold off a sneaky-good Tufts team, to take the pool. They haven't put together a complete tournament yet this year. Then again, it was a long winter; the inconsistencies may have been a function of the thaw.
This year's Hodags are the beneficiaries of a long tradition of hard-nosed defense, and Jeff Maskalunas, Sam Hebert, and the rest have proved more than capable of carrying the torch. The willingness to keep the pressure up with bid after bid is almost second nature. Whether they'll be allowed to keep up the level of pressure on display in the game-to-go at Regionals, when the team earned multiple misconduct fouls for dangerous bids, will be up to the observers. Dangerous or no, though, the Wisconsin defenders have shown themselves capable of rising for big moments.
Cutter Nick Vogt is the great player on a pretty good offense; he's a deep thrower's best friend, the kind of player whose size and reading ability gives them a much wider margin for error. If Wisconsin pushes into Sunday, expect to see him rack up a lot of goals. Like Ing for Pittsburgh and Marx for Oregon, he might also be the team's best defender.
Wisconsin need to be careful not only to play up for the Oregon and Pittsburgh games, but not to slow down against the teams seeded behind them. While they demolished Victoria a couple of times at Stanford Invite in March, Tufts gave them a tight game at Florida Warm Up, and you can bet both teams will be circling the matchup against Wisconsin as one of their best shots to make it out of pool play.
Tufts E-Men
Seeding: C4, Overall No. 15
Power Ranking: #22
Overall Record: 21-16
Against the Nationals Field: 1-7
Against the Pool: 0-1 vs. Pittsburgh, 0-1 vs. Oregon, 0-1 vs. Wisconsin
Is there a team at Nationals with a stranger path to Nationals than Tufts? They did a great job against the North Central circuit in February, beating Carleton and Minnesota and only losing by a point to Wisconsin — a tournament at which they also lost to second-tier Southeast teams Kennesaw State and LSU. They followed that up with a ho-hum performance at Classic City Invite in March, and then managed to back their way into bid-earning territory at Easterns, despite posting at 2-5 record on the weekend. (UNC Wilmington's and Auburn's dismal play that weekend helped them a lot on that front.) Just when things were looking up, they coughed up two games to Harvard and a game to Northeastern at Conferences. Then, just when things were looking down, they pulled a massive upset over perennial New England titans UMass to clinch the region's final ticket to Nationals. What a ride.
All of which is to say: count out this year's Tufts E-Men at your own risk. They have an offense with more than enough weapons to put a defense on their back feet. Jac Carreiro is their high-touch guy on offense and regularly puts himself in a position to make big scoring plays on one end or other of the connection. Carreiro's entourage includes a trio of complementary pieces in tall, powerful possession handler Nikhil Bhatia-Lin, speedster Eric Chen, and deep Henry Caron. Bhatia-Lin and Chen are two of the team's better defenders, too, and they'll often cross over to push for a break. If the defense can scrounge up three or four breaks in any given game, Tufts are more than capable of making the lead stand up.
Victoria Vikes
Seeding: C5, Overall No. 19
Power Ranking: Unranked
Overall Record: 20-14
Against the Nationals Field: 1-11
Against the Pool: 0-2 vs. Oregon, 0-2 vs. Wisconsin
On the surface, it would be easy to dismiss the Victoria Vikes as an also-ran. They reaped the benefit of the BYU forfeit to earn a spot in the tournament, and a cursory look at their season — including a combined 0-4 record against Oregon and Wisconsin with a -30 total point differential — does not bode well for their chances at making it to the bracket. And that's partly right: it's definitely going to be an uphill battle for the Vikes. They simply haven't been as competitive on a National level as the other four teams in Pool C.
But there's some hope for them, too. To begin with, they have notched some good wins along the way to balance out the the losses elsewhere. Never mind how the bid fell their way, beating Utah in the Northwest game-to-go was no cakewalk. And their first tournament of the season, the Santa Barbara Invite way back in January, was a rousing success: they beat Cal and USC en route to the final. Furthermore, they've got a pair of very good players in handler Michael LeRoss and Team Canada U24 member Devon Thomson. If those two catch fire, they're good enough that the Vikes could steal some games. Their embrace of horizontal stack offense could be a final factor working in their favor, as the less common look could catch some defenses off guard early in games.
It's a long shot, but not as long as you might think: factoring in the humidity and the wind, any one of the more historically dominant teams seeded above them — or even any two of them — might be off their games and give Victoria an opening. Hey, tradition isn't everything.