A very intriguing race for prequarters spots.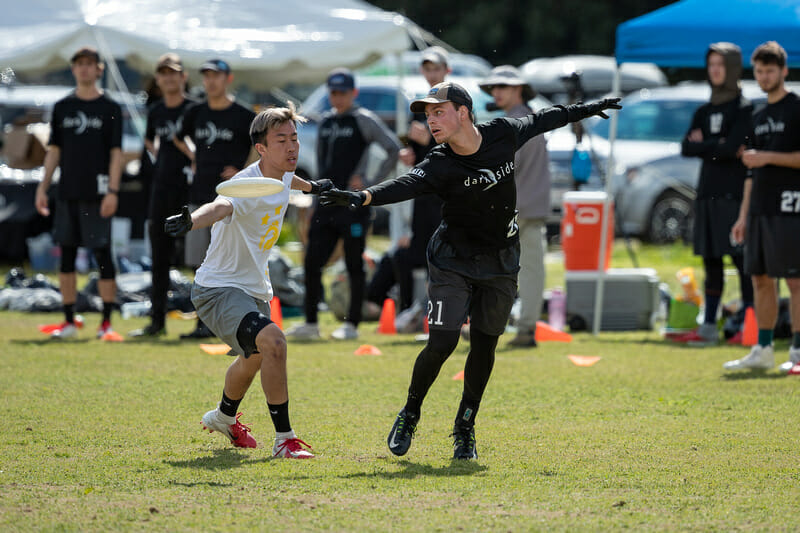 Ultiworld's Men's Division college coverage is presented by Spin Ultimate; all opinions are those of the author. Please support the brands that make Ultiworld possible and shop at Spin Ultimate! 
Pool A is full of teams peaking at the right time, as the top four teams in the pool all won their regions and bottom seeded California played their best ultimate of the year at Regionals to grab a spot in the national field. It all makes for a lot of momentum set to collide as the teams cleat up in Austin.
North Carolina Darkside
Seeding: A1, Overall No. 1
Power Ranking: #2
Overall Record: 32-2
Against the Nationals Field: 8-1
Against the Pool: 1-0 v. Ohio State, 1-0 v. Georgia
Number one overall seeds are not as untouchable in pool play as they may seem. Pitt in 2015 and UMass in 2016 both dropped games to their pool opponents, throwing the bracket into chaos. And looking ahead to bracket play, no #1 seed has actually emerged as the champion since the 2014 Colorado Mamabird team. So is North Carolina headed for a fall?
Probably not.
Darkside are 32-2 for a reason. For much of the the season, it seemed totally plausible that they could go wire-to-wire undefeated. They are prohibitive favorites.
For the past several years, despite plenty of recognizable names, it seemed like UNC was more the team of system and depth as opposed to star run operations like Carleton or Oregon. But it's time to put that notion to bed. Darkside has the most talent, and the biggest stars, of any college team. They have four U24 players on top of a roster loaded with college and club Nationals experience.
Matt Gouchoe-Hanas will probably win the Callahan Award, and he isn't even the most influential player on most of the points he plays. Elijah Long, Liam Searles-Bohs, and Walker Matthews could all the best player on many other teams at Nationals. Kai Marcus is probably the best pure thrower in the division. Alex Davis going deep is easy buckets. Anders Juengst is maybe the most pound-for-pound consistent offensive player in college, and it's hard to fit in a mention with all the talent on this team. The offensive line has all returned from the championship team last year, and the defense is loaded with both talent and the nation's best coaching staff's schemes.
The talent and the system have created one of the best teams of the decade and they are the clear favorite, maybe the clearest since that 2014 Mamabird team. No team has repeated since Pittsburgh in 2013, but no team has been the number one seed at Nationals the year after winning a title in that time either.
So what could stop Darkside?
They can get a little in love with the long ball (just ask Marcus), particularly when baited into taking same third shots. Defensively, it seems like sometimes they put too much faith in junk when more honest matchup defense is required. In their two losses at Easterns, it seemed like they weren't dialed in and able to compete with the same intensity as Carleton and Brown. Title fatigue is real.
But, by and large, these are nits. With so much depth in the Texas heat, Darkside have the tools to grind teams into the dust and stay fresh through a long bracket run. Three titles in five years would elevate UNC from "top tier program" to team of the decade and create a history to match the Carletons and Wisconsins that they have spent the past ten years chasing down and devouring.
Ohio State Leadbelly
Seeding: A2, Overall No. 8
Power Ranking: #9
Overall Record: 17-6
Against the Nationals Field: 2-5
Against the Pool: 0-1 v. UNC, 1-0 v. Cal
Watch: vs. Georgia, Saturday 12 PM
Looking back on Ohio State's season, it becomes clear just how impressive this team has been, even if we didn't all realize it in the moment. They have picked up wins over Pittsburgh and BYU, while only suffering losses to Nationals teams and Carleton. They came the closest of anyone to beating UNC at Easterns, putting a double game point scare into Darkside at Queen City, and are undefeated so far in the postseason.
Sion Agami has proven to be consistently deadly out of the backfield for Leadbelly, and Neil Taylor is a monster in the deep space. The team knows its strengths and plays to them well. They don't want to complete 100 passes a point to score and usually don't have to because of their ability to stretch the field vertically and create good one-on-one matchups in space.
If you gave this resume to a team that has been making Nationals every year, prognosticators may be more bullish on their chances. But because Ohio State hasn't made Nationals in many years, skeptics have pigeonholed them as a team on the outside looking in. Ohio State provides an interesting test case: How much does the brand name of a team really matter at Nationals?
The track record of teams making Nationals for the first time in over a decade is not great. None have made the semifinals, and very few even manage to hold seed. It's not just the nerves or lack of experience handling the sheer speed of play at Nationals; it's knowing how to prepare in the weeks leading up to the tournament. For teams who set the goal of making Nationals, the season generally peaks at Regionals. Managing the physical, temporal, and emotional challenges in the intervening weeks before Nationals takes institutional knowledge that is hard to create on the fly.
On the one hand, having to point to less tangible arguments like this is a good sign for Ohio State, as they have looked like the real deal on the field this season. On the other, the evidence is fairly damning, and it's hard to pick a team that hasn't been there before to make a big leap in their first Nationals.
Agami and Zach Braun were at club Nationals last year, and that should help. Agami's younger brother Axel, a freshman on the team, has shown a fearlessness bordering on recklessness all season that likely will not shrink in the spotlight. That should help too. On paper, this Ohio State team should be a threat to make semifinals, but there are lessons taught at Nationals that you can't grasp purely on paper. Particularly in a pool with some much experience, OSU needs to start learning quickly.
Georgia Jojah
Seeding: A3, Overall No. 12
Power Ranking: #15
Overall Record: 24-9
Against the Nationals Field: 3-6
Against the Pool: 0-1 v. UNC, 1-1 v. Minnesota
Watch: vs. Minnesota, Friday 10 AM; vs. Ohio State, Saturday 12 PM
The Southeast champions are back to Nationals and looking to exceed their solid 2018 showing in which they made quarterfinals only to receive a beatdown at the hands of Carleton.
Known in recent seasons for running a system that puts a heavy offensive load on a center handler, Jojah has reshaped their approach for 2019. "We shifted pretty aggressively away from that style of play," said coach Parker Bray. "The style of having a player go every other has been tossed because of our superb core of cutters with attacking continuation throws."
Georgia plays vertically and at pace, looking to push the disc downfield quickly and get into a track meet with their big, fast cutters. Dealing with the throwing maestros like Bray or John Langstaff the past few seasons caused headaches for defenses, but it's a new type of problem when you're trying to slow down voracious athletes like Mason Cary or Hayden Austin-Knab from tearing you up downfield and quickly launching continuations.
It may have taken the team some time to get organized around these new concepts, as the regular season looked largely lackluster. Blow out losses to Pitt, CUT, and UNC accompanied by meager wins against middle of the pack teams cost Georgia a strength bid and left them with a lot of work to do heading into the postseason. Flash forward to Regionals and they looked like a different team.
Carving through pool play and the bracket, Jojah confidently dispatch the region's top team, UCF, in the regional final. An offense that had looked disjointed was flowing, a defense that had struggled to get on the same page was locked in and grinding, and it appears that Jojah is peaking at just the right time.
Slowing Jojah down will start with limiting Hunter Cutts, the do-it-all big man who speaks loud and plays louder. The depth at the cutting position behind him makes it difficult to completely stymie Georgia downfield, and opponents will likely force Georgia's handler core into the spotlight. This could mean a big platform for Mack Hodges and the unkillable Sebbi Di Francesco in Austin. If Georgia's handlers can find open spaces to attack as defenses scramble to provide help on the cutters, they could push Georgia past the limits of last season.
Injuries have hurt Georgia in several of the past few seasons, but Bray says that this year the team is as healthy as he has ever seen it. Jojah has prioritized getting physically ready for the weekend so they do not hobble out of contention this time around.
"Priority one is getting everyone as healthy as possible. Go get a massage from the health center, a group stretch session in the swimming/diving hot tub, some dry needling by a PT, whatever you need," said Bray. "As far as practice, we try and simulate Nationals by holding two-a-days to get everyone ready for the drastic change in pace of the tournament compared to the regular season."
It's been a winding season for Georgia, but they seem to be peaking at the right time, and soon we'll find out just how high that peak really is.
Minnesota Grey Duck
Seeding: A4, Overall No. 13
Power Ranking: #12
Overall Record: 23-12
Against the Nationals Field: 4-9
Against the Pool: 1-1 v. Georgia
Watch: vs. Georgia, Friday 10 AM
Grey Duck went from sweating out algorithm points at Easterns to taking the North Central crown in the span of a dramatic few weeks. They now find themselves staring down the barrel of a tough pool A and will hope that their upward trajectory this season can push them further than a mediocre regular season would suggest.
Overwhelmed with handler options last season, Grey Duck has spent 2019 adjusting to the loss of three U24 handlers: Wyatt Mekler, Codi Wood, and Tristan Van de Moortele. Sam Kaminsky, the team's Callahan nominee, has tried to shoulder much of the load, playing on both sides of the disc. After starting his career on offense, he has moved around to D-line to frustrate the other team's best thrower and provide stability after the turn. If Minnesota get in trouble, Kaminsky will be deployed wherever he is needed; expect him to move to the O-line for crucial holds and to the D-line for must-have breaks.
Cole Jurek has had a big 12 months after failing to impress at Nationals last season on Minnesota's handler-heavy squad. He showed his big physical style was at home in the club game, shining for an exciting Sub Zero squad in their big upset over Revolver at the US Open. He then went on to make the U24 team and has asserted himself as one of the better offensive threats in the nation this season.
Wystan Duhn has been the big breakout player this year for Minnesota, aggressively moving the disc down the field. If Minnesota is going to lean into their size this year, Duhn will be the guy getting that size the disc.
A blemish with Gray Duck's resume in 2019 is the lack of a signature win, which makes it hard to see them knocking off a bunch of teams at Nationals. In the regular season, they were 2-9 against Nationals competition, their best win of the year coming against Georgia at Easterns. Even in winning the region, they failed to pick up a truly marquee win, losing twice to Carleton during the Series and beating Iowa State in the final after ISUC's shocking upset of CUT.
One piece of big news for Minnesota, which could signal that their postseason success is set to continue, is the return of Cole Wallin. He barely played at Regionals after missing the whole regular season, but his body held up well and he will be playing in some capacity at Nationals. Anything Wallin can give Grey Duck is a big bonus, as he is one of the best defenders in the country and a hardworking cutter who always seems to find a way to get open by hook or by crook.
The opportunity is there for Grey Duck to make a big splash this year, but it's just as easy to see them miss the bracket entirely in this tough pool.
California UGMO
Seeding: A5, Overall No. 17
Power Ranking: #18
Overall Record: 29-11
Against the Nationals Field: 3-6
Against the Pool: 0-1 v. Ohio State
It's a long awaited return to the Nationals for Cal, their first trip since 2012. The lone team in Pool A to not to win their respective region, Cal qualified after a wild double game point win against bid-earner USC in the Southwest game-to-go.
With the four Regional champs above them and little to no National experience on their roster, it looks like this could be the end of the road for Cal. However, their coach Daniel Silverstein is defiant, exhibiting the attitude that has gotten his team to this position in the first place. "We're going to try to win every game," he said. "You might say, 'What, even UNC?' To which we would say, 'Yeah, we played BYU to win in a meaningless game at Stanford Invite and beat them.' We played SLO to beat them in the finals of Regionals. Is it foolish to play every game to win? Perhaps, but that is our style and it is the very character of our team."
Cal did in fact beat BYU at Stanford (the meaning of that game is up to you to interpret), as well as Wisconsin. Of course, they also lost to D-III team Portland. This indicates a certain level of inconsistency, which may not be a death sentence for UGMO. You're not really looking for consistency as a bottom seed; you're looking for the ability to catch lightning in a bottle a few times and buzzsaw your way into the bracket.
Making that more difficult for Cal is the loss to injury of three key defenders — Jace Bruner, Trevor Aquino, and Neil Thomas. This puts a lot of the emphasis on Brian Kooperberg to hold down the fort on defense. Top O-line players Tommy Lin and Alex Pan may need to cross over more than they normally would like, and extra miles on those legs in the Texas heat could add up by the end of Saturday.