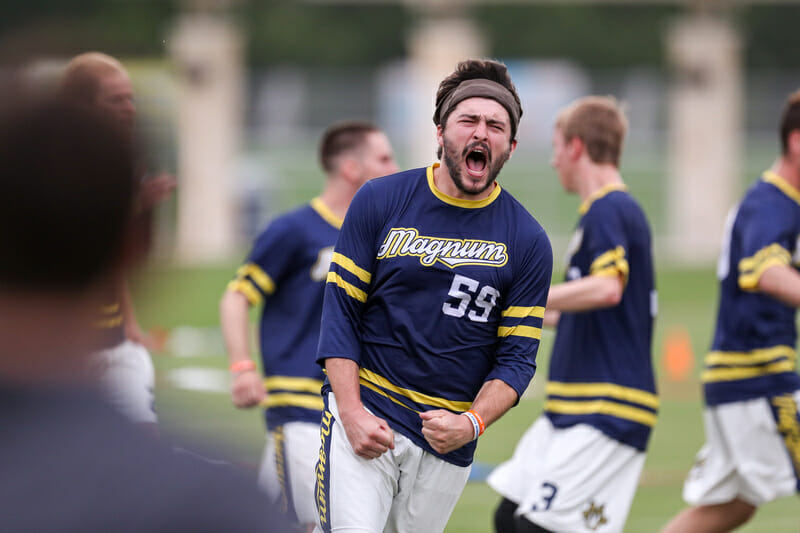 Ultiworld's Men's Division college coverage is presented by Spin Ultimate; all opinions are those of the author. Please support the brands that make Ultiworld possible and shop at Spin Ultimate! 
The live blog has been cooking the past two days (Day 1, Day 2), but here's a full rundown of all the games we recapped from pool play in Round Rock.
Pool A
Georgia Jojah 13 – 9 Minnesota Grey Duck
With a hot wind blowing in and some first game rust clinging to both teams, this one was always going to be a brickfight. But while Minnesota struggled to accept this reality, Georgia picked up a trowel, put down some mortar, and laid some bricks.
With the majority of points featuring several turnovers and neither team able to settle into an offensive rhythm, the contest would be decided by which D-line could take advantage of the opportunities handed to them. At first it seemed like Georgia would be the more wasteful team. With the score 3-2, the Jojah defense failed to convert their plentiful chances during a 15-minute marathon point. When Minnesota's offense finally put in the hold to tie the game, it seemed like Grey Duck had seized the momentum. But on the next point Georgia's offense calmly worked the disc from the high side of the field to the low, marching into the endzone for the game's first clean O point. Then, given another chance, their defense broke. And broke again. And again.
It soon became 7-3, with the air taken out of Minnesota and Georgia's wiley defense thriving in the chaos. Even pulling Callahan nominee Sam Kaminsky over to the offense couldn't stop the bleeding for Grey Duck, as Georgia's zone frustrated Minnesota into several boneheaded turns.
The second half played out much like the first, with plenty of turnovers and plenty of chances for Minnesota to put in breaks. But while Grey Duck seemed flustered by the helter skelter flow of the game, Georgia embraced it. As the heat rose in the second half, activating heat precaution Level 1 across the field complex, the game degenerated into even more of a hazy slog. There were drops from both teams on every other point, and blown throws to wide open target. The low level of play seemed to frustrate Minnesota, but Georgia fed off that frustration and closed the game out 13-9 when Mack Hodges rocked his man to sleep on an upline cut.
A blemish on Georgia's win, D-line leader Hunter Cutts left with an ankle injury just before half and did not take the field again. With Georgia holding a solid lead at the time, it may have been merely a precaution, but could be a trouble for Jojah if the talismanic cutter is sidelined for an extended period.
– Patrick Stegemoeller
North Carolina Darkside 15 – 8 Ohio State Leadbelly
The scoreline, and this quote from UNC coach J.D. Hastings adequately convey how UNC handled the team that took them to double game point in the regular season.
"We beat the brakes off them."
It's hard to argue with that after UNC took half 8-4 and cruised to a comfortable win. North Carolina had a monopoly on confident upwind throwers, with Kai Marcus, Liam Searles-Bohs, and Matt Gouchoe-Hanas punishing Ohio State's force deep approach.
Leadbelly never broke Darkside, failing to move the disc upwind effectively. It could be a long weekend for Ohio State if they don't figure out this wind.
UNC meanwhile will feel good after dispatching the pool's second seed with such aplomb, and can secure a spot in the bracket with a win over last-seeded Cal later this afternoon.
– Patrick Stegemoeller
Minnesota Grey Duck 10 – 8 Ohio State Leadbelly
Sometimes you win beautifully, sometimes you win ugly, and sometimes you win by finding the beauty in an ugly game. Minnesota Grey Duck staved off all but certain elimination by beating Ohio State Leadbelly in a game that was low-level ultimate but high-level drama. It was a contest that looked more like the last miles of an Ironman than a game of frisbee. Stunning, evocative stuff.
With both teams willing to adopt a "huck and play D" strategy in the wind, there were some long downwind holds. Ohio State had three turns on their first offense point. Minnesota had five. A short field turn from Ohio State gave Minnesota an upwind break and a downwind hold gave them a 3-1 lead. But Ohio State were able to get an upwind break of their own on a nine turnover point that culminated in a dish from Sion Agami to Michael Verma to make it 4-4.
This set up an apocalyptic point in which time and space seemed to lose all meaning. Minnesota couldn't move the disc upwind against Ohio State's poachy zone look. Ohio State couldn't move the disc well enough to score downwind. The turnover number climbed into double digits, and still these two immovable objects stood staring at each other, unable to move the scoreboard off its deadlock. On adjacent fields, teams took half and moved on with their lives. On Field 7, time was stuck in a loop. Finally, mercifully, Zach Braun shoveled a pass to freshman Alex Rudy for the score to make it 5-4 — technically a break, but who could even remember anymore.
That should have been it for Minnesota. Losing a gut-wrenching point that can be measured on a geologic time scale, it would have been easy to quitely fade away into the hot dry wind that was stirring the swampy air around them. This morning they did just that, as the brutal conditions brought them to their knees is a tough loss to Georgia. But not this time.
"We're realizing that every team has to deal with it," said Minnesota captain Sam Kaminsky. "We told ourselves, if we can get a break on one of these long points, fresh legs are going to come, and it will be the same O-line for them that has to go back out there."
Grey Duck came out and put in the game's first turnover-free point for a hold, and then held on as Ohio State took half on serve 8-7, but with soft cap already on. Minnesota would need to break Ohio State upwind, and quickly, to keep their season alive. Doing so would mean getting through the poaching set that Ohio State deployed on all of their downwind points.
"They kept putting someone in the lane," said Kaminsky, reflecting on the trouble Grey Duck had in moving the disc upwind for much of the game. "We kept saying, 'send two guys under, sit in the inside.' We eventually found the windows and hit them. The upwind throws are tough, but manageable."
After a clean downwind hold and the clock ticking down to hard cap, Minnesota got their chance to break upwind after Agami bobbled a swing for OSU and Wystan Duhn clattered through the disc for a block. Grey Duck big man Cole Jurek came down with a tough upwind blade right on the doorstep, but couldn't find an open dump or upline. The stall count got to seven before Jurek stretched his long frame around the mark and sent a backhand crosswind towards the opposite side of the endzone.
"As soon as I saw that there were no OSU guys on that half of the field, I put my fist up because I knew that was it," said Kaminsky. "That it would win us the game."
There were no OSU players there, but Cole Wallin was, and he calmly caught the wide open swing to give Minnesota their first lead since 4-3.
On the following point, Leadbelly moved the disc upwind to about 10 yards out of the endzone. A hold here would all but negate the last break, and force Grey Duck to go upwind again on double game point. But good endzone defense lead to a high-stall blade turnover, and Kaminsky promptly launched a full field O/I backhand to Zach Trosvig who boxed out his defender and caught a score that keeps Grey Duck alive and sends Ohio State into a desperate win or go home game against Georgia tomorrow.
– Patrick Stegemoeller
Georgia Jojah 10 – 8 California UGMO
Georgia welcomed Cal to their first Nationals game since 2012 with a an exciting contest, in which Georgia would ultimately prevail thanks to patient zone offense and some endzone troubles from UGMO.
Cal has been running a soft four-person cup all year, and it caused Georgia plenty of headaches as they tried to score upwind. Unafraid to make plenty of throws, Jojah was able to work through it, but it took lots of effort and long possessions to do so. Cal managed some upwind success of their own, but several redzone turnovers turned a big upset into a "what could have been."
Hunter Cutts was back in action for Georgia after an injury kept him out of the second half of Georgia's opening round win over Minnesota this morning. He scored the biggest point of the game for Jojah, putting in a downwind hold to stop a run from Cal that had tied the game at 8-8, capped at 10.
UGMO almost managed another break on that point, getting the disc 15 yards outside the upwind end zone, but a clutch handblock from Georgia rookie Hayden Austin-Knab denied a clear scoring opportunity. Cutts took off deep for a momentum shifting goal and a 9-8 lead that Georgia would not relinquish.
Georgia were able to break on the next point, taking their record in Pool A to a pristine 2-0 on the day. They will face UNC first thing in the morning tomorrow, while a tired Cal take on the defending champs in the last round today.
– Patrick Stegemoeller
North Carolina Darkside 15 – 6 Georgia Jojah
Even for this jaded frisbee journalist, the first point of the UNC v. Georgia game from Men's Pool A this morning gave us something I've never seen before.
Georgia was receiving going downwind to start the game, and Mack Hodges collected the disc on his own endline. He looked downfield, going through his progression as the stall count rose. He motioned a reset handler to clear out. The count kept climbing. He continued searching for a cut in vain, until his mark Suraj Madiraju got to stall ten.
Hodges then promptly placed the disc down in disgust and walked off, refusing to play defense as…. some sort of message to his cutters that they should have gotten open? Maybe? A stunned Madiraju took one step into the endzone and received an open goal from Matt Gouchoe-Hanas who dashed over to flip in the assist. Upwind break for Darkside. 1-0.
After the bizarre start to the game, a huck from Gouchoe-Hanas to Walker Matthews gave UNC a second break. Georgia had already dug themselves into a hole against North Carolina and never got out.
Georgia's offense was eventually able to string together several holds by hucking effectively downwind, and the Southeast champs came close on two occasions to an upwind break, but with the score 6-4 North Carolina earned a second upwind/downwind break combo to put the game out of reach. Georgia seemed to take their foot off the gas in the second half with a big game against Ohio State looming, and North Carolina's bench mopped up a 15-6 win.
Matt Gouchoe-Hanas featured on the D-line for North Carolina in a departure from his usual role on the offense. While he will likely play on both sides of the disc as the situation demands, it could be interesting to see how UNC deploys the reigning Player of the Year.
– Patrick Stegemoeller
Ohio State Leadbelly 14 – 8 California UGMO
Ohio State got their first win of the weekend on the board, pulling ahead of Cal with a run to start the game and tacking on a few extra breaks for good measure after half.
The game started with a hold by Cal, Christopher Lung dishing to Munish Thahir. It would be the only UGMO goal for a while, as Ohio State punched in four straight to take a commanding 4-1 lead. Leadbelly would break for half on a handblock by Luke Groom near the upwind end zone and a quick flip from Noah Krumme to standout freshman Axel Agami to make it 8-4.
With a big game coming up against Georgia, Ohio State wanted to finish the game strong and they came out of halftime on fire, putting four more goals in unanswered to stretch the lead out to a commanding 12-4. Cal was able to regain some composure and make the score respectable down the stretch, but the ultimate result was never in doubt.
– Patrick Stegemoeller
Pool B
Michigan MagnUM 15 – 14 NC State Alpha
In the wildest game of the morning, Michigan MagnUM held off a furious comeback effort by NC State Alpha to notch a 15-14 upset.
The Great Lakes regional champions started the game on a 6-1 run largely on the strength of Jeffrey Gao's play. Playing mostly defensive points and coming up with big plays on dicey throws against the stiff wind, he scored more than a third of MagnUM's goals. Fueling his efforts were NC State's early struggles with the wind: upwind or downwind, they couldn't seem to find the right edges.
Soon, however, it was MagnUM who began to struggle. In spite of some nice blocks and catches from Eli Weaver, Michigan started to miss against a formidable NC State zone look led by mark Drew Bunting and mid Trevor Lynch. Rhys Gretsch, who stayed around the disc for Alpha all game and took shots with abandon, led the D-line offense to a string of breaks to bring Alpha within 8-6, which they quickly turned into a tie game after half.
The teams stayed even for a few more points, but when Alvin Wang jumped a lackadaisical centering pass for an enormous layout block and Michigan took at 11-9 lead, all the energy swung back to the MagnUM sideline. Alpha continued to struggle, dropping easy unders to give Michigan chance after chance.
The Michigan defense played spectacularly from the first point on, as did NC State's for much of the game. The offenses, on the other hand, struggled mightily with the wind. Every time Michigan's defense gave them a cushion, the Michigan offense seemed to waste it away. Every time the Alpha defense went on a run, a few flubs from the O-line undermined it.
Gretsch kept shooting for Alpha, giving them a 14-13 lead — as well as ultimately giving Michigan the disc with the game tied at 14s. MagnUM worked it to 10 yards out, called a time out, and got a little bit of help from the wind. For his last act, Gao cut to the front cone on the break side. The around throw hung up in the wind a little, and Bailey Laberteaux and Matt Tucker, two of Alpha's tallest defenders, camped out underneath it. But the disc caught another little gust and hung over both of their hands, landing softly with Gao, who stood waiting just behind them.
With the win, Michigan take an important first step toward the bracket. NC State, meanwhile, will have to play catch-up in their other games. Both offenses are going to need to play up a little bit as the tournament wears on.
– Edward Stephens
Brown Brownian Motion 15 – 11 Iowa State ISUC
Iowa State ISUC may not have beaten Brown, but the unlikely qualifiers proved emphatically that they belong in the field and have a realistic hope to threaten the bracket. The offense made a handful of early-possession errors — chalk that up to jitters, perhaps — but otherwise looked more than solid, both against the Brown defense and the wind. Scott Hearne played an excellent, efficient game as the team's touch leader. He put up great throws for his big receivers, particularly the two Jacobs, Badger and Raatz, who each scored multiple goals. The offense played well enough that ISUC took half, albeit on serve.
Brown ended up taking the game on the strength of their D-Line. Sol Rueschemeyer-Bailey, Ned Dick, and Dylan Villeneuve were unstoppable after a turn — as well as when they crossed over to stabilize the offense, which was shaky. It's clear that as long as the wind stays strong, Brown will have to rely on those three to move the disc at least as much as (and probably more than) Mac Hecht's feats of hucking. Hecht was hit-and-miss with the long-ball, but the D-Line trio was basically flawless.
Late in the second half Brown pulled away to take the game by a comfortable 15-11 margin. Credit their mental preparation and depth for helping them to withstand a fine effort from a good Iowa State team who, if they keep playing that well, will continue to scare higher seeds or upset them outright.
– Edward Stephens
Brown Brownian Motion 11 – 7 Texas TUFF
With both teams bringing a strong clan of supporters to the tournament this weekend, and the winner of the game receiving a bye to quarterfinals tomorrow, the sideline was lined two or three deep for this matchup. Texas got off to a strong start with an early upwind break, but Brown responded quickly, calmly dicing through physical defense for a run of four straight points to take half at 8-3. The first half was highlighted by a nearly 20-minute marathon point, interrupted by myriad calls on both sides, which ended with what turned out to be Texas's last score of the first half.
The observers played a heavy role in this game throughout, as Texas eventually received enough TMF's to send the disc back to the reverse brick mark, deep in their own end zone. "[Brian] Street was given a blue card for a dangerous play. I'm not sure how it was a dangerous play… it looked like both he and Keivaun [Waugh] were in front of the cutter," said coach Calvin Lin after the game regarding one of the more controversial plays during the marathon point. Brown were also throwing their bodies around, earning a blue card of their own along with a goal called back for an offensive foul and frustrating Texas with a physicality that pushed boundaries. Although tempers were heated as each team clearly knew the value of getting a win, credit to the observer crew for keeping the game under control and spirited into a smoother second half.
Texas was able to string together a pair of breaks in the second half to cut the score to 8-6, but they were unable to get another upwind score before the game was capped. Mac Hecht and John Randolph connected on each of the last two holds for BMo, who took the game 11-8.
Brown throttled Texas in the first half with a trap zone, utilizing as many as five defenders around the disc, taking advantage of a diagonal wind at their backs. "Early on, we handled it fine… we got into a habit of too many guys crashing and lost our spacing," said Lin. "We cleaned that up and that helped us out a bit in the second half." Freshman Matt Chambers stepped up with a strong game in a key handler role for TUFF, as did Matt Armour, who did an admirable job containing Hecht's impact.
– Sean Brady
NC State Alpha 15 – 13 Iowa State ISUC
Iowa State broke twice to open their game against NC State Alpha and opened up a break run against NC State that had Alpha confidence shaken. As Iowa State continued to add pressure and find success, Alpha struggled finding completions with centering passes and fielding pulls.
Scott Hearne and the handler corps for Iowa State found Ben Joerger early and often, with no regard to coverage, for scores on away cuts both upwind and downwind.
While Iowa State led down the final stretch of the game, Hunter Shumaker was critical in giving NC State a sense of composure – potentially for the first time this weekend. Shumaker executed on throwing completions and leading Alpha for crucial blocks and gained momentum, carrying NC State to finally take over and claim a comeback victory.
– Alix Robbins
Pool C
Wisconsin Hodags 15 – 6 Victoria Vikes
Wisconsin took control of their game against Victoria early, going up 4-0 and never looking back. The Hodags looked far more comfortable across the roster in the winds of round two. Wisconsin's Nick Vogt was in full effect, dominating his matchups, and his four goals fail to paint an accurate picture of his offensive effectiveness. The Hodag Callahan nominee also showed leadership, including pulling aside two teammates after a truly horrendous red zone decision led to a Wisconsin turnover. Even though they owned an insurmountable lead, Vogt held his teammates accountable.
While both teams were turning the disc in the wind, Wisconsin's defense benefited from a lot of short fields. Rami Paust tossed in four assists and Ben Pavelka was around the disc frequently for the Hodags. Devon Thomson tallied three goals for UVic in the losing effort.
– Keith Raynor
Oregon Ego 15 – 8 Tufts E-Men
Oregon Ego proved a deep, prepared, and highly capable team en route to a big 15-8 win over Tufts E-Men.
Tufts entertained thoughts of competing with Ego in the early stages. While their defense couldn't crack Oregon's offense, the E-Men O-line admirably held their own. Aaron Epstein was effective, if a little harried, in the center handler role. He kept reliably finding his outlets – Eric Chen, Jac Carreiro, Charles Caron, and Caleb Seamon – to work through the first five downwind holds.
Their counterparts on Oregon's O-line were even more effective. Ted Sither, the team's go-to handler, was ruthless with his breakside looks: the marks could not contain it. At no point was his prowess more evident than when, forced backhand, he snuck a perfect 50-yard downwind flick around the mark at stall-1 to hit an unguarded Xander Cuizon Tice. At that point, it was 5-4, and the game seemed like it was headed for a slugfest.
But two points later, Ego's defensive pressure broke Tufts – decisively as it turned out. The next point saw Ego cross Sither, Cuizon Tice, Leandro Marx, and Colby Chuck to the defense. No doubt they'll cross them over this weekend whenever they get the whiff of a potential run. A lack of options forced a punt out of Tufts. Marx caught it, and sent a 70-plus yard downwind flick that sat high above the field like a great pull, giving Duncan Fitzgerald more than enough time to run underneath.
Tufts never recovered. They fared badly against both Ego and the wind for the duration. Ego's cushion afforded them the luxury of resting their stars at the end of the game, not that it diminished how effective they were. Players like Kit Tyler, Gunter Przystawik, and Harry Luong picked up right where the Oregon first-stringers left off. It was a good sign for a team who hopes to push deep into the tournament.
A better sign for Ego is their throwing form. Oregon handled the wind poorly at Easterns in March, but they have made huge strides since then, upwind and down. It's only one game, but Ego are firing on all cylinders.
– Edward Stephens
Pittsburgh En Sabah Nur 14 – 12 Oregon Ego
In a matchup of title contenders, Pool C top seed Pittsburgh beat pool second seed Oregon 14 – 12 on the showcase field this afternoon. The Pitt win avenged a late-March loss and made a loud statement about the team's ceiling, which some had questioned after they lost to Ohio State in their regional final.
Andrew Lehmberg, in what would become a theme this afternoon, threw the game's first score, dancing his way open in the upfield reset space and finishing with an easy continue. Pittsburgh has a multi-faceted offense, but today Lehmberg was the star. On a day of ultimate defined by the wind, he played it to perfection, sending tricky throws into and around the gusts with the blithe confidence of a kid at recess. With Oregon making a furious push as the game passed into hard cap, it was Lehmberg who reached into his quiver and launched a perfect upwind huck behind the Oregon defense to seal the win.
On the defensive side of things, Pitt played extremely well. They only allowed a couple of clean holds, mostly frustrating the Oregon offense into putting up small-window hucks or hesitant probes into the pointy parts of one of their zone looks. Will Hoffenkamp emerged as a leader for the D-line, both on the statistics sheet and with his laser-focus after turnovers. The D-line weren't perfect by any stretch, but what they lacked in efficiency they made up for it in determination.
Oregon did not play poorly as a unit so much as succumb to an agglomeration of individual mistakes. Ted Sither was mostly good, until he started to dance too much in the reset space. Colby Chuck was mostly good, but he fell a little bit in love with his towering deep looks. Xander Cuizon Tice was mostly good, but he stayed away from the action precisely when the team needed someone to step up.
Oregon were at their best in the game's last few points. As much press as their offensive players generate – and I'm guilty of that focus as much as anybody – the defense, led by Duncan Fitzgerald and Noah Coolman, is where the team makes their money. Once the Ego defense turned up, Pittsburgh fell back on their heels (except for the incandescent Lehmberg) and nearly squandered a lead of multiple upwind breaks.
In practical terms, the win was a great first step in Pittsburgh's hope to avoid a taxing (and potentially dangerous) pre-quarterfinal round tomorrow. They come out of the game in excellent position to win the pool tomorrow. Oregon, meanwhile, must jockey for position a little while longer with the other three teams in the pool.
– Edward Stephens
Victoria Vikes 14 – 9 Pittsburgh En Sabah Nur
It was the upset no one saw coming: the Pool C fifth seed Victoria Vikes soundly defeated pool top seed Pittsburgh En Sabah Nur in an extremely windy final round of play on Friday. The Vikes, who lost a laugher to Wisconsin earlier in the day, came out swinging, built a big lead, made it bigger, and made it stand up. It was the team's first ever win at Nationals.
Victoria coach Malcolm Bryson offered some thoughts on the Vikes' slow start on Friday. "We're coming in extremely rusty, and we don't play in the wind very often." If that's true, they shook off the rust and leaned into the windy conditions almost on the fly. Their barrage of inside flick looks are naturally wind resistant, the upwind deep throws kept their edge better than those of most other teams, and long downwind shots were largely abandoned in favor of slower, higher, shorter tosses with a larger margin of error. "We adapted to the conditions and stopped playing afraid."
Pittsburgh had drawn a tough lot on the schedule. After a knock-down, drag-out slugfest against fellow title contenders Oregon in the stadium, En Sabah Nur had to strike camp and move to one of the satellite fields. Once there, they had no time to prepare before the next game began. Pittsburgh fell into a multiple-break hole early and never climbed back into the game. For the casual observer, it was easy to point to the tough schedule as the source of the loss. But head coach Nick Kaczmarek refused to blame the long walk for the team's struggles. "We knew this was the situation for weeks. We scrimmaged a local team back-to-back. We were ready for it."
So, what happened? "We did not do a great job of switching mental gears." Or, in practical terms, the team started putting up more devil-may-care shots on offense and failing to adjust to guard the dangerous spaces that Victoria most wanted to attack. "It was a really good moral lesson for us."
Victoria find themselves in the new position of having to switch their identity from bottom-feeders to contenders. They have expectations now, rather than hopes. The coaching staff spent some time looking ahead to Saturday's games against Oregon and Tufts. "It's not gonna be easy," said Bryson. "It's not like, 'Woe is the underdog' anymore. We gotta be killers out there."
Co-coach David Whitney-Brown interrupted him here: "The pool is wide open." And Victoria are right in the thick of it.
– Edward Stephens
Victoria Vikes 13 – 10 Tufts E-Men
Victoria continued their confident play from Day 1 in an early Day 2 win against a banged-up Tufts squad. The Vikes defense gave Tufts trouble from the start, forcing a lot of passes and a few turnovers. The pressure eventually paid dividends, with Victoria taking a one-break lead into half.
Tufts, who lacked high-usage players Nikhil Bhatia-Lin and Jac Carreiro for parts (and in Carreiro's case, almost all) of the game, came out of half flat. On their first offensive possession, they flubbed an easy scoring opportunity and failed to transition well to defense. Victoria's Sean Bennett took advantage of the Tufts confusion to send a 70-yard bomb. The score stood at 10-7 and never got closer.
What we caught a glimpse of in yesterday's upset of Pittsburgh is now in full view: Victoria have now firmly established themselves as a threat to bust into the bracket. They can only be eliminated on tiebreakers at this point, and a win against Oregon in the 10:00 round today would clinch a bracket berth.
Tufts, meanwhile, are teetering on the brink. They'll have to both beat Oregon this afternoon and get lucky with some other results. Without a fully healthy squad, that's going to be an extremely tall task.
– Edward Stephens
Pittsburgh En Sabah Nur 15 – 13 Wisconsin Hodags
The pool play game between Wisconsin and Pittsburgh was chock full of highlight-reel plays: fantastic hucks, toe-ins galore, and hard-nose defense. Despite a pair of late pushes from the Hodags, however, Pittsburgh came away with a strong 15-13 victory.
Andrew Lehmberg picked up right where he left off from yesterday's game against Ego. The Pittsburgh star has been the best player on the field for them. He continues to impose his will on the wind with his throws, as well as to pick his spots to exploit the defense deep. The other Pittsburgh player to make a major impact was D-line fixture Kevin Tsui. He found openings for two layout blocks in the first half, and caught or threw a number of breaks for En Sabah Nur.
Wisconsin were in no mood to go down quietly, and they had a bevy of players stepping up. Pittsburgh executed a gameplan to force Nick Vogt under all game, which created a vacuum that Ted Schewe was only too happy to fill. Schewe was a highlight machine for the Hodags. He announced himself with an unbelievable layout catch at the back of the end zone early in the first half and remained at that level for most of the game.
But not everyone on Wisconsin played up, and some bad mistakes gave Pittsburgh a healthy 8-5 halftime lead. A few points into the second half, Pittsburgh began to widen the gap to 11-7. A three break lead in an upwind-downwind game? That's easy money.
Sam Hebert and the Wisconsin defense had other ideas. A couple of upwind breaks, which Hebert personally led up the field, put them back in range: pulling downwind down 12-11. Meanwhile, Lehmberg left the game with an injury. (He's managing it and will continue to play, under observation, later in the day.) The Hodag defense was tight, but Pittsburgh handler Hafeez Shams mustered the strength to send a huge backhand from half field deep into the attacking end zone, where Will Hoffenkamp came down with it. Wisconsin lost the disc on their next offensive possession, and Kevin Tsui worked his way underneath his defender for a devastating Pittsburgh break for 14-11.
Did I say 'devastating?' It should have been, but Wisconsin had one more comeback in them. After a somewhat difficult hold, Hebert marshalled the D-line to another upwind break, zipping a forehand to Vogt through two defenders. Vogt just barely kept a foot behind the endzone line.
Pittsburgh, now with a slim 14-13 lead, had to go upwind again to finish the game. They've been more careful than anybody about field position so far this weekend, and the huck felt inevitable. Leo Warren found daylight on the breakside and sent a powerful flick to the end zone for Max Thompson. Thompson lost his footing as a teammate and a defender got caught up in his legs, but he held on for the score.
I think it's safe to say that, after yesterday's puzzling late-afternoon loss to Victoria, Pittsburgh is back in working order. Wisconsin mostly played well. They were valiant enough to win the game, but not quite focused in the early-going, and it cost them their best shot to take the pool.
Both teams are now 2-1 (along with Oregon, who beat Victoria on another field) in Pool C, which is still up for grabs. If Pitt beats Tufts this afternoon, they'll win the pool. If, however, they fall to another low seed the way they did yesterday, they'll find themselves in a musical chairs scenario with Victoria (already 2-2) and the loser of the Oregon-Wisconsin game for the two pre-quarters spots. A Pittsburgh win would also ensure that Oregon and Wisconsin, who both own head-to-head wins over Victoria, move on.
– Edward Stephens
Pittsburgh En Sabah Nur 12 – 5 Tufts E-Men
Pittsburgh weren't about to let another pool play game slip away, not with the tantalizing prospect of a free pass to quarters and facing the threat of ending up on the wrong end of a three-way tie. They dispatched Tufts E-Men in convincing fashion, breaking early and late for a 12-5 win. With the victory, they clinch the top spot of Pool C.
Tufts, playing without Jac Carreiro, could not muster any kind of offense for much of the first half. Every time Aaron Epstein and Eric Chen started to make progress down the field, the Pittsburgh defense, like a seawall, held back the swell. Tufts didn't earn a clean hold until their sixth offensive point, though not for lack of trying.
The Pittsburgh attack after the turn – like the offense, who were seldom on the field – was an overwhelming force. As they've shown for most of the weekend, Pitt's throwers were comfortable in the blustery conditions. Leo Warren and Will Hoffenkamp continued to place deep flicks against the wind, and Hafeez Shams drew gasps from the crowd with a thundering sixty-yard downwind hammer that hit Max Thompson in the chest for a score. The win completed a day of redemption for their late-afternoon stumble against Victoria yesterday.
Tufts exit the tournament with a disappointing 0-4 showing.
– Edward Stephens
Oregon Ego 12 – 9 Wisconsin Hodags
Oregon Ego sealed up the second spot in a hotly contested Pool C with a last round 12-9 victory over Wisconsin. The Hodags advance in spite of the loss; they finished 2-2 with a head-to-head advantage over Victoria to finish third.
The teams mostly traded for the first half, with Oregon earning the double-wind break early and maintaining the cushion through the intermission. The second half was a much less reserved affair. Wisconsin and Oregon pressured each other into a dozen turnovers at least. Eventually, after one of Wisconsin's missed goal line opportunities, Ego handler Ted Sither picked up the disc and called a timeout. On the tap-in, he sent a huge flick down the field for Leandro Marx, who tracked it down and flipped in the score. The next point seemed to signal the unraveling of Wisconsin: they missed a clear 10-yard throw for a score, and the transition zone failed to put any pressure the Oregon counter. A too-rough collapse by Ben Pavelka in the cup even garnered a PMF and a sharp rebuke from observer Mitch Dengler.
However, the Hodags were not done, not by any stretch. The offense held the next upwind point with ease, and Oregon made a mistake on the next point to allow the Hodags to get one of their breaks back. The next point was another marathon. Unlike the first point out of half, though, this marathon ended with a Wisconsin score. The upwind break whittled Ego's lead to 10-9. Jacob Rubin-Miller did a stand-still backflip.
What followed was proof that there is no such thing as momentum in sports. Wisconsin had all the energy; more than that, they had the wind on their side. Then, after a mistake from Marx gave them a short field, the Hodags couldn't quite convert. They had the throw lined up, but a clutch layout by Lukas Ambrose negated it. It was all Oregon from that point on: Duncan Fitzgerald and Sither chiseled their way to a score, and then an early turf on the next point did the Hodags in. Fitzgerald assisted again, finding Noah Coolman on an away route before the Wisco defense could set.
For all the drama that hung on the last round as it began, at the end the top three seeds finished pool play in that order: 1. Pittsburgh; 2. Oregon; 3. Wisconsin.
– Edward Stephens